Pascal, Aniek and Jippe on what's on their mind right now and plans for the future.
Words by Jasmín Hoek

When De Ambassade's first EP surfaced on Amsterdam-based record label Knekelhuis in 2016, it was easy to believe that the two tracks on there, Geen Genade and Wat Voel Je Nou, were remastered and repressed from an album by an obscure Dutch new wave band from the late 1970s or early 1980s. Two EP's, Verloren (2017) and Standhouden (2020) and an album, Duistre Kamers (2019), followed, all released on Knekelhuis, showcasing their distinctive gloomy melodies, and echoing cold Dutch vocals. On a cold winter day in Amsterdam, we met up with the three band members, to uncover a bit of the mystery around them.

Behind De Ambassade are band leader Pascal Pinkert (aka Dollkraut), Aniek de Rooij on keys, and bass player Jippe van Niel. Aniek joined the band beginning of this year right after Duistre Kamers was released, and Jippe joined a few months ago in June. "Jippe and I both had to focus on being able to play Duistre Kamers, as we joined after its release," says Aniek. The release of the album at the end of 2019, ensured De Ambassade of a full schedule of national and international gigs before 2020 took a different turn. "Now that we've become part of the band, and have mastered playing previous releases, we can start writing all together," Aniek comments. She co-wrote the melody and recorded the synths on the latest release Standhouden. "Writing together as a band is something you sort of have to figure out as you go. I feel like we're in this process now," Jippe comments.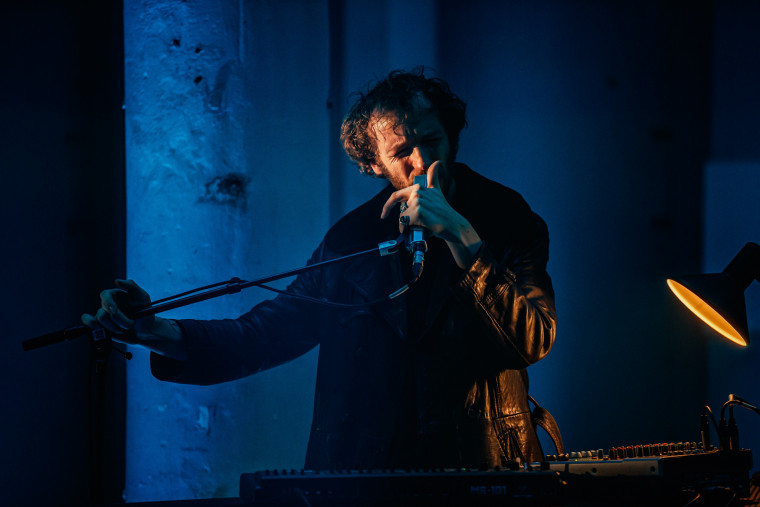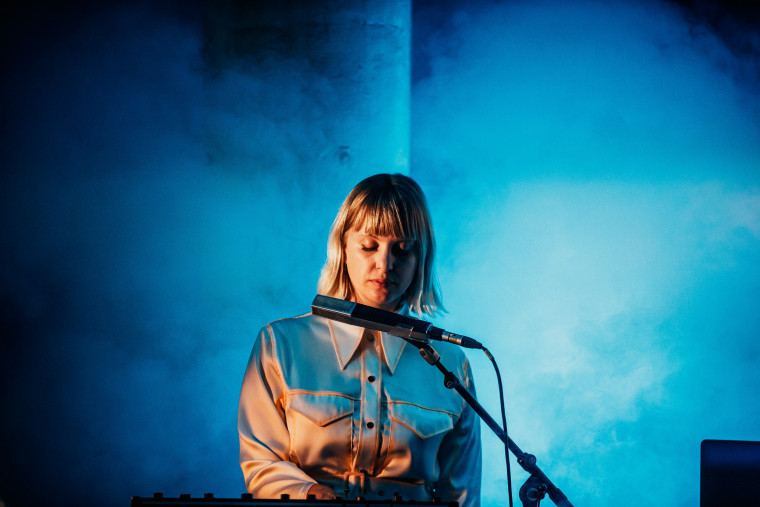 Next to De Ambassade, Jippe is also the bass player of a hard rock band in his hometown Dordrecht. "With my other band, we go to the studio, there's a vocalist, drums, keys, basically just a more traditional band, which makes it quite easy to just jam. With the way De Ambassade is structured, it's a bit different, but that also makes it interesting." Jippe says. "I was very happy to join Pascal and Aniek. It allows me to do something completely different from my hard rock band where the music is hard and you play it that way as well. De Ambassade has this cold and dark atmosphere around it, and I can put another side of myself in the music we make."

Pascal agrees with Jippe; "I feel the same way actually," Pascal says "For me the harder part is more about the intensity of the more dancefloor-focused sound I have as Dollkraut, both production-wise as for djing. I like the energy of a club, this thriving and dark atmosphere, and the ecstasy of a dancefloor. I can't compare it, even the scenes are so different as a band or as a DJ or electronic live act: the people you meet, the settings, and the general atmosphere of the music. Still, I can fully identify with both genres." Like Pascal, Aniek finds part of herself in a clubbier sound and setting. She performs as an electronic live act, produces, and DJs as Alberta Balsam. Aniek: "When you make music by yourself, you always bring that experience with you when you're working with a band. Being in a band and working together, brings a lot of inspiration, and I always learn a lot from how others approach music. You always bring both experiences with you, so it's an addition to one another. Besides, it's fun to play together with other people."

"Being in a band and working together, brings a lot of inspiration, and I always learn a lot from how others approach music. You always bring both experiences with you, so it's an addition to one another." – Aniek
The three of them unfortunately did not get as much time to play together this year as they had hoped for: next to most of their gigs getting cancelled, including some of the sit-down shows with limited capacity, even practicing felt tricky at times. Jippe; "At some point the Corona infection rates peaked above 11.000 a day. Pascal, Aniek and I were supposed to practice for a show. I had to travel to Pascal's studio in Amsterdam from Dordrecht, and Aniek from Rotterdam, we ended up cancelling our practices, it just felt too tricky." Pascal adds; "Not living in the same city is not a major obstacle, it just needs some planning. In the past year, I guess we became more aware of the risk of traveling and I started thinking about how ventilated my studio is for example. It all also weighs on your conscience."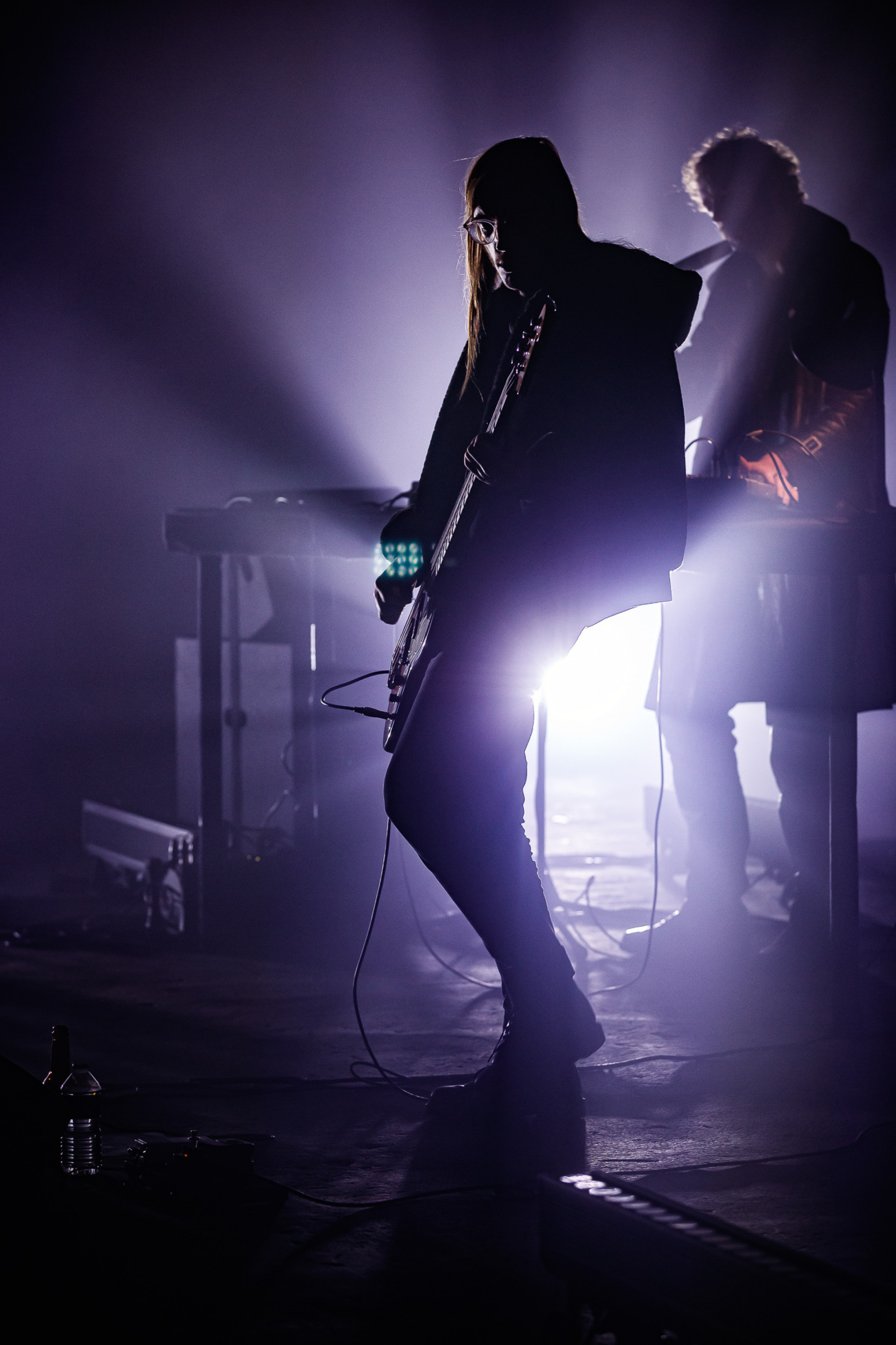 "These phenomenons are all food for thought, and that means they're good food for songwriting." – Pascal
However, 2020 does not hold De Ambassade back as they've slowly started working on new music. And as Pascal's lyrics have been described as 'dystopian' before, many things that have happened this year do fit into the picture of a dystopian world. "Different aspects of what's happening around us feel quite dystopian to me: people's reactions to it, conspiracy theories, and how conversations about important topics have been shaped by the fact that they're happening on social media. I've been thinking a lot about how social media and how our phones affect our being, and we've been talking a lot about it amongst the three of us as well. We have our doubts about how 'social' social media actually is, one example is the polarizing effects of social media's algorithms within social and political debates or issues. These phenomenons are all food for thought, and that means they're good food for songwriting. The same goes for something like loneliness. It sucks, but once you start writing about it you get completely lost in it," Pascal says. He names 'They Live', a film by John Carpenter, as an example of a current source of inspiration: "It's about advertising, consumption, and companies thinking for you," he says.

From everything that inspires them, Pascal, Aniek and Jippe create a framework from which they further develop their ideas. "There's a whole range of topics, ideas and sources of inspiration we keep coming back to, and those things together mold our sound. It doesn't only form the lyrics, we're constantly thinking about how to express these concepts musically," Aniek adds, "For a new release we'd like to create an audiovisual show around the album as well." Something their ideas seem perfectly fit for. Apart from that, there has been some fantasizing about creating a film along with their music, or collaborating with dancers, but these ideas are still in a very early stage.

"There's a whole range of topics, ideas and sources of inspiration we keep coming back to, and those things together mold our sound." – Aniek
In line with their mixed feelings on modern technologies, De Ambassade has a strong preference for analogue gear over a more digitized set up. According to Anniek these feelings are not related to their sonic choices: "Our choice for analog gear is purely a choice for the sound of these synths. The sound we create and want to carry out on our records is very much a throwback to the past, so aesthetically I guess using analog synths is quite obvious. We don't stay away from modern technology on purpose though, and do utilize it where it's useful. Otherwise you're just making things unnecessarily difficult for yourself. In my opinion, you shouldn't have an aversion towards modern technology," she says. "For Jippe, as a bass player, there's no other option than going analog of course," Pascal adds. "Making music on a stage just gets some sort of authentic image through instruments, which fits the image we're creating of De Ambassade, and how we are as musicians. I feel like we want to stay away from the easiness of technology sometimes, for the sake of the bigger piece we're trying to create, which is a bit more human than electronic music in itself. Indeed, as Aniek mentioned, it's the colour of the sound of synths that's crucial in the end."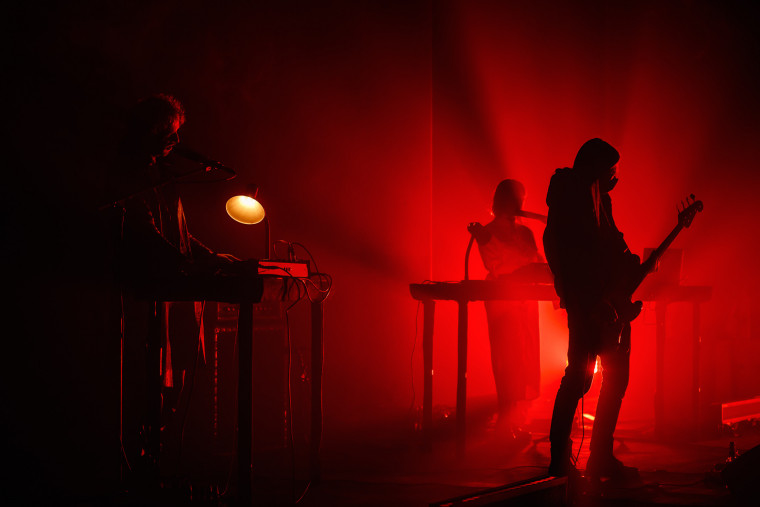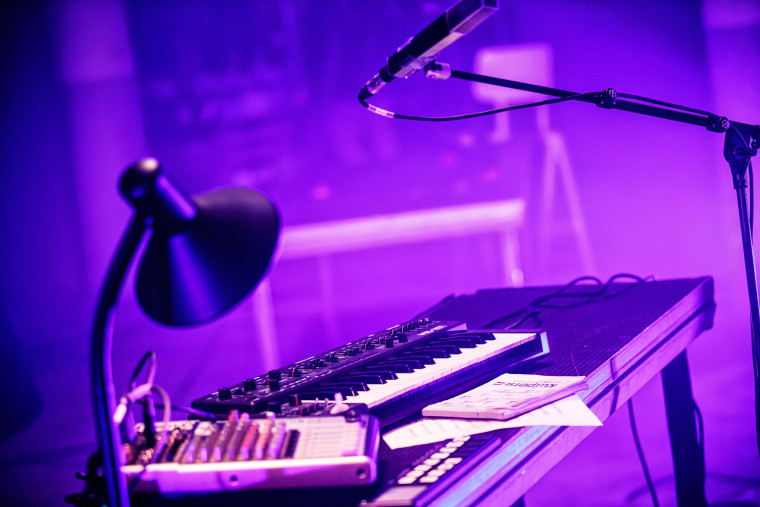 "On a global scale Dutch is quite a rare language. Icelandic bands are quite popular, especially because a lot of people love the unique phonetics of the language, including myself. So, I guess the same goes for Dutch if you're not able to speak or understand it" – Jippe
These synth melodies play a big part in the meaning of a song. According to Aniek, the meaning is not only about the story in the lyrics, which is quite lucky considering not all De Ambassade's international fans are able to understand Pascal's ominous singing in Dutch. "Maybe Dutch feels somewhat exotic to people. On a global scale it's quite a rare language," Jippe says. "Icelandic bands are quite popular, especially because a lot of people love the unique phonetics of the language, including myself. So, I guess the same goes for Dutch if you're not able to speak or understand it." Pascal agrees. He adds; "I'm able to tell my story in a different way in Dutch. It actually has nothing to do with the fact that it's my first language, but it's more about the sound, it feels a bit more stiff and strict. Some of the consonants are remarkably harsh, our letter 'G' for example. I feel like I can put a bit more force into it." That the story within the lyrics gets lost in translation, or actually, lost in no translation, doesn't bother Pascal at all. "To me it's fantastic that it leaves space for people to completely interpret my lyrics in their own way. The thought of it just makes me happy. I believe it was film director Michael Haneke who said something like 'Everyone should interpret my work as they want to, and if the meaning they take away from it makes them happy, my work is done.' That's actually exactly how I feel about it."