"I can be quite broad in explaining, especially with topics involving music and emotions - and this year has been an insane emotional whirlwind," she tells me over email as we discuss this interview, setting the tone for a deep dive into her brilliant chaotic mind.
Words by Angelina Nikolayeva

Whether she drops one of her favorite Luke Vibert's Amens or goes into a deeper realm of IDM, mad miran knows how to hit the spot. That is mostly due to the genuine stream of emotions her selections and flow are unfailingly guided by. Similar to the fierce wind of a summer storm, her feelings are sometimes hard to tame, grasp, or put into words for her. This radiant energy that sits inside her, seeking to burst forth, is what makes Miran inherently Miran, and her adrenaline-charged sets so mighty.

About 2,5 years ago, you moved to Rotterdam, away from the overwhelming social life of the capital, and recently, came back here again. How did you find living in Rotterdam and what were you missing about Amsterdam that made you return?

Living in the beautiful Rotterdam was a really good mind-expanding period for me. My mind can be overwhelming at times and, with my overwhelming life, I needed a quiet and steady base to let myself process it properly, and let the new adventures and plans come in calmly. Living in a big modern city where I didn't know many people gave me more peace in my head. A lot happened in those years; I played at the most amazing venues and met true warm-hearted people from all over the world that do music from their heart. It inspired me to carve my own path in this industry, grow and find peace amidst chaos in my music.
During the corona days, being stuck in my room made me realize I missed my city, Amsterdam. I missed biking through the streets I knew by heart. I thought, 'Ok, check. Back home to hectic Amsterdam, but steady Miran is ready to go'. And it was a good choice; I have the nicest roommates, love happened, my friends and father are close by and I'm just happy to spend this year in my city.

The past half a year has probably been a whirlwind of emotions for you. How do you feel now compared to when the pandemic just started?
Yeah, you could say that. This year was wild. It started with me taking a flight from De School straight to Northern Italy on January 1st. I booked an Airbnb in the mountains with no Wi-Fi. Two weeks of fresh air, Italian food, reading, serenity, and recharging for 2020. I took along a very heavy sound design book I had ordered and the notebooks I have been carrying around with me for the past years. My notebooks hold many memories: from an attached boarding ticket to a funny quote I heard backstage. Sometimes I would write down or draw something to memorize the moment while waiting for my set in the peaceful bathroom of a club. It's nice to look back at those pages and remember a full situation, otherwise, we forget!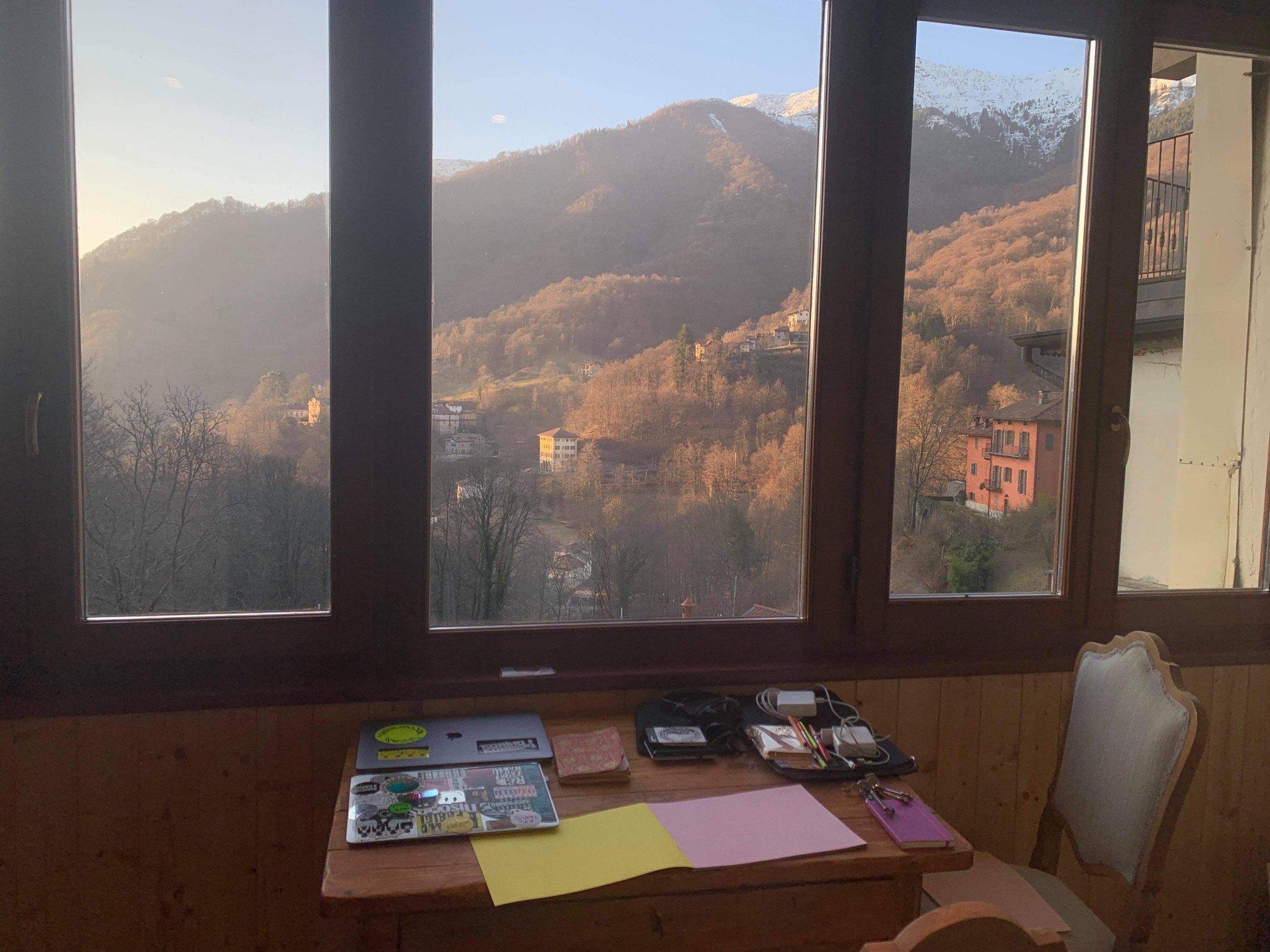 "I needed time to process what was happening in the world and realize what that time could bring me instead of taking from me, and that it is okay to feel fucked up. Days pass by, in shit and in pleasure. Nothing is logical at the moment, so the choices we make are not meant to be logical either."
My emotions are highly wired with my actions and surroundings, so it has been quite a rollercoaster since the pandemic hit in March. Seeing how the summer could have been in my Google Calendar made me upset. My first Dekmantel and Lente Kabinet gigs were on the agenda too, exciting sets were planned for those. I would 'Houseparty' with friends from all over the world. On March 20th, we did a depressed lockdown bathtub session with cigarettes together with my friend Victor, talking about how our Herrensauna b2b2b with him and CEM never happened that night. I needed time to process what was happening in the world and realize what that time could bring me instead of taking from me, and that it is okay to feel fucked up. Days pass by, in shit and in pleasure. Nothing is logical at the moment, so the choices we make are not meant to be logical either.
I imagine the cancelation of events did not only affect you as an artist but also as someone who is known for her genuine love for nightlife. How did the situation impact you professionally and on a personal level?
All the wine evenings with friends these days end up with emotional me having a speech about how much I miss a club room somewhere under the ground. It's fair to say that spending less time in clubs or traveling leaves more room for quiet evenings that end with early nights in bed … But I'm pretty sick of it by now. Friday nights feel the same as Monday nights and that's a strange feeling.
There is one fun thing me and Paulus [DJ+], a friend of mine, did when the new Autechre albums came out. We decided to plan out our Autechre listening session at his house as we discussed in clubs before. Next to his couch, he made a little listening corner: 2 headphones attached to a mixer that is connected to one turntable and we just listened to tracks from different records (his collection makes me drool) in full. That was a really nice way of experiencing music, together.

"Music is my power – I miss that feeling. I miss playing what's in my heart to the pounding shadows of the dancers in the back of the room … when hours would go by in a beautiful controlled chaos."
I miss being in a crowded space but feeling alone at the same time, connecting with smiling eyes and 'bass faces', and meeting people while running around and going on adventures. I miss being absorbed by the bass coming from the speakers - serenity and peace in controlled chaos – while dancing to a good DJ, but also as a DJ playing for a crowd. Being a bit stage-shy, the minutes before stepping into the booth are still overwhelming each time. Like, 'Hey, bam, I'm in control of this big PA right now.' But hearing the first track coming through those massive speakers is like paracetamol for stomach ache, so the anxiety gently slips away. Music is my power – I miss that feeling. I miss playing what's in my heart to the pounding shadows of the dancers in the back of the room … when hours would go by in a beautiful controlled chaos.

I guess many of us who in one or another way depend on physical gatherings felt quite fragile and uncertain about the future when the lockdown hit. Did it influence the way you feel about being a DJ?
I kept playing in my room and now I do that in a studio – my mind needs these meditation moments. The 'time standing still' feeling. I still believe the postponed gigs will happen and life will come back to normal with all the time and advancements coming in – fuck the 'new normal' – so I keep searching for music and creating stories. I am still preparing for the Squarepusher night - which was supposed to happen last May and now has an unknown replacing date - and getting ready for the corona aftermath.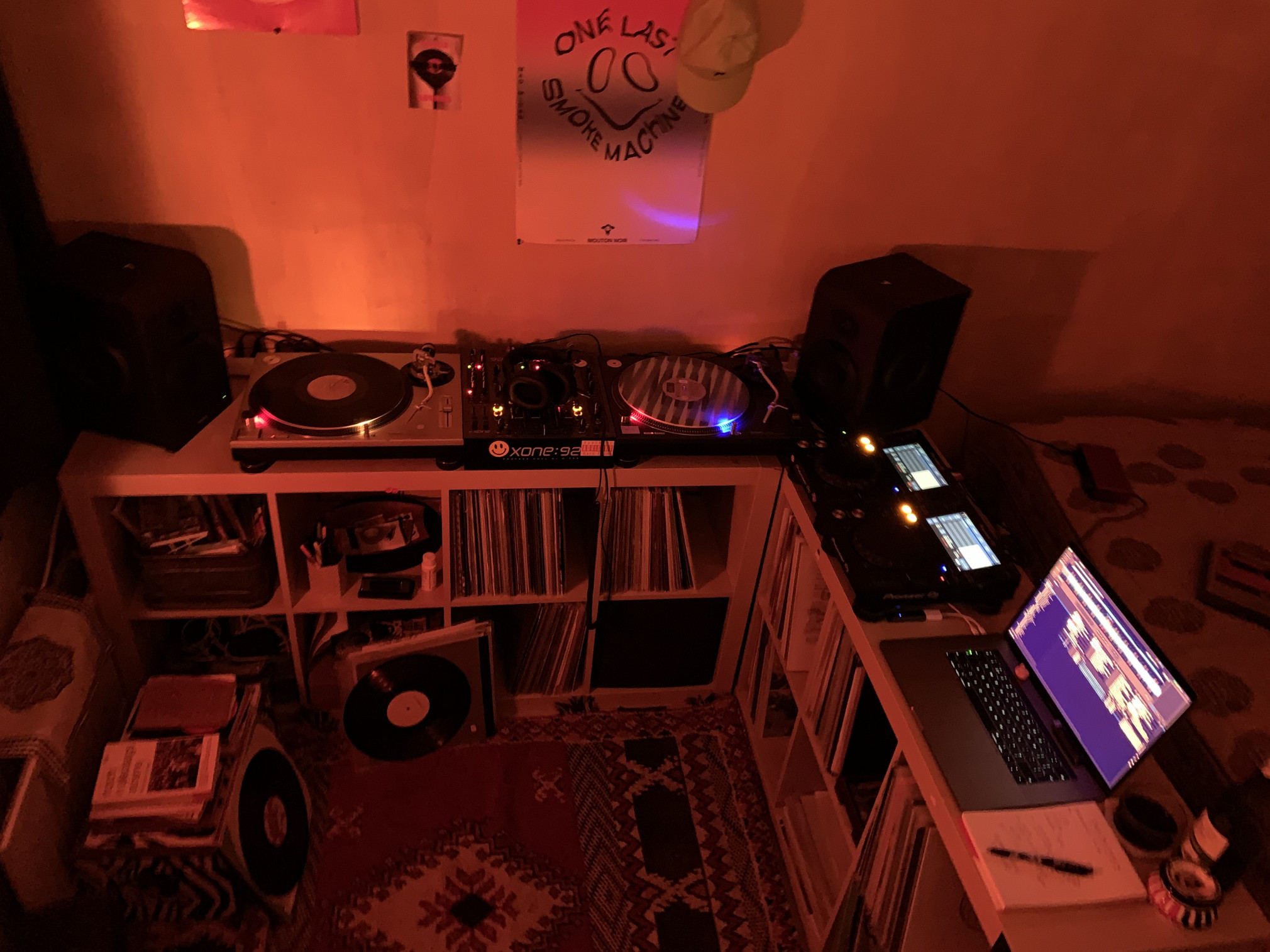 Now, I have more time to dive into the ways of storytelling other than DJing, and unlocking that box is a big-time infinity hole that I am exploring right now. There is no change in the way I feel about DJing, I only miss it more and more and crave sharing my stories. There are some exciting mixes coming up which I am busy with right now. One of them will be my longest mix recorded and available online.
Last summer, the world saw millions of people around the globe unite and take an active stand against racial injustice together. You mentioned that this movement made you rethink your own "position as an Afghan Moroccan woman born in a refugee centre in Hengelo, Holland." What impact did this have on you?
The world was in motion, shaken by the COVID-19 pandemic and another - now excessively exposed to the public - 'virus' that pervades our systems and society. It made me dwell on how my highly pregnant mother came here from Moscow after leaving Kabul. The challenges she faced, the vulnerability refugees have and how the system can make them feel more scared - these are some of the things I felt and spoke about with my friends more often. The powerful message spread across online media spoke to me, and the feeling of solidarity and empowerment grew even more during the protests I went to. We listened to stories, heard about the needed changes, the painful and never honorable deaths that had to happen to get to this point. I felt the world being moved by emotion, focus on conversation, and hope instead of hate, exclusion, and negativity.

Amsterdam nightlife has been especially in distress this summer as one of the Dutch capital's most prominent venues De School officially closed its doors. Undeniably, this place has been pivotal in your development as an artist. What did its ending mean for you?
What I want to put forward about me as an artist and the club is that De School helped me expand my sound. Whenever I had a slot there, it would be exciting and challenging. They gave me the space and pushed me to do things I would never have dared to do. I met some of my closest friends there. It was like a second home where Miran with her big yellow travel bag would come after a gig to dance and run around with friends and familiar faces. The basement, Het Muzieklokaal … In terms of buildings, there is no space compared to that. I still tag some of my tracks as 'het muzieklokaal' because those pulsating Monday morning vibes could only be possible in that room. Sad that it is gone, and, after corona, I can't see my family in those hallways again.
But people were hurt, situations escalated for reasons and it is over. I have faith in humanity and its desire for rebuilding, restoring, and learning, so I will try to have faith in finding a new home where we all feel safe and connected.

If we fast-forward a few years, what do you think our "post-apocalyptic reality" looks like?
I can literally see a post-apocalyptic vibe in clubs when they open. Imagine Berghain when they have a highly talented popular sexy weekender lineup: never-ending queues outside and at the toilet, the rave is high, full sweat ... I see every club being full from the moment the doors open and no end in sight to the queues. And maybe people get sick of the queues, so more venues will open to feed the hungry dancers.

And if you had the chance to skip through those years, would you do that?
Well, yes and no. I want to feed the apocalypse with bass and satisfaction, ha-ha. I'm excited, let's see. Clubbing after corona will be something we all will never forget. We haven't danced together for too long and we will feel that in so many different ways. It will be very special.

How do you think this all will influence the way we approach making and promoting music?
I browse through and receive so much amazing stuff these days. I keep getting inspired by the creativity and the sounds people are pulling out in a gratifying way. Gratifying in the sense of how they put both their head and their heart into creating, with less distraction and more purity. We are all stuck at homes, sounds are being explored. Everyone's mind is affected by the times we live in and you can hear that in the music being put out now.

On a more positive note, even with events being on hold, you managed not to stand still. This summer, you put out quite some mixes, did a few listening sessions and in September you had your first gig in 5 months. How did it feel to play for a crowd again?
It was nice but strange - like grocery shopping is, as I described publicly before when dedicated a mix to it. With carts and facemasks, but we keep walking along supermarket rows like everything is normal … It is good but it is not good. Playing felt like that. At one summer seated restaurant gig in Belgium the promoter had to speak through the mic and tell the people to sit down while I was performing standing. As a DJ, you want people to dance, and now, dancing felt like a crime. If you have radio shows and listening sessions in-between club nights that is a really nice way of shifting as a DJ, but that being the only energy output was hard to accept. However, it's a feeling I will not forget. I enjoy every second of listening to my music with people who are interested in the vibes I'm sharing. This seated concept has challenged me to keep a sitting brain occupied the way a dancing body is on a dance floor, to keep the crowd's heads banging like crazy … feel, feel. And in the future back to the dance, dance.

There has been an avalanche of exciting new releases in the past months. Has the pandemic impacted your appetite for digging club music? What stuff have you been into recently?
I'm getting deeper into everything I already liked - the dance floor is still easy to imagine in my mind. I browse the web more often but have less money for buying records, so my wantlist is getting longer. Internet nights are going deeper only then with an empty cart. But Bandcamp is life and online research is limitless.
My hard drive fucked me and Fafi [Abdel Nour] witnessed my panic days. I told him if my data was damaged, I would go for a 6-day walk. Luckily, his uncle who owns an electric shop in Groningen fixed it. I bought a new SSD with immense memory and speed - my nights of researching music in hyperfocus are too sacred to me. I imagine all kinds of different scenarios of dance floors and times, and play sets with different playlists. I can keep my mind occupied with music for ages. Doing this now makes me more aware of what my sound is as a dance floor mad miran, because I miss it deeply. From my very first sets until now, what I care for the most are the stories I create and it's nice to be able to tell them in a variety of ways.

"Maybe it is being too perfectionist but what I have learned from my brain and body is that if I feel good inside - my gut is right. And educating myself is bringing me closer to this feeling step by step. Good impulses in these times can be addictive."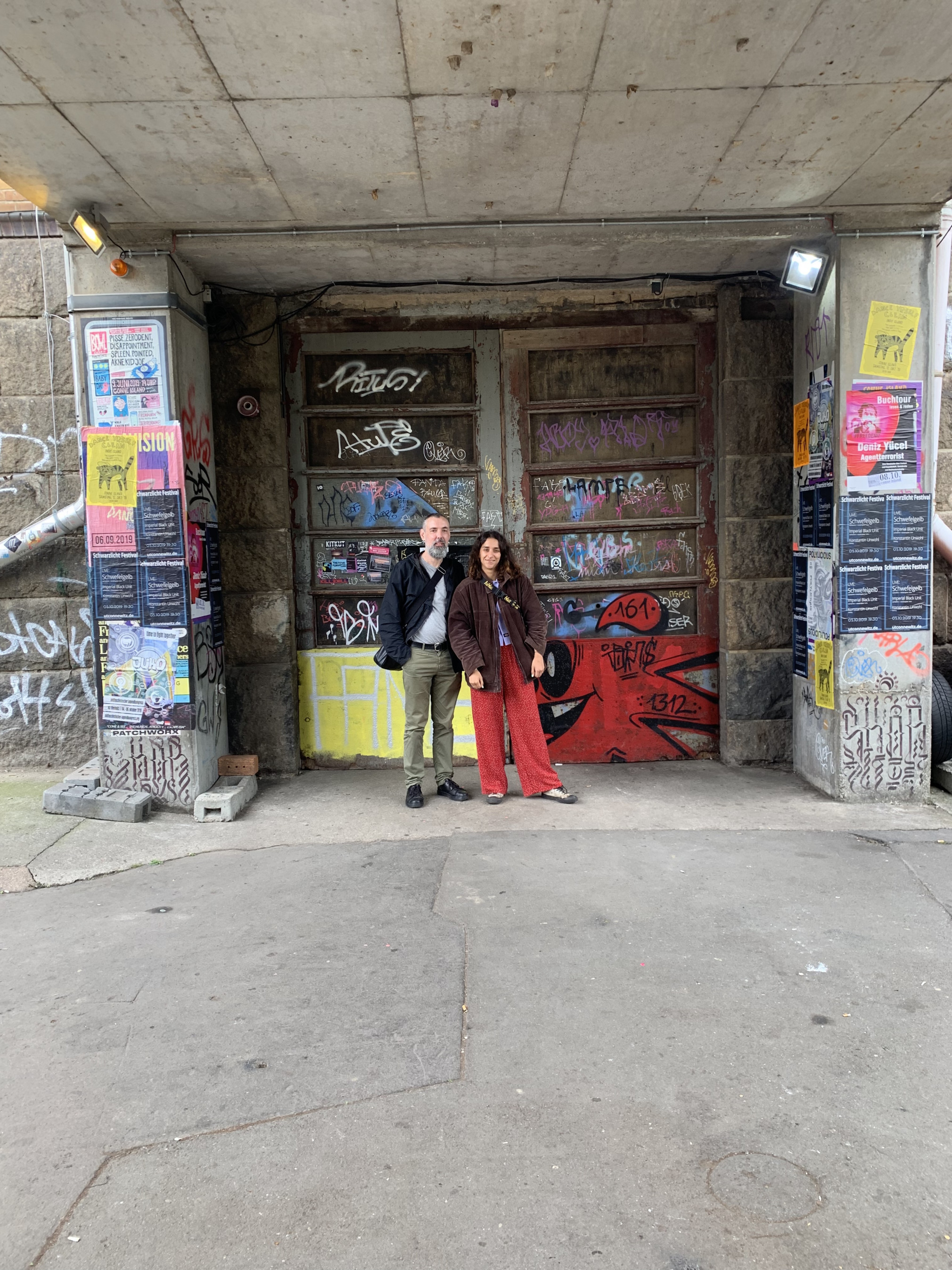 I know you have been playing around with Ableton for quite some time yourself too. Did you have the inspiration to make music lately? How do you feel about producing at this point?
As I said before, it is the infinity hole I am exploring for years, but now I have all this free time that I would normally spend preparing for the weekend, and I am trying to take the fullest advantage of it. I educate myself with books whilst making beats. I'm getting more curious not only about feeling sex between beats of other producers while DJing but also creating my own patterns and seeing how my brain reacts to the different types of sound.
I'm grateful for the time I have and being able to spend it on making music. Corona's lucky checkpoint, I guess. It also showed me that even after the years of work, I have so much more time to become fully determined to release or play my tracks to friends. Same as it was with playing. Maybe it is being too perfectionist but what I have learned from my brain and body is that if I feel good inside - my gut is right. And educating myself is bringing me closer to this feeling step by step. Good impulses in these times can be addictive.

Finally, during Dekmantel Connect, you are playing with Intergalactic Gary. It is no secret that you have a tight bond with the Hague's electronic music scene. Can you share with us what you have in mind for this b2b?
Intergalactic Gary is someone who I have been looking up to for many years now. We properly met in Leipzig last year; we stayed up all night in IFZ, vibed to each other's sets, and had a drunk cigarette-overloaded talk backstage. The idea of mad miran and Intergalactic Gary making a story together is very appealing. He throws in whatever he likes and makes his own story - the way I try to - no matter the genre. It is something I appreciate his art for. We went for a deep and steady build-up; we texted about it in advance and I listened to some of his sets. I followed the vibe we had decided on and I'm very happy with the outcome. The set up was funny. Gary was standing in front of me and I crawled under the booth a few times to tell him something, but we worked it out nicely.

Cover photo by Tommy Hagen