It's safe to say that since the last spring no one's life has been the same. The coronavirus pandemic has turned the world upside down, changing the way we work, and keeping us from many activities and social interactions that bring us joy. Anxiety among independent artists, freelancers, and promoters alike continues to mount, with many of us facing unprecedented challenges as the event industry has been brought to a halt. But is it all that unequivocally gloom-ridden?
Words by Angelina Nikolayeva
In these seemingly dark times, amid the fear and disquiet, a feeling of hope and solidarity arose in online music communities. That spirit of unity, love, and togetherness that we pursue when being squashed together in a sweaty basement, was found again, away from busy dance floors. The communal distress has fueled collaboration, sparked many great initiatives, and fostered the sharing of knowledge, tools, and helpful resources online.
You know it, in times like this we need each other more than ever. To keep this ball of positive energy rolling and cultivate transparency in the creative world, Angelina Nikolayeva talked to five music industry whizzes and shares some of their know-how in this guide. Touching upon topics of booking, artist management, publishing, and funding, 'A First Aid Toolkit' aims to shed some light on the sometimes murky waters independent artists navigate through.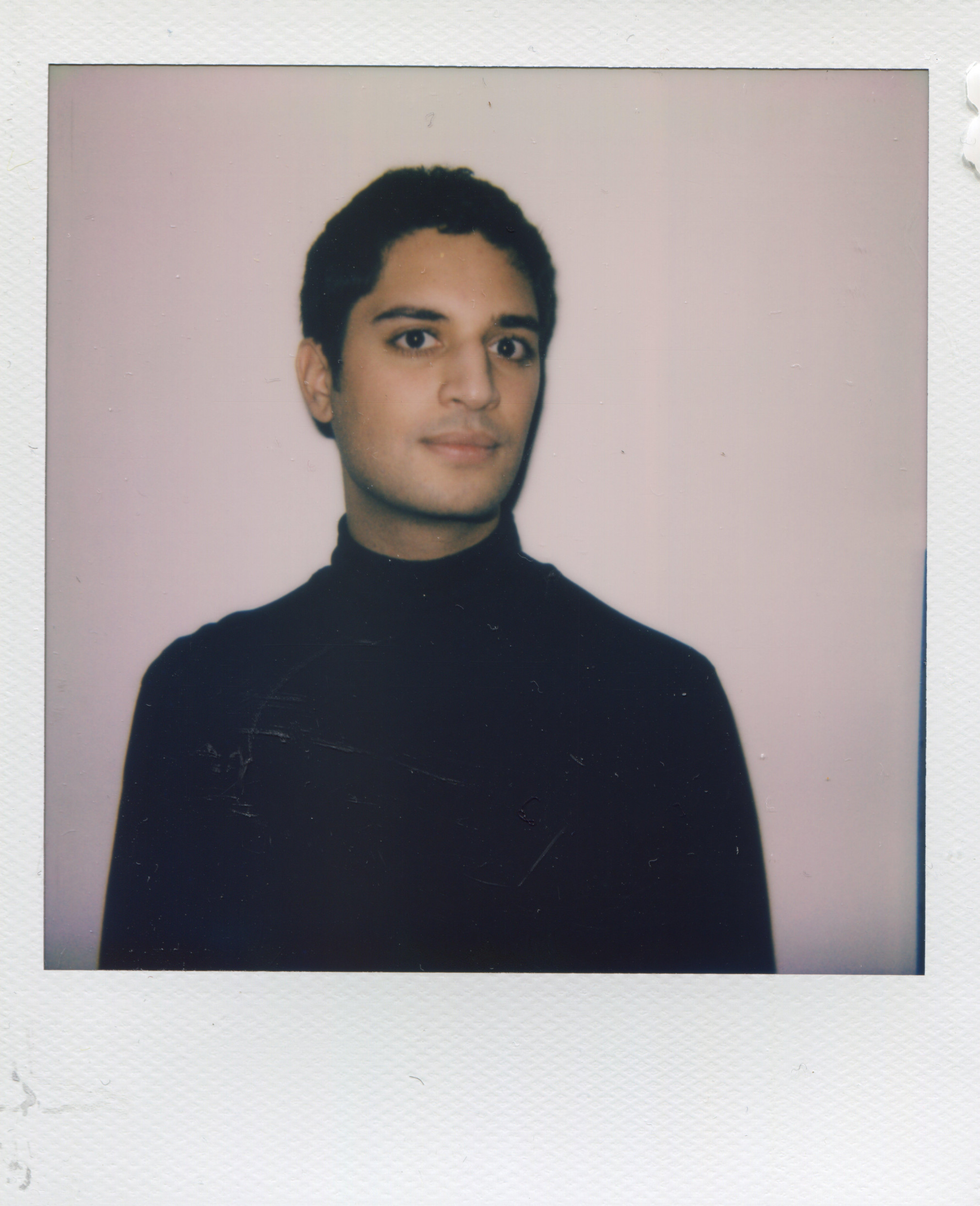 Managing your bookings w/ Ilyas Fdis (Minor AM)
Probably one of the most common questions beginning DJs ask themselves is "How do I get gigs?" Although there is no one straightforward answer, Ilyas Fdis, the founder of booking agency Minor AM notes that it's important to visit the events you'd like to play at and "just be present." According to him, the interaction between artists and promoters adds a personal dimension to the story that an artist tells, and being familiar with the vibe increases your chances to be supported by an organization.
As your career starts rolling and you get approached by promoters, you might find it rather hard to choose whether to play a certain gig. When being offered a slot, the first thing you should consider is feeling comfortable in that particular setting. Fdis advises to kindly decline the offer if it's not right up your alley or, in case the setting is new to you, try reaching out to the DJs that played there before. He believes that artists shouldn't limit their growth by being too selective from the get-go in worry of being mislabeled: "That would mean that you're already boxing yourself in a certain category you'd like to be in. I honestly think that that's a bit boring…"

"If you're a person that deals with hardship because of who you are, then extra safety might be something of importance. Is your extra safety a priority for the agency? What steps do they undertake in the booking process to ensure your wellbeing?" - Ilyas Fdis
Putting a price tag on your art can be a daunting task when you're just starting out in the creative world. Fdis hopes transparency becomes the norm across the music industry someday as it can help address a big part of the current paying gap between artists. If you find yourself doubting what your artist fee should be, Fdis suggests asking your peers an estimate of the fee they received when playing the event or reaching out to an agent. "They'll offer some advice in most cases," he assures. Fdis is convinced that artists should know their worth and only consider unpaid gigs when it comes to nonprofit initiatives such as fundraising or similarly meaningful community events. "Unfortunately, the music industry has made us think that it's somehow okay to play for free," he says. "Promoters that make those offers know that artists accept those gigs because they believe that it might lead up to a paid opportunity in the future."
In any situation, it is crucial to use a contract for confirming a deal. Not only will it ensure clarity between you and a promoter, but it will also put your mind at ease with regard to getting your well-deserved paycheck. To provide independent artists with a legal framework and help protect themselves, Minor AM has recently shared a contract template which you can download here. Fdis reminds that confirmation through any type of messenger, including e-mail and WhatsApp, is legally binding. In case you need assistance, and a written contract is not in place, it can be used for handing your case over to a debt collection agency.
Having a booking agent behind you can eliminate most of that stress as well as it can spare you some time and energy for your artistic development. Although Fdis admits that smaller promoters might find an independent artist more approachable, you would most likely benefit from a broader range of contacts and better negotiating resources an agency tends to have. This could potentially increase your chances of making performing financially viable. When considering hiring an agent, it is most important to define your goals as an artist first. "Some agencies are really good at providing quantity of shows, other at providing a balance between quantity and quality. The latter being subjective obviously," Fdis explains. As you will be spending a lot of time with your agent, it's also necessary to click on a personal level. Last but not least, Fdis urges to consider your personal situation and wishes: "If you're a person that deals with hardship because of who you are, then extra safety might be something of importance. Is your extra safety a priority for the agency? What steps do they undertake in the booking process to ensure your wellbeing?"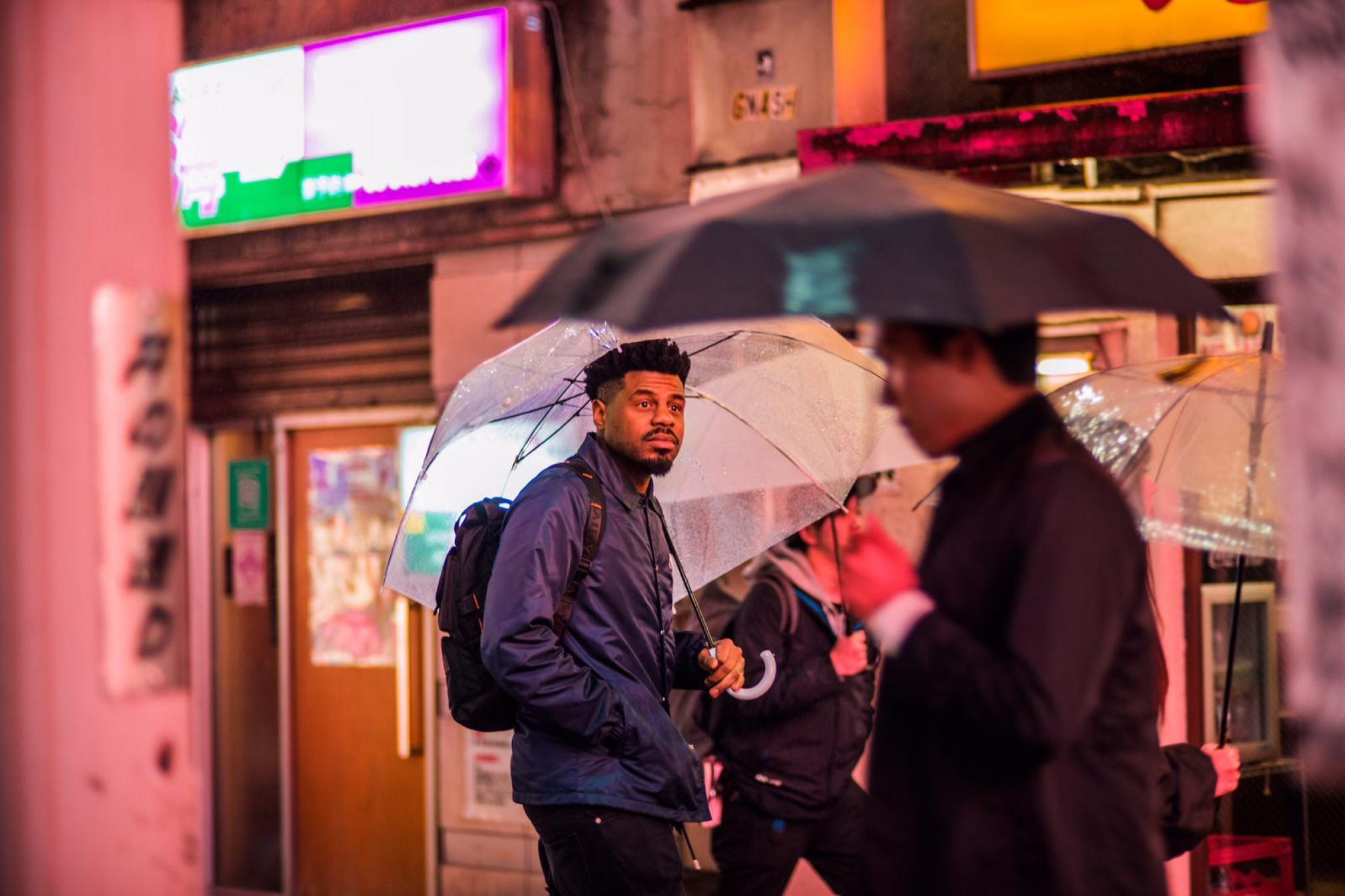 Defining your brand w/ Nigel van Ommeren (Headfirst Music)
Beginning an artist career can be overwhelming. You are finally ready to share your art with the world and tell your story, but where do you start off? Nigel M.V. van Ommeren, co-founder of management and entertainment agency Headfirst Music explains that the point of departure should always be establishing what your 'artist brand' is. Despite the term sounding somewhat commercial, it is merely about understanding what you as an artist stand for and presenting an honest portrayal of that to the world. Although there is a lot of hesitation and fear of losing credibility revolving around this topic, branding should not be seen as something taking the focus away from your music. It is rather a way of channeling its essence through a cohesive visual style and adding an extra dimension to your artist identity.
"Your social media timelines are the new blog, whether you like it or not," van Ommeren says. "Now that music blogs and Spotify editorial playlists are more and more dominated by major label content, it's more important than ever to make sure you are consistent on your own profile," he points out. Contrary to how dull life during the pandemic might seem, van Ommeren suggests it can be used to your advantage. He thinks of this period when "everyone is stuck to their devices" as a "playtime" - the chance to get creative and think outside the box.

"Now that music blogs and Spotify editorial playlists are more and more dominated by major label content, it's more important than ever to make sure you are consistent on your own profile." - Nigel van Ommeren
As a producer, you want to make sure your work has a traceable aesthetic and there is a regularity in when you put your music out. Van Ommeren advises charting out a plan for your releases and starting only when you are ready to keep up the pace. When you are all set, you might want to consider getting a record deal. According to van Ommeren, signing to a label can be an incredible way to amplify your work if it adds value to your team. He suggests asking yourself at every step of the release process: "Am I a priority?". On the other hand, if independence and creative freedom are your foremost concerns, self-releasing can give you the benefit of being 100% in control over all the decisions. Of course, such autonomy comes at a cost; money, network, and time are some of the hurdles you will have to be regularly dealing with.
When asked about the differences between managing pop and electronic music artists, van Ommeren says it is mainly a matter of a recognizable appearance and visibility. "Keep doing your own thing," he insists. "And if you want to be a superstar, start showing your face."
Alternative income opportunities w/ Donelle Kosch (The Collective Studio)
While music publishing is more important than ever in the digital and streaming era, it's also one of the least understood aspects of the music business. Knowing your way around it can help you claim your rightfully earned income through copyright ownership. So, when your music is distributed, either physically or digitally, or it gets played to the public at a live venue, radio, etc., you would be able to collect your mechanical or performance royalties respectively. Music publishing companies can help you deal with these rights as well as find new opportunities for creative challenges and generating income. Co-founder of The Collective Studio, Donelle Kosch explains that, at their agency, they see establishing and maintaining relationships with music supervisors, creative agencies, and brands as a large part of their business model. TCS is a 360-degree artist agency that in addition to booking and label management, also operates as an independent music publisher and sync management company.
In simple terms, music publishers take co-ownership of artists' works and assume the responsibility to optimize royalty collection on their behalf. One of the fundamentals of music publishing is making sure an artist's music and performances are registered with PROs (performing rights organisations such as Buma/Stemra in The Netherlands) and that the usage is monitored. One could argue that if artists don't register their work, it's difficult, if not impossible, for them to collect the royalties they are owed.
Ideally, we would live in a world where every artist is paid for exactly every instance of their music being used. Yet, unfortunately, the system is still not technologically up to speed with the modern ways of creating and sharing music. Having said that, Kosch emphasizes that the more independent composers begin registering their music and performances, the greater force they will become in the eyes of PROs. This in return could amplify their voices in demanding more advanced technologies and equitable payment. DJs play a role just as crucial in making this scheme work and it is vital for them to understand the responsibility of crediting producers whose music they play. Even though many venues and festivals make use of music identification technologies like DJ Monitor, DJs should use their best efforts to report their performances. The Collective Studio encourages every artist to reach out to PROs directly should they have questions regarding registering their work or collecting royalties. A lot of helpful information can also be found on their websites.

"We believe that the more aware and informed every artist is, the better our entire music industry ecosystem will be." - Donelle Kosch
Another aspect of this intricate structure is sync-licensing. A synchronization license is permission granted by the holder of the copyright of a particular composition, allowing the licensee to use it in any form of moving visual media, such as movies, video games, or commercials. That's where all the valuable connections of a music publisher come to the fore as they explore alternative creative outlets for their artists. "For less mainstream artists, sync-licensing could perhaps bring greater creative and financial opportunities than straightforward royalty collection," propounds Kosch.
Independent artists can submit their tracks to music libraries such as Musicbed or try approaching production companies or advertising agencies to get their music synced. Yet, if you do end up signing a publishing deal, Kosch advises making sure you understand the percentage of the copyright the publisher will own, for how long, and in which territories. She also insists artists should not be afraid to ask the publisher to clarify the contract. "We at The Collective Studio are happy to help, advise and share resources with independent artists even if they are not part of our roster," states Kosch. "We believe that the more aware and informed every artist is, the better our entire music industry ecosystem will be. So feel free to contact us if you have a question."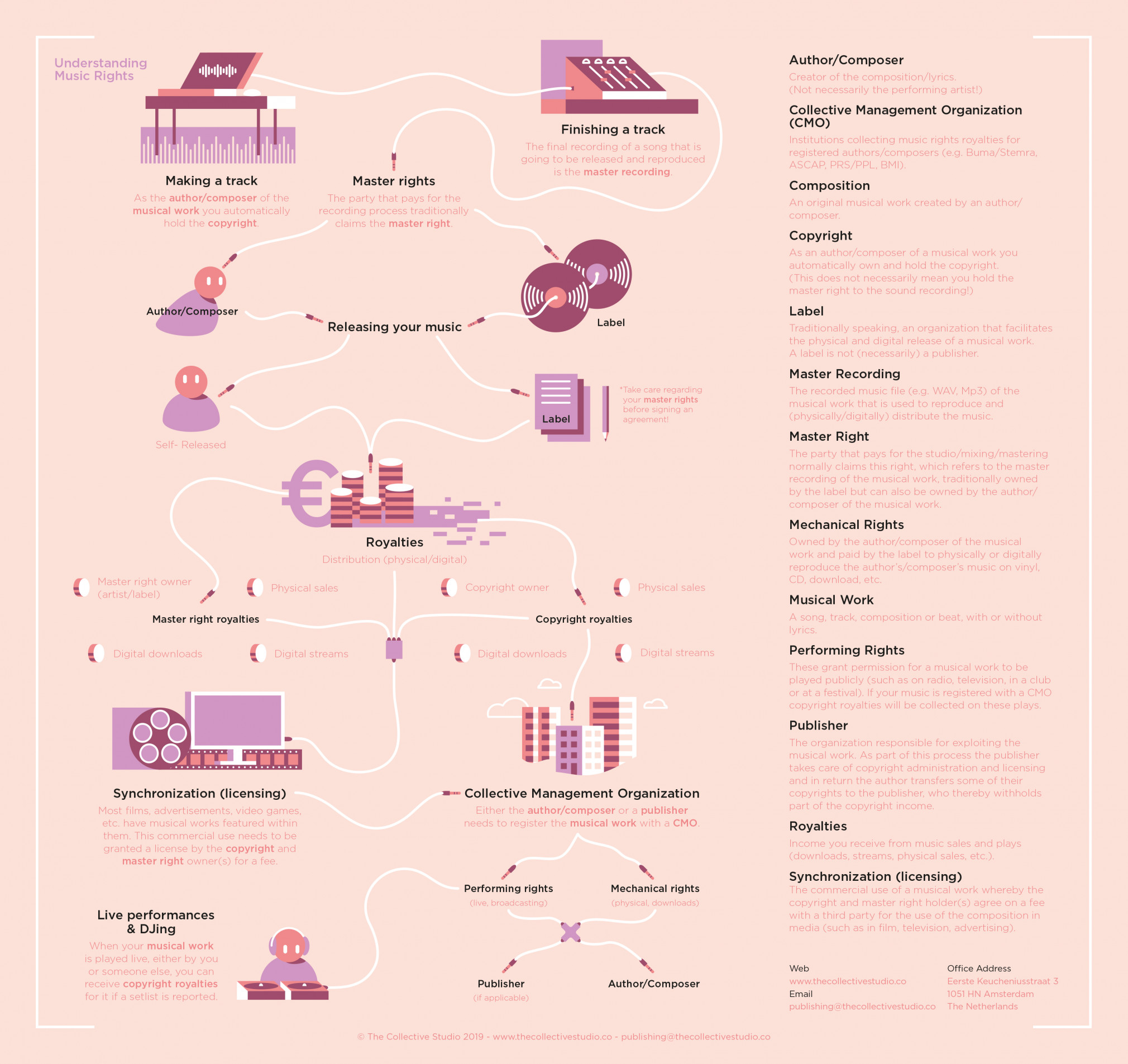 To learn more about music rights and alternative income streams, you can join the workshop Donelle Kosch hosts on 15 December as part of the Dekmantel Connects program.
Funding your project w/ Femke Dekker
As an aspiring artist, you might find it challenging to make your ends meet while working around the clock on your creative practice. Applying for funding might help you liberate the time to work on your project by giving a financial boost for talent development. "Buying this time means that it is necessary for your artistic practice," tells Femke Dekker. She is a musician known as Loma Doom, an art curator, a teacher, a consultant, and a radio host who also worked as an advisor at Amsterdam Fund for the Arts (AFK) and swapped a few roles in the committees of The Creative Industries Fund NL. "When applying for funding you need to make this urgency clear," she continues. "You have to understand who you are as an artist and why you want to do this project, but also what this project adds to the field at large."

"You have to understand who you are as an artist and why you want to do this project, but also what this project adds to the field at large." - Femke Dekker
Public funds can be categorized into 3 categories: local funds (e.g., AFK), regional funds (e.g., Brabant C), and national funds (e.g., The Performing Arts Fund NL). "I'd advise you to go to regional funds only if you have a partner. For example, if you are commissioned to create a new work for a festival like STRP," explains Dekker. Younger, emerging talents are also encouraged to apply to Fonds21, a private fund in Utrecht, and look out for open calls that are targeted specifically towards music from public institutions such as The Creative Industries Fund NL, Sena, and The Mondriaan Fund. The latter one should also be considered if your musical practice can be deemed a conceptual, autonomous work or if it intertwines with other contemporary art disciplines. Finally, for more established musicians, or those who investigate new applications of design, visual culture, and technology within music, The Creative Industries Fund NL, The Performing Arts Fund NL, and Sena together introduced Upstream – a collaborative initiative offering two programs in the directions of music and music x design.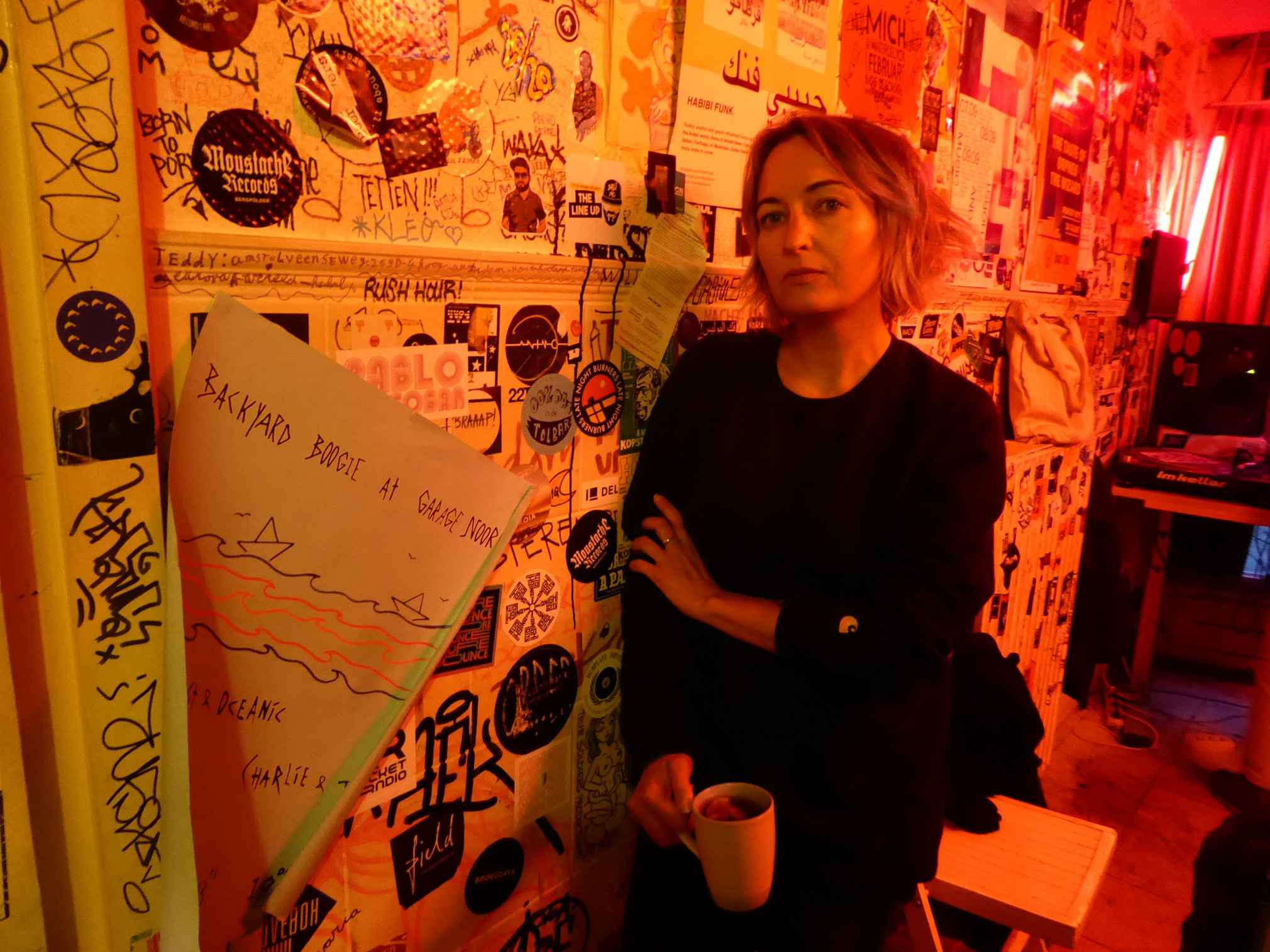 Every fund has different criteria, but if an applicant wishes to increase the chances, it is possible to apply for multiple funds with the same project. "You want to make sure they know you applied at different stations and make it clear which part of your project needs to be funded by each particular institution," explains Dekker. She stresses that staying true to yourself is key when writing an application. Use words that you would use and let your proposal be read by someone in your immediate circle who doesn't necessarily understand the details of your practice. "As an advisor, you can feel when someone's intentions aren't genuine," she notes.
One of the best ways to get acquainted with the application process is directly from the candidates themselves. On the websites of the funds, you can find the projects that were selected for grants and see if there is someone with a similar practice who you could approach. "90% of the time, they will be willing to offer you some advice or even share their proposal with you," Dekker assures. Learning from the artists as well as hearing directly from the staff working at the funds is also possible during informational sessions such as Get a Grand organized by The Creative Industries Fund NL and The Mondriaan Fund (read the round-up of the 2020's digital edition here.) Dekker points out that the value of such meetings cannot be overstated; you want to learn tips and tricks, do's and don'ts but, what's most importantly, you want to get to know the people working at the funds. She encourages to not be afraid of giving them a call or sending an email. "They are very kind, approachable and willing to help," she assures. As an alternative, some funds have drop-in consultations which give you the opportunity to explain your project plan and discuss your application with one of the advisors in a less-formal setting.
Femke Dekker will be sharing more tips and tricks on how to put together a strong application during her Dekmantel Connects workshop on 16 December.
Photos by Patrick Ebu Mordi, Francoise Bolechowski & Sven Bijma

The full panels/Q&A's/workshop programme in collaboration with Lynk & Co will be streamed from December 14-23