There are some persistent rumours circulating about the most extensive acid collection belonging to Carlos Souffront, and although doubted by the Detroit selector himself, statements like these surely can't come out of nowhere. As his DJ sets never fail to give a peek in this endless collection of pretty much anything involving a 303 or rough-edged dance music at large, we caught up with him about the music he revels in at home.
Words by Leonard van Hout

Being part of the generation of Detroit artists that emerged slightly after the one of the pioneers who brought techno into the world, Carlos Souffront found his way from beat-matching cassettes, to scraping together a DJ set, to eventually land his first residency at Detroit's Zoot's cafe in the mid 90s. Since then, his intrepid approach to DJing had increasingly been turning heads across the US scenes, having been affiliated with Interdimensional Transmissions and their legendary No Way Back parties, New York's The Bunker and San Fransisco's Honey Soundsystem, as well as occasional performances with electro group Ectomorph. Although the DNA of Detroit's musical heritage still clearly flows through his veins, Carlos has been living in San Fransisco since 2011 and also made his mark in Europe's scene in the years that followed.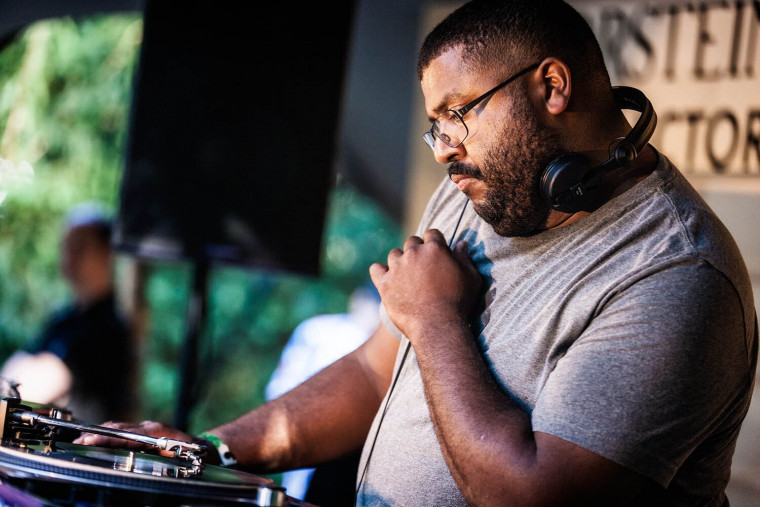 We caught up with Carlos in the beginning of May. The entirety of his planned trips and gigs has been called of, and although he could have turned to DJing livestreams online, he purposely choose not to in order to "leave that space open for unemployed friends that are struggling harder in the current situation" — a sign of his humble approach to taking part in the electronic music scene he's involved in. Playing gigs was taking up a large chunk of his time before the crisis, but he's happy to hold down another job he's able to do from home, forming a mellow routine. "The days seem to pass so quickly now with no change of scenery. Besides work I've been doing lots of cooking and baking, reading and watching movies, sleeping more regular hours, hanging out with my spouse and cats, checking in on family and friends, picking out my expanding afro and limiting stressors like social media. In the face of the real horror of what's going on out there, my day-to-day is very NOT horrible."
Souffront is one of those artist for whom the interest in collecting music distinctly preceded the interest in becoming a DJ. His first gigs at Zoot's and the weekly radio shows he did around that time revolved more around ambient and experimental music, on building atmosphere or transmitting a certain idea, rather than focusing on building an energy arc to keep a dancefloor moving. It's this approach to playing music and crafting a journey that still forms the driving impulse behind what he does, and an element that still clearly distinguishes in his DJ sets — also the gigs that do involve sweaty dancefloors. It's a mindset he inherited from that of the underground scene he's rooted in. "Since my DJing definitely evolved out of an engagement with underground dance culture, it developed more from this notion of 'if you don't love what you're hearing when you go out, do something about it!' EWW not like that...it's like this!"
Covering techno, house, wave, post-punk, experimental electronics and a bunch of other styles and spices floating around those terms, there seem to be some elements in his sets that tie all those different sounds together into a coherent blend — yet it's hard to pin down what exactly. "Playing only the stuff I really love is probably the sole connecting factor.", he says about this. "I'd like to think there's a core element of rebellion in what I do but maybe it's just being very comfortable with what I like and don't like, regardless of what's on trend in dance culture at large. But that's not to say I've settled into a stagnant place where I rarely enjoy new music."
"I'd like to think there's a core element of rebellion in what I do but maybe it's just being very comfortable with what I like and don't like, regardless of what's on trend in dance culture at large."
His name being almost inseparable with the squelching sound of acid, it's no wonder the proclamations around him having the most extensive acid collection came into being. Asked what it is exactly in the simmering 303 basslines that speaks to him, he points out how part of the sound's appeal lies in fact in its absence of meaning, and how such absence can actually hold a lot of power. "Acid house flipped my lid when I first heard it as a kid, so I think it's just that thing where you can never shake the music that captures your imagination when you're young. What does it mean? Nothing! Not to sound flippant, but it's really more about the music's meaninglessness, that's how it can work at a deeper level to communicate the untranslatable."
Moving away from the dancefloor and into his living room, Souffront doesn't often find himself listening to these strands of music in his home environment. "There isn't much overlap between what I play at home and what I DJ. The only time I'm really listening to house or techno at home is when I'm preparing to play a gig, and I'm not currently playing any gigs. I'll needle drop new stuff I'm interested in buying, but that's it. There have been a few instances where I've felt comfortable playing non-techno/house to a dancing audience, but that's a rare occasion when the audience is mostly comprised of people who I know would welcome that. I'm not sure how much Dekmantel's audience would appreciate me dropping Kleenex/Liliput on the Selectors stage. Who knows, maybe on the other end of this Covid thing that's exactly what they'll want."

"To be frank, I've been quietly mourning the loss of the nightlife, so listening to dance music right now just makes that feeling of longing worse for me."
Another component in why the somewhat more club oriented side of his collection remains relatively untouched these days, is how it makes him miss the nights out even more in the light of the current situation around the covid-19 pandemic. "To be frank, I've been quietly mourning the loss of the nightlife, so listening to dance music right now just makes that feeling of longing worse for me." Instead, he's diving into the parts of his collection he'd never found the time to fully sift through before. Whether it's the more obscure sides of the discographies from the artists he relishes, records for which he just never found the time to fully listen to, or new music that has been popping up onto his radar recently — he now finds time to thoroughly dive into it. "Felt, Current 93, Bark Psychosis, Robert Ashley, Fleetwood Mac, Prince, Opal, Merzbow, Caterina Barbieri, The Idea Fire Company, Terry Riley, Syd Barrett… the list goes on and on and on."
When we asked Carlos to pick five records out of all these things he's been listening a lot to from home, he came up with a selection that spanned from the industrial drone of Nurse With Wound to Cluster's cosmic krautrock and the electronic post-punk of Throbbing Gristle. "It's a bunch of Brits! And ze Germans. It's wild how much of what I like comes from very specific places on the planet." Apart from their geographical origins, the selection as a whole consists of records Carlos has "an enduring crush on", reflecting his taste in music we wouldn't hear him play out in DJ sets.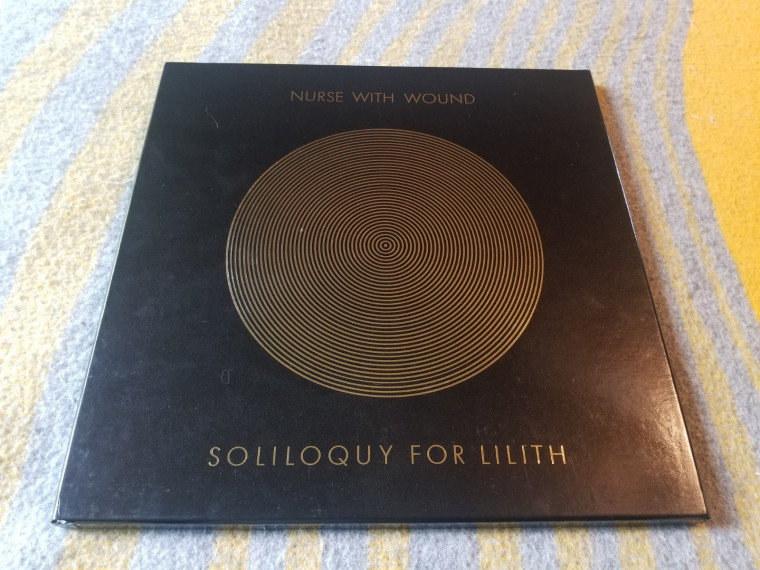 Nurse With Wound "Soliloquy For Lilith"
"Along with La Monte Young's Black Album, this is one of my favorite drone records. It beats La Monte Young onto this list mostly because there's more of it (clocking in well over 100 minutes). Also, it more closely encapsulates what I love about music and the feel I strive for when I DJ: the 3 R's… Repetition, Repetition, Repetition, with the subtle variations from one cycle to the next reflecting life itself. Plus, deep down, I'm goth as fuck and this record delivers that sensibility in a very pure and timeless way."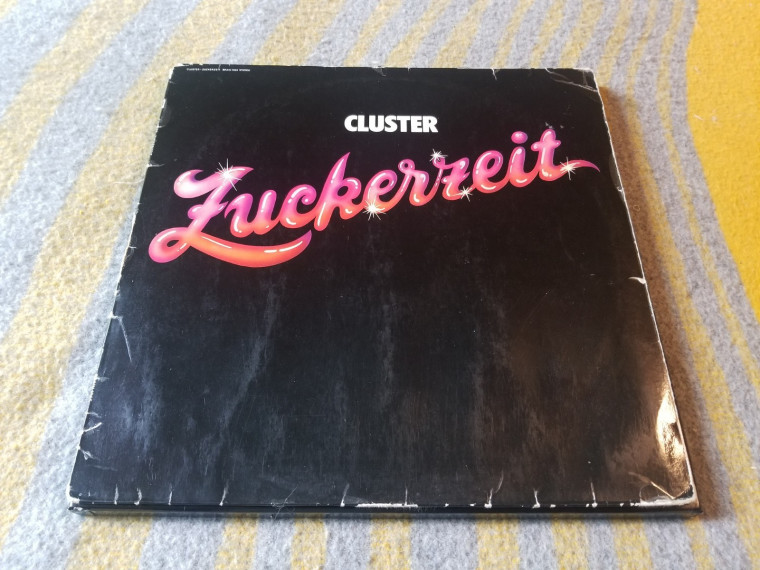 Cluster "Zuckerzeit"
"Cluster's Zuckerzeit — or just add Musik von Harmonia, Neu! '75, Faust IV, and Can's Ege Bamyasi for a perfectly satisfactory list of my 5 desert island German records from the 70's. For me, this one takes top prize because of its variety, energy, brevity, and sense of fun — always crucial and inspiring elements to me. From the slippery psych of Hollywood and Fotschi Tong, to the primordial alien sludge of Rote Riki, to the abstracted rock-isms of Caramel and James, this record is the aural equivalent to Pop Rocks — sugary, synthetic, effervescent, and ephemeral."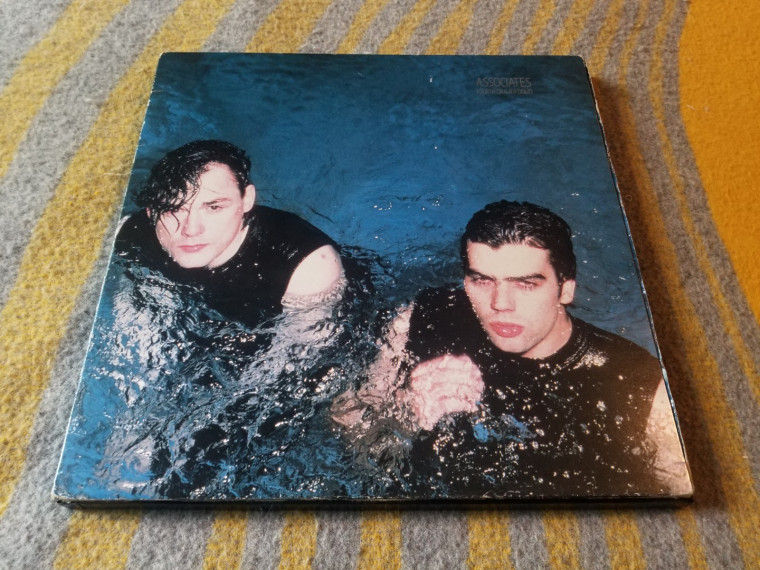 The Associates "Fourth Drawer Down"
"It's difficult picking between this and Sulk, two of the most sumptuous pop records I've ever heard, but this collection of the four singles they released in 1981 (my #1 favorite year for music) wins out with the sheer intensity and otherness of the songs. They're proto-techno, coming from another world that's strange, glamorous and Queer as fuck, and I want in! There's incredible detail and density in the production. The more you listen, the more you hear. Then Billy's singing — just not your thing? Well, that's why we can't be friends."
Throbbing Gristle "Heathen Earth"
"The only live album on here also makes the top 5 flashpoint moments in the past I would travel to by time machine. This record is an ideal distillation of TG's best songs, ideas and aesthetics, which have had as much (or more) lasting influence on me as anything. There's also such a dynamic range on this record that perfectly balances harshness and softness, darkness and light, truth and perversion, structure and improvisation."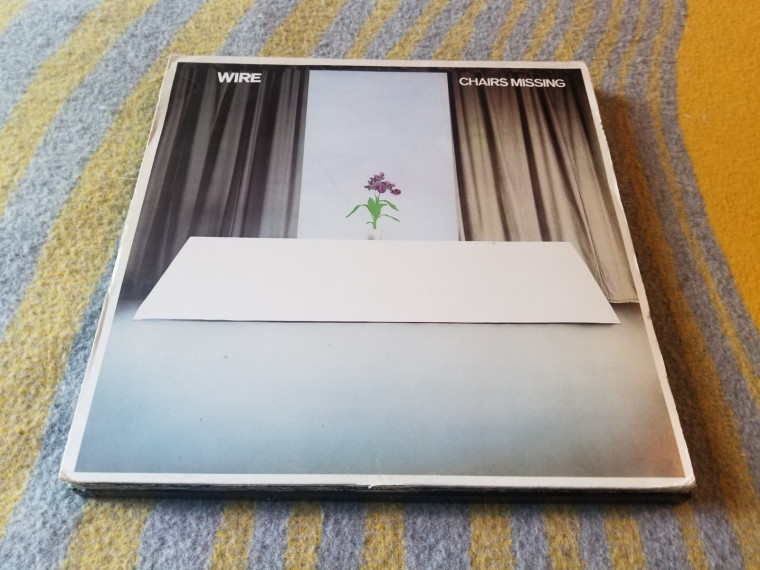 Wire "Chairs Missing"
"Wire makes it onto most of my lists such as top 10 favorite bands, artists most included in my top 50 records of all time, even my favorite song of all time is (usually) Wire's Former Airline. I greatly admire the power, dynamism and precision in Wire's music, but more than that, it's the rigor of their approach that continues to be the most inspirational. Ideas about eschewing fashionable traps in art, never waiting for your audience, about the recording as only a glimpse of what's past, with the artist already miles ahead… that's what up!"