Those who ever planted themselves on the dance floor while DJ Marcelle was in the booth, stacking tracks on top of another on three turntables while throwing in screams and whale sounds, know this for sure: in her DJ sets, the Amsterdam artist can go anywhere, and does not exclude anything.
Yet with the reputation of not shunning any side-path a DJ set could possible take you, and with a collection of around 20.000 records spanning four decades of African, (post)punk, electronic, avant-garde and other forward-thinking music, what are the tracks that don't make it into these sets, and what does she listen to at home?
When we dropped over to Marcelle's Amsterdam home in February, we caught her at interesting time, she says. A string of dates playing across Asia and Europe had been cancelled or postponed because of the Corona pandemic, resulting in her first weekends off in a very long time. She's been touring full on, and amid all that her latest album, Saturate The Market, Now! recently saw the light, for which she also released a videoclip and initiated the idea for the cover herself. This D.I.Y. attitude is inherent to everything she does and reflects in her creative process as a whole, from the music itself to how it is presented.

"It's all DJ Marcelle. Since I'm a huge fan of vinyl and attach a lot of value to aesthetics, I see things like the music and the cover both together as one thing. I couldn't make music and hand it over to a label for them to do the cover, I want to keep all artistic choices in my own hands. And for me it has to be vinyl – even for the aesthetics alone."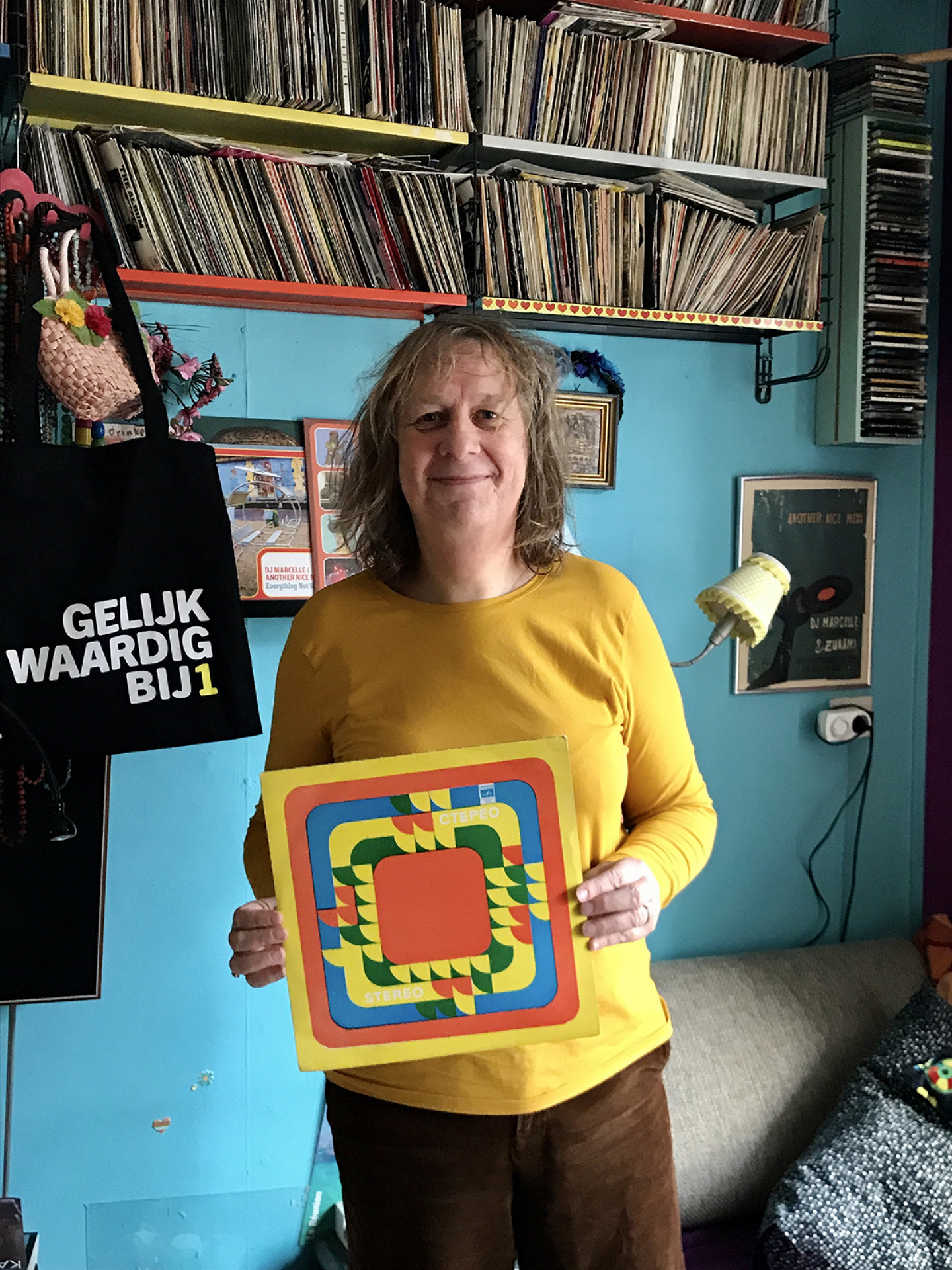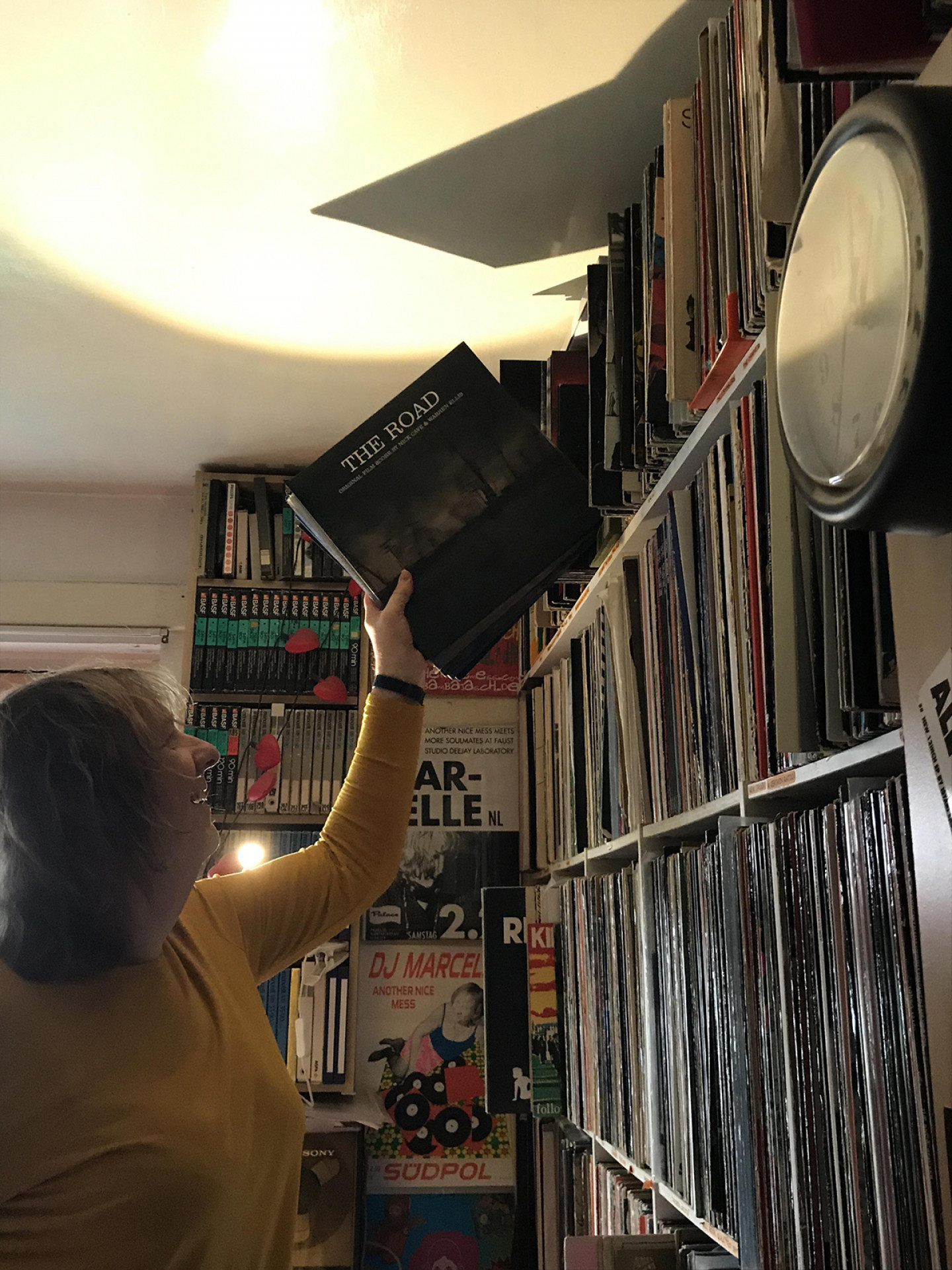 This strong inclination towards vinyl also applies to her home collection. In the colourful house she shares with her long-time partner, all of the thousands of records in her collection are neatly stacked on the walls, arranged either by artist, style or origin, have gone through her hands and share a specific connection. Her home could function as a museum, documenting her taste in forward-thinking music since she was in her early teens. Favouring vinyl over digital can be difficult at times in which some of the newly released music is only available digitally. When she was at last year's Nyege Nyege Festival in Uganda, where she's also a resident DJ, she received a USB stick with 150 unreleased tracks from Malian artist DJ Diaki. Some of them she decided to press on single-issued dub-plates — her only option as she wanted to have it physically and to be able to play it out in her vinyl-only DJ sets.

What she plays in those sets can go anywhere, and Marcelle emphasises her unwritten rule of playing new music, and to push dance floors out of their comfort zones, straight into euphoria. It's why she avoids music that's too recognisable and why she prefers to stick to new music, combining sounds and uncommon sequencing in such ways that feel fresh at any time. "I'm not someone to keep things obscure just for the sake of it", she says, "I do what I do, and if people like it, then that's nice." The world of bite-sized consumption of music is not hers, which in extent explains her critical stance towards what she sees as the conservative scene, including those who belong to the "so-called 'influential' DJs, bookers and festivals', including Dekmantel, who never booked me for their Amsterdam festival — which abroad no one ever believes".
Her own productions come into existence relatively quickly, like sketches capturing a moment. It's this approach to her creative process that gives her artistic fulfilment, also when it comes to DJ sets and the ideology she approaches her work with, as well as her political engagement with Dutch political party 'Bij1', standing up for radical equality in all corners of society. Rather than entertainment or escapism, for her it's "a whole ideology: feminism, freedom, courage, individuality, going against things that are wrong in our neo-liberal society, openness to others and other cultures — all those things." The freedom she grants herself is essential to that, and she mentions how she never had the difficulty of coping with certain expectations or being stuck with a certain perceived musical profile, because she has always been able to make sure people didn't have any expectations of where her DJ sets would go in the first place.
"I just think music should always move forward and should say something about the moment and the time we live in."
"That's my thing: anything that comes to my mind should be possible. Though not as a gimmick, as 'campness' or anything, because I only play music I 100% believe in. But more generally, I think music should always move forward and should say something about the moment and the time we live in. I do have a lot of old music that I still love, but wouldn't play out. I also don't like the idea of an older woman playing old music, it depresses me, in the same way that old bands doing comebacks and integrally playing their old albums depress me."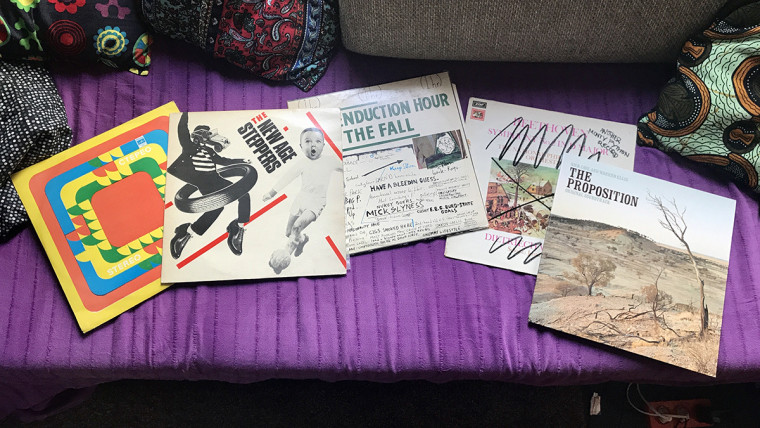 This focus on new music in her DJ sets is something she leaves hold of when it comes to home listening, even though she perceives her collection as a whole. "I can enjoy certain things at home, which I can't see myself playing in DJ sets, which I rule out", but adds that she still holds dear to the idea of being able to play anything, if the moment is right. One time she played ''Boredom'' by Buzzcocks to a techno crowd at CTM, she says, "but that was also meant as a comment to the Berlin techno scene."
"Theoretically, I would skip my own records when I would be scanning through the bins in a record shop.''
Since her sets revolve around more contemporary work, at home she finds the chance to listen to the music she has collected over the decades. The array of music she can pick from is immense, yet often she finds herself listening to favourites like The Fall, Public Image Limited and other bands from Britain's era of (post)punk, Bryn Jones' Muslimgauze project, saxophonist Colin Stetson, and West-African music released on Sahel Sounds. She also has a knack for collecting the weirdest of records she can find, be it animal sounds, sounds from heart surgeries or even political speeches originating from history's more questionable regimes. "I think it's just interesting, the stuff they press on vinyl. You couldn't make this stuff up".

We asked Marcelle to pick five things that encompass all of the above: the records that mean something to her, but which she wouldn't necessarily play out in a DJ set.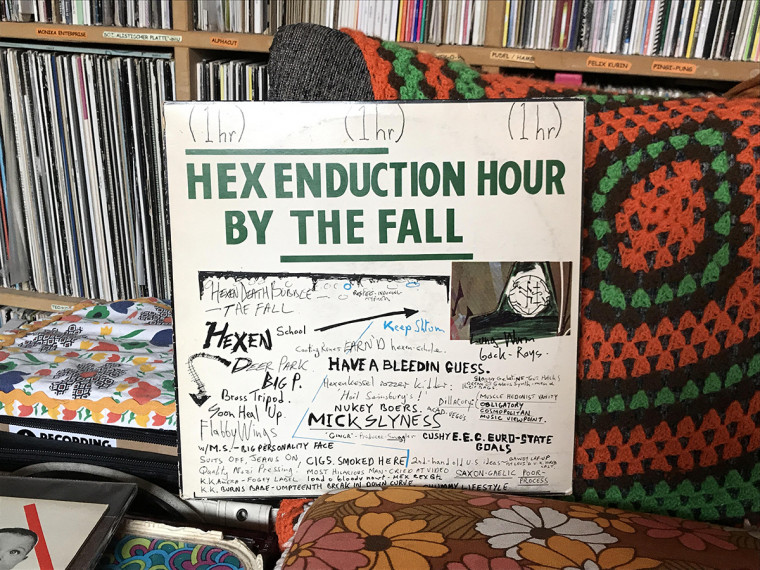 The Fall - Hex Enduction Hour
"If it's about the music I listen to at home, The Fall cannot be missing. Just listen to this record, I've heard this maybe a million times. The Fall have been with me my whole musical life and is really something I listen to at home a lot and hardly play out, though it can come as a great surprise to play this after a techno or drum 'n' bass track. When the lead singer, Mark E. Smith, passed away about two years ago, I made a tribute record for him. The Fall has meant a lot to my aesthetic and it goes far beyond just the music in itself, it's the attitude as a whole; of how you make music, of daring to speak out and of not having to be nice all the time. Mark E. Smith was an iconoclast, a surrealist dadaist breaker of conventions in music and art more generally. A magically creative individual, an attacker of the pretentious and dishonest elements in society and music scenes."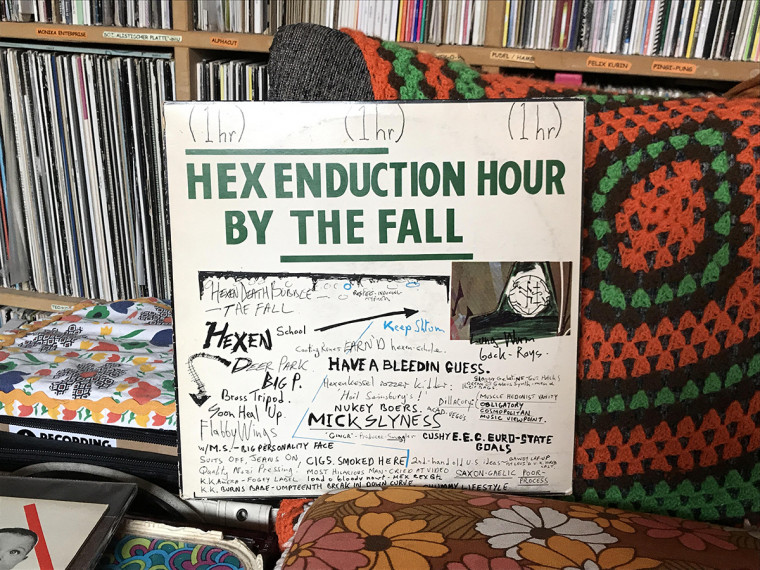 Monty Python's Flying Circus - Another Monty Python Record
"Let's do a Monty Python one. Life Of Brian is one of the best films ever, if you'd ask me. Funny cover, of course, and yes, it's really supposed to be like as if someone just jotted this over an existing record. It's called 'Another Monty Python Record', I think it partly contains stuff they did for TV, but also other things. I do regularly listen to comedy records. W.C. Fields, Laurel and Hardy, which is where the 'Another Nice Mess' phrase comes from, and this Monty Python stuff. I could play it live, theoretically, but I never really do. On my LP from last year was a sample by John Cleese, from The Holy Grail, a parody on these knight films. It's from this over-the-top scene where he's chopping people up, and then when he's finished, he says 'sorry!' I cut out that sorry part and put it in one of my tracks now. I like that idea of putting things like that in — like animal sounds. The sound of a whale, have you ever heard that? It's almost like a bassline, so I like playing that over other records. Things like these animal records I don't listen to at home, but in fact do play out a lot."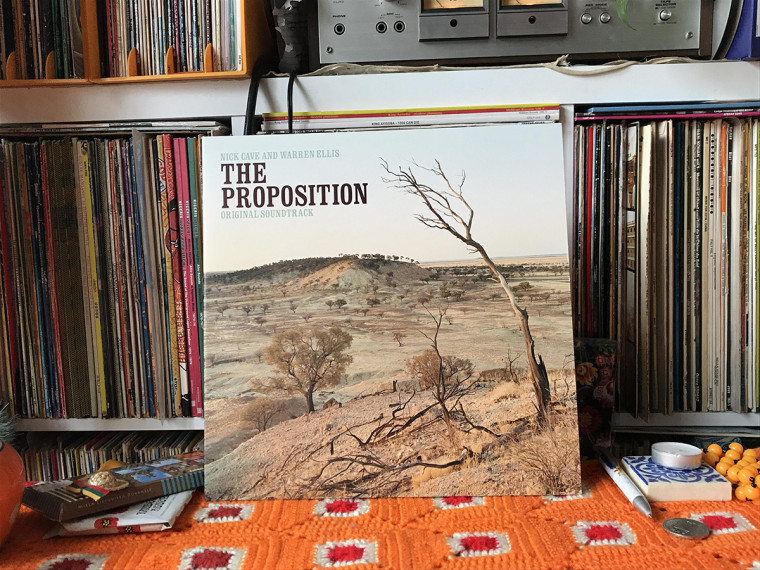 Nick Cave & Warren Ellis - The Road & The Proposition
"Recent music I often listen to at home is film music by Nick Cave and Warren Ellis. Their collaborations are fantastic, both in The Bad Seeds and in their soundtrack work. Ellis is a violinist, but it's also electronic. To be frank, the films are not as good as the music. Some of the films are a bit Western-like, or a tad violent. Not the genres I'm usually into. But the music is beautiful, melancholic — musically stunning, like in dystopian film The Road. It has a lot of electronica, yet not in a bombastic way, as is often the case with film music. I don't like it when it's bombastic, just like with this business techno, that's very bombastic. This is just stunning music. I can play some peaceful things over a techno track, but this just wouldn't work like that. Creatively, I can't do anything with this. A lot of records, noises, calm stuff… If it's just a piano, for example, I can play it live, but with this I can't do much. Although, everything is possible, of course. But this is just beautiful as it is, I don't see the point of playing this out."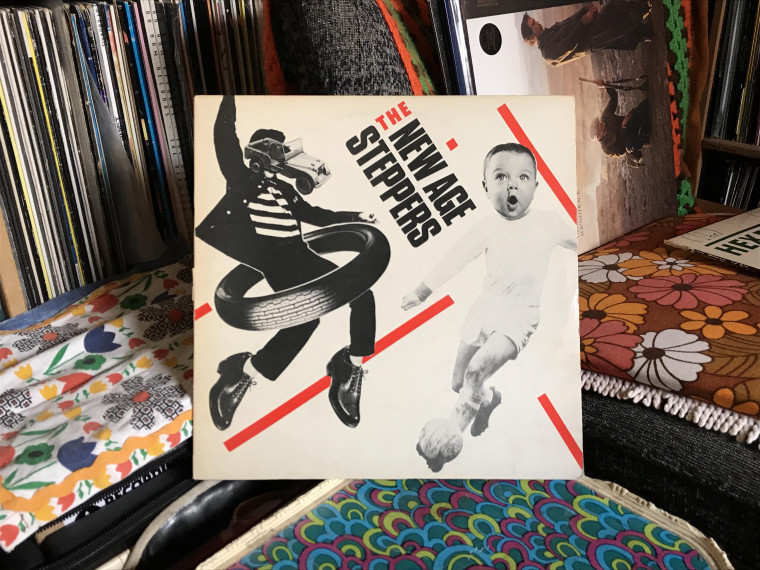 New Age Steppers - The New Age Steppers
"And dub! That has to be included, it's music that has been of immense influence to me throughout my whole musical life. I have an extensive dub collection and listen to this a lot while at home. Mad Professor, Lee Perry, but also current dub. Take the output from On-U Sound, a fantastic label, with Dub Syndicate and Creation Rebel as their house bands. I have everything from the label, including all their 10" dubplates — they are great. And there are still new things coming out, you know? This one is the first On-U Sound LP, featuring Ari Up of The Slits, another one of my influences. Amazingly weird and heavy dub, still sounding fresh after all these years. And record covers like this you won't find with digital music, this is what excites me a lot. When it comes to music I listen to at home but don't really play out, this is perhaps the best thing to mention. Though when I play live, I do apply certain dub techniques in my mixes and transitions, for example with echoes and delays."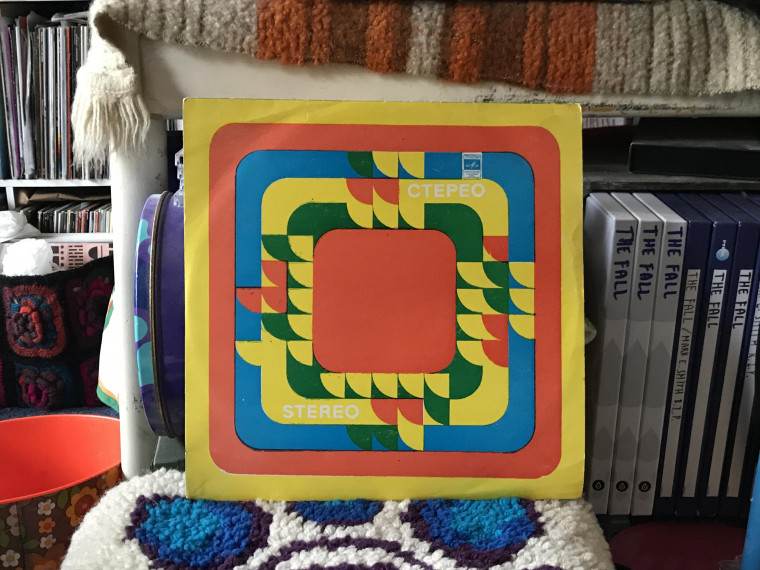 Unknown Soviet Union records
"Sometimes I buy records, not to play at all — like just for the cover. Like this one: I don't even know what it is, a Soviet record, from some communist record label. It's a very thin cover, Russian state label, perhaps. I have a whole bunch of these communist records just for the cover, I love them. You can see it's done in a somewhat makeshift way, not with a huge budget put into it. Sometimes I buy these and don't even put them on at home, as the music is intensely uninteresting. This one I bought at a flea market a few years ago, I could say Moscow or Belgrade, but I wouldn't remember. It's from the former Soviet Union, I think from the 1960s but I don't know anything more about it. I can't read Russian, so it's hard to look it up, but I love them — I have a whole collection of these communist state labels and records from the GDR, they all have great covers."
"When you look at the covers of what I buy for myself to play out, it's all very unpolished. Usually black covers, some scribbling on it, very dark— the opposite of my own records. So in fact, theoretically, I would skip my own records when I would be scanning through the bins in a record shop. But that's a funny idea, I think. I like colours and small details and I don't like those cliches like the black cloth covering the DJ booth, so I often bring my own. It's just who I am, and I like that that's also a bit confusing for people. In the sense that they would expect happy, accessible music — but it's not. Confusion is always good."

Due to the current situation with the Corona pandemic, DJ Marcelle is showing mini-gigs/videoclips under the banner 'DJ Marcelle's Lockdown' from her home. You can find those and tune in for upcoming episodes at her Facebook page.