Sometimes, the sense of not belonging inspires artists to create a space wherein people feel like they can be themselves no matter what.
Words by Bo Hanna

This is also the case for Cem Dukkha (28) – known as CEM – who was born into a Turkish household in the Austrian capital Vienna. He left his hometown almost a decade ago to fulfill his ambition as a musician in Berlin. You might already know CEM from Berlin's underground scene; he is a co-founder of the legendary queer party Herrensauna and he has been at the heart of the label since the beginning. Herrensauna launched in other countries in the past years and CEM himself has been traveling around too; he played in both Japan and China this year and will soon perform during this year's edition of Dekmantel Is Burning in Amsterdam.
What kind of family did you grow up in?
I grew up in a Muslim household as an only child together with my Turkish mother and grandmother in Vienna, where I was born and raised. I had two strong female figures in my life who worked really hard to raise me – they came as migrant workers to Austria in the late 70s. Now I think about it; my uncle was a raver, he was going to illegal techno parties when I was younger funnily enough. My mom listened to Nirvana and Metallica herself and I remember being very interested when she played Nothing Else Matters from Metallica, but for her, the death metal was a bit too much.

How did your upbringing shape you as an artist?
Similar to many other migrant parents, my mother did not necessarily push me to explore my creative side because she believed a study like 'Law' or 'Economy' would offer me more financial stability. That was the reason why she came to Europe after all. Because of that, I decided to get a bachelor degree in Economy first. Nevertheless, I always wanted to become a musician and at the age of 14 I convinced my mother to buy me a guitar. I taught myself how to play guitar and played in several bands in my teenage years. I always knew deep down that I wanted to become a musician.


When did you start getting involved in nightlife and the electronic music scene?
I started going out to techno parties when I was 18 years old. I resonated much more with the atmosphere of these parties than with the 'mainstream' gay scene. I co-organized the first queer techno night in Vienna together with my first boyfriend who was organizing parties in Vienna at that time. At some point I started learning how to mix my vinyl collection on a turntable I found in the storage of my ex. Later, I started playing my own sets at our events. Things started to grow and in a few years I was playing at the major clubs in Vienna. At some point I decided to leave to Berlin and broaden my horizon.

Why did you decide to move to Berlin?
I always felt a bit freaky in Vienna, as soon as I moved to Berlin I felt liberated; nobody judges you there for having an alternative – non nine-to-five – lifestyle. I don't judge people working in offices though – it is just not for me.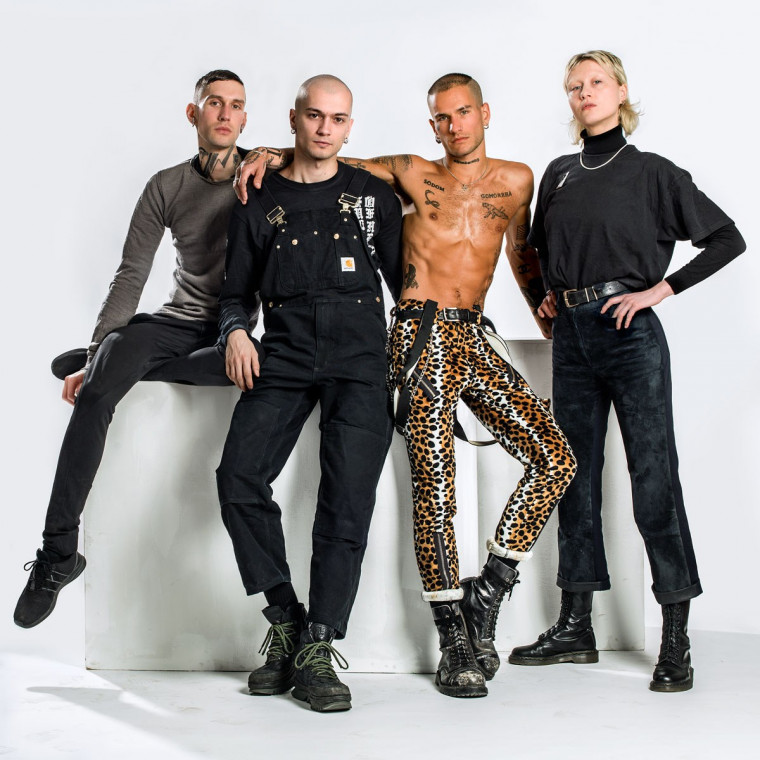 Photo: © Ari Versluis / Glamcult
What is your most memorable experience as a DJ?
One moment is certainly this year's Herrensauna party at Bassiani. It was one of the busiest nights ever; over 2000 people came to dance with us. Another pivotal experience was when DVS1 invited me to play his party during Amsterdam Dance Event in Elementenstraat a few years ago, very soon after I started Herrensauna. It was an important moment for me because I was really inspired by DVS1 as a DJ and having him inviting me was a big recognition.

You - of course - travel a lot. Where and what kind of clubs do you like to play the most?
There are many interesting scenes around the globe. Recently, I toured in Asia to play in China and Japan. I loved the scenes in both countries. I played my longest set ever in China; 9 hours! Playing in Japan was a dream for me that came true, I had a great experience there and fell in love with the culture. Another special place where I played is Georgia; I felt like there was a political aspect to the dancefloor in Tbilisi. It was not only about getting f*cked up and getting laid. People really dance to forget about their day to day struggle and fight for a better life. The dance floor seemed like a liberating safe space for marginalized communities and the younger generation. It is special to witness this sense of urgency on the dance floor from behind the DJ booth.


There has always been a strong connection between the electronic music scene and queer people (of color). These lines seem to be more and more blurred. How do you think about that?
In an ideal world we, queer people wouldn't have to separate and claim places for ourselves. Unfortunately, the world is not an equal place (yet) and marginalized communities need safe spaces– every ally is welcome though. At least, that is how we see things at Herrensauna– everybody that is familiar with our events knows where we stand for and that there is a notion of queerness to what we do. I think it is a good sign that communities mix up too. People have criticized us for collaborating with Boiler Room in the past, because it would be run by 'white cisgender straight dudes' but I am happy we were able to set an example and get more exposure and visibility for queer artists via their channel. I am positive about things, there are more queer and female role models who inspire girls and queer people to become a DJ nowadays.

What's coming up for you?
I will do a Southeast Asia tour together with fellow Herrensauna co-founder and resident MCMLXXXV. We will be starting Herrensauna Record Label soon too.

And... you're coming over to Amsterdam for Dekmantel Is Burning!
Yeah, I'm really excited to play there. I have been to Dekmantel Festival once before and I really liked the atmosphere. I have been following both Is Burning and Dekmantel in the past years and it is an honor to be there for this year's edition.