One wonders what scenes Paquita Gordon imagined while packing her record bag for Dekmantel Festival 2019.
The look and feel of the festival's Selectors stage is well documented, as is, naturally, the Boiler Room. Two stages that are almost notorious in regards to their vibe: a willow tree on the one hand, a tubular airplane hangar on the other; a bit of well-orchestrated fog and powerful sound systems on both. To do these environments justice, the Italian DJ, who is a resident at Milan's much-respected Terraforma Festival, opted for records united by an emotional approach. By selecting records that sat comfortably between the good kind of Trance and dreamy House, Paquita Gordon relied on positively forward-moving frequencies. And forward everyone moved.
In-between sets, Mathis Neuhaus caught up with Paquita Gordon to talk about passion projects, combining the old and the new and the preliminaryability to meditate on a vibe.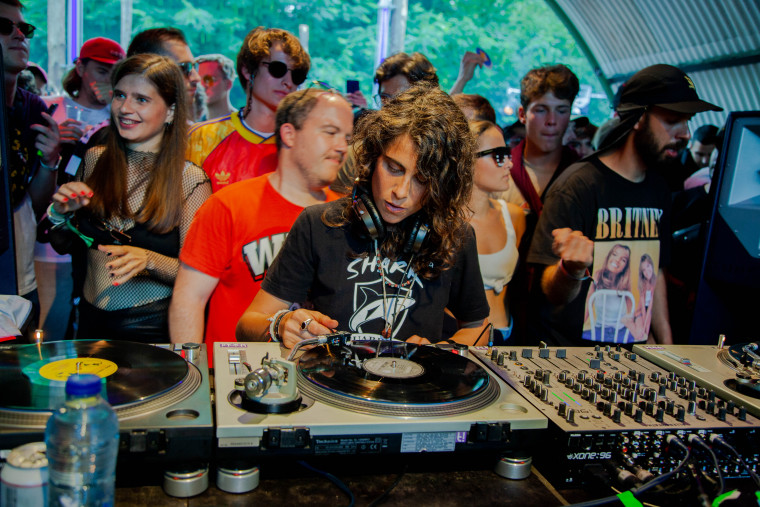 Can you tell a little bit about the project "il Vulcano" that you are involved in?
PG: "After living in London for some years, I wanted to get out of this overload of musical information. That's why I decided to move to a musically innocent place and for me that was Sicily. Even though that part of Italy might be uninvolved in regards to the music I play, there are a lot of things that inspire me. It is full of possibilities; the nature is beautiful and I wanted to find a way of connecting these stunning landscapes to music. I decided to start a project where I could bring artists over to play music and experiment in this kind of environment. Not necessarily to makeit public afterwards, but more to find surprising ways of connecting music and nature. Like a jam session. Since 2014, we realized different projects on different islands of Sicily like Stromboli, Pantelleria or Salina and invitedartists such as Robert Lippok or Gigi Masin. "il Vulcano" is about moving music to new contexts and using it as artistic research. It is a personal passion of mine and not necessarily connected to my career."

Is the project only based on music or are there other art forms involved, too?
PG: "It is mainly based on music, but since my friend Margherita Chiarva, who is an analogue photographer, joined the project, we reinforced the visual aspect of it by documenting it, using video and photography. We are collecting this material and thinking about maybe conceptualizing a show in the future that will bring this content to the stage. We would like to use the photography and video work in a musical performance to be able to bring the inherent context of the project to other people, too. For us, that would make sense, since everything is connected in the first place: music, art and nature."
"After living in London for some years, I wanted to get out of this overload of musical information"
You are going to remote places by choice, but still think about opportunities to open up these remote places to the world.
PG: "Yes. It has already been a few years since we started collecting material, but we are still trying to figure out a way of using it. If it is more connected to the musical world or the artistic world. We do not want to rush things, but come up with an adequate way of presenting it. It is important to us that it does not lose its innocence. Next September, we will open up to a new place. With Margherita Chiarva and in collaboration with The Old Carpet Factory, a jam session with musician Ariel Kalma will take place on the island of Hydra in Greece."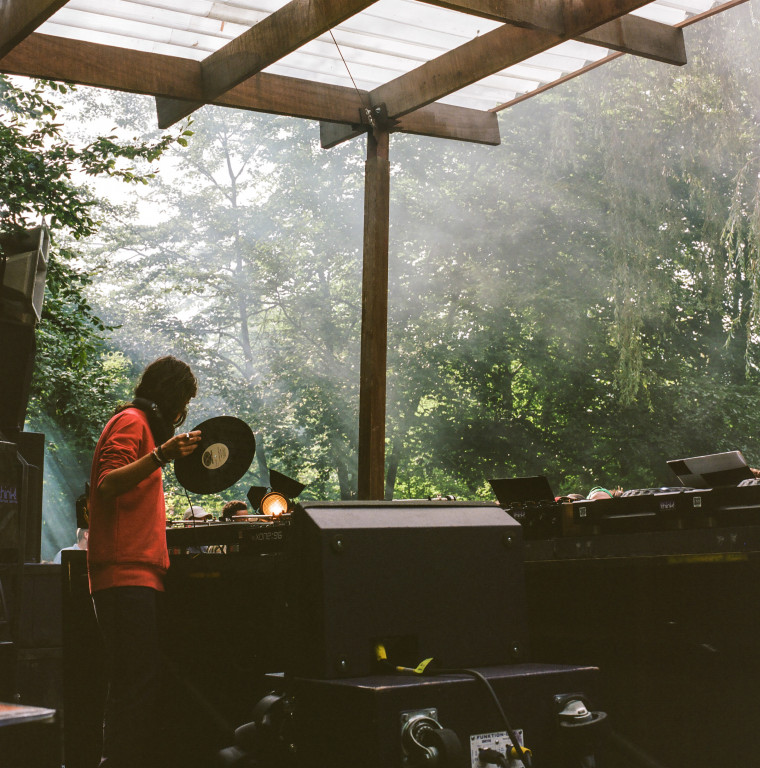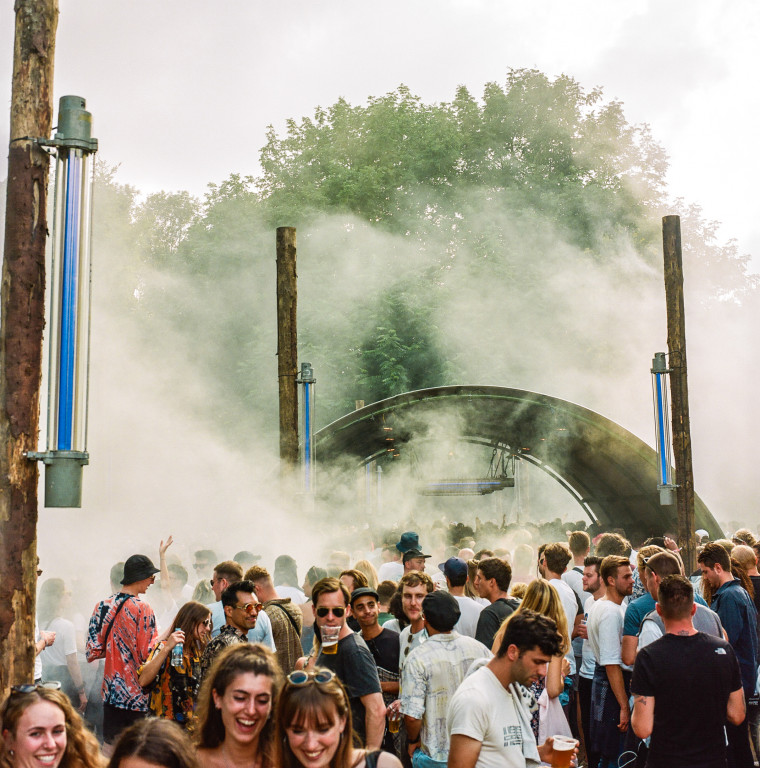 As a country and culture, I feel like Italy has a certain nostalgia to it. Is this something you can identify with?
PG: "Absolutely. In my feelings and my music there is this kind of emotion. I have southern blood from Puglia and this area, just like the ones close to it like Campania or Naples, have a big tradition of dramatic theatre. I think this plays into what I am doing and what I am drawn to. Nostalgia is a part of it and I think Terraforma, for example, has this, too. The presence of the past and the future. There is a historical presence, which impacts everything happening there. But it is not just nostalgia. It is also multiculturalism, passion, warmth and love. Everything comes together in a deep way. There is never just light content from Italy."
You are mentioning Terraforma and how the festival succeeds in combining the old with the new. Only looking back can feel stale pretty quickly.
PG: "Definitely, but the same is true for just focusing on the new. These two poles always have to go together, especially when considering art as a whole spectrum of emotions. I do not want to just be innovative for the sake of it. It sounds like an obvious thing to say, but it is important to know where everything comes from to be able to push things forward. I believe this is also true for DJs. You have to be able to engage with the previous to be able to build what's next."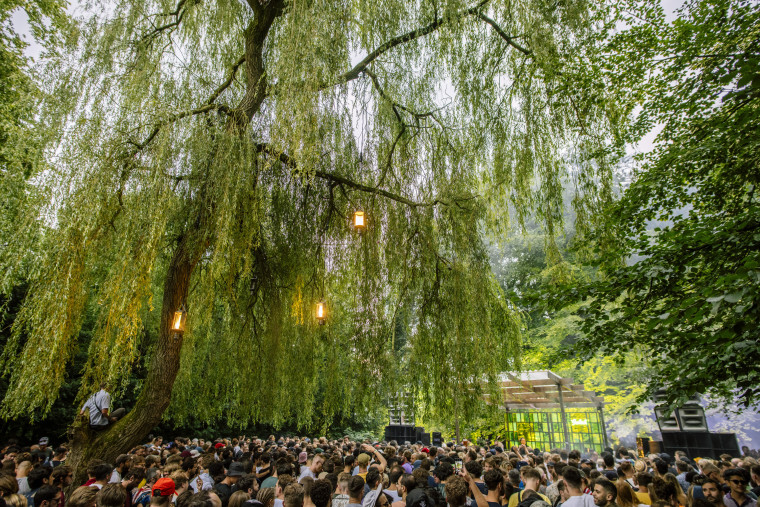 You are known for playing a lot of different styles of music. Would you say that there is a certain sonic palette you are drawn too?
PG: "It is interesting that we started to talk about the connection of the past and the future and the concept of time in music. I consider myself an old-school DJ, because I mainly play old records. The only new records that I play are from my friends. I like to feel innovation despite time. To search in the past and find the music that still talks about the future and what is going to be next and that is able to push and triggernew frequencies and attitudes is what I am trying to do. I saw Donato Dozzy playing the Selectors Stage and in his way of mixing and his selection you can feel the experience of a person his age, but he is still talking the same language we are talking. And actually, he is teaching us the language that we will continue to talk. Through music, different generations are connected by an invisible system that is beyond time. I also like to play music from other centuries. Old folk music, for example, and even there, I can find a lot of similarities to contemporary techno. Analogue processes of sound are, somehow, the sonic palette I'm drawn too. I don't play digital at all because I'm not interested in spreading computer generated waves, but physical ones."

"I work a lot during the set, but it is much more work before"
I think for people that collect records as passionately as you do, this question inevitably always comes up: would you like to produce music? Or do you think it is maybe harder for you to produce, since you know so much music already?
PG: "I would love to produce music. It is just that being a DJ is avery full-time job. Especially with vinyl, because it takes a lot of time for me to prepare each show. Every time my calendar takes shape, I try to meditate on it, in a way. I concentrate on one DJ-set that is coming up and I try to provoke a vision. I have to foresee what is going to happen on the dancefloor. I try to really imagine the vibe and the type of sound and this input lets me decide what records to bring and the kind of direction I want to bring to the set. I work a lot during the set, but it is much more work before. I have been collecting records for ten years, and of course I have a lot of information and inspiration that makes me feel like I want to do something else with all this information. I am currently in the process of moving and in my new home, I will create a studio. I have different instruments that I collected through travels like various types of percussions and a drum machine that can make many things in itself already. I can't wait to start using this setup."

Your father was very involved in music by managing his own label "Come il Vento" and working in and contributing to Italian radio stations: how does staying close to your musical roots and finding your own musical interests relate to each other for you?
PG: "I think it is an influence that can't and shouldn't be shaken off. I always go back to my roots, because for me this is also a way of reconnecting and recalibrating my senses. The nature, the sunshine andthe sea help with that, but also listening to old and formative records from my childhood. It's like Marcel Prousts Madeleine. A specific song or sound can bring you back to a time, place or space and for me, this also has a huge influence on my DJ-process. These influential sounds are always there and I am always respectful to the beginnings of my musical journey. The culture of House music is based on sampling and a premise of that technique is being respectful of the music of the past; the music of the parents. And electronic music is an opportunity to bring together everything, because it can be new and old at the same time. It has no real time or space."