Picture the clear blue waves, sunbeams tickling your face and the buzz of a beat thudding in the background, and the overall appeal of Dekmantel Selectors' Tisno homebase isn't hard to wrap your head around.
Words by Leonard van Hout

Yet go beyond the trip, the sun and the sea, and you'll find the component of unearthing new sounds and artists firmly at the festival's core. Unfolding within this blueprint of adventurous DJs, surprising moments and bewildering discoveries scattered across its stages — we take a look at Selectors' setup through the eyes of its very own programmers.
Let's get one thing clear; as much as Dekmantel loves live sets, this five day getaway at the Croatian coast is an ode to the DJ. The craft of playing records in front of people is squarely put centerstage, so what you get (besides of course Tisno's breathtaking backdrop) are a whole bunch of decks, mixers, record crates and some of the most capable human beings to pick up those tools and string together DJ sets like you've never heard them before – spread across the festival's collection of stages. Boye 't Lam and Lisa Molle, the two programmers behind Dekmantel Selectors' 2022 roster, walk us through various stages and unveil what is there to discover, and why they've put it at that specific spot.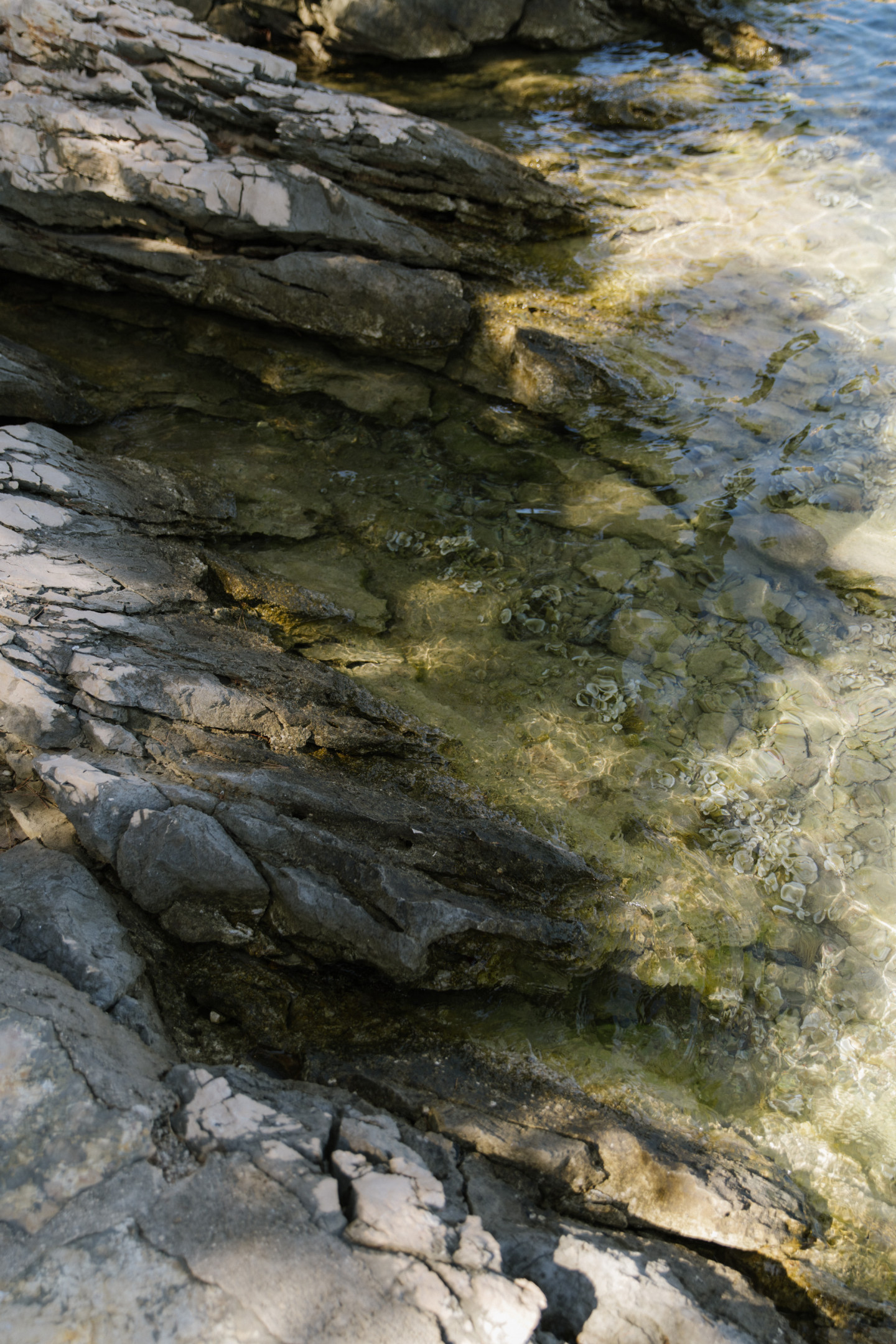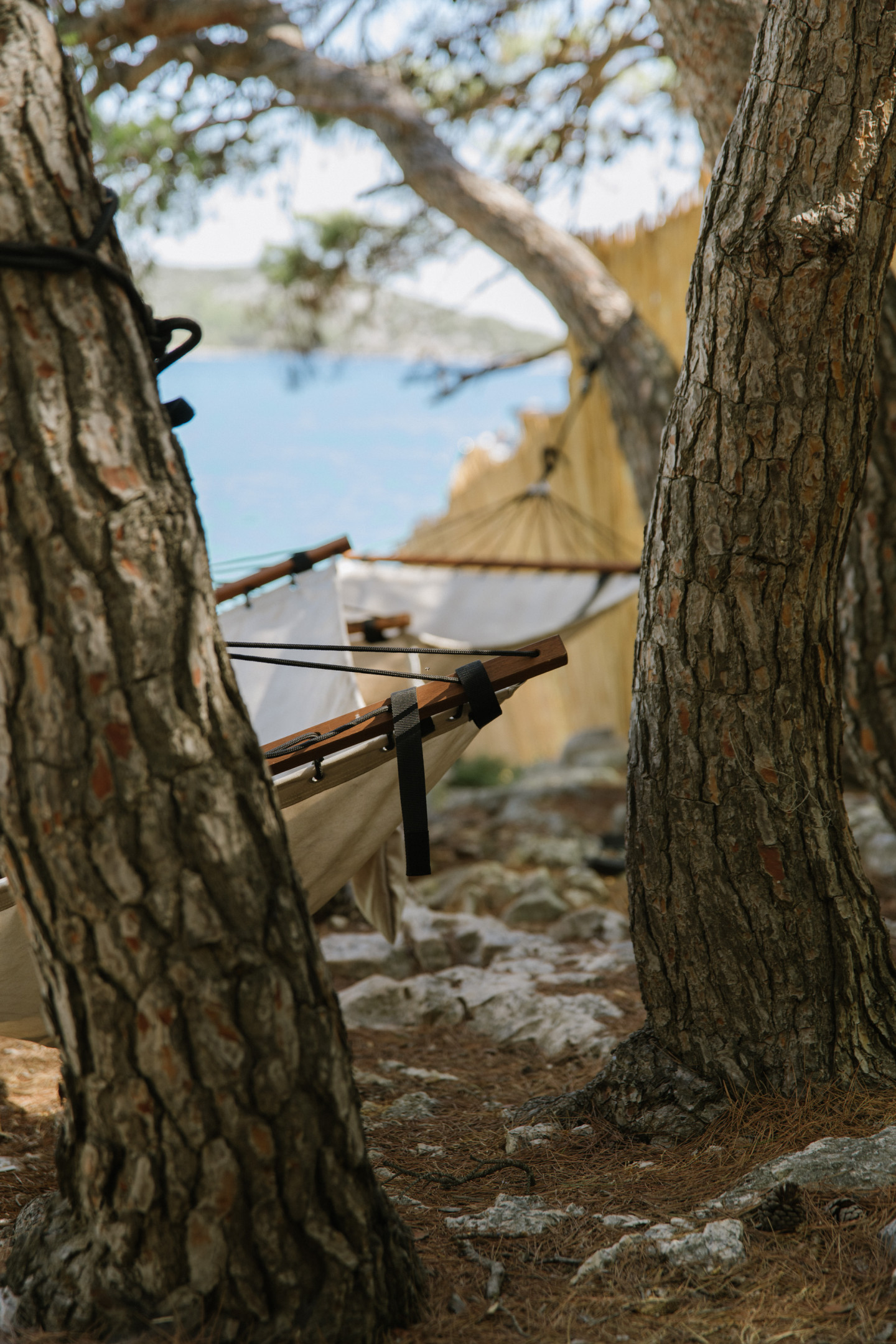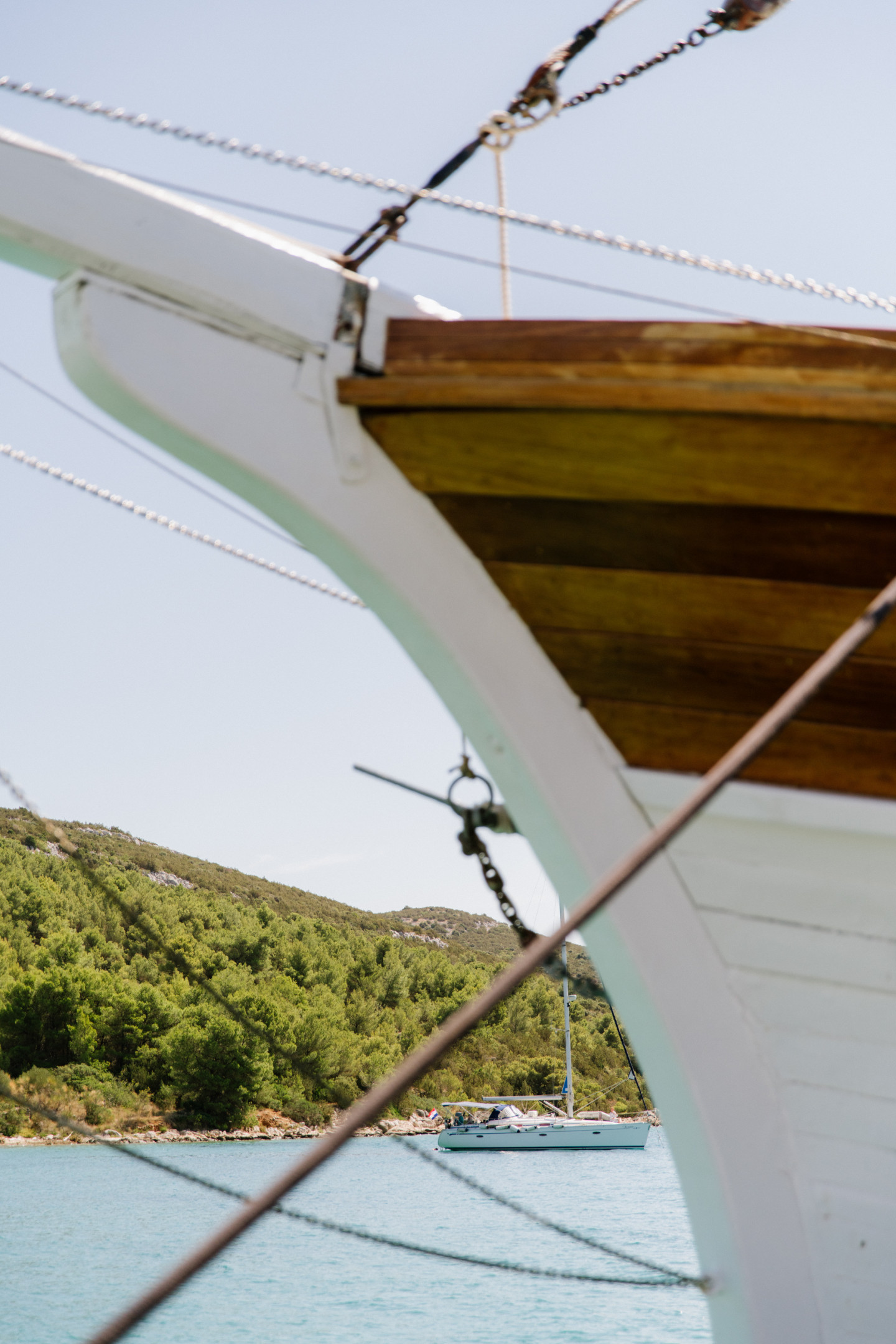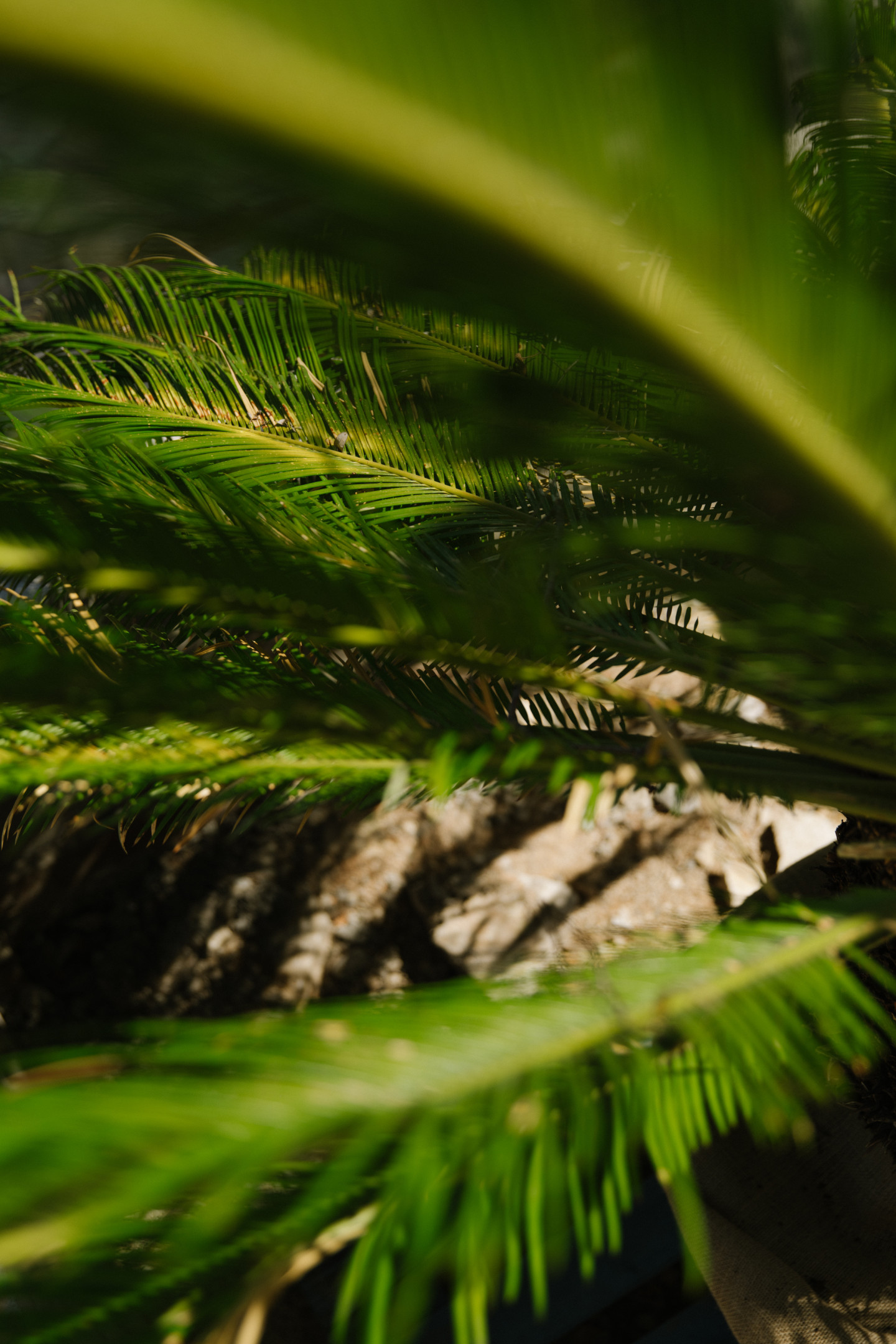 Magnolia
Enter the festival terrain and the first place you'll stumble upon is the Magnolia — a new hideout within Selectors setup. With the festival in essence already a place to meet people, connect and hangout, The Magnolia magnifies this idea of a base where you can wind down, socialise and discover excellent music. "The Magnolia really centers around music for listening", Lisa explains, "though you can dance there too. You can just hang around, sit down, perhaps recharge from the night before — all while being served beautiful music."

To pin down exactly what can be heard here is difficult. Four-hour slots and a musical carte blanche give artists the space to reach into the deepest corners of their collections, whether that boils down to ambient, IDM, dub, psychedelic electronics or anything else that fits into the journey.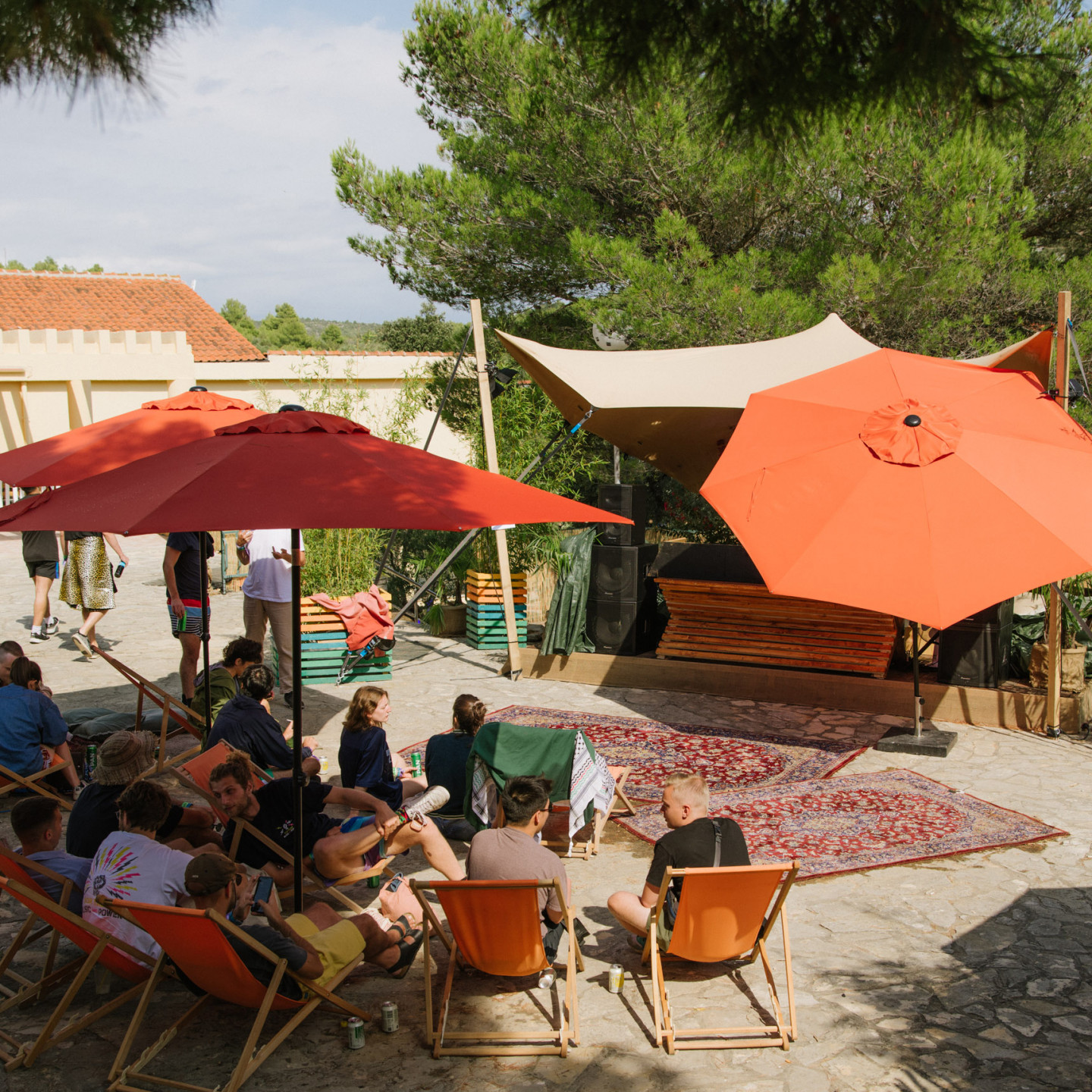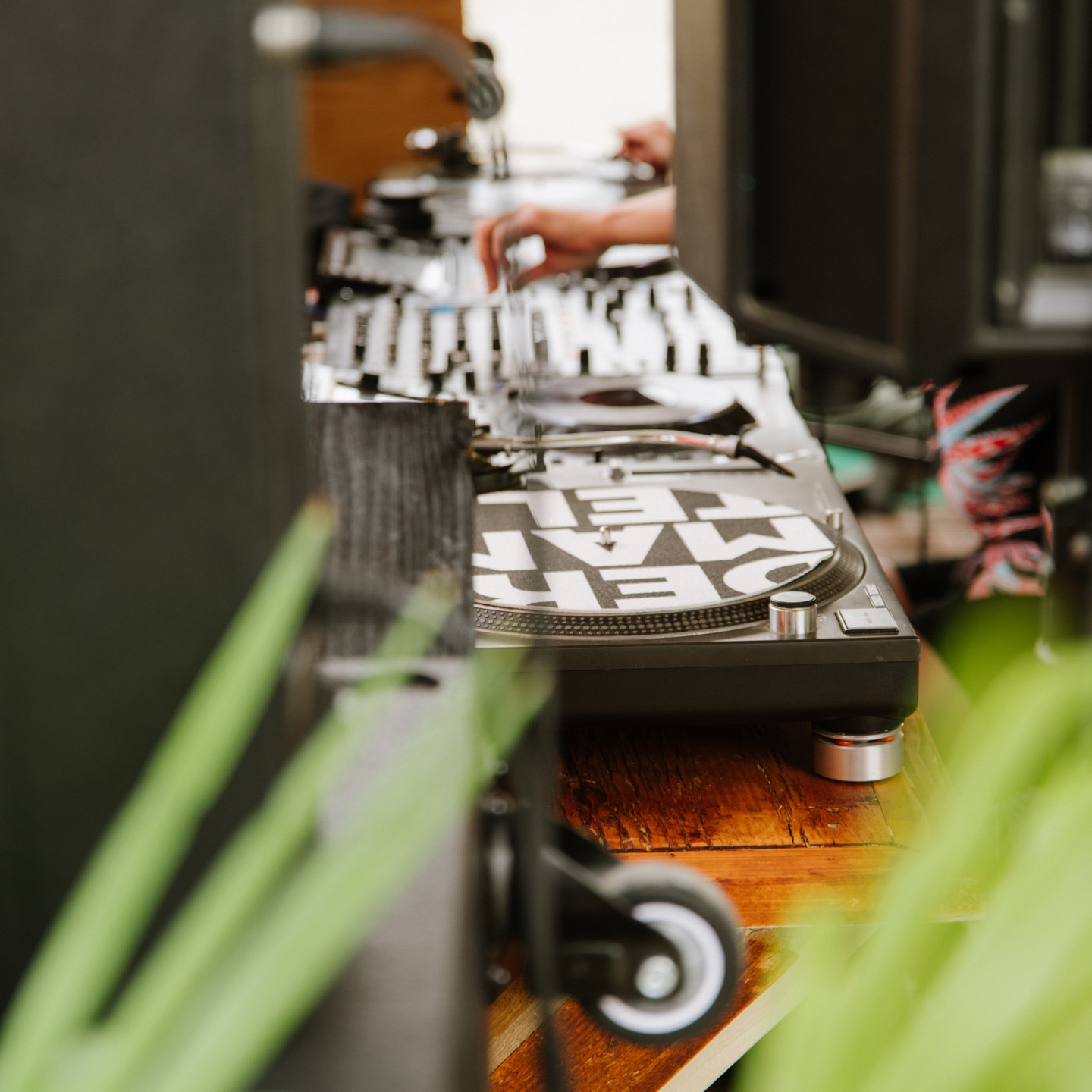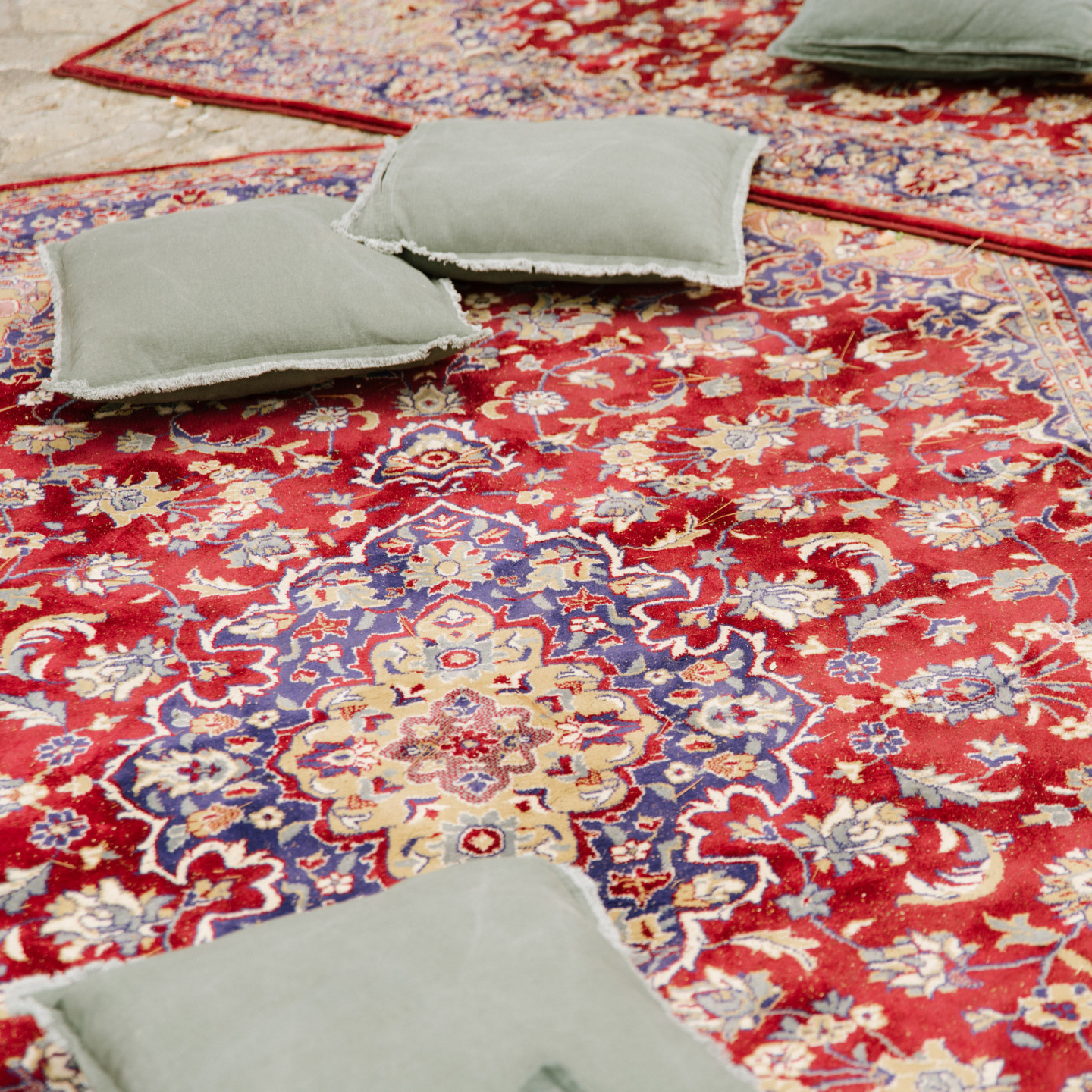 Inspiration behind the bookings of this stage is drawn from the risen prominence of radiosets during the past two years — delving from a pool of DJs from various local scenes, that have popped up through their wide-scoped selections. "Many artists on this stage are residents, founders or in some other way connected to radio stations," says Lisa, "like Mosaic Man, who is part of the crew behind Radio Tempo Não Pára, or Soumaya Phéline, who popped onto my radar through Kiosk Radio. But the stage also features Sundae and Croatian local Pytzek, who both have amazing collections we're curious to hear in this setting.
Beach Bar
Serving as a space to either hang out, lay down or dance to music, the Magnolia shares some similarities with the Beach Bar. Yet in contrast to the Magnolia, where the program is spread out in the evening, the Beach Bar's schedule stretches across the bright midday hours, from early on the day till roughly the moment the sun makes way for the moon. Located on a little pier and surrounded by water, you could say the set-up of the stage is what it says on the tin: a place to hang out on the beach while enjoying a drink, a swim, good company and excellent music.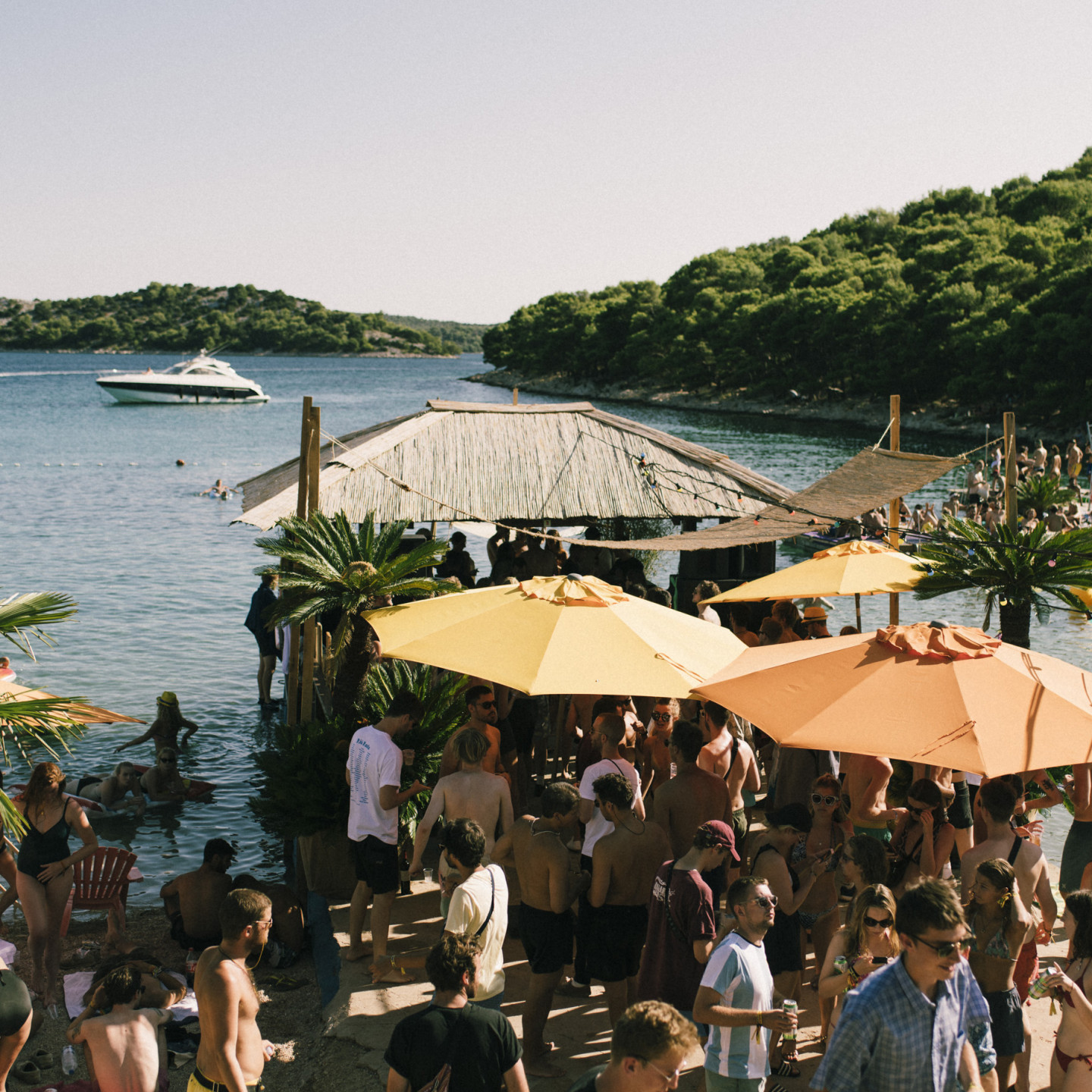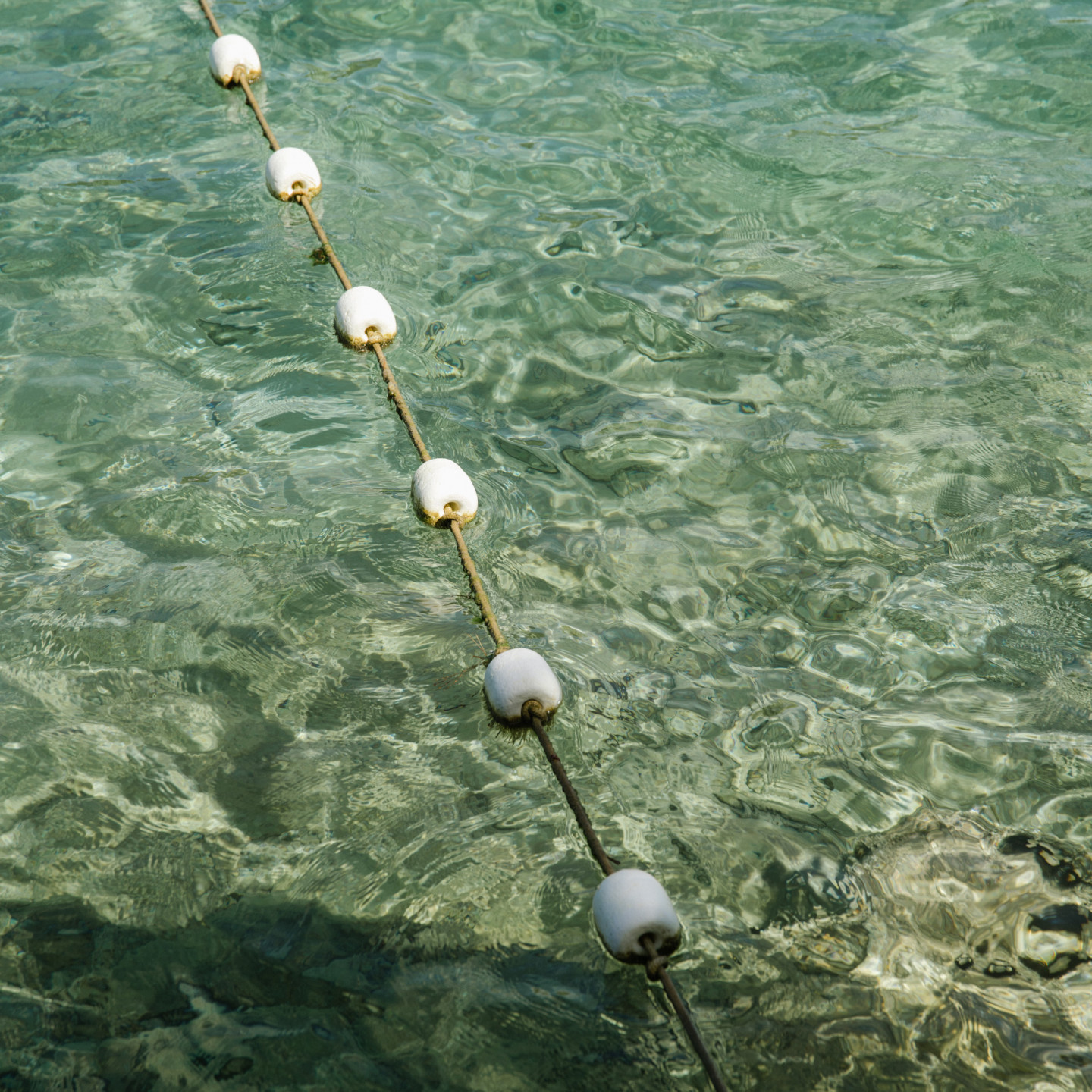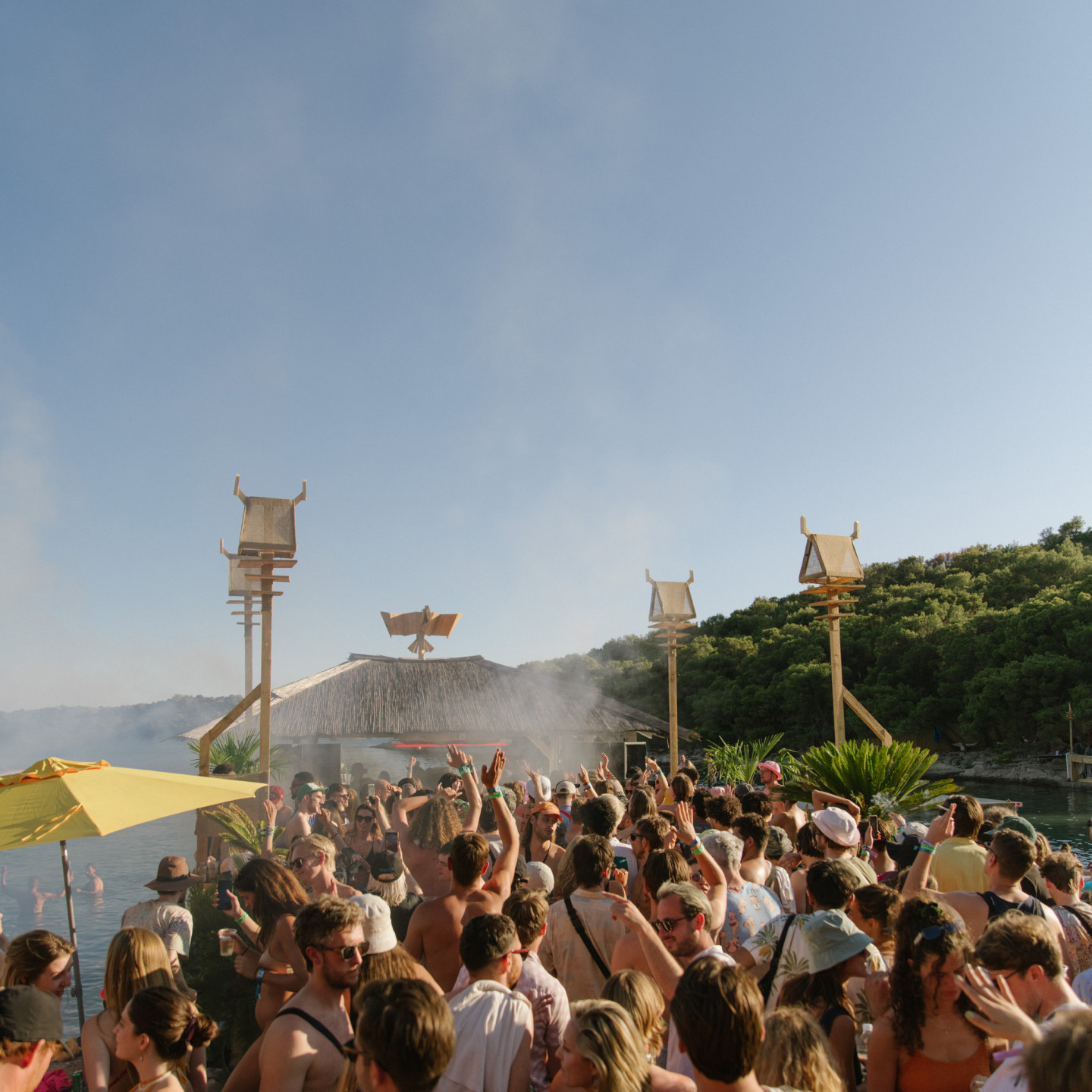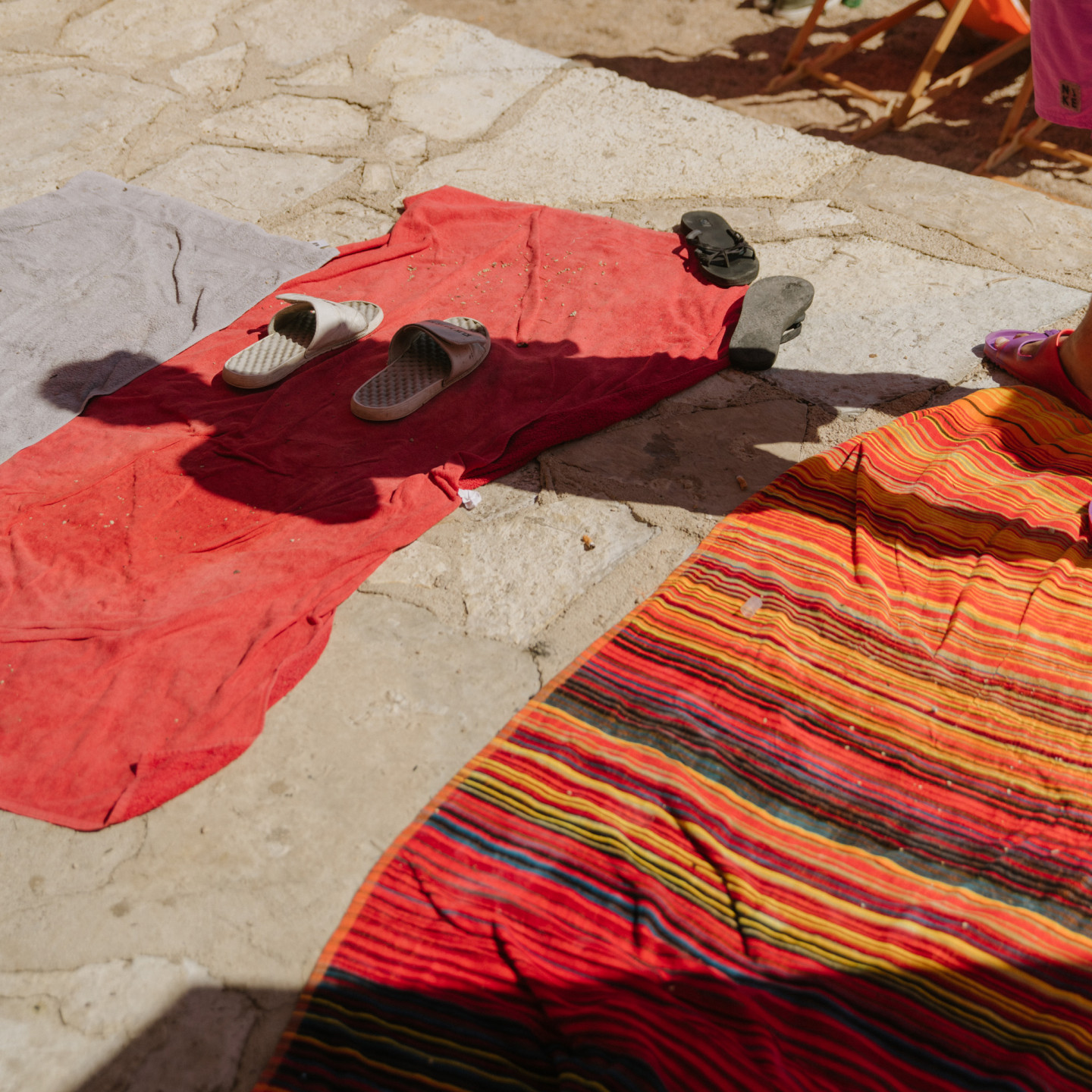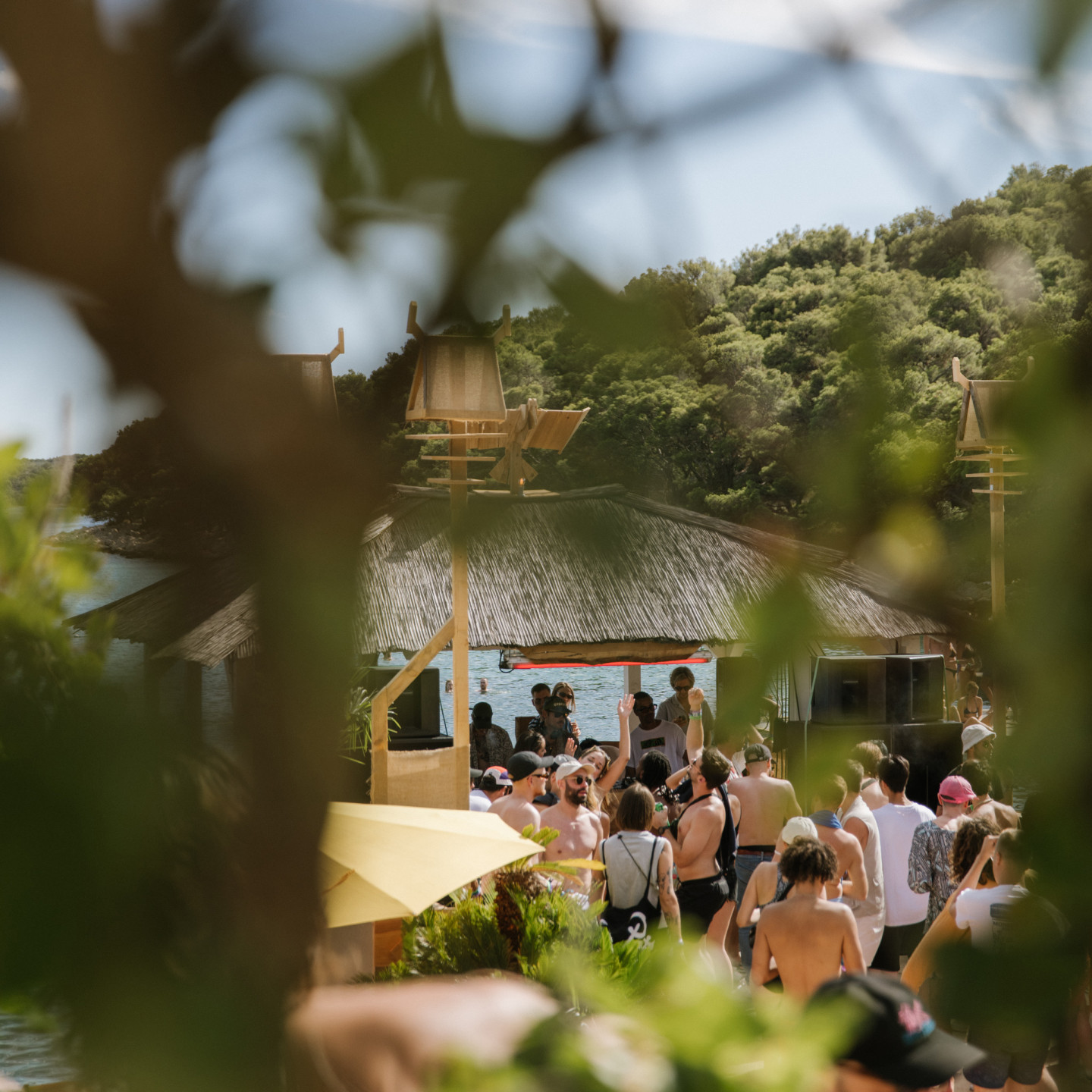 With artists like Millos Kaiser, Mafalda & Rebecca Vasmant and Barbara Boeing, we can expect sets that range from deeply soothing all the way to uplifting dance floor material — though its sounds can vary drastically. "We've tried adding some nuances to what we usually do here, working with somewhat different approaches for each day", Boye says. "Of course there's disco, soul and house, but also a day that features 12th Isle's Fergus Clark, which could end up more ambient-leaning. And to have someone like ISAbella, who we also know for hammering club sets, play in this setting on the beach is something we're curious to see unfold too.
Being the festival's beating heart during the sunny afternoon hours, the Beach Bar has become integral to the Selectors experience. "You could see it as the festival's anchor," says Boye. "You can start your day, recover from the previous one, wind down and enjoy the music, while it steadily progresses into more dancefloor-oriented territories. It's cosy, warm-hearted — not just musically, but also in the social element of being around the people you hang out with. It's the feeling of vacation in a nutshell."

''Being the festival's beating heart during the sunny afternoon hours, the Beach Bar has become integral to the Selectors experience.'' - Boye 't Lam
Beach Main
Around the time the final track over at the Beach Bar slowly fades out, the buzz is picked up a bit further down the shore, over at the waterside plateau of the Beach Main. "The transition between the Beach Bar and Beach Main can be quite fluid", Boye indicates. "It takes some of the same ingredients, of these warm sounds, and propels them into the night."
Over the years, the sound here was often leaning towards the Balearic end of house and disco, yet Boye and Lisa are probing new ways of reinventing the overall sound of the stage, by inviting new faces and by recontextualising the familiar ones. Selectors debutants include Gabriella Kwarteng and Zakia, both artists who have mastered the warm sound that this stage centers around, there is the rave-ready euphoria of Eris Drew and Shanti Celeste, and on the other end of the spectrum an artist like LeftO to make his first appearance here. "In a way, LeftO can be seen as the pinnacle of what we call a 'selector'," explains Lisa. "His range is incredibly wide. Whether it's new releases or obscure vintage stuff — the deep knowledge of music and where it comes from is always clearly audible."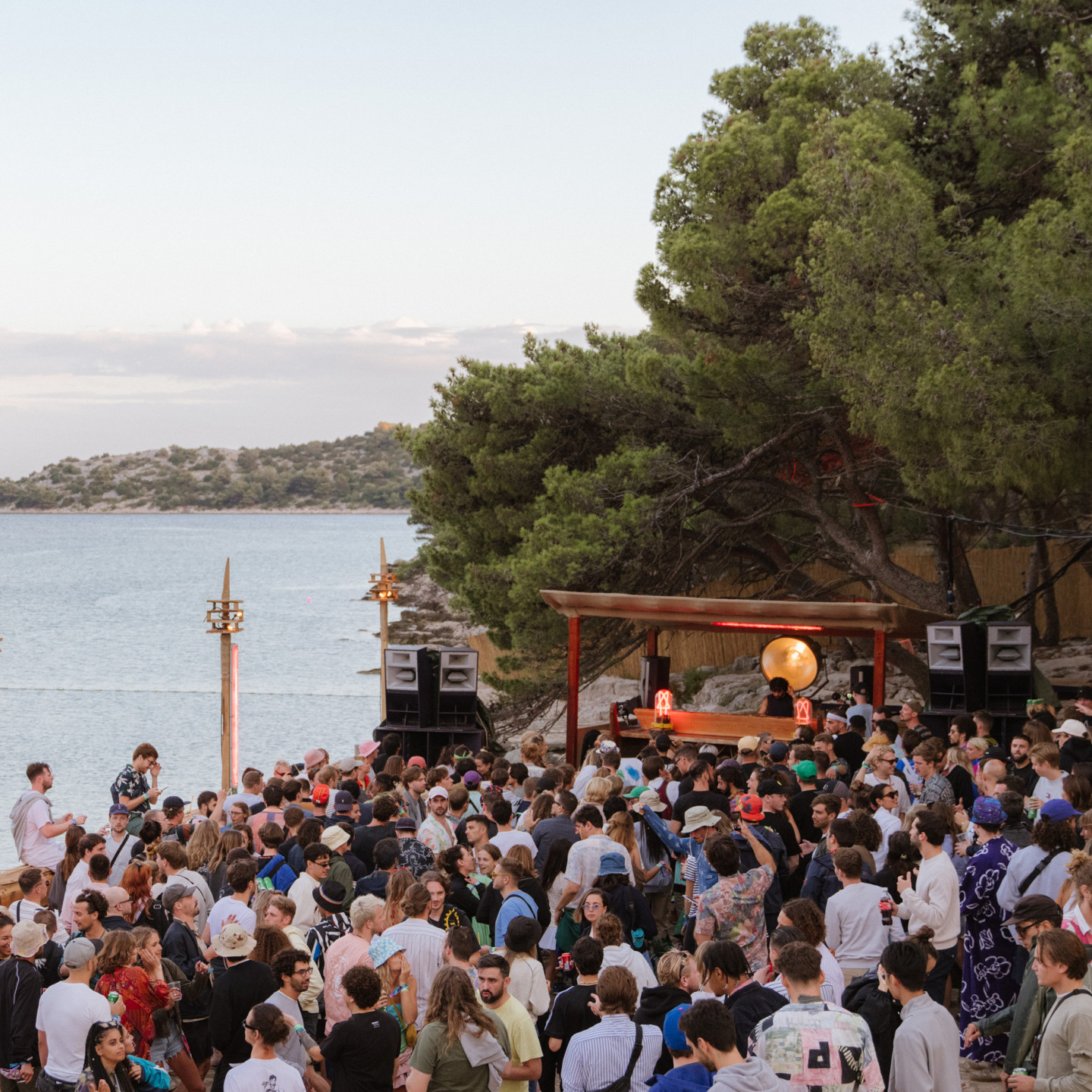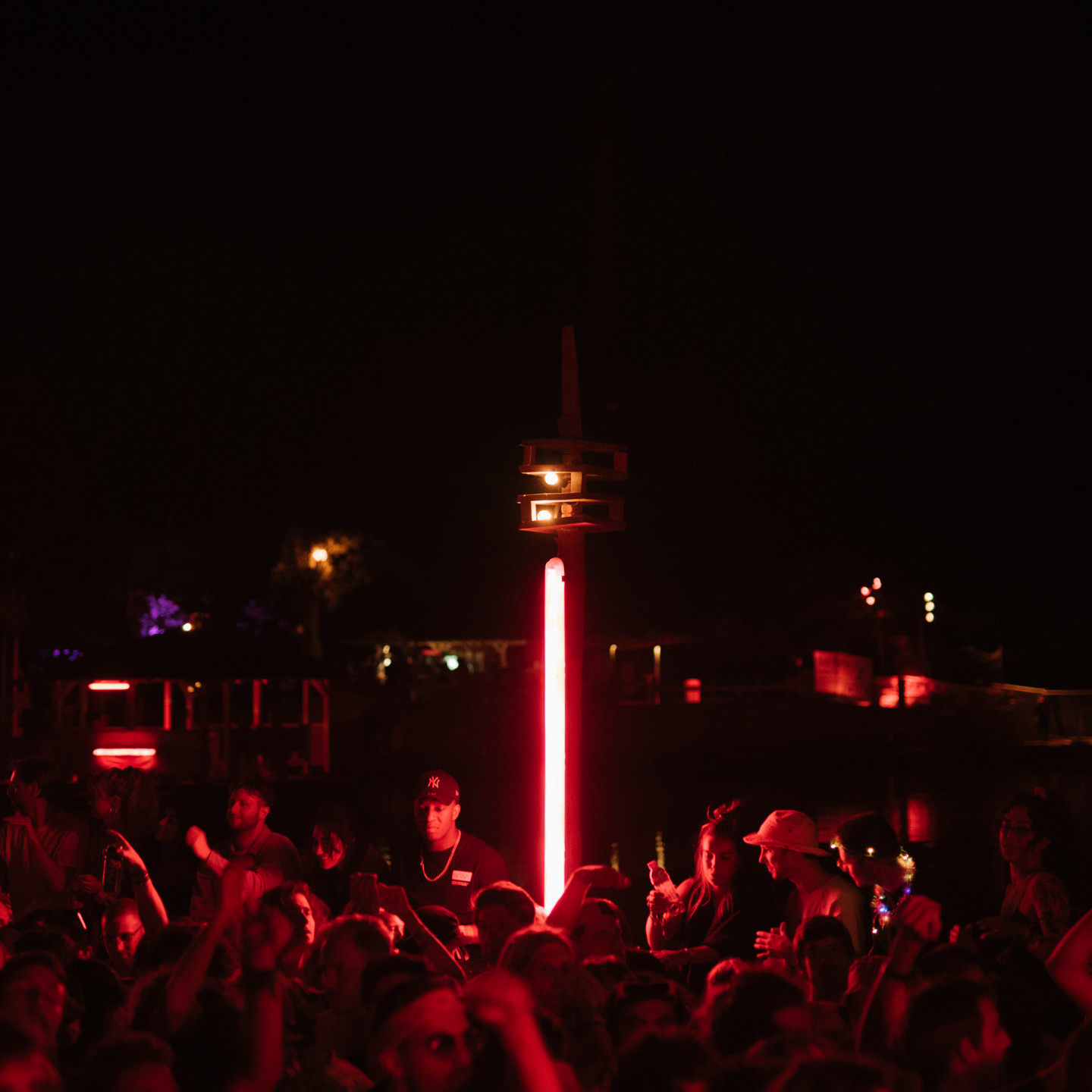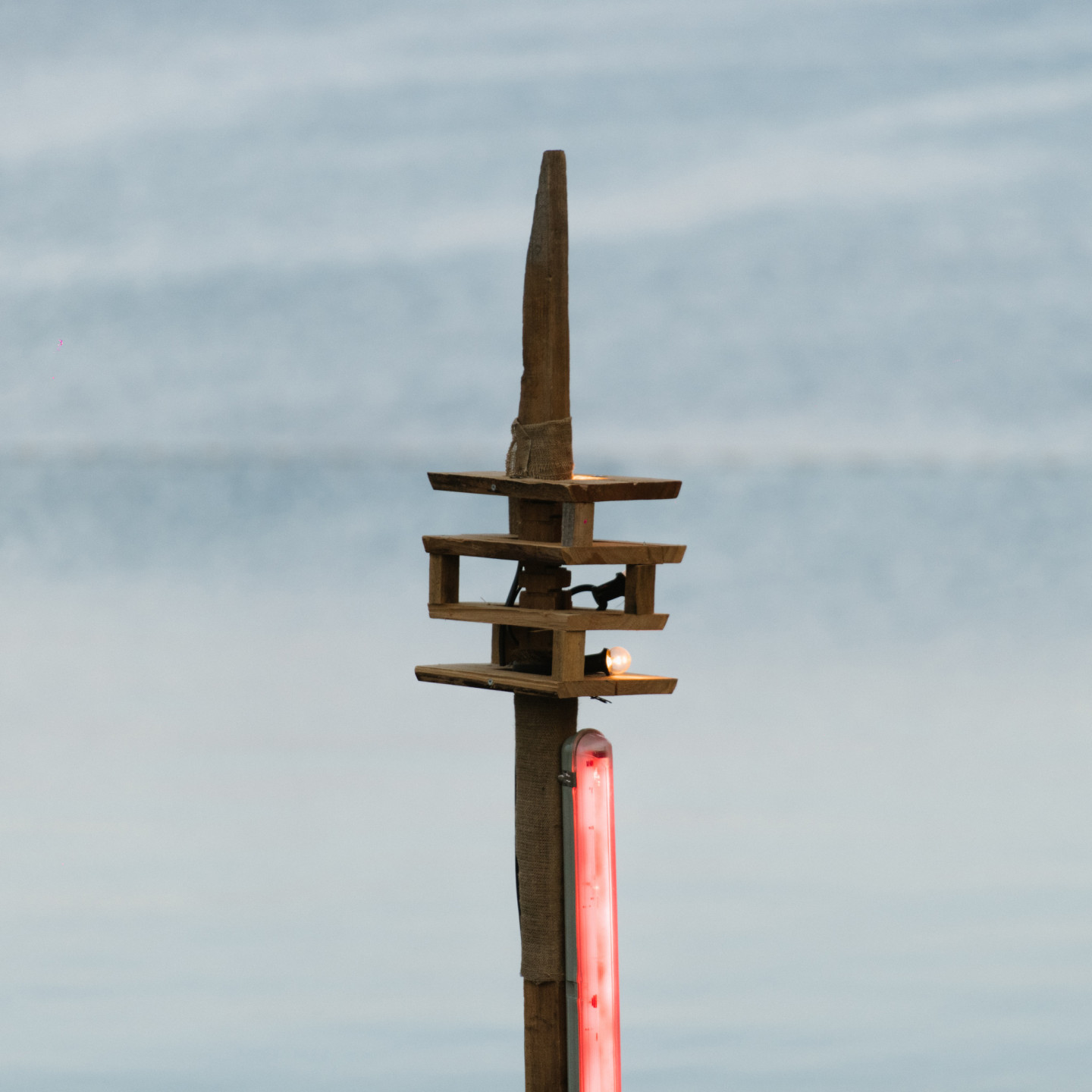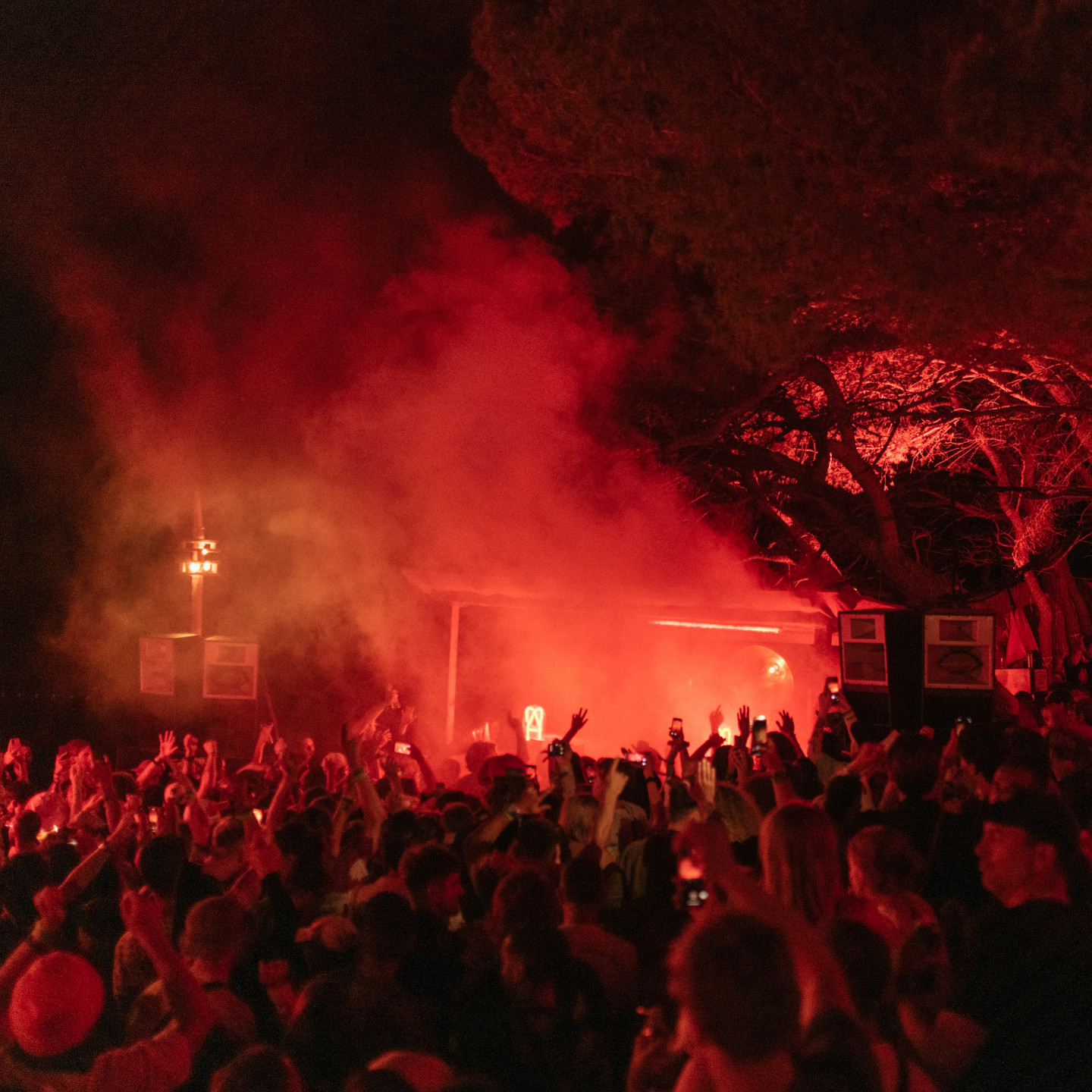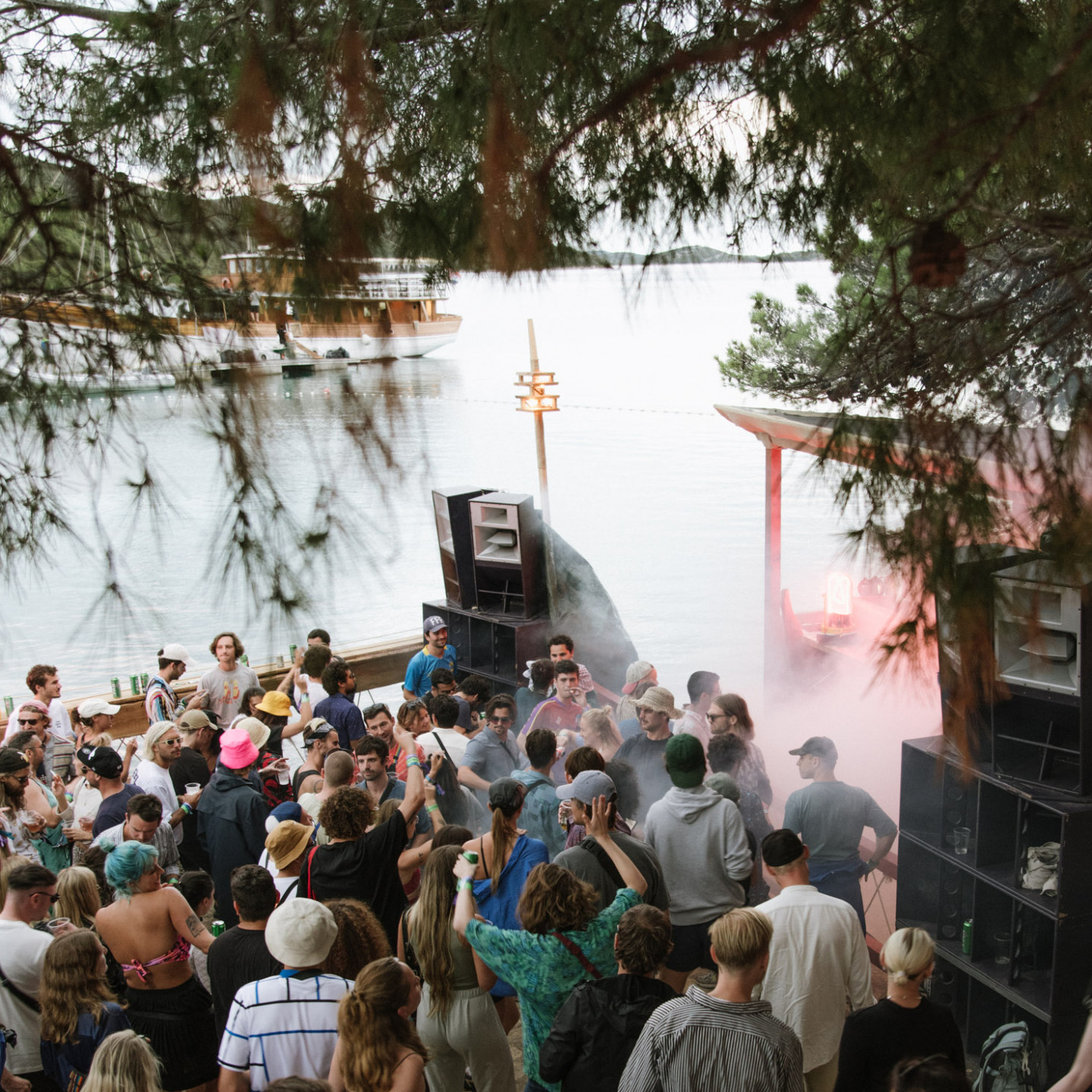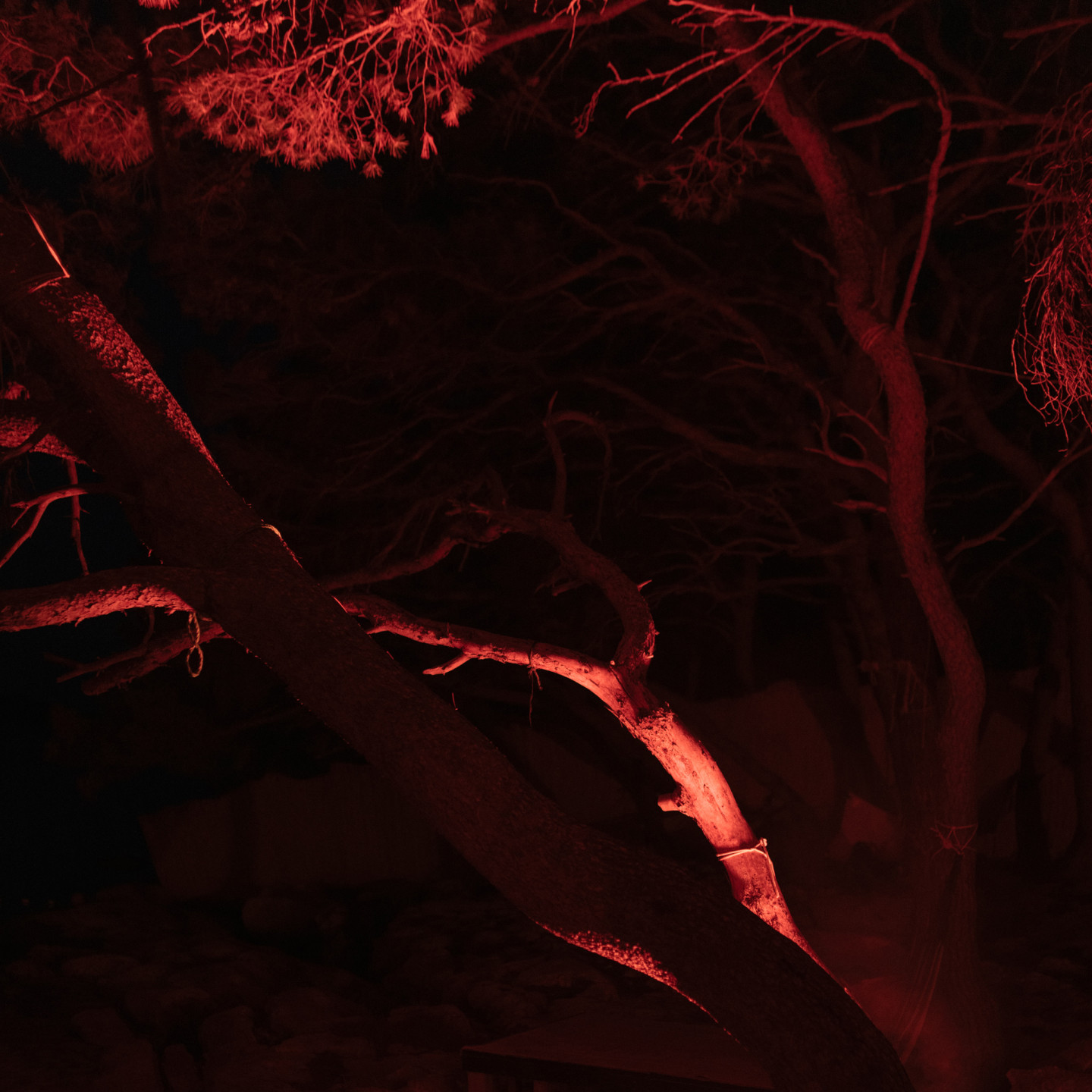 Dekmantel Selectors regulars awaiting their return to Tisno include names artists like Hunee, Antal and Sassy J — yet also here things are approached somewhat differently. Veteran Selector Antal teams up with the wildly talented Kamma & Masalo, whereas Sassy J, a Selectors regular with an excellent taste for warm, organic sounds, pairs up with L.I.E.S. boss Ron Morelli — whose DJ sets and work for his L.I.E.S. label embodies a contrasting palette of grinding, dark electronics. "Don't ask me what they are planning to play", Boye laughs, "they requested this themselves. But it's something we can't wait to hear, as well as what Hunee is going to play afterwards. It's something that pushes the sound of the stage to surprising new places."
The Voodoo
Further inland, tucked between the trees and often clouded by blue lights and smoke, the Voodoo stage is where the warm, organic sound makes way for an inverted atmosphere of a more gritted nature. "It's hard to precisely pin down," says Boye, "but you could roughly call it a darker, heavier and rougher counterpart to what goes down at the beach stages. It's where you could hear pumping techno, EBM-infused sounds, a bit of electro, wave, that line of things." Lisa adds: "I think it opens up possibilities to go a bit deeper here too. It's a place to get lost, in the best sense of the word, both in terms of where you are and of the music you're submerging in."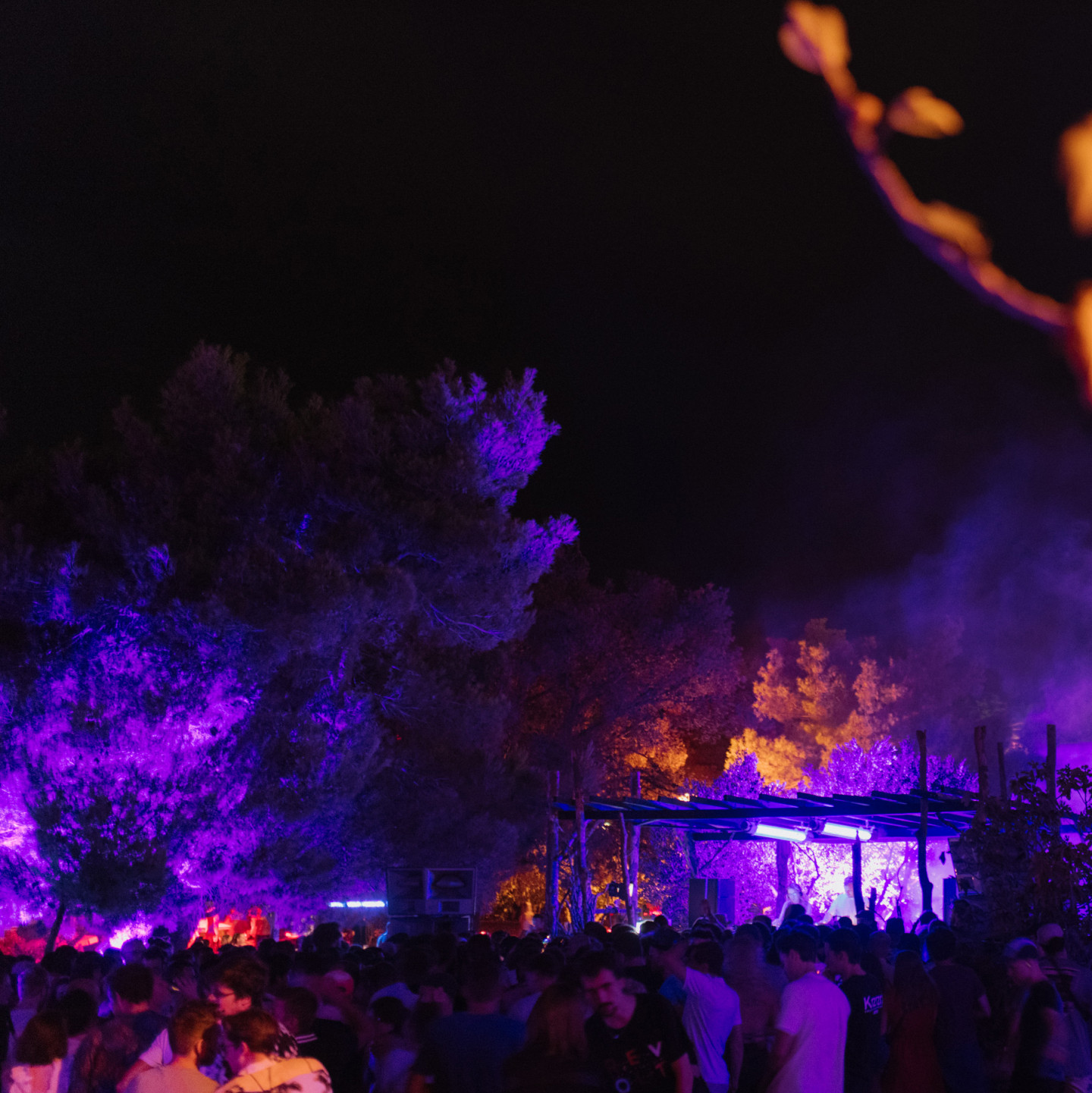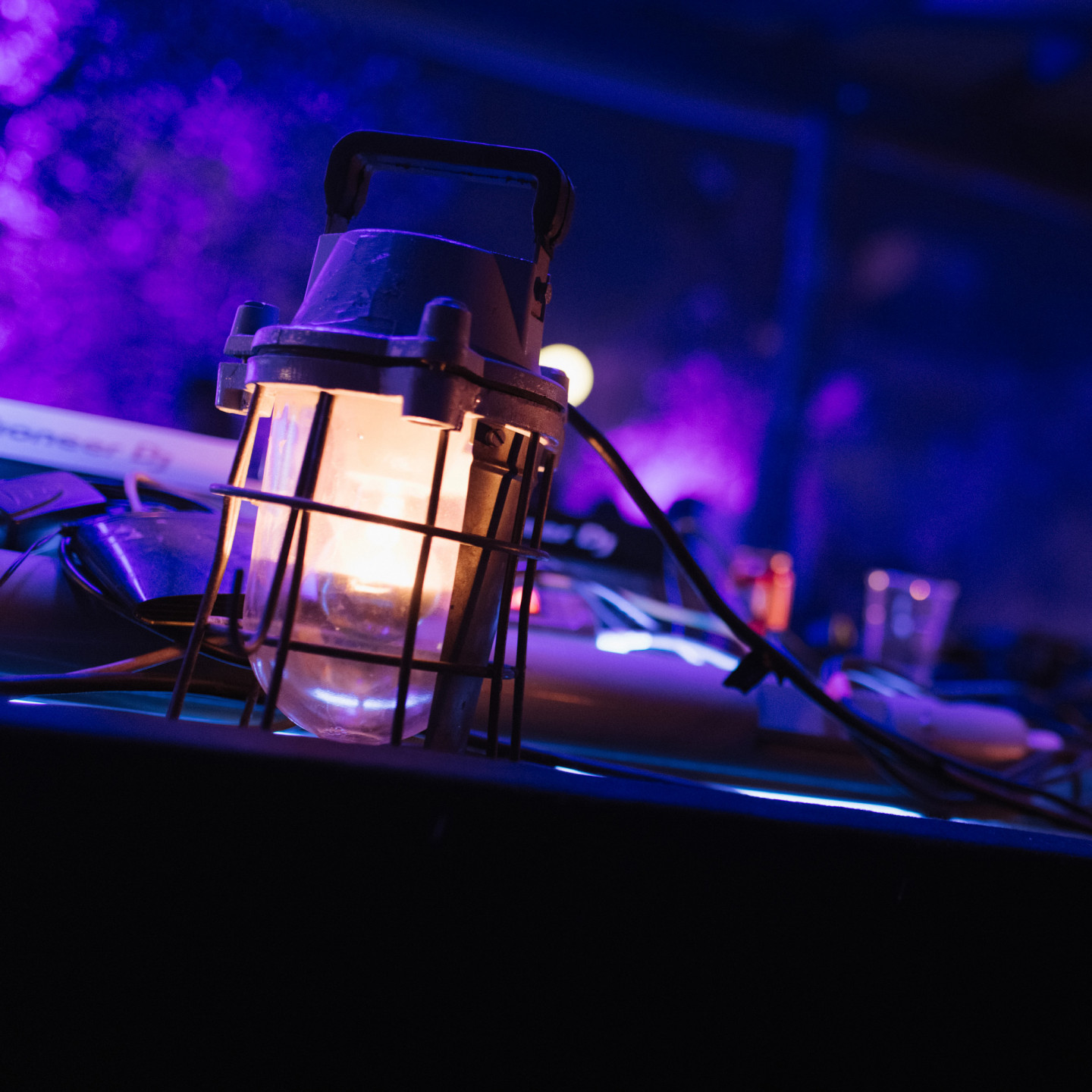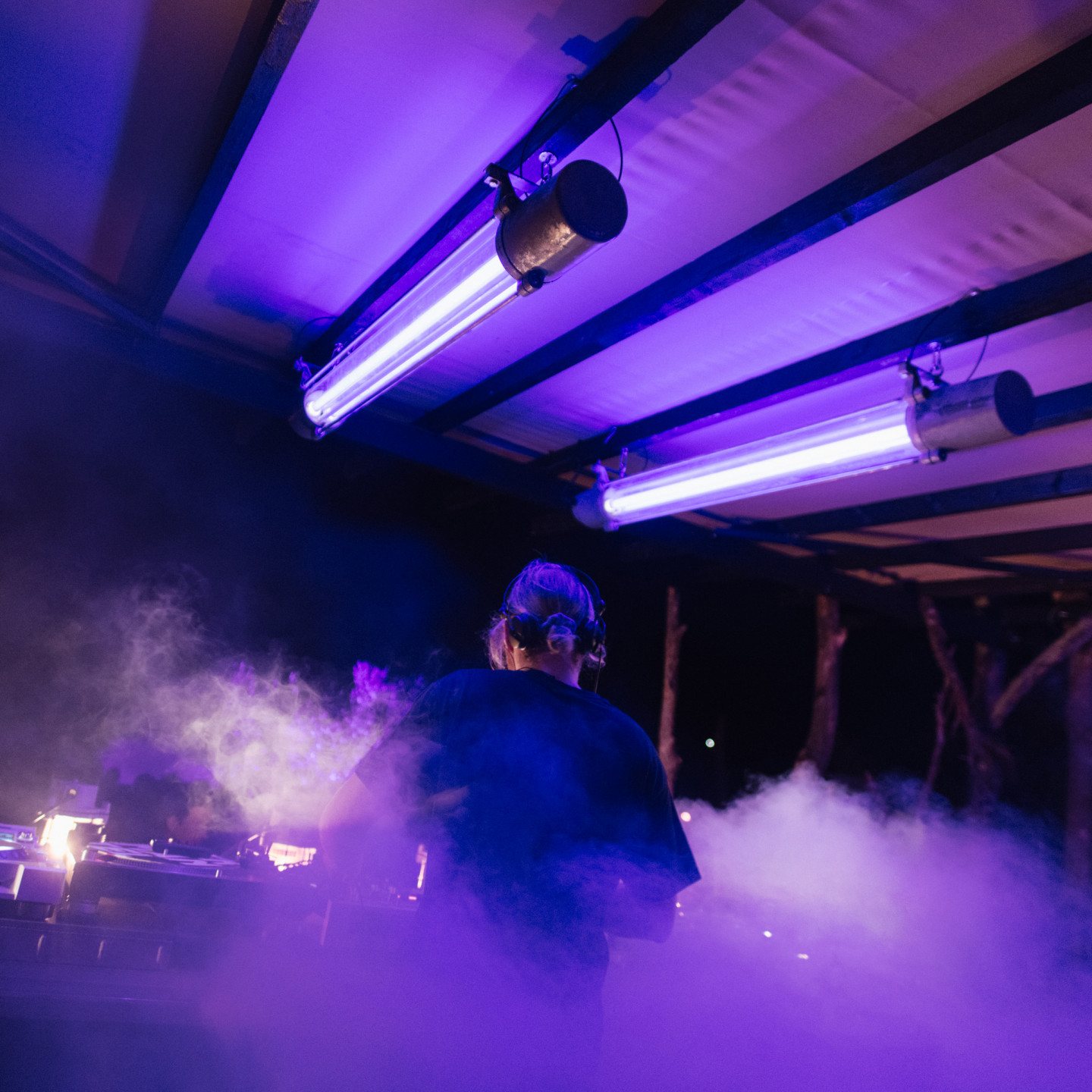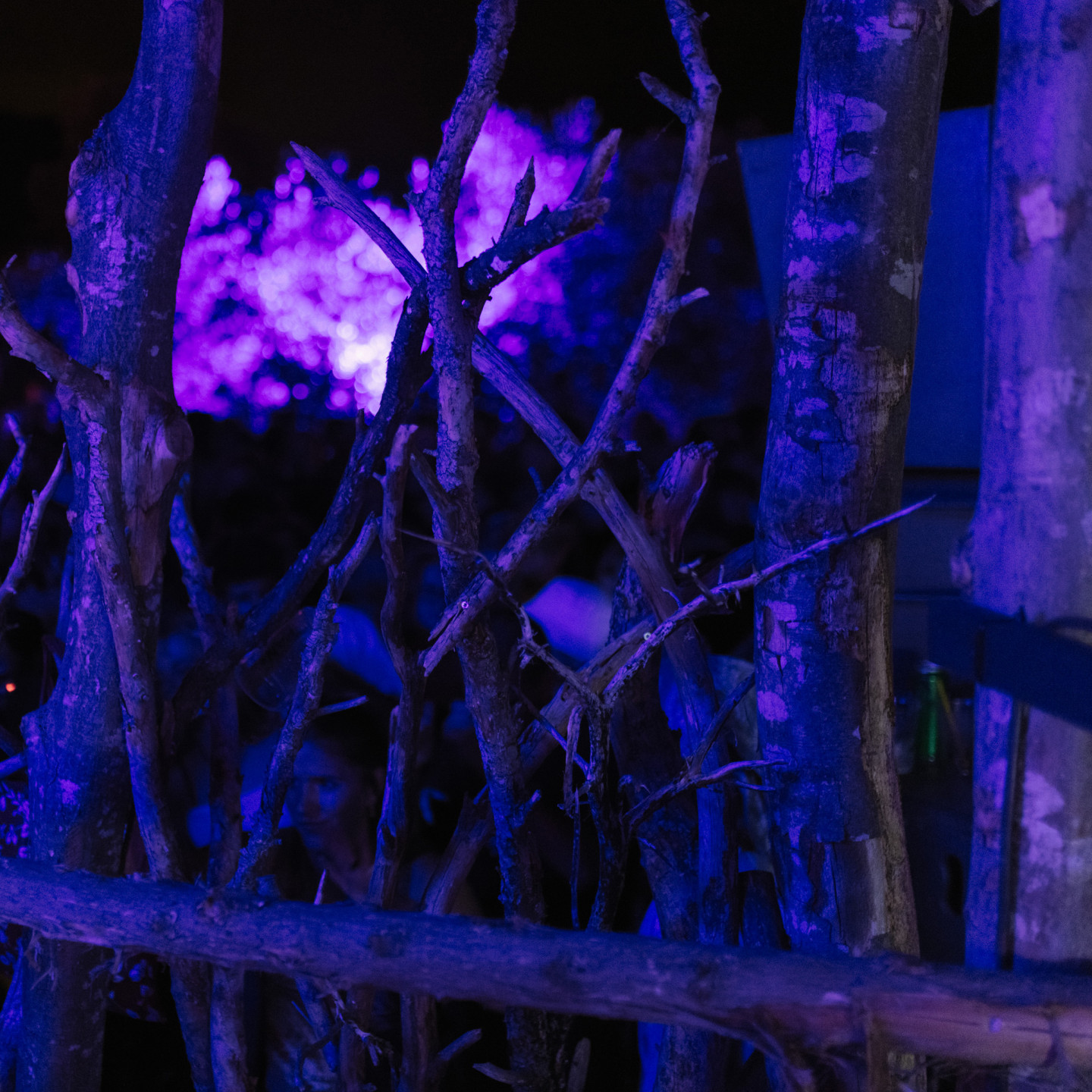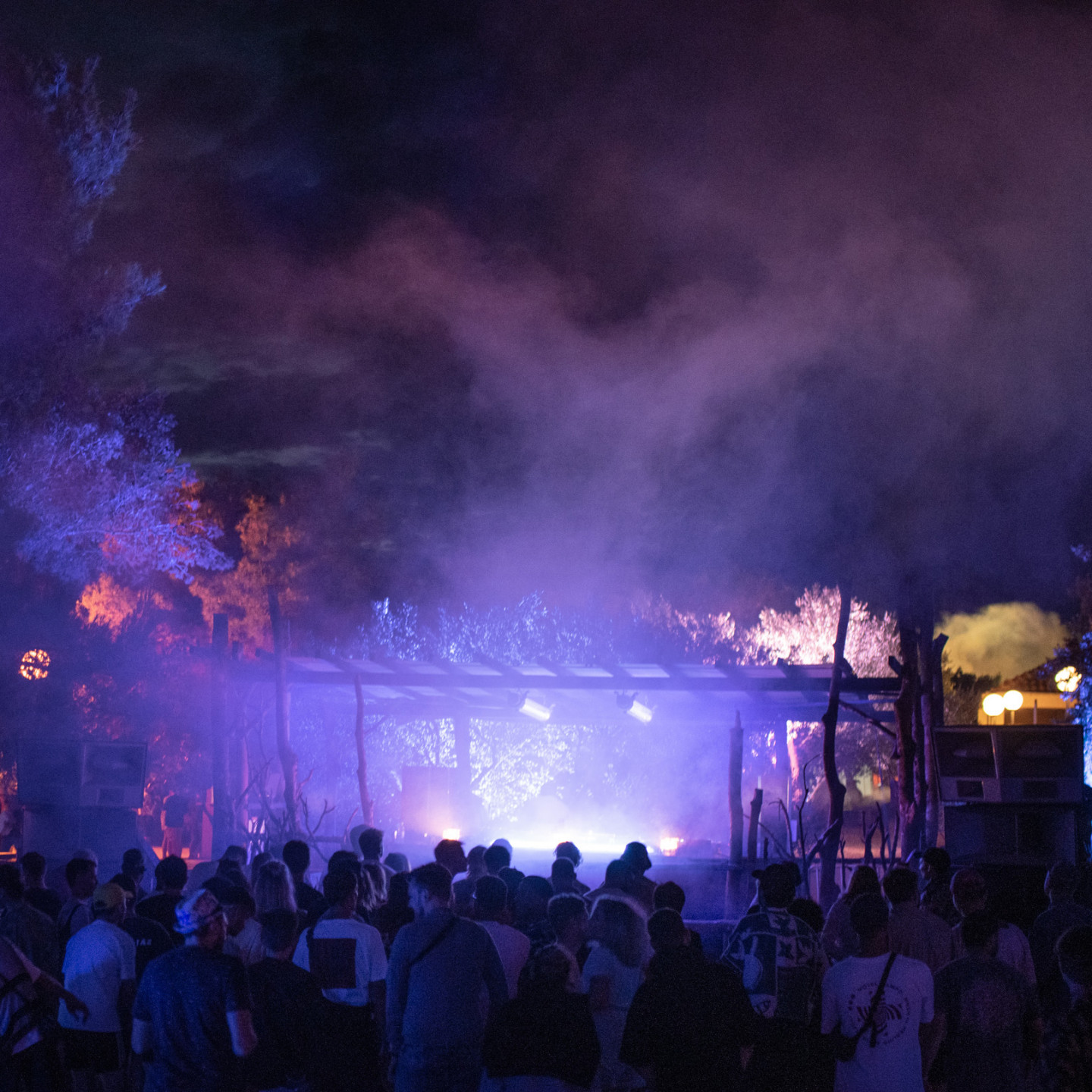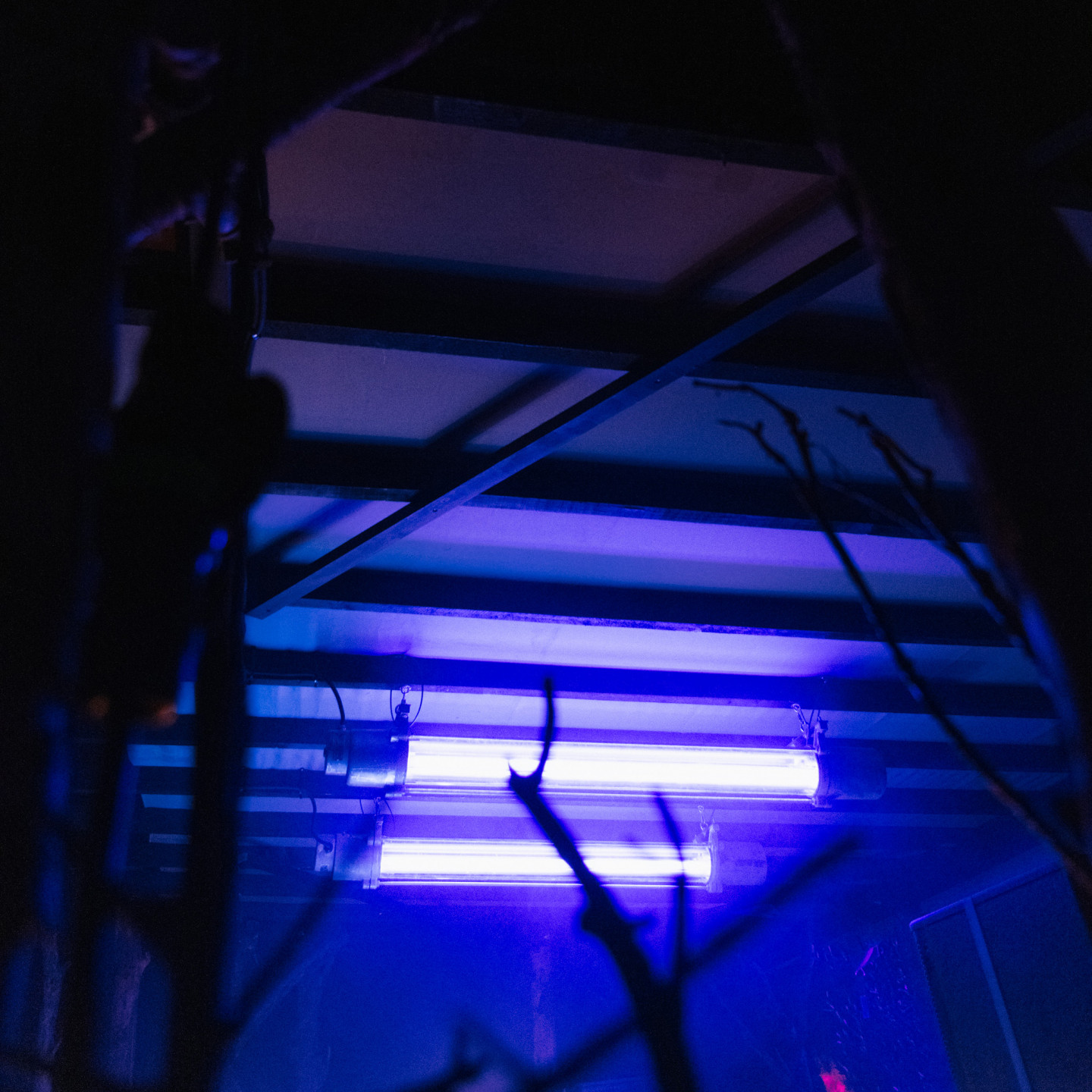 This immersive set-up translates to a list of DJs that includes names like upsammy, Bambounou and Valentino Mora. It's also where we find many of the line-ups back-to-backs: Elena Colombi with Mark Knekelhuis, Identified Patient with Gamma intel, ZOHAR with BSS, and Croatia's Maja Pa, Le Chocolat Noir & Ikonal together as bRave. "I'm especially looking forward to Young Marco teaming up with Vladimir Ivkovic here", says Lisa. "Marco is someone we had at the Beach Main before, so I'm curious what they'll do together at this stage. It could go from proto-trance, to techno, to anywhere."
The Nest
If the Voodoo is where you get lost, The Nest is the kind of intimate spot to re-ground to yourself and those around you. Shrouded by wooden structures like a spherical arena that is entered through a gate, "The Nest can feel like a small microcosm in itself," describes Boye. "It's very secluded from the outside world, as if entering a different dimension – a very intimate one." Lisa agrees: "I always happen to bounce into familiar faces there. It's the perfect spot to meet, to flirt, it's bouncy, it's cosy. I really do think of it as some sort of cosy nest."

''Don't let this cosiness fool you though – musically, this place is as bold and as fierce as it comes.'' - Lisa Molle
Don't let this cosiness fool you though – musically, this place is as bold and as fierce as it comes. It's where new, emerging sounds are fostered and where forward-pushing artists get the opportunity to hatch. "This push for new sounds or incorporating different influences is central to it," says Lisa. "You could hear some sort of twisted pop here, or hip hop – it's very much a place of experimentation, and also of discovering DJs you didn't know about." FAUZIA, Toma Kami, Mary Lake, Derozan, Zeta Lys all take the helm here, and when asked what would be her highlight, Lisa doesn't know where to start. "I could almost mention anything. I think Coco Bryce will surprise people, Toma Kami as well, and dubstep legend Kode9's shouldn't be missed either. And I'm very curious to hear what CCL is bringing – for sure one of the most versatile artists around and someone who embodies the sound of The Nest like no other."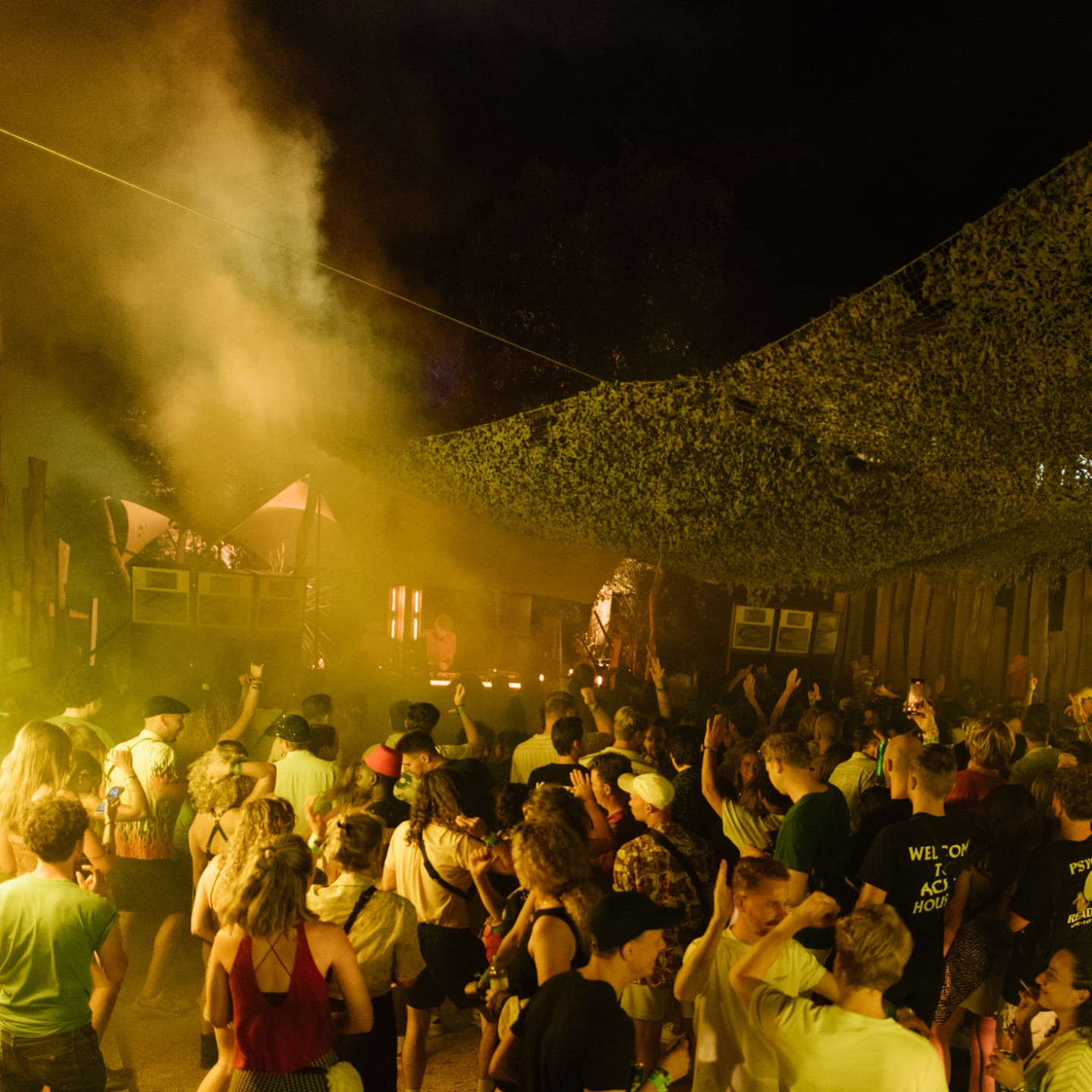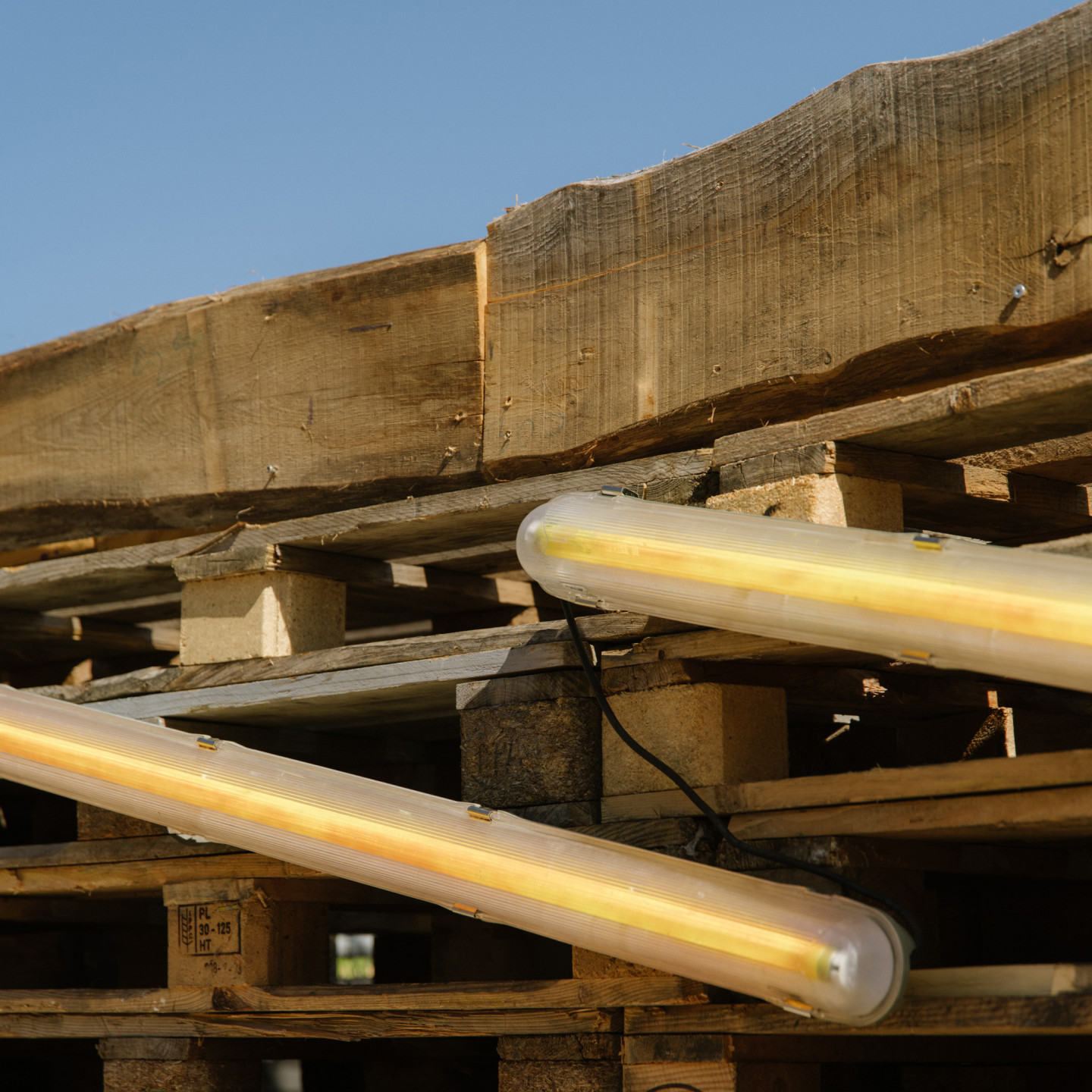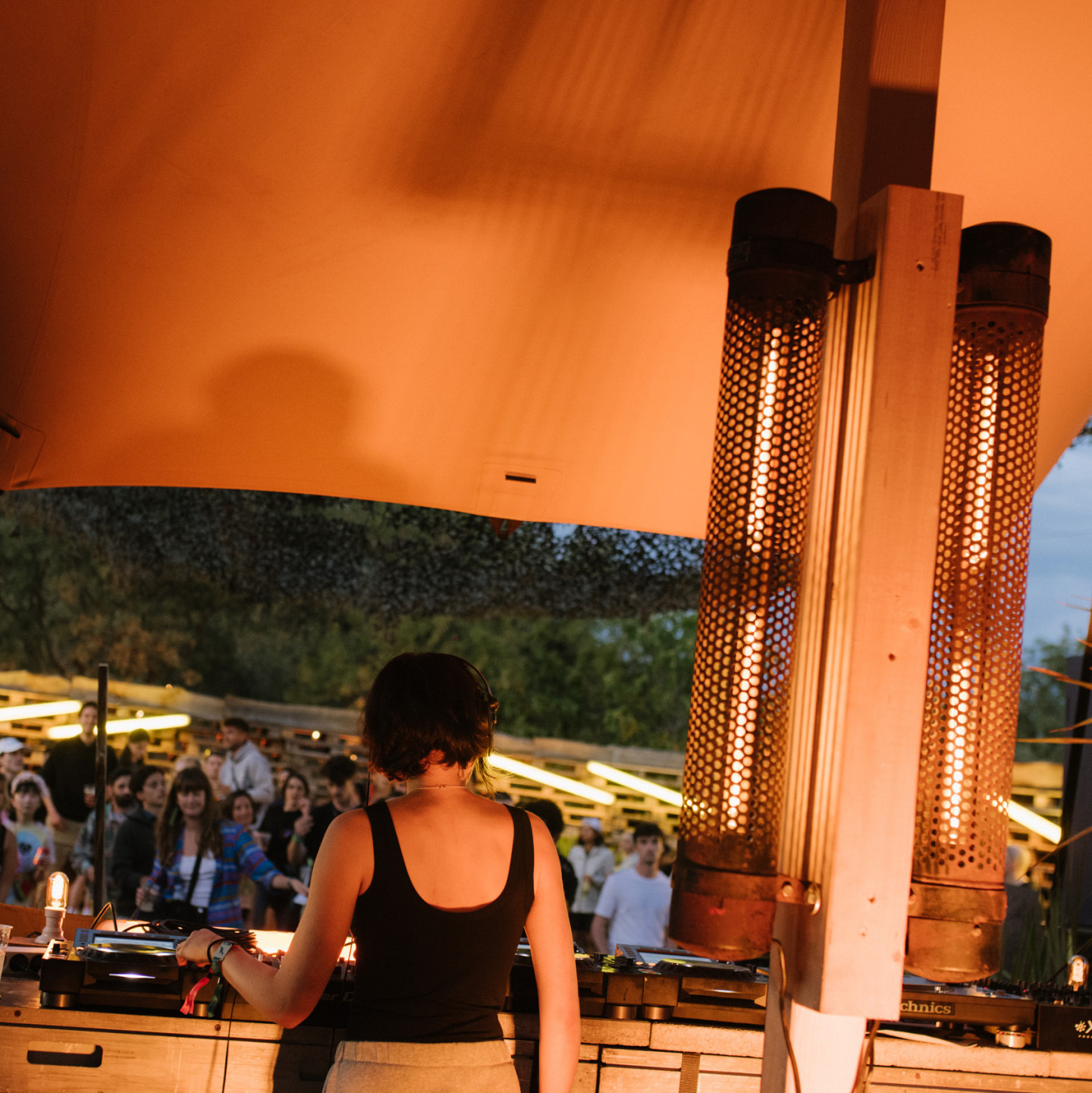 Besides plunging into the deeper end of things, The Nest functions as the festival's more light-hearted playground, where rules can be broken or straight up left behind at all. Teki Latex, for example — a favourite of Boye — is someone who's not afraid to take things to the edge or even over it. The same goes for Parrish Smith and mad miran, together taking on the closing slot during the festival's final night: "I think that this arena, where everyone's closely packed together, opens up a window to go into weirder, more outrageous directions."
Leaving The Garden: Barbarella's and the Boat Parties
From beach-side dancing, a den for immersive listening, getting lost further inland or entering a secluded arena — Dekmantel Selector's main festival site is where vastly different sounds and atmospheres meet, all within an intimate range which allows us to hop from stage to stage in mere moments. Step onto one of the boats, however, and you'll find yourself in an entirely different place for several hours.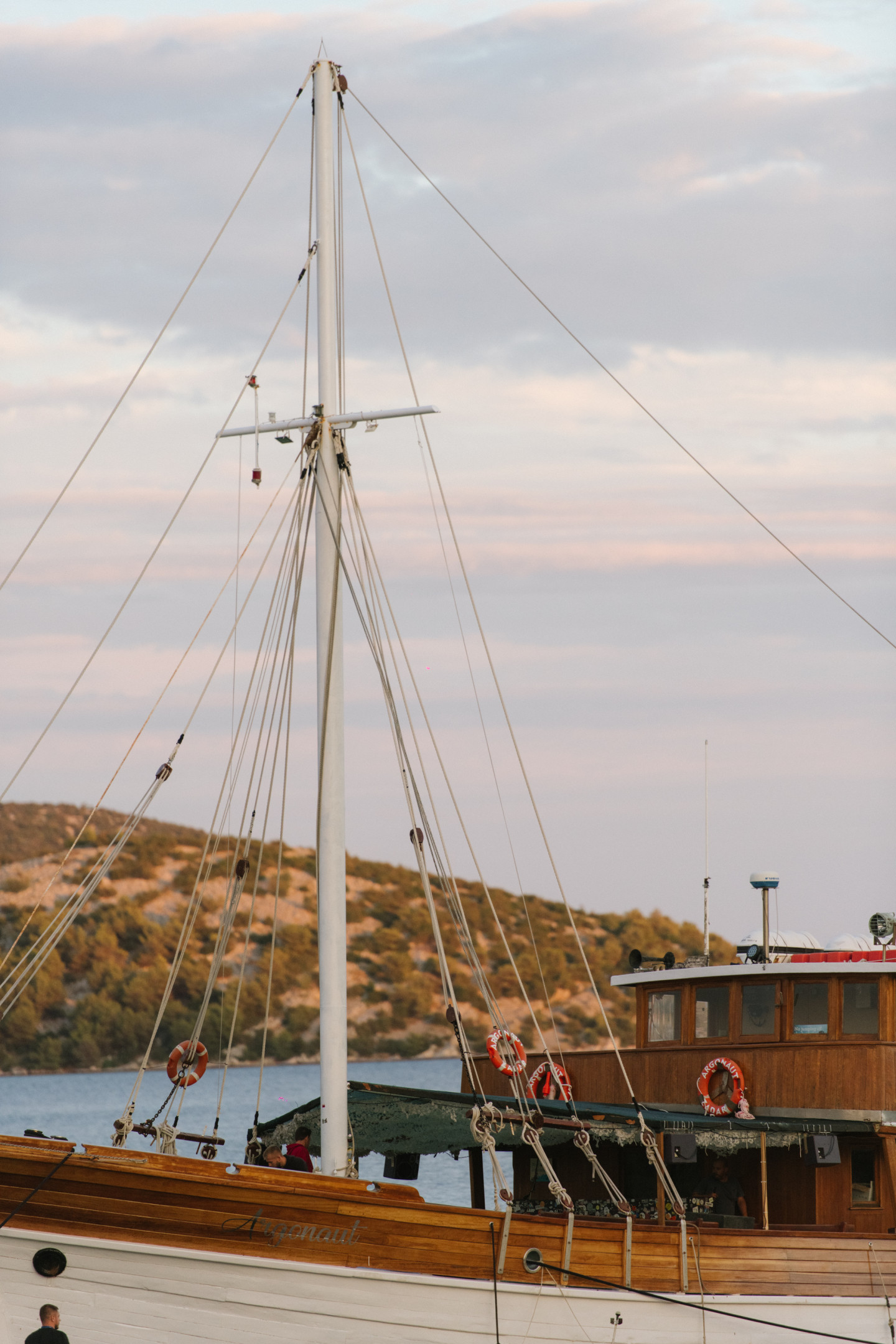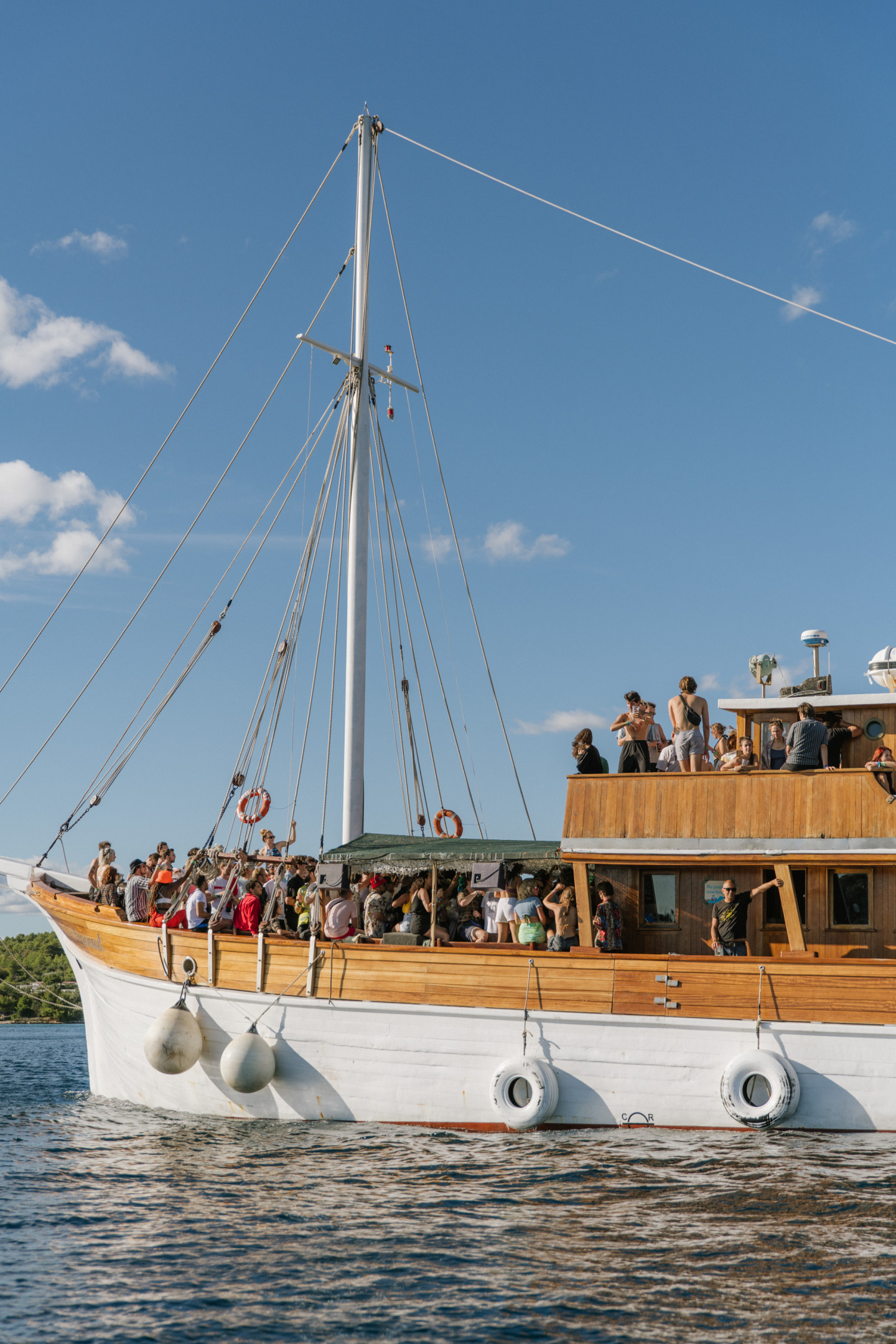 Like previous years, the program of the Boat Parties builds upon the rich tapestry of crews, labels, record stores, radio stations, clubs and other organisations that together form the scene that Dekmantel operates in, all bringing their own character onto the Adriatic waters. The line-up is still kept under wraps, but clubs like WAS, OOST, Radio Radio and PIP are in, radio stations like Radio Tempo Não Pára, Echobox, Future Intel and Stranded FM, labels and stores like Rush Hour, Clone, Pinkman and Bordello, as well as Carista's United Identities and the AMPFEMININE crew. "To say it's an embodiment of our local scene can seem weird at first, considering it's a festival in Croatia, but it is the scene we are part of, and that defines us. What we do stems from the creativity and strength from that scene, and we love to show that to the outside world."

What they all have in common is a timeframe of three hours to make those boats pop. Out on the sea with a small but buzzing group of people, it's no wonder these boat parties often swirl into a euphoric mess. "The boats are always crazy," says Boye, "you can't miss. People are always up to go 100%, and on these boats, the boundaries of what you can and can't play fade away. A hit or two won't hurt — it's all very forgiving. Any purism is thrown overboard for a moment, and the results never miss."

"The boats are always crazy" - Boye 't Lam
And for those of whom this all isn't enough, it doesn't end there: as all boats have docked and the music comes to its climax over at the main site of The Garden, the most intrepid of dancers are invited to prolong the night at the open-air Barbarellas club. Here, an instalment of tested-and-proven sharpshooters, including Jane Fitz, Lena Willikens, Marco Shuttle and I-F stretch things out into an after-hours affair. All until the sun starts to peek its head over the horizon — and another day of sun, sea and outstanding music starts anew.