Words by Nikita van Hunnik

Behind The Record: Parrish Smith
Parrish Smith just released his new album 'Light, Cruel and Vain' filled with - in his words - 'imperfect music', featuring genres like punk, industrial, noise, electronic and pop. We talked about his youth in Nieuwegein, the relationship between art and music and the creative world behind his album, art and videoclip.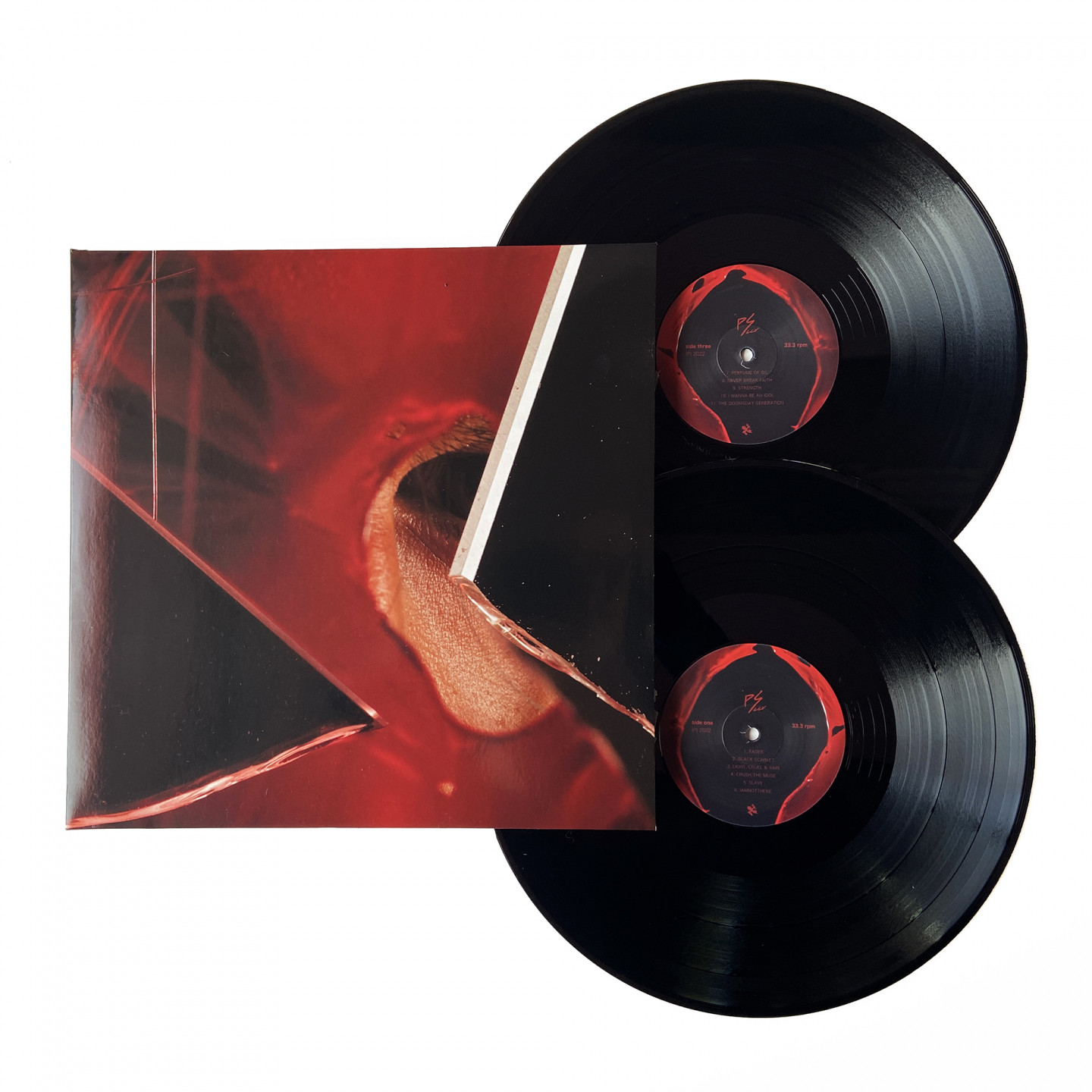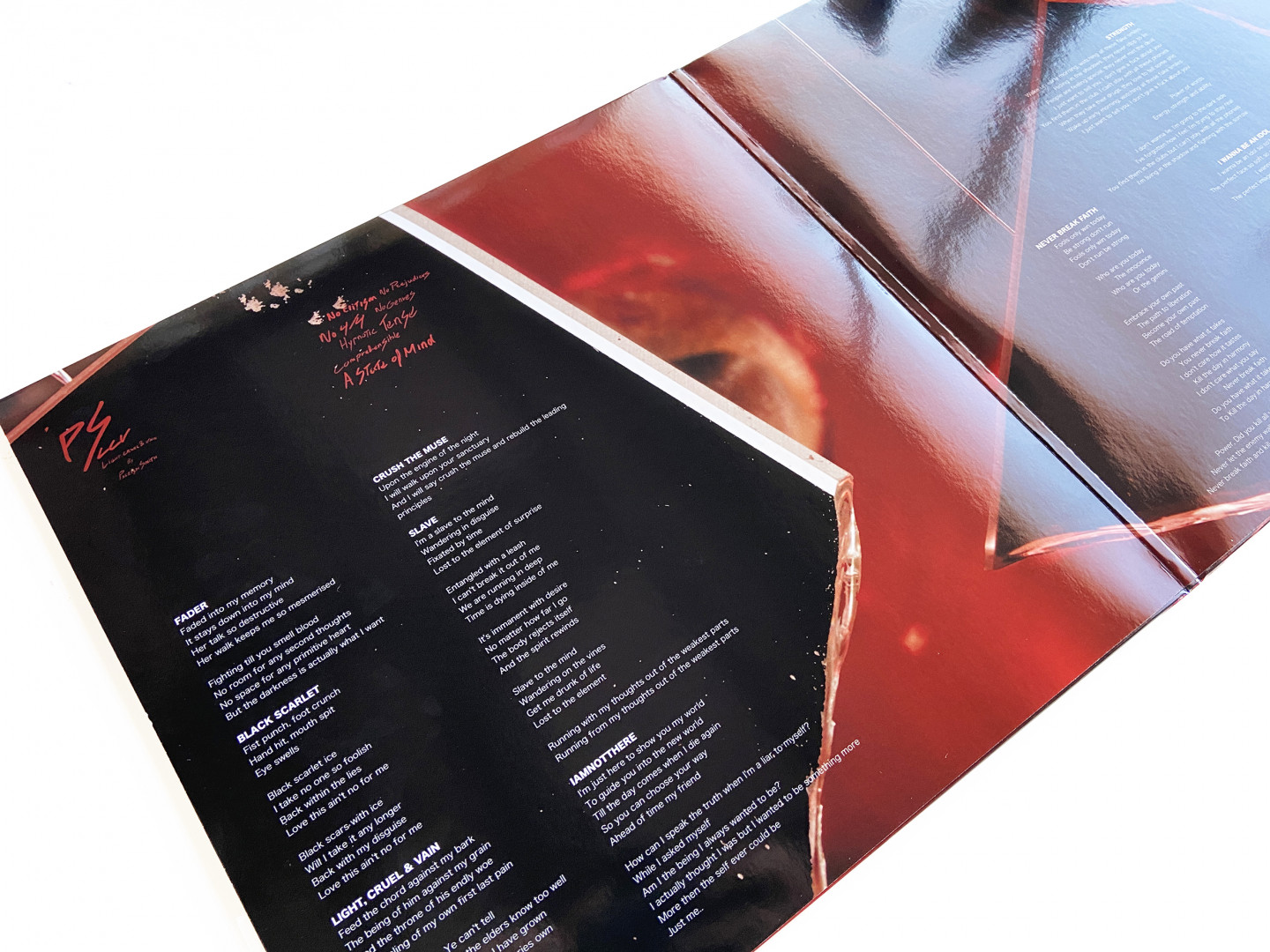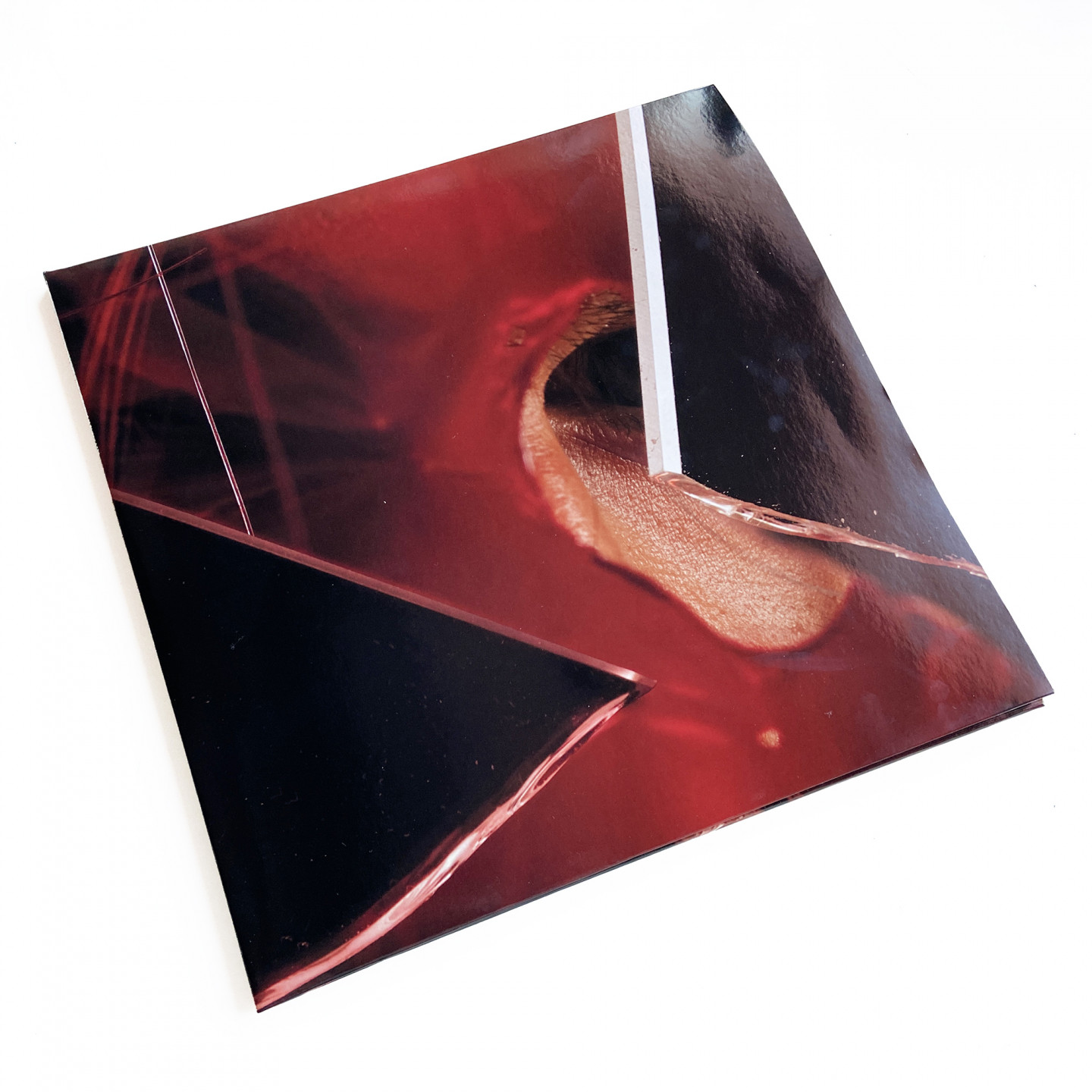 You grew up in Nieuwegein. a village close to Utrecht. How did this place influence you as a person and musician?
Nieuwegein was of great influence on my music, I was born and raised there. Everyday when I got out of bed, I woke up to different kinds of music, either played by my parents or my three older sisters. They all liked different music. One day I would wake up with rock, dance hall, soul and the other day with reggae, jazz and Indian traditional music. It feels like a dream sequence when I look back at it.
The distance between Nieuwegein and big cities like Amsterdam created an interesting sphere for creativity to emerge. In Nieuwegein, I felt very secluded from all the creativity that is roaming around the city. As a creative introvert, I was looking for these spheres, unable to find them in my village. One might say this is unfortunate, but for me, it was good. I got the opportunity to go through a rather different creative process.
Spinvis, also from Nieuwegein, is similar in this sense. He sings a lot about the 'Nieuwegein loneliness' and how that resulted in a musical exploration. This loneliness has so much to offer. When you look at the bus stop, the dead trees and the uninspiring buildings, it feels barren, but there is a lot to find there! It's not emptiness.

Was there a music scene in Nieuwegein that you felt you were part of?
There was a music scene in Nieuwegein, but mainly around club music. I did not feel like I was a part of that. Within my friend group, we had a more eclectic taste in music. However, for me and some of my friends, this wasn't fulfilling. At some point, I wanted to explore something new and went beyond what I already knew.
My friend Derozan was there with me looking for vinyls, taking the train to Antwerp to spend our money at Wally Grooves Records and record fairs. We wanted something material, some embodied musical product. We started with funk, hip-hop and eventually underground electronic music. We motivated each other to find the music that we could pour our emotions in.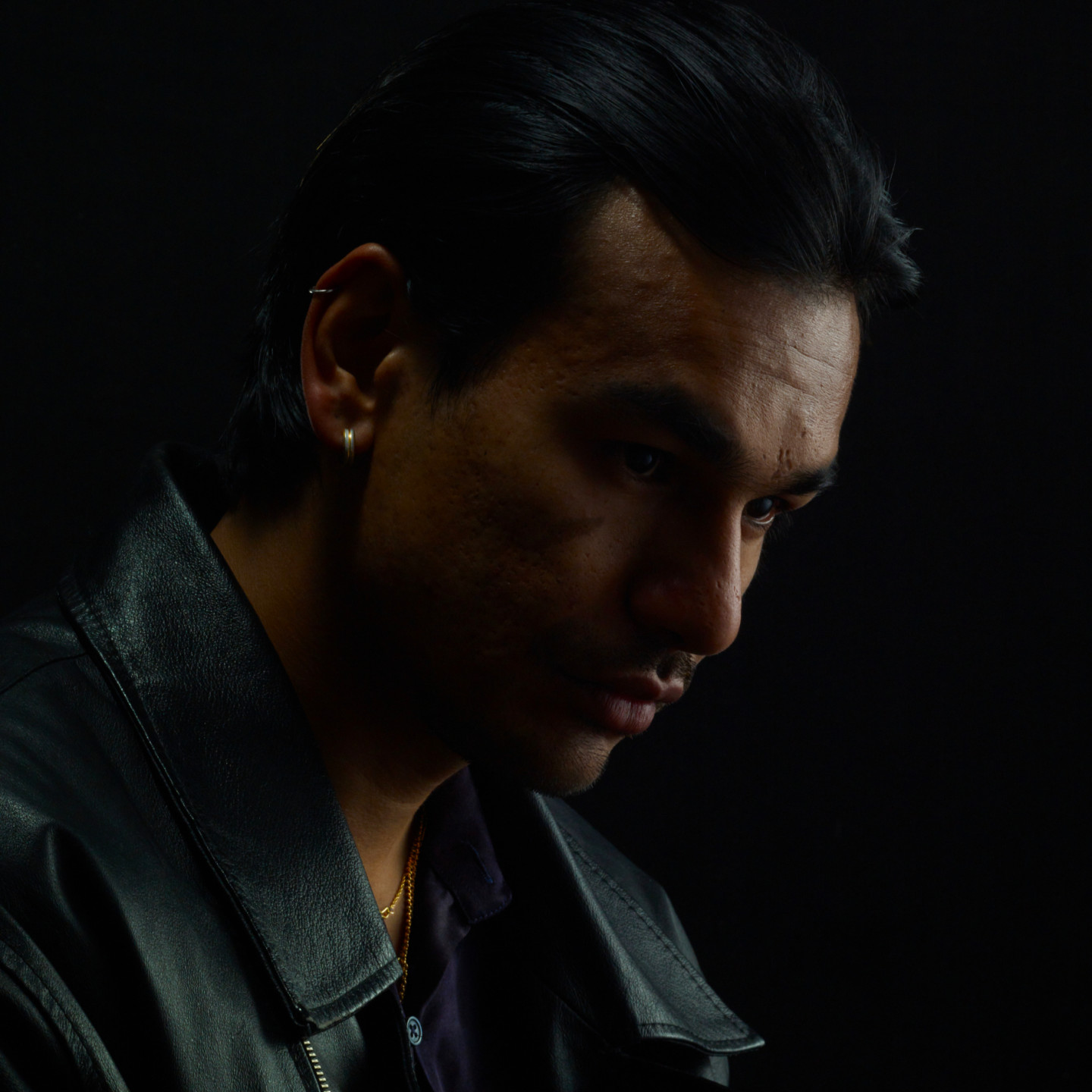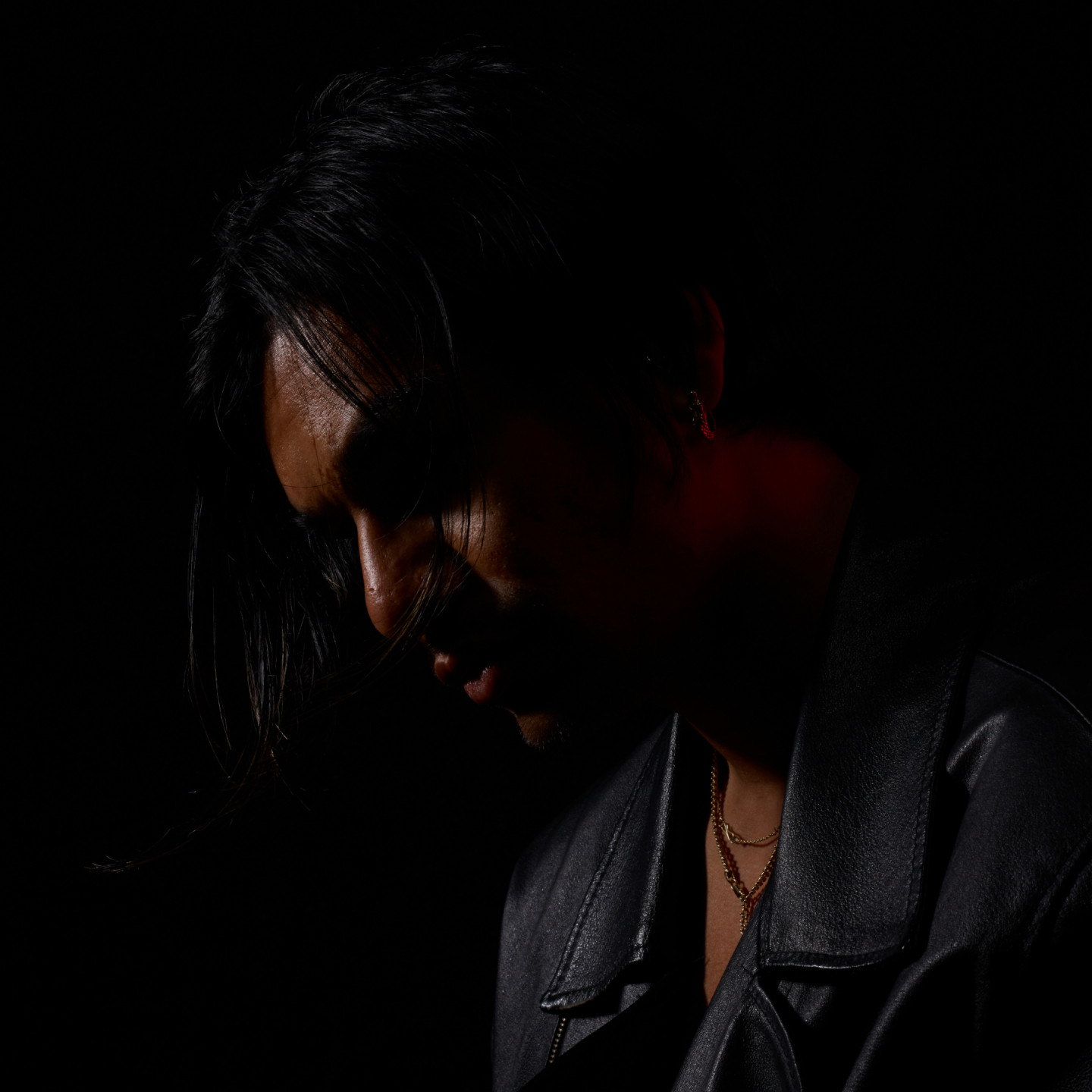 How did you start making music?
After a while Derozan started collecting hardware. This was something that was appealing to me, but I didn't know where to start. One day he just invited me to make music, and my first release ended up being made with his hardware. The music that I was creating was technically not always fine, but it was pure and authentic. I started to create my own unique style, including the mantra: No elitism, no prejudice, no 4/4, no genre. This mantra stands for going against the stream. There always needs to be a counter culture, I feel like this is my place.

You did an exhibition at Het Hem in Zaandam. How did this come into being?
It started with an idea to create something visual together with Djoa Lekatompessy and Gijs Ranitz. I was working on my album and wanted to create a bigger narrative around Parrish Smith. Transferring this narrative worked best through a videoclip. My love for movies and cinematic music only endorsed this logical step. I wrote the story for the 'Never Break Faith' concept, and Djoa and Gijs took it from there and created a story line that made sense to the viewer. During the exhibition, we tried to create a physical experience based on the narrative we started out with.
Something that is very important to us, is working together with other artists. A vision can only come into being together with other people. What I struggle with is that nowadays, artists who deserve it often don't get the credits and appreciation they deserve. Therefore, for me, it's important to be open about whom I work with, to make sure these people get the credit they deserve. Sharing success, is one of the most important things, in my opinion.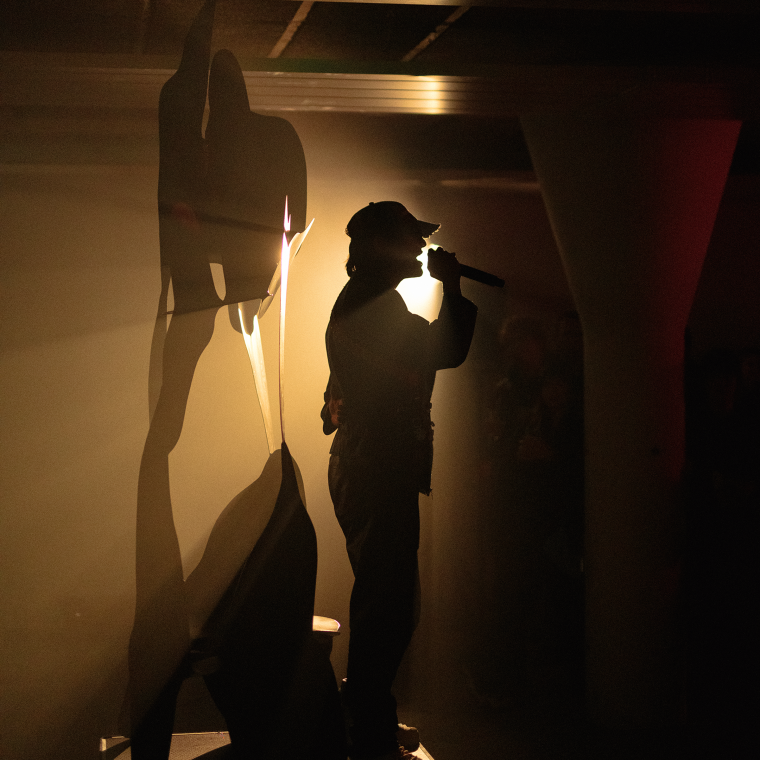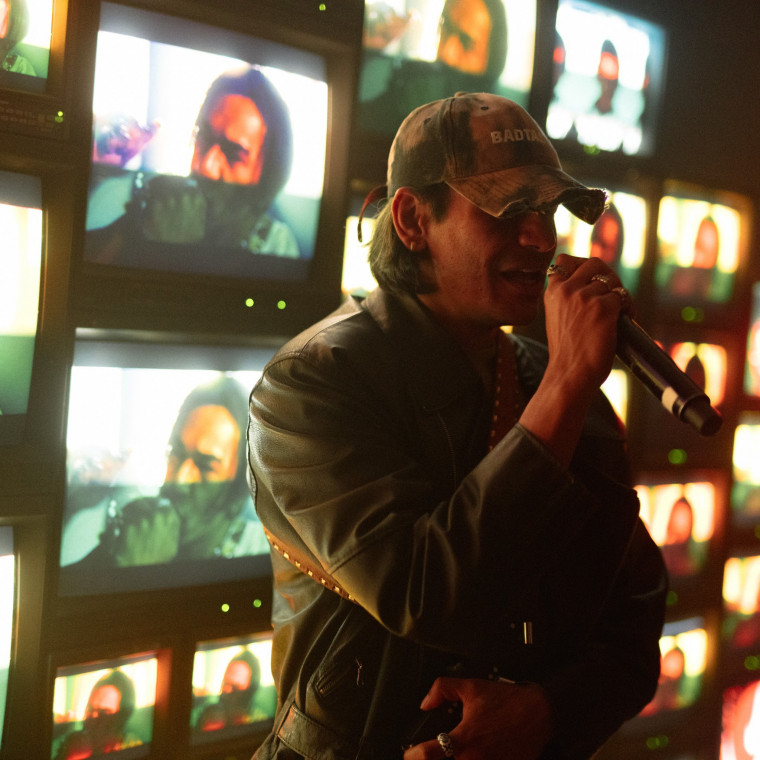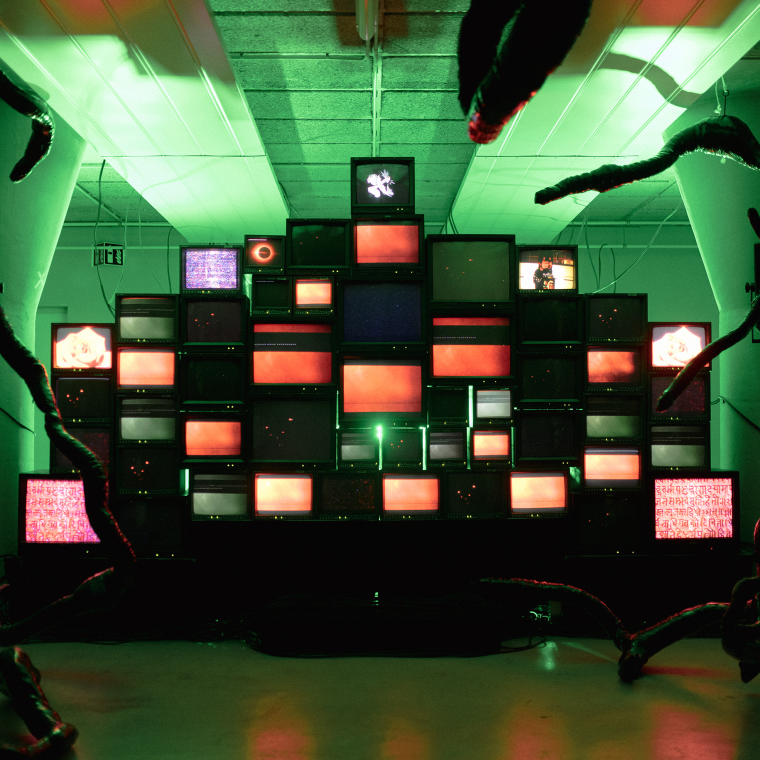 What are ways in which you go against the mainstream?
As an artist, I took the time to make sure that I could be my true self, and keep that as a guideline in my creative productions. This is the most authentic thing you can do. Too often artists create a shallow alter ego that sells, some perfect being, far away from humanness. It is hard to grow in such a perfect, empty image. I could not do it in that way. This is also risky, because people don't always like my way of doing music, imperfection is harder to sell.
What does the relationship between music and art symbolize for you?
The place I often think of when I hear 'art', is a museum. In the past, I felt like that was not a place for me. I thought it was more for people from a different social-economic class who had a different perspective on themselves and the world. Art and music, therefore, had a difficult relationship for me. Through creating an exhibition at Het HEM, including free entrance, I created a different perspective around art. Art and music now became friends. I tried to inspire people like me with the same background or economic class to discover art in a new way.
Art and music behold a certain perception. You create something with an idea, but when you put it out in the world, it's not your story anymore, it's the perception of everyone who receives it. If you present something authentic to yourself it is something you have power over, but after presenting it, it is up to the audience to interpret and judge it, it is almost as if it's not yours anymore.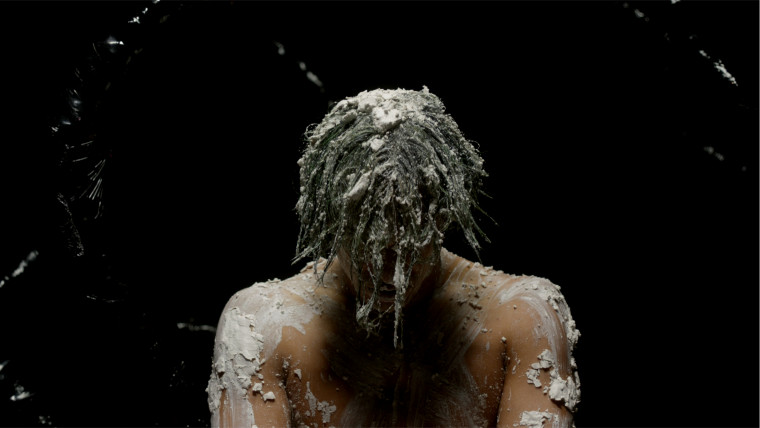 You have worked with many artists in numerous disciplines. Which artists inspire you?
Many people like Orpheu the Wizard, DJ Traxx, Mounir El Ghouat and Sevdaliza have been of great support and inspiration to me. Orpheu The Wizard and Mounir El Ghouat have been there since the start to push my sound. Red Light Radio was the first spot that gave me the space to grow, learn and develop my musical skills and sound as a DJ. Sevdaliza showed and taught me a lot about work ethics within the music industry. She gave me many reality checks about how the system can work against you, and is often not there for you and your art. What she does is very inspiring to many people. There is no one like her. She fought really hard for many things. People should know how much effort she has put in her career. Especially as an Iranian-Dutch woman in a niche pop sound, she is always fighting against the mainstream. She did that through creating her own stream. Me as a Dutch-Surinamese bringing experimental sounds, it's hard to set foot in a stream that does not exist yet. For people and artists with an immigrant background like me, there is a responsibility to create a new market and inspire others, so the system can change for people like us.

''For people and artists with an immigrant background like me, there is a responsibility to create a new market and inspire others, so the system can change for people like us.''
The past few weeks were very exciting, what does it mean to you, releasing this album?
This release is a very big point in my development as an artist, but also as a person, bringing other creatives together. Parrish Smith is a band and a creative team now. It is the beginning of a story. On the one hand, this release is opening doors, but it's also difficult. The world does not spin your way. The process of being an underground artist moving slowly above ground is very fascinating. You get a very clear perspective on how the music industry and its people functions.
'Light, Cruel and Vain' is about how narrow-minded the world sometimes works, even though people can think in an idealistic and utopian matter. The album is a story about surviving, how I see myself and how I am climbing mountains. It shows the person I am now, with all the emotions that come with it. I can talk about them through my release.

Can you tell me some more about the music video?
Never Break Faith, my music video, is about an artist that is caught up in money, status, and a drive to prove himself. He is trying to create this perfect self, to do something that works within the industry. At some point, the character finds out that this way of living doesn't feel natural. It's not for him. He starts to fight against this perfect image. His world crumbles, he takes off his mask, and through suffering he finds his enlightened self. This is a well-known phenomenon in various religions like Buddhism or the Via Dolorosa. It inspired me. I grew up talking about religion and philosophy with my father. Together with that, this struggle is familiar to me, both with other people and myself. I wanted to point at this breaking point, because it is important to talk about. The story isn't just about me, it's also about you or someone else. To elevate the visual narrative, I worked with many artists that shape their talents into carrying this story.
Alice Heron (Black Roots), Irma Joanne (Mask of the Perfect Self), Philip Atanasov (Throne of YAMA) , Atilla Yuksel (Transformation), Roel Weerdenburg (Wall of DEATH)
I taste a critical perspective on society in your album, how does the reflection of that perspective come into being in your music and release?
To come back to my ideas about how art and availability of art are based on socio-economic status, this is the same with music. Only now I see changes, like the amount of colored people that are present within the underground scene, me being part of it. All sections of the society are starting to come together now.
When I was a teenager, I was looking for role-models, people similar to me. There were some, like DJ Curley and Benny Rodrigues, but not many. When I would go to the underground niche spheres of industrial, punk, and wave, there were people unlike me. When I was younger it was difficult for me to get into clubs, and when I would enter, people would look at me like I didn't belong there. Music gives me the power to create more representation. This release is just one example of this.
''Music gives me the power to create more representation. This release is just one example of this.''
Can you tell me some more, about how you ended up releasing your album at Dekmantel?
Dekmantel has always created a space for me to grow. This is the most important for me, I can ask anything, and they always answer. Especially when looking at the music label world, it does not function in the way that is beneficial for artists. The scene is changing, now people are opening up about missteps within the industry. Dekmantel has something human to what they do, they want to give artists a fruitful place in which they can be creative. We're all human, so we also make mistakes. Managing missteps is a very hard thing to do, but you need to own up to your mistakes, communicate openly and be receptive towards feedback. It is important that you feel seen as a human and an artist. I do feel seen.
What can we expect from you in the future?
I am always working, developing and creating ideas. I want to become a better producer and vocalist. I try to play more piano, write songs, have singing lessons and work with my band. Music for me is a learning process. To keep this process going, saying 'no' is very important. This enables me to have enough time to evolve my music. In the future, I will be developing a new sound and move towards giving live shows. Art will continue to be an important aspect of my music, specifically visual art.
Upcoming work will be my exposition Genesis Black that will be about my Surinamese roots and artists with colonial heritage that work in the dark experimental field of arts. Together with that, a Richie Hawtin remix is coming up and my other punk project Volition Immanent is finishing its album very soon.
Light, Cruel & Vain is not the end, it is the start of a new developed sound, and from that there is much more to come.