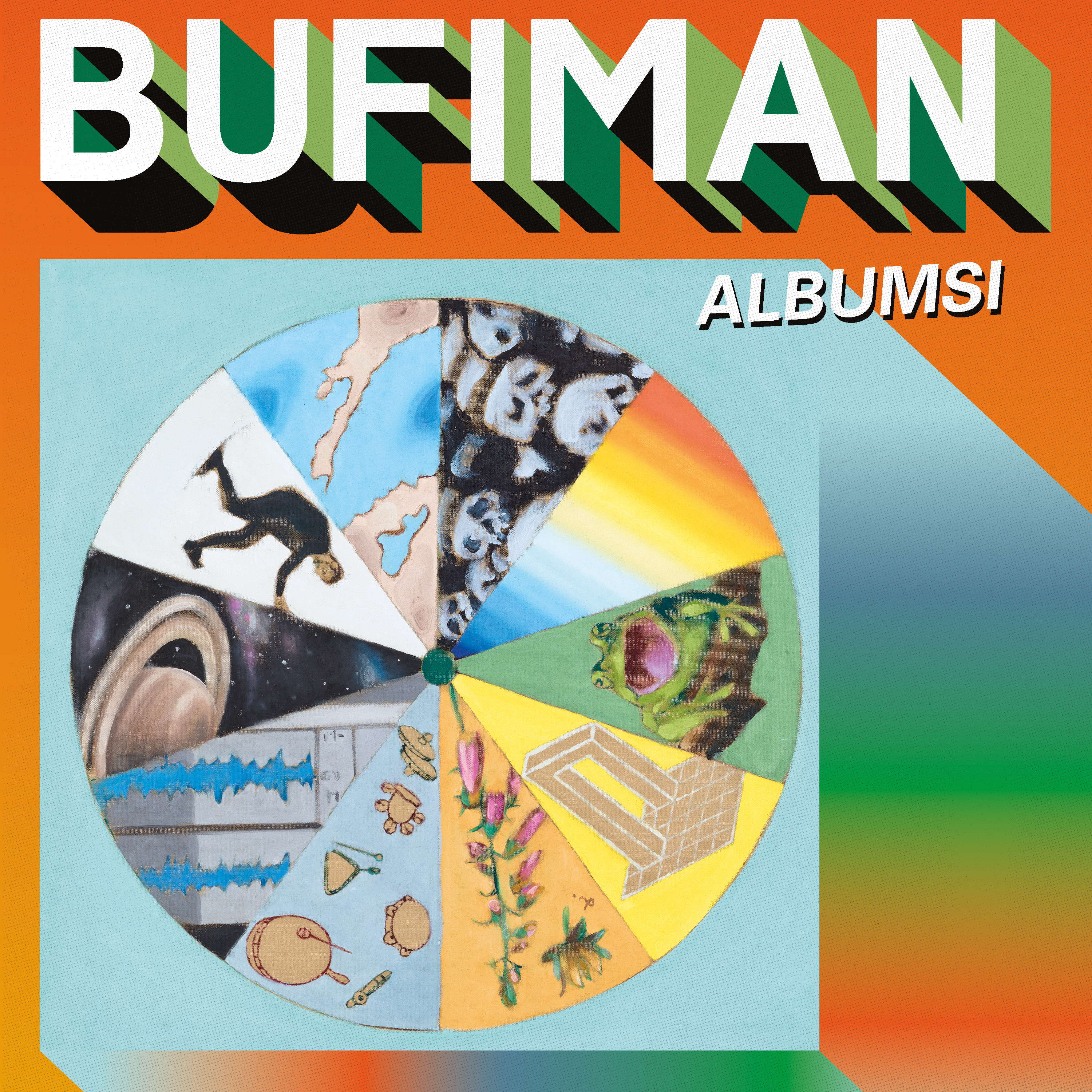 €20.00
Release date: 20 January 2020
Tracklist 2LP (Vinyl)
Release date delayed: 13 Jan 2020
"Welcome / to my galaxy / of snare drum samples / full of emotions"
The year is 2019, and Jan Schulte is spelling out his vision in simple terms. Within the first few of Albumsi's hour-plus runtime, our host lays out the mat, and welcomes us to the 'Galaxy', just as he welcomed us to 'Zum Paradies' on Instrumentalmusik von der Mitte der World. There, he donned a Wolf Müller mask. Here it is nom de doof, Bufiman. The directive is clear: buckle up, as this trip advisor for countless left-of-the-dial dancers and deep thinkers alike is back in the hot seat.
True to his word, the first thing that hits is the drums. Across the album are samples that Bufiman has been collecting since he was a mere Bufiboy. Recordings culled from market stalls 20+ years ago and song sketches that lay dormant since 2006 get a facelift at the Wolf Müller Flanger Studio and walk into the world as finished articles. A proggy tribute to funk classic 'Blow Your Head' takes this updating job most directly, transporting Fred Wesley & The J.B.'s to the fringes of a Frankfurt rave with a decanter of spiked punch, doin' the worm through a space-time wormhole as they go.
Sometimes those drums jive away steadily, and sometimes they boom and bap right under your nose (and in the middle of the LP, they are barely present at all). Live instrumentation and digitised rat-a-tat link like brothers in arms. What might Mantronix sound like if they were from North Sentinel Island instead of New York City? Albumsi could be the answer.
This is the first record Bufiman has since leaving his day job of 11 years. It is the first made after touring and exploring some of the furthermost pockets of the globe – something that left a naturally great and greatly natural impression on him. A switch was flipped, he says, once he realised he could finally paint these pictures without pressure: "For the first time in my life I suddenly had a studio, a bit of gear and 3-4 days of time every week at once. Before I might have had one or two of these components, but never all at once."
The resultant Albumsi is the most accurate measure of the 'man to date. Thick waves of bass lap up at an exotic shoreline of greenery and indistinct birdsong. Tunes swell, ebb, crest and recede over 6, 8, 13 minutes at a time. Are we in Goa or Grafenburg? Rasping synthesisers taking off on 'Well, Traumhaft' and SFX like suction cups on 'Hoolock Rock' suggest the latter. But then, listen to the ecosystem of competing animal voices on 'Apo-Calypso' or the marriage of hand drums and wavering lead on 'Pantasy', and it's impossible to be sure.
As ever, our host does not toil in studio solitude. Master mastering engineer Carsten Dämbkes brings the hi-def best out of the dense thicket of grooves. Close collaborators and friends like Niklas Rehme-Schlüter (Cass.), Lucas Croon, Nikolai Szymanski (Airchina), Alexander Dorn (Credit 00), Gregor Darman & Aki Vierboom (Phaser Boys), Sara Dudzinski Rodriguez and Florian Van Volxem variously add tweaks to the kit and compliments to the overall product.
Truly however, Albumsi begins and ends in the galaxy of Bufiman. With feet in the forests and head in the night sky, one arm pulling samples from the past and another jutting fingers into the future, the album is a rich stew of sounds, mantras and motifs and that have been simmering inside for a long, long time.