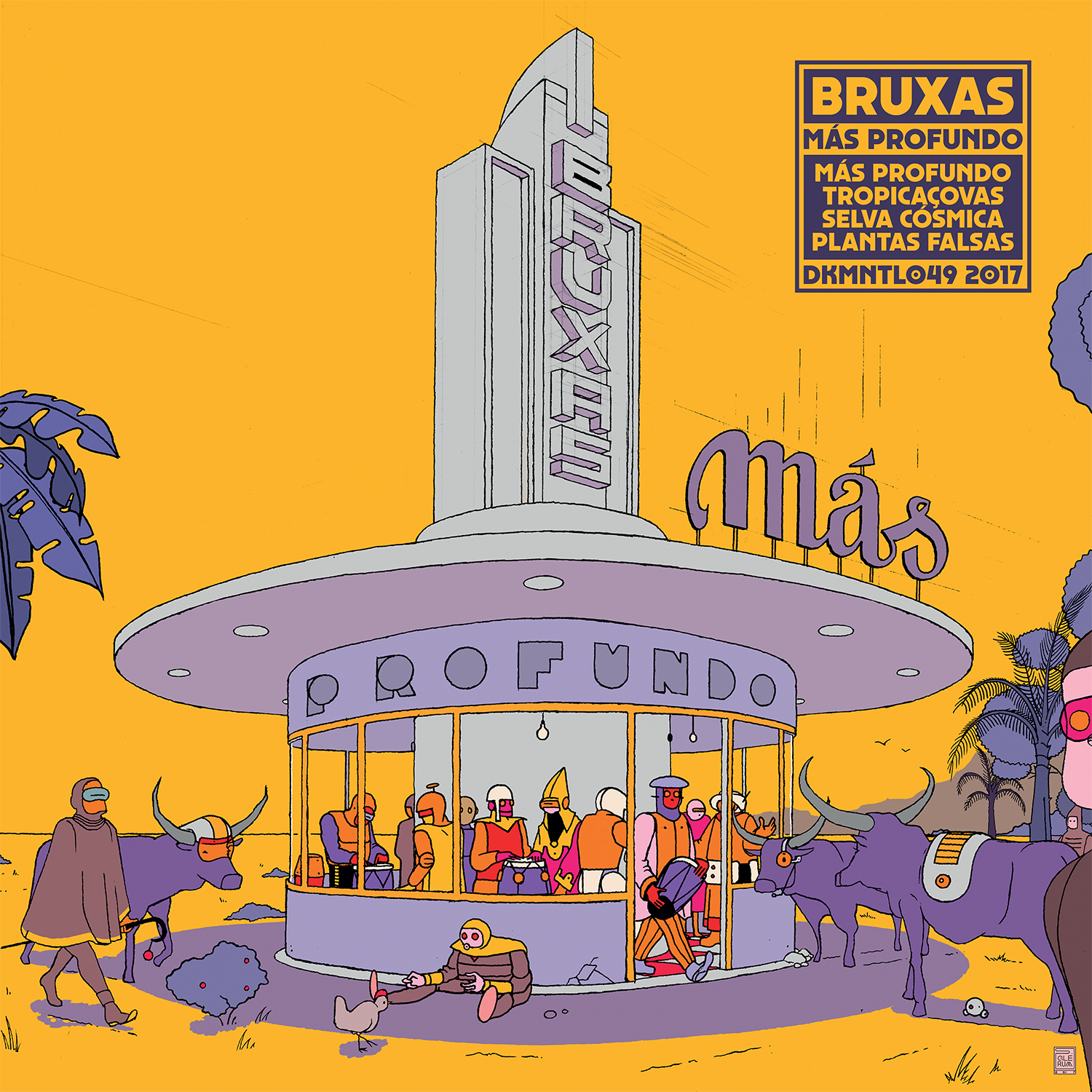 €11.00
Release date: 26 June 2017
Tracklist Vinyl (12")
Dutch psych-rock artiste Jacco Gardner, and production partner in crime, the percussive culprit behind many a twisted tropical beat, Nic Mauskovic, have teamed up for a devilish EP of cinematic, Balearic disco for their debut EP as Bruxas. Wielding a love for the wild and exotic, Mas Profundo is a record influenced by the black arts, the sun, and the love of making nostalgic, summertime music.

Fall under a deep, exotic spell with the new project that is Bruxas; a psychedelic journey into the tropics. Together Gardner and Mauskovic are all about pure vibes, and international feel. You will constantly be picking the sand out from the record's grooves, whether you play it on the beach or not. Gardner's self-titled solo project, featuring Mauskovic on drums- has to date, won him many, global plaudits, comparing him to the likes of Broadcast, and Tame Impala. Mauskovic meanwhile garnered himself a reputation for sub-equatorial percussion, featuring in bands such as Altin Gün, Eerie Wanda, and of course, the aptly-titled cumbia, new-wave act, The Mauskovic Dance Band.

Bruxas came together when the two were playing backing band for the 70s James Brown-meets-Black Sabbath act, Witch. Feeling inspired, they began their collaborative musical odyssey by writing new music together in Portugal.

(Bruxas is Portuguese for witch by the way). "It was a combination of things that sparked the idea to start Bruxas," Gardner states, "our love of 70s soundtracks, library music, African disco, and Afrobreat." Mixing together their well-honed percussive rhythms, along with layered synths and the occasional vocal, Bruxas was born; a project less on the side of fuzz-rock, and more on the side of an occultist rhythmic, devil-dance.

"We both love exotica and electronic music. I was really getting into library music while working on my last album, stuff recorded in the 70s that is difficult to classify, where traces of psychedelia can be found in almost everything. We wanted to make our own mix, and see if we could mold it into a contemporary music project, that's easy to bring to the stage." - Jacco Gardner

The Dekmantel EP is a kaleidoscope cabinet of curiosities, unearthed from the tropical wilderness. 'Más Profundo' is the deepest of all the treasures, while 'Tropicacovas', with its wistful island ambiance, conga beats and rolling bass, soundtracks the whole affair, before delving into the jungle with 'Selva Cosmica'. Animals gasp as the energy becomes more electric, while the Dutch duo play on, with 'Plantas Falsas'. A true carnival of wild assorts. Drinks are free. Fun, and sunshine, there's enough for everyone. "Each track is a little journey, some through Africa, others just at a fancy Italian pool party," Gardner says about the EP, "there is definitely a worldly character about them, which ties into the exotica element that connects all the tracks."

The sleeve artwork by Stefan Glerum is also available as A2 screen print here.