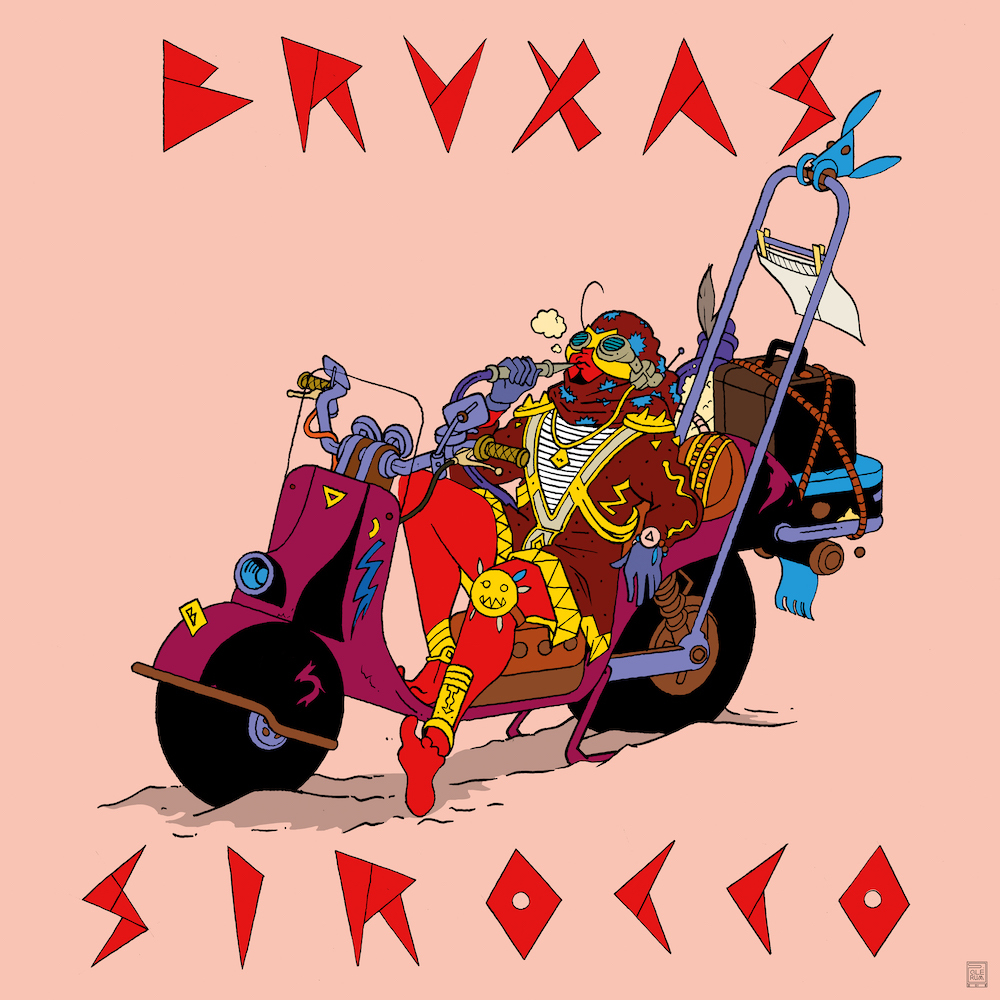 €11.00
Release date: 02 July 2018
Tracklist Vinyl (12")
Sirocco is the second EP by Bruxas, the psychedelic, beat-driven, tropical, house group consisting of Jacco Gardner and Nic Mauskovic, featuring the percussive talents of Jungle By Night's Tienson Smeets. Sirocco features the combined talents of cult retro artist Gardner, and the percussive fortitude of Mauskovic, delving into the world of exotic, cinematic, Balearic-sunshine, that cruises leisurely throughout, and is layered with phazed-out, tropical synths. It's a sound for the summer. Good vibes only please.

Following up from last year's Más Profundo EP, Bruxas return with Sirocco, an EP named after the Mediterranean wind warmed up by the sun drenched Saharan sands. Lead track 'Sirocco' washes over like a sea current of dreamy, tribal, synth-wave, flowing and ebbing in mixed colours of a psychedelic haze. It teases of something grandiose, which later appears in the form of a club version. Remixed for some secret island hideaway orchestrated by DJ Harvey, 'Sirocco (Club Version)' builds on the resplendent melodies and driving percussion of the original, adding some foot-tapping, devilish keys and retro-progressive synth lines to add subtle, summery tension and flare. 'Hermes' meanwhile drives along at a casual 100bpm, with a cumbia-styled Casio line, and a jaunty, leisure-like, Latin-groove, and fiesta feel. The final track on the EP, 'Maria's Holiday' has another up-beat, Casio-styled groove, set alongside a poolside party, with bongo-beat rumblings and a disco rhythm. It's the soundtrack to a summer cocktail party, to watch the sun slowly set on a tropical fiesta.

Bruxas is the collaborative project between Jacco Gardner and Nic Mauskovic who joined forces while playing in the support band for the 70s James Brown-meets-Black Sabbath act, Witch. Gardner — having firmly established himself as a credible force within the psych-rock community with two solo LPs and a psych-rock sound — and Mauskovic — whose catalogue includes acts such as Altin Gün, and The Mauskovic Dance Band — teamed up in Portugal with their shared love for library music, and 70s psychedelia, naming their new creation Bruxas — Portuguese for Witch. With a featured appearance booked in at Dekmantel Festival, also featuring Tienson on percussive duties, be sure to note that this will be a big year for the retro-party boys.