Dekmantel Festival 2019 Liveblog
Welcome to our liveblog! A full-blown feed of our entire event, updated throughout the festival. A chance for you to keep track of what's happening at the moment, with photos, videos, background info and live updates from Gabriel Szatan (GS) and Chal Ravens (CR), our journalists in the field. For more practical information and timetables, check out www.dekmantelfestival.com or the Dekmantel Festival app. For any assistance, email us at [email protected]. For now, stay tuned!

Monday 5 August - 00:09
Thank you, thank you, thank you!
It was another dream weekend, and it would not be nearly as special as it is without your energy & enthusiasm. Get home safe, take care of one another, and we will see you back in 2020.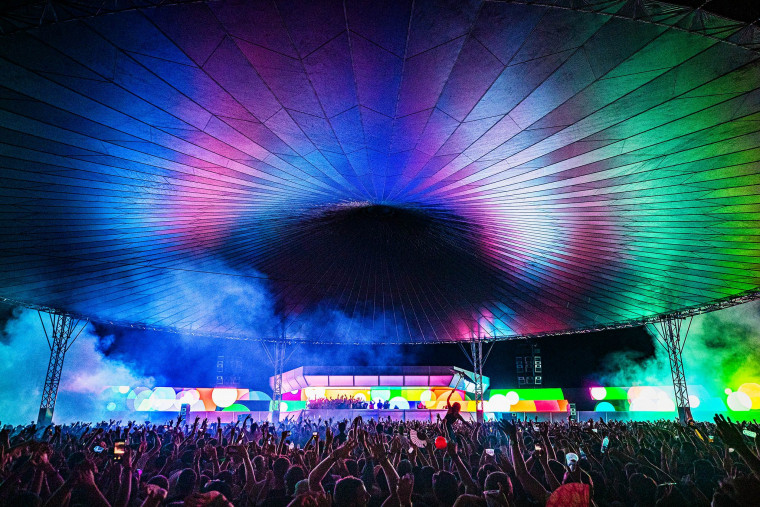 Monday 5 August - 00:01
The final Dekmantel by Night
To those of you still down for another dance, the Night program concludes with our Dekmantel Is Burning collaboration and a final night at Shelter. For the latter, we have a last-minute surprise up our sleeve — Marcel Dettmann and JP Enfant are joined by none other than Dasha Rush.

Tickets available at the door, see you there!
Sunday 4 August - 23:41
Palms Trax claims his throne
We all knew this day would come, and of course he absolutely smashed it. All hail the people's prince.
Sunday 4 August - 23:02
The final set at the Red Light Radio stage
Max Abysmal closing the gates.
Sunday 4 August - 22:54
Tzusing breaks through to the next level closing the Greenhouse
CR: Bear with us: this is like accidentally using a cheat code to get to the next level of a game that you didn't really understand to start with. The strobe-lit forest suddenly seems otherworldly and menacing - Tzusing has changed the entire atmosphere in the Greenhouse. Only here could a Kendrick Lamar edit be lingua franca yet seem totally alien. Oh - now he's playing '80s synth wave. All bets are off!
Sunday 4 August - 22:25
Just before in the Boiler Room
We picked Simo Cell to come and add his technoid touch to the final day at the Boiler Room and boy is he making the most of it.
Sunday 4 August - 22:04
Slikback, the final frontier
GS: It's not often you find a legitimately divisive sound at a festival as large as Dekmantel. Masked man Slikback truly feels like has ripped a vortex to a near future that not everyone is ready for — we have seen Galaxian, The Exaltics and others careen through kamikaze music today in the UFO II but this puts them on their asses. As Storm sets up, Slikback is sending the dedicated absolutely wild though, thrashing to 170bpm beatdowns or brukking along to the Palmistry edit of Mr. Mitch's "VPN". Chal and I are sticklers for this, but we truly hope Dekmantel explore more for 2020. If anyone earned a reprieve, it was Slikback.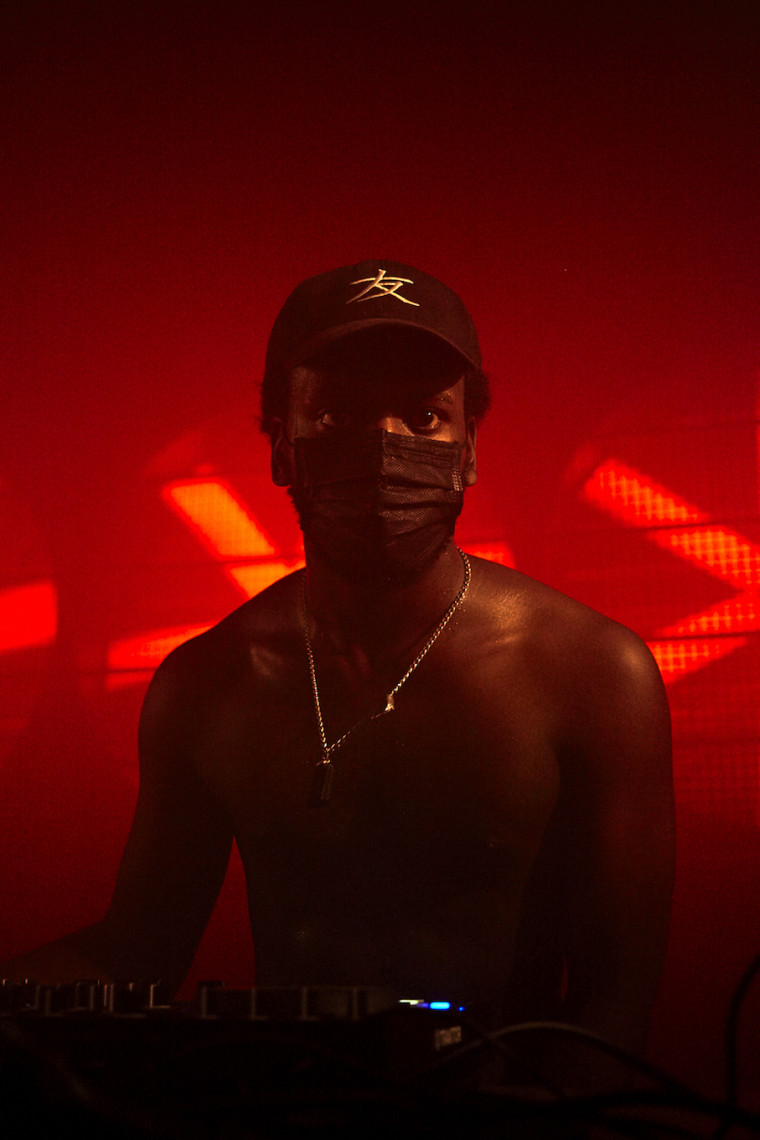 Sunday 4 August - 21:51
Sunday sundown is underway
And who better to soundtrack it than transgressive EBM legends Nitzer Ebb.
Sunday 4 August - 21:30
object blue is doing whatever the hell she wants at Red Light Radio
CR: Mixing hecky breaks from Hornsey Hardcore with bizarro Charli XCX edits was always going to be a recipe to win my heart - and that's before she got onto the Scratcha DVA productions! With Lady Lykes ricocheting round the field, object blue is taking no prisoners on the Red Light Radio soundsystem - in this bubble, we've almost forgotten about the rest of the festival TBH. Not sure anyone here was quite prepared for this, especially not those who thought they'd picked a chill spot to eat their okonomiyaki dinner. Ha!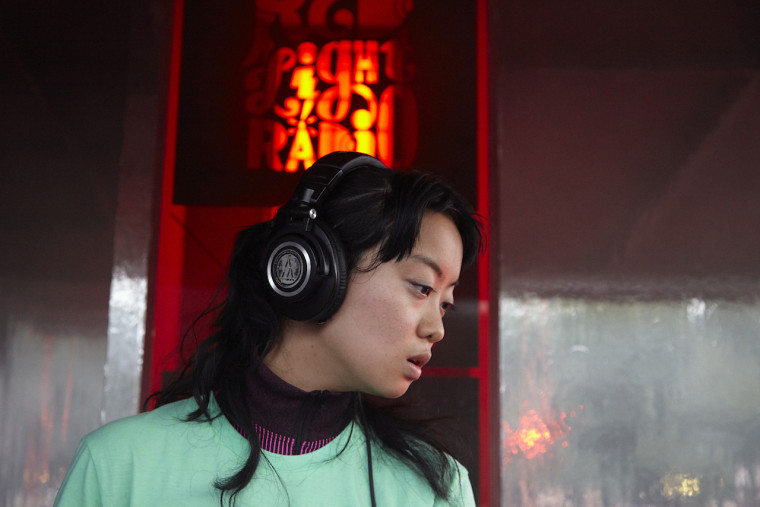 Sunday 4 August - 21:14
Motor. City. Drum. Ensemble.
These four words indicate boundless quality. He dazzled the Main Stage once again.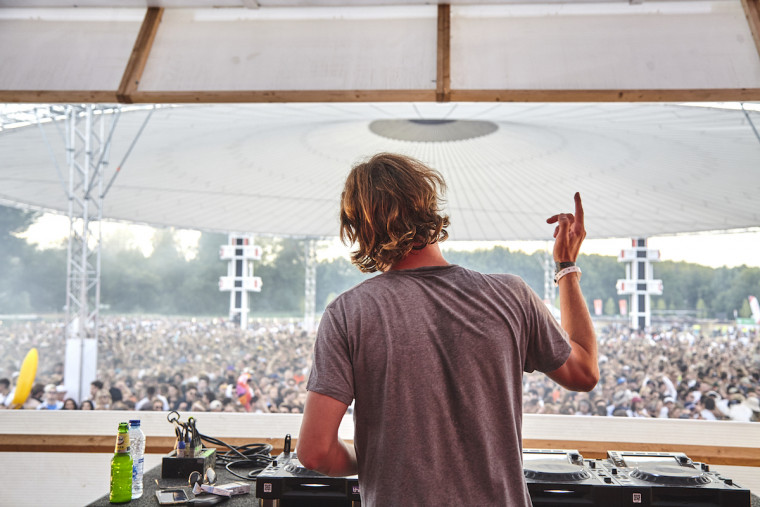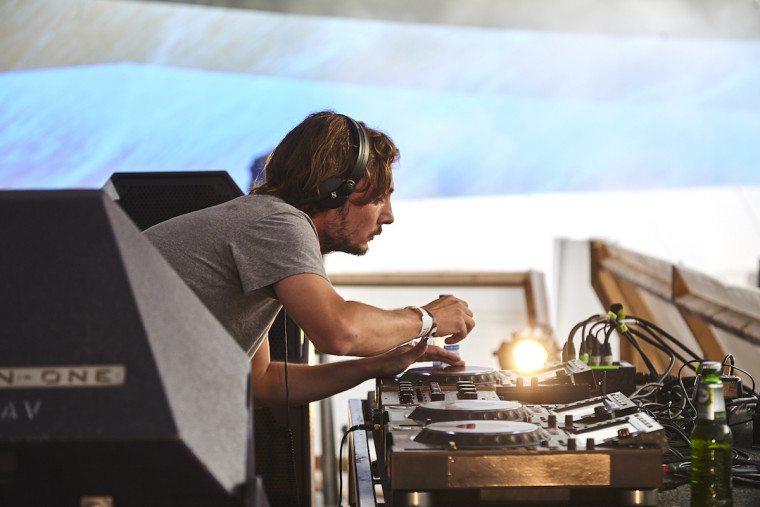 Sunday 4 August - 21:00
P.A.S. in the U.F.O.
Luke Slater unleashing the Planetary Assault Systems beast to the UFO stage.
Sunday 4 August - 20:46
object blue before her set at the Red Light Radio stage
Live now! Stream it here.

And, if you happen to be in the situation for that right now, read the feature we did about her, Tzusing, Yu Su and China's electronic music scene here.
Sunday 4 August - 20:41
Roísín Murphy brings her magic to the Main Stage.
20+ years at the forefront of pop and dance innovation, live in action.
Sunday 4 August - 20:38
Now at the Boiler Room!
Darwin & re:ni just dropped this.
Sunday 4 August - 20:36
American EBM androids Nitzer Ebb on the Greenhouse right now
After 5 days, the only thing we want is catharsis and redemption. Nitzer Ebb just got stage and started our therapy session with this.
Sunday 4 August - 20:01
Freakout Cult and Sex Tags affiliate under the willow tree
DJ Fett Burger always turns heads and ears, now doing exactly that once again at the Grolsch Selectors Stage.
Sunday 4 August - 19:53
Marcel Dettmann is signing his own Selectors Compilation at the moment
Head over to the merchandise stand to get yours!
Sunday 4 August - 19:42
Cosmic Force tearing up UFO II.
Years upon years of experience feed into the sight we behold now.
Sunday 4 August - 19:35
Our Main stage
The beating heart of Dekmantel Festival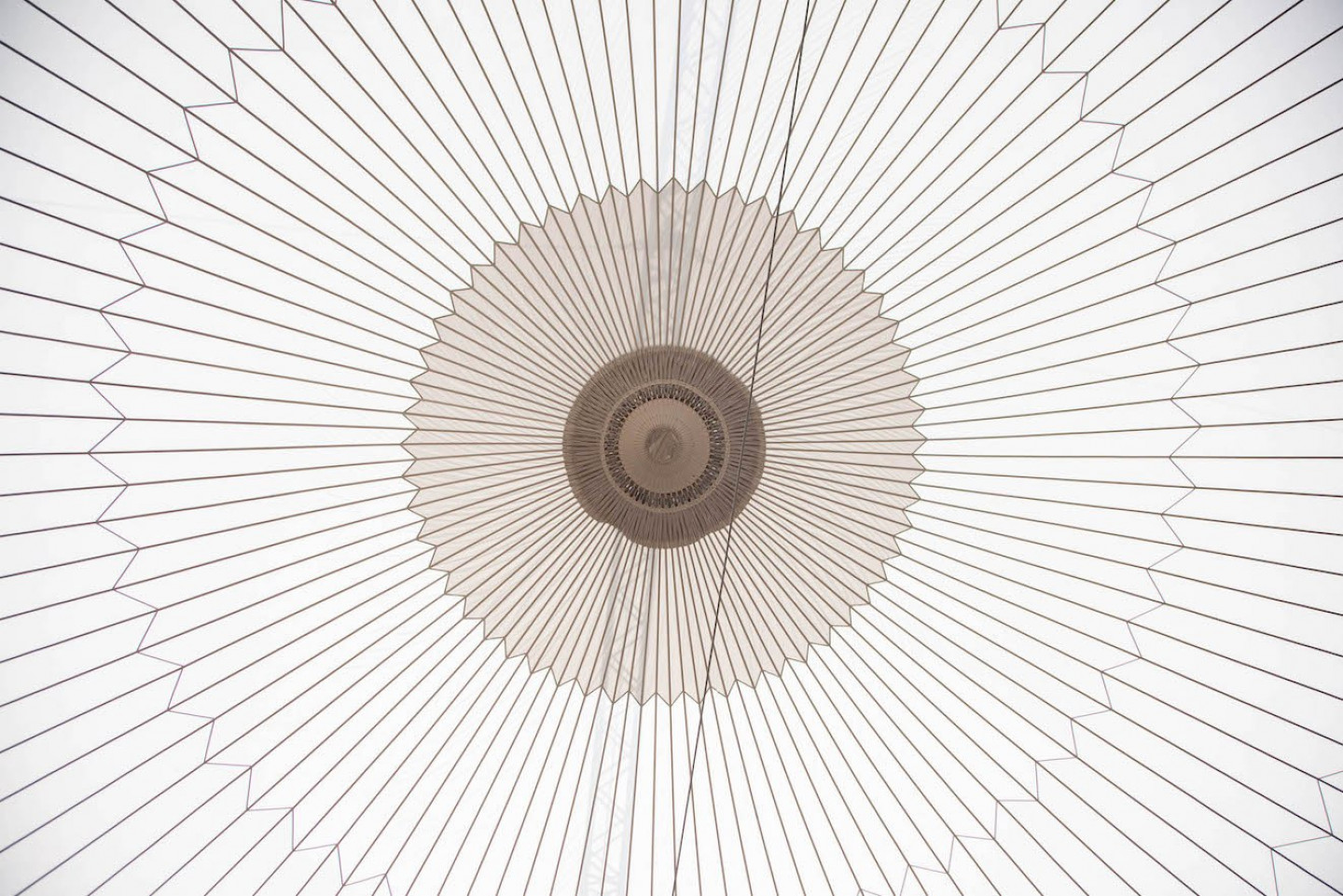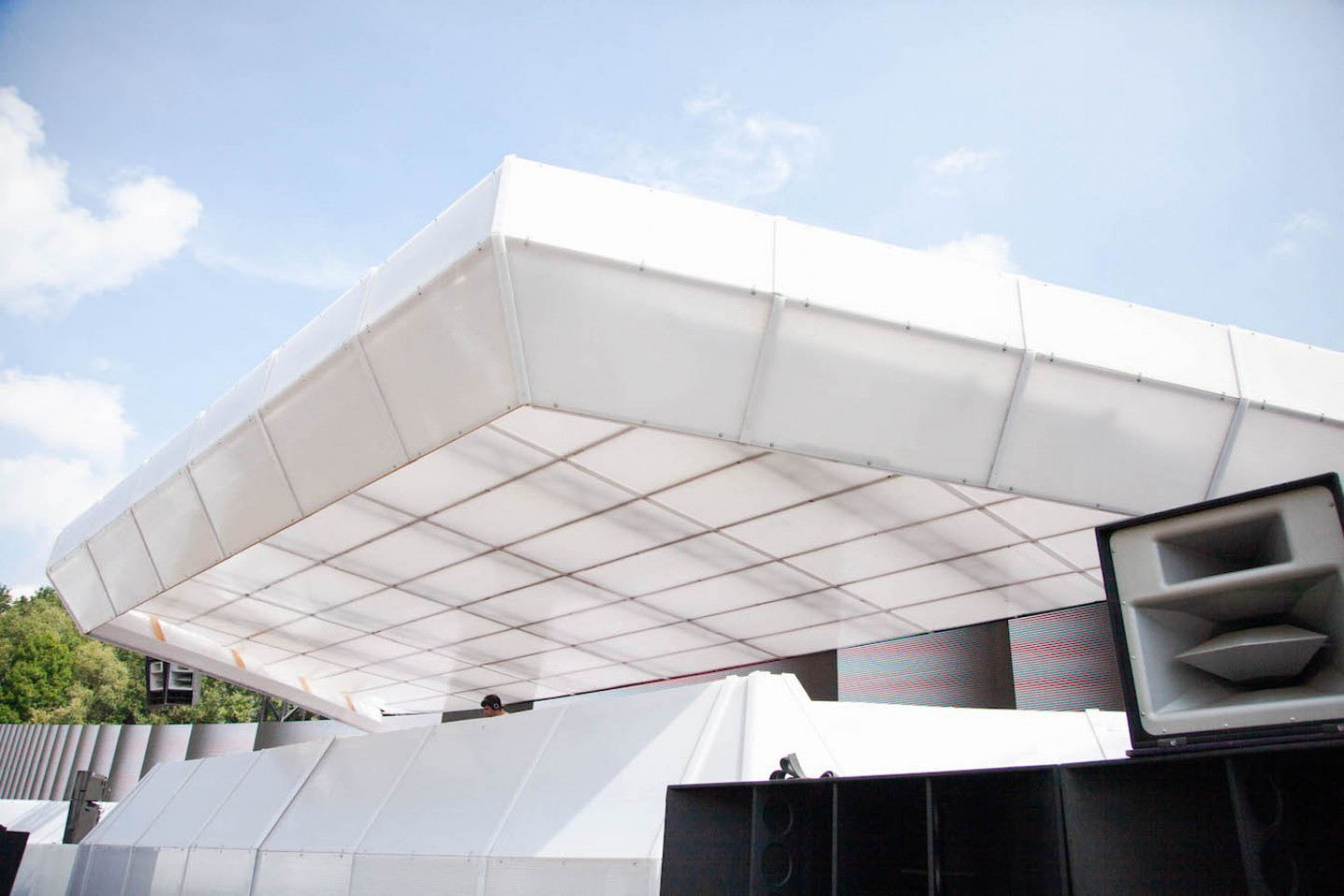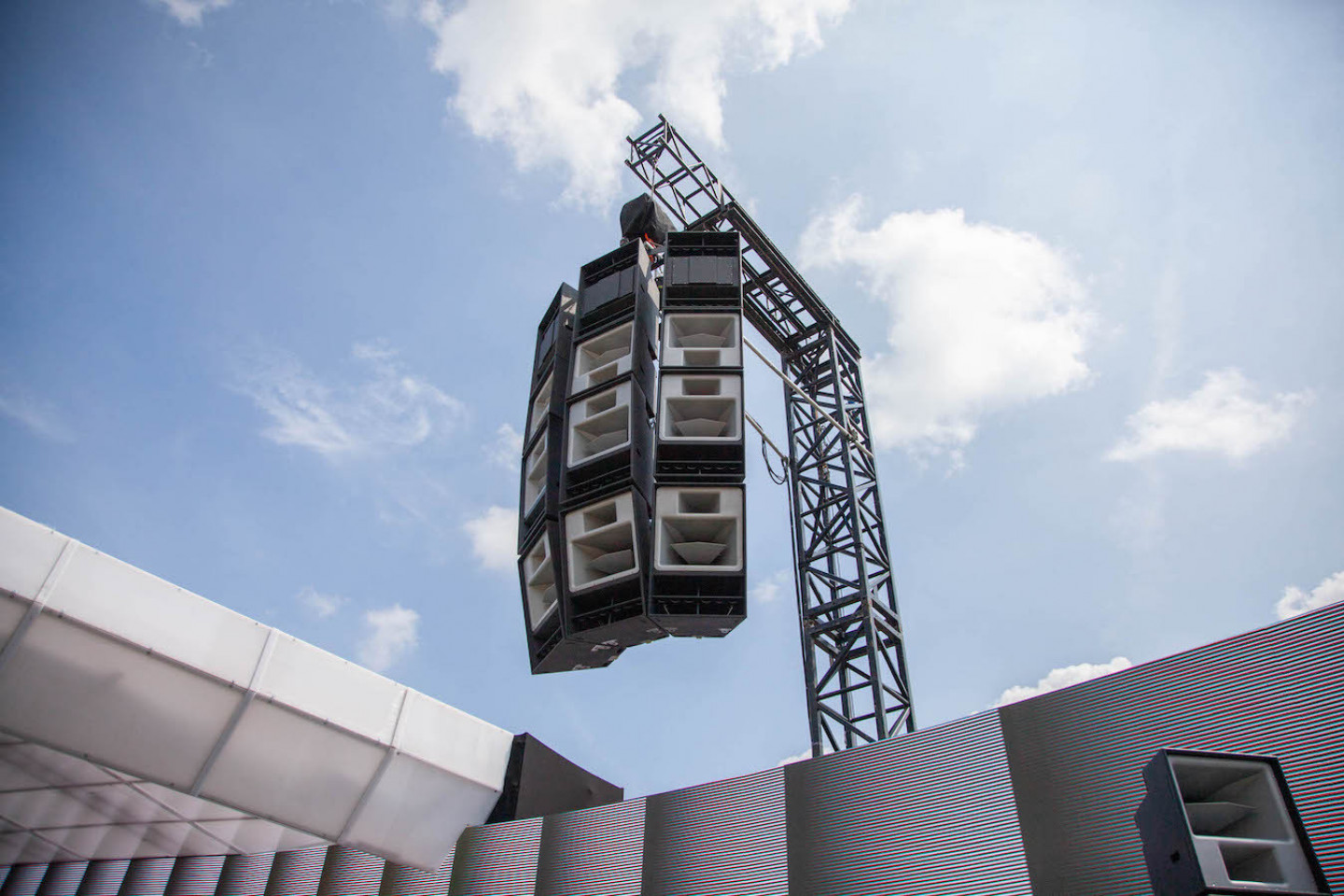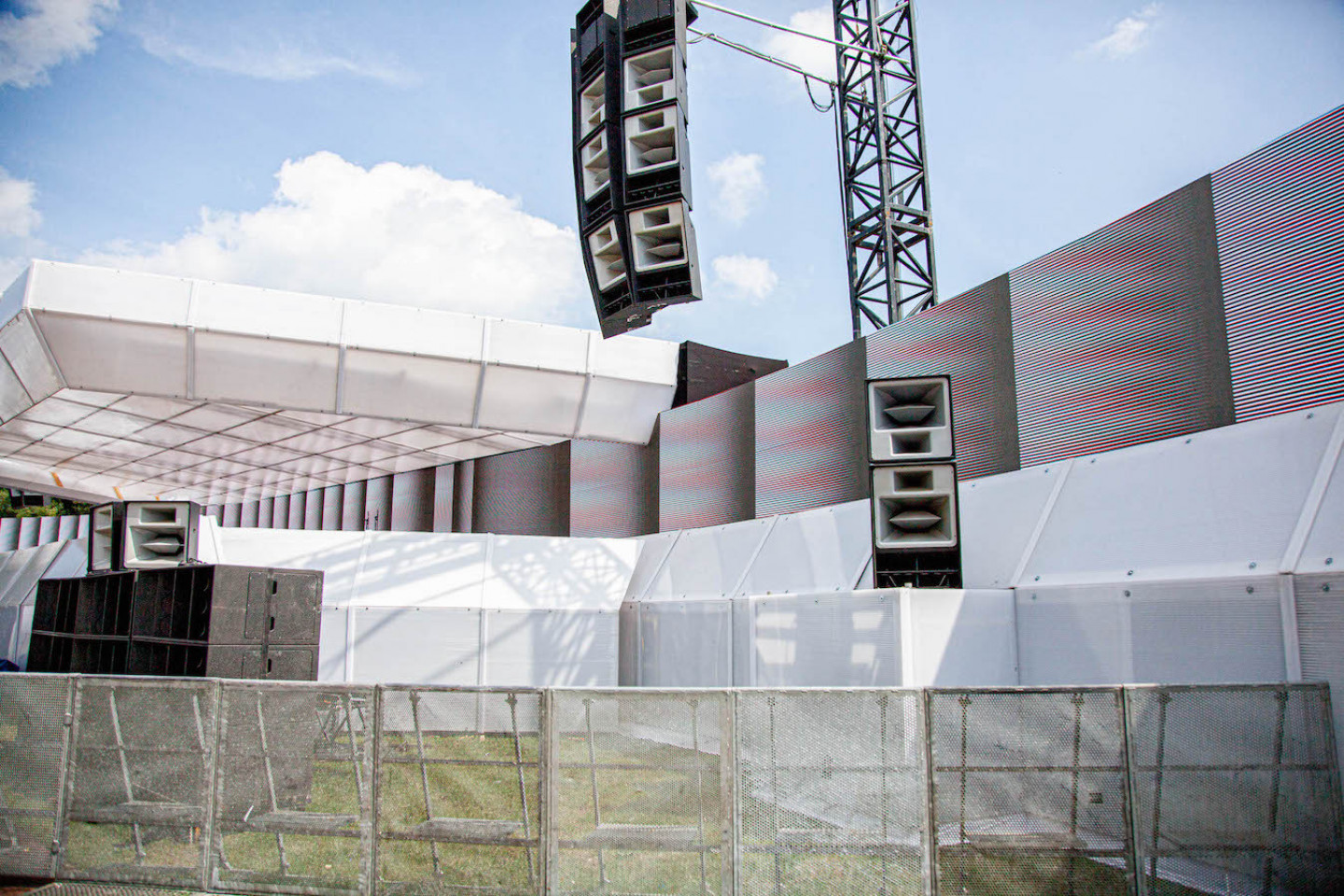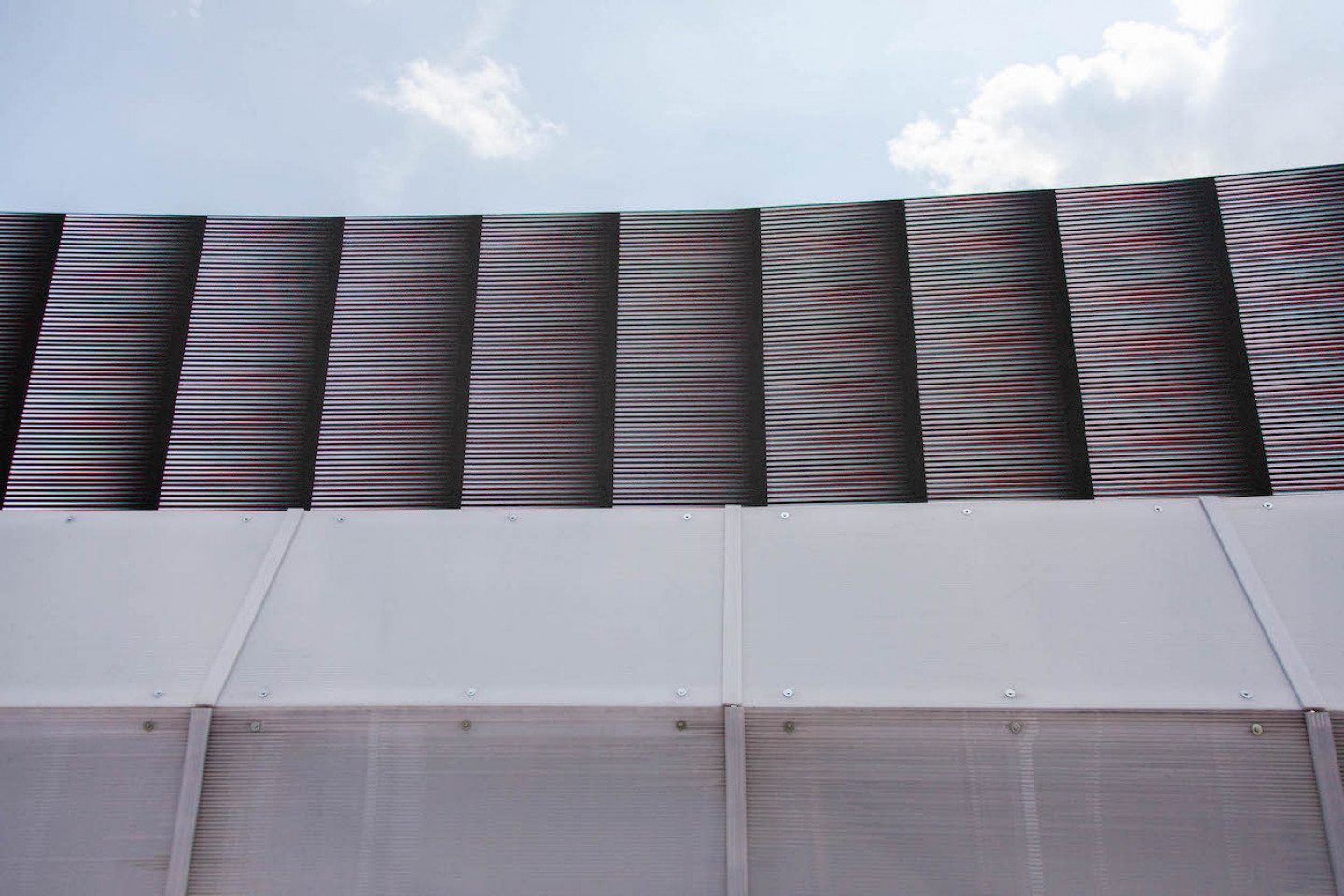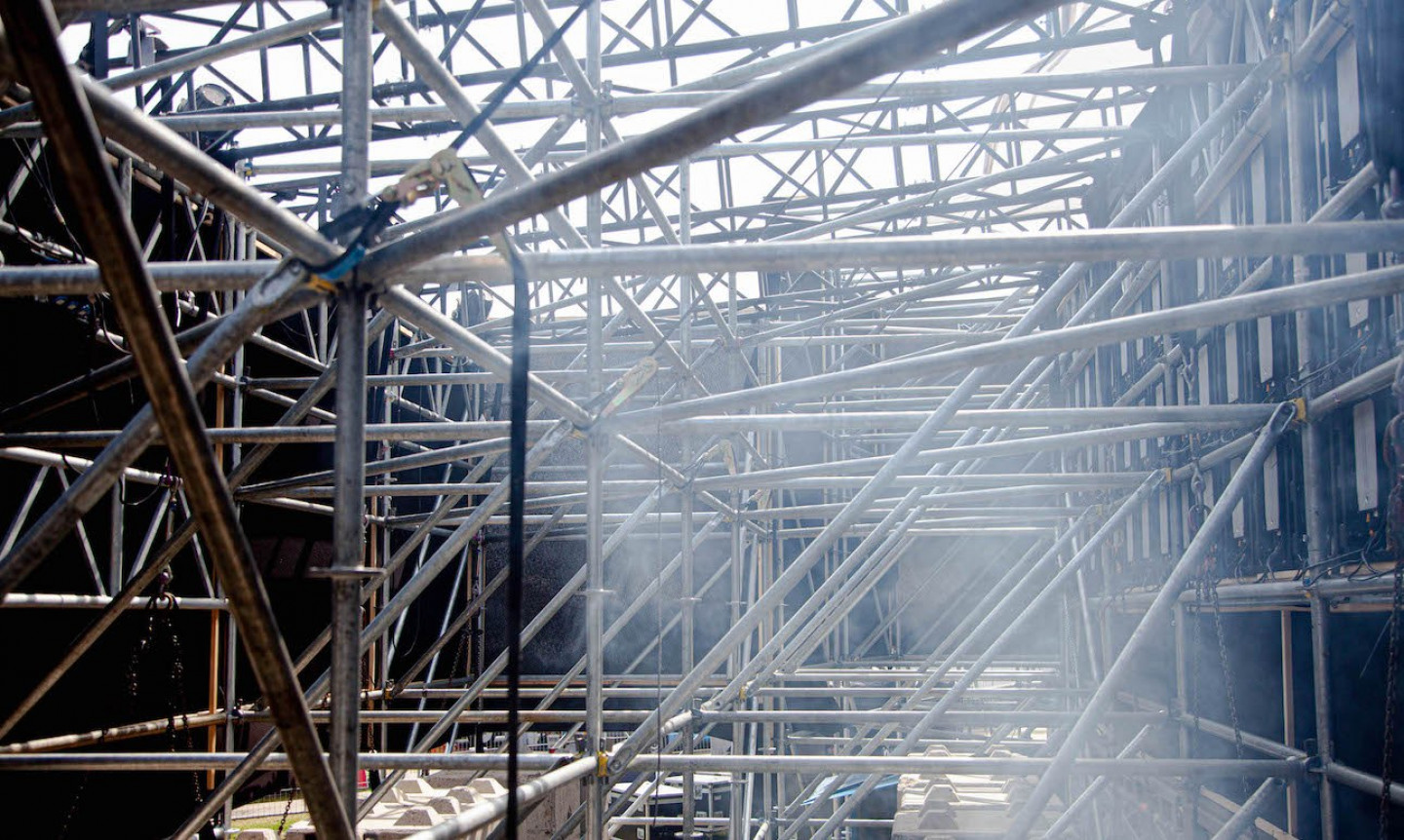 Sunday 4 August - 19:29
More from Jex Opolis!
Stream the Red Light Radio stage here.
Sunday 4 August - 19:20
Tight funk, slick boogie and an effortless charm
Jex Opolis is right at home on the Red Light Radio soundsystem.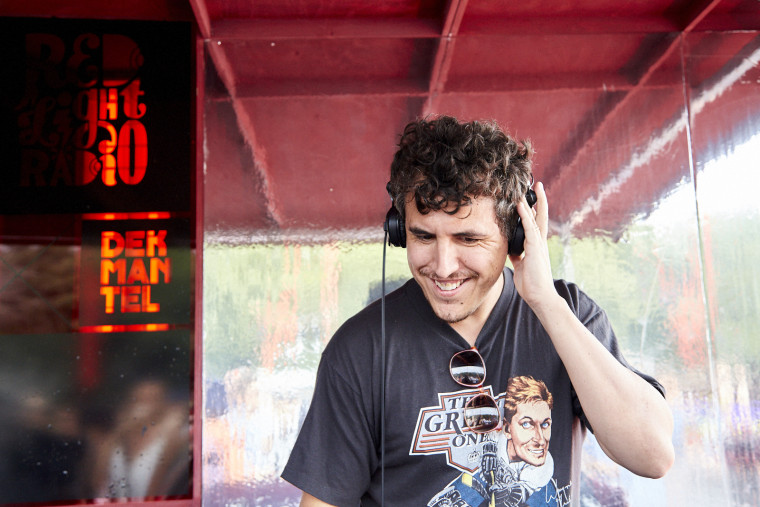 Sunday 4 August - 19:16
Back to the future
GS: At the end of a clubbable, charming, crowd-pleasing show - surely one of the most successful live outings on Dekmantel's Main Stage - Murphy subtly tips her wide brim hat to the past. The rubbery bassline coming out of a new tune feels somehow familiar... and it is! It's "Sing It Back", a global über-smash for Moloko as the 90s were winding down. We get a single verse and half a chorus, before she lets the crowd, fittingly, sing it back. Loudly. Then she's off in another direction: white gloves replace black, the dress changes from yellow to safari print, and she flips a parasol into a dart board, raised aloft as the next song crests. Between wafting arms raised to the sky, the heaving crowd in front of her are all mouthing the same line from True Romance: You're so cool.
Sunday 4 August - 19:01
A small selection of the characters who joined us over the weekend
Thanks endlessly: you all make the weekend what it is!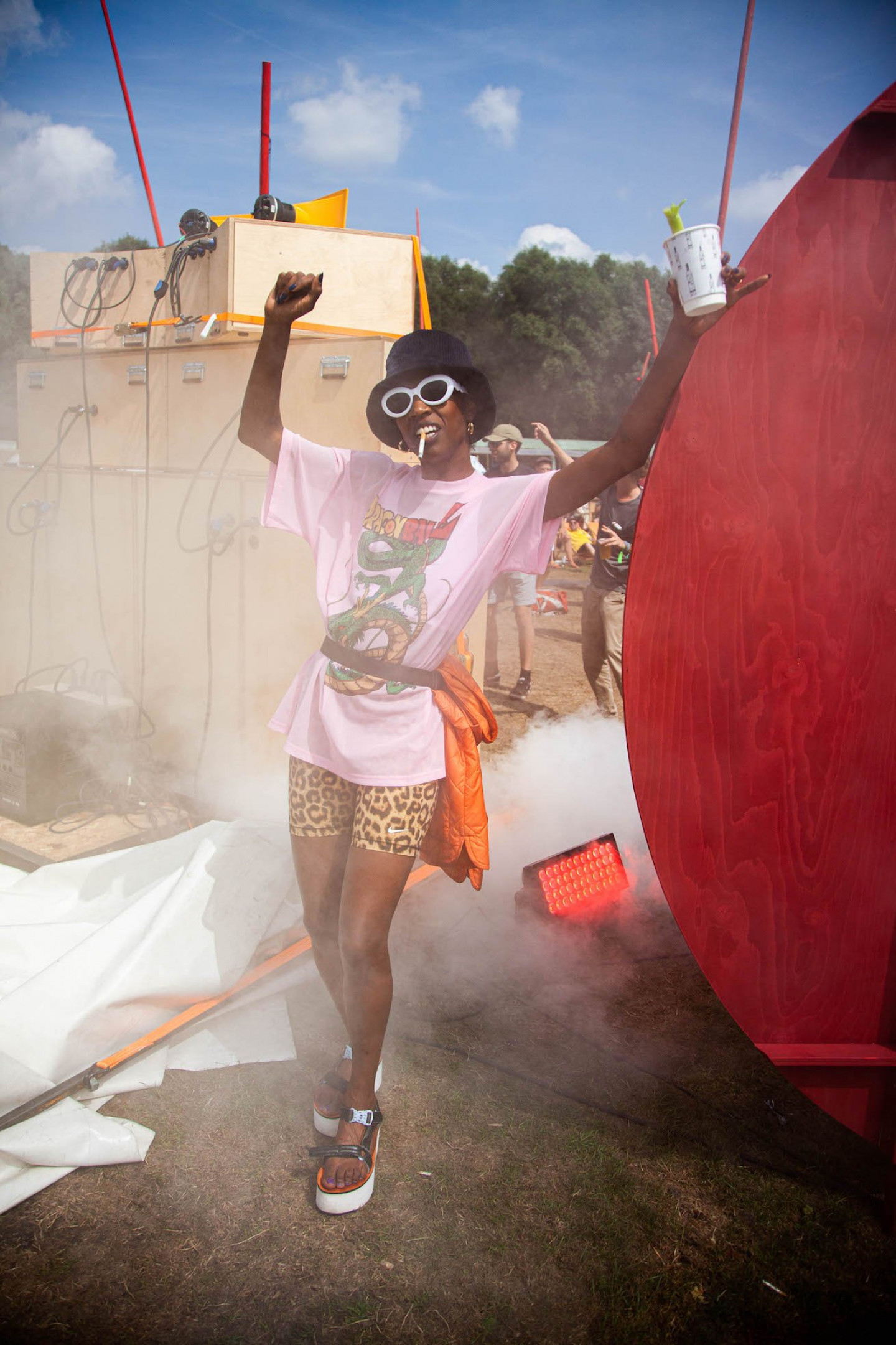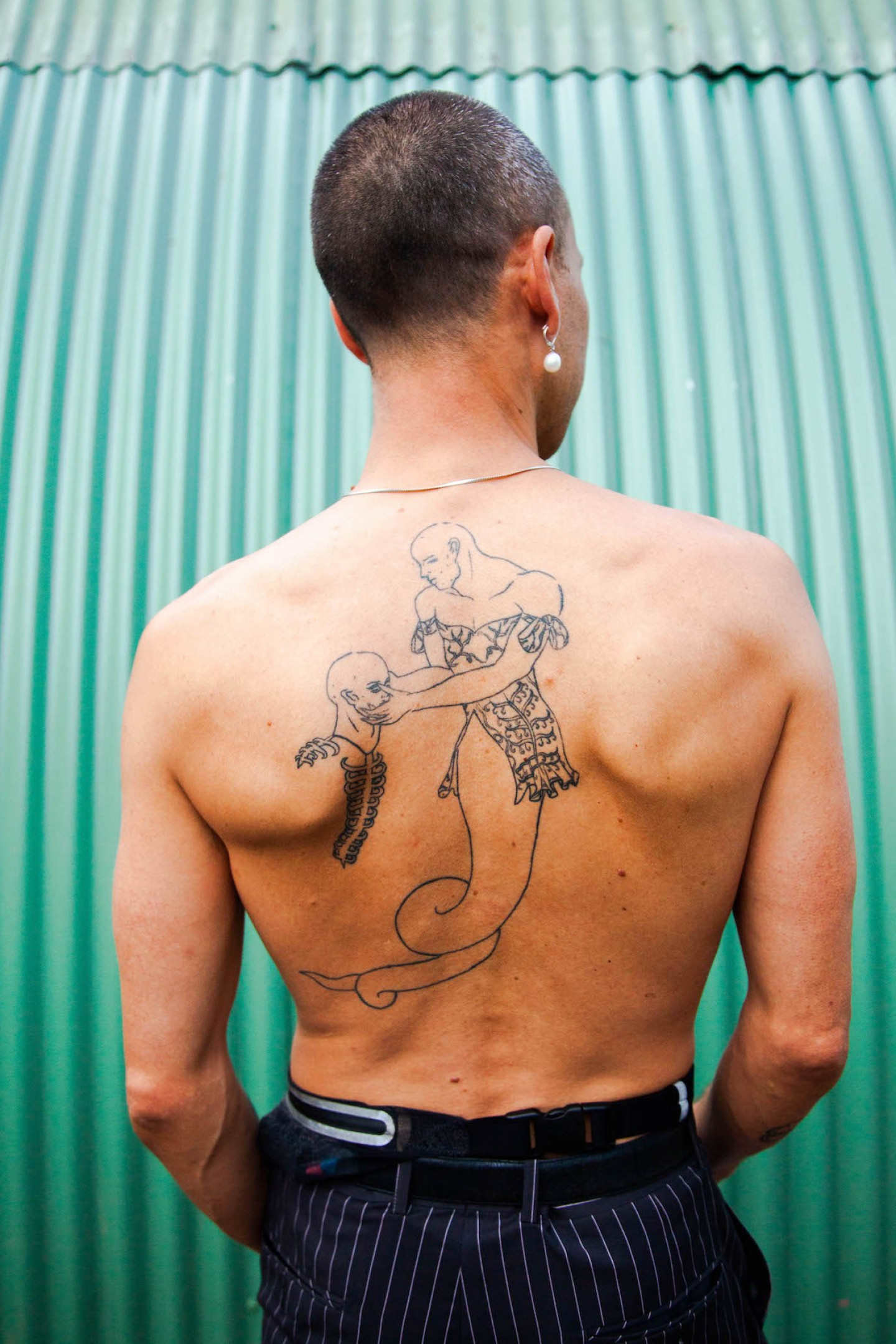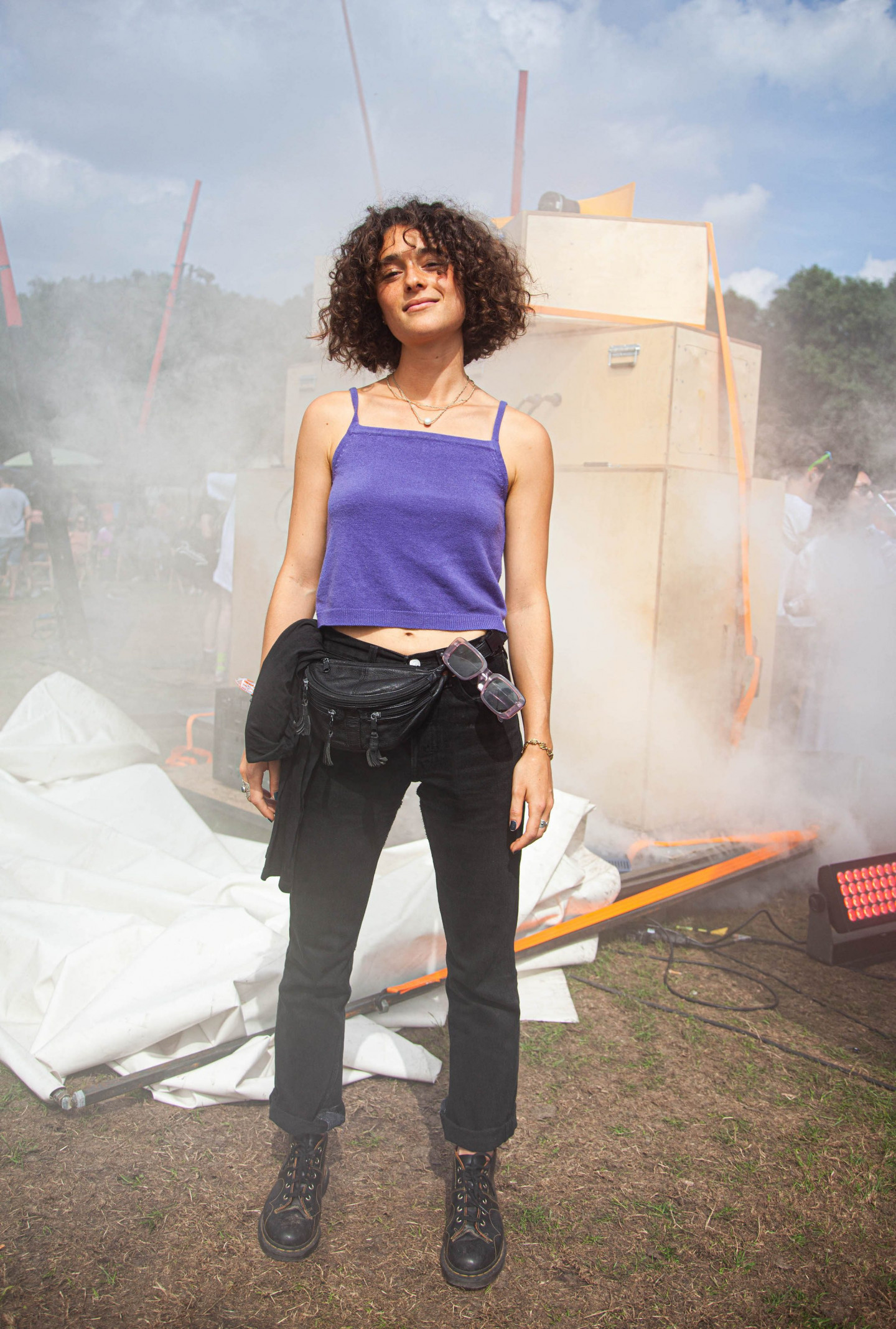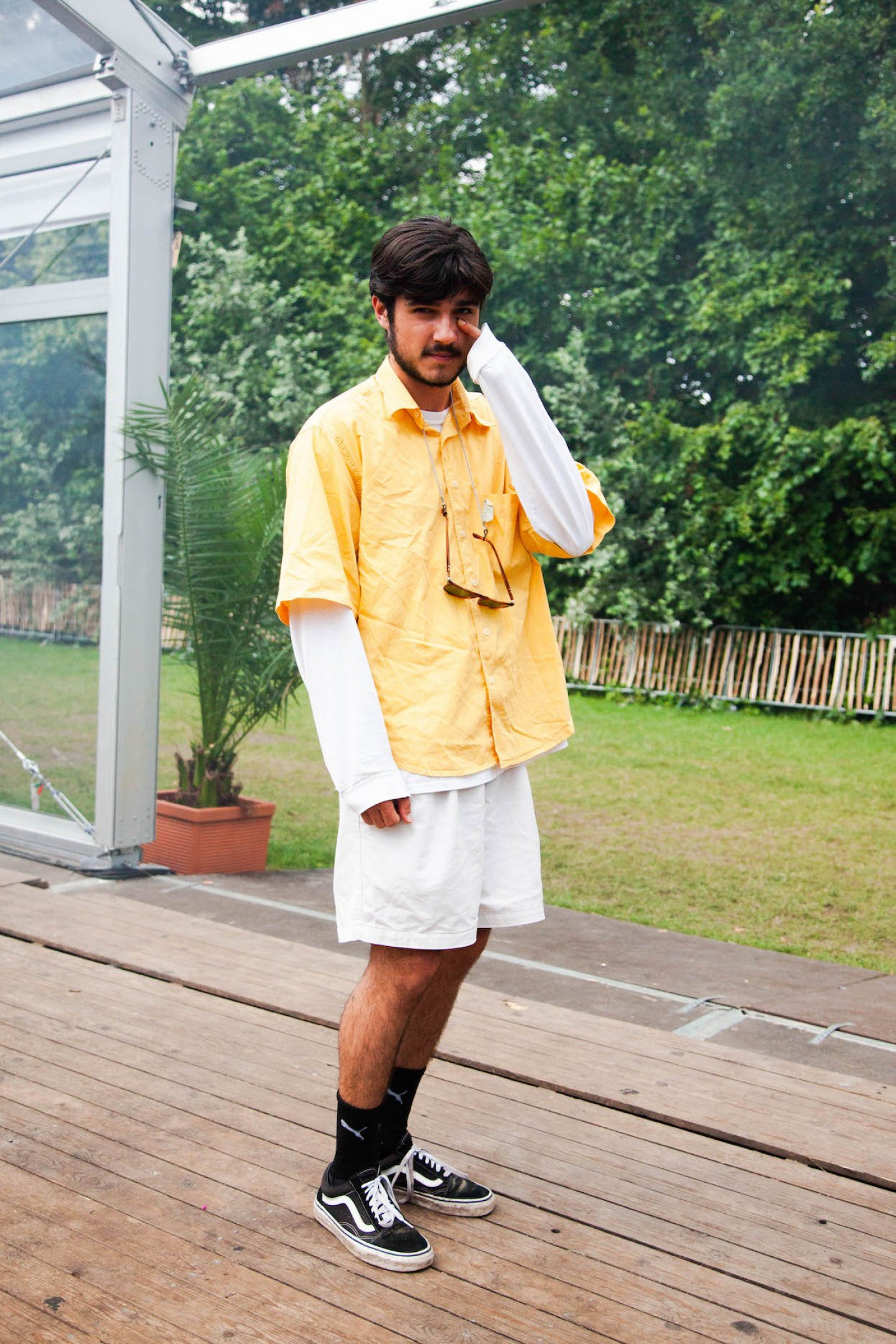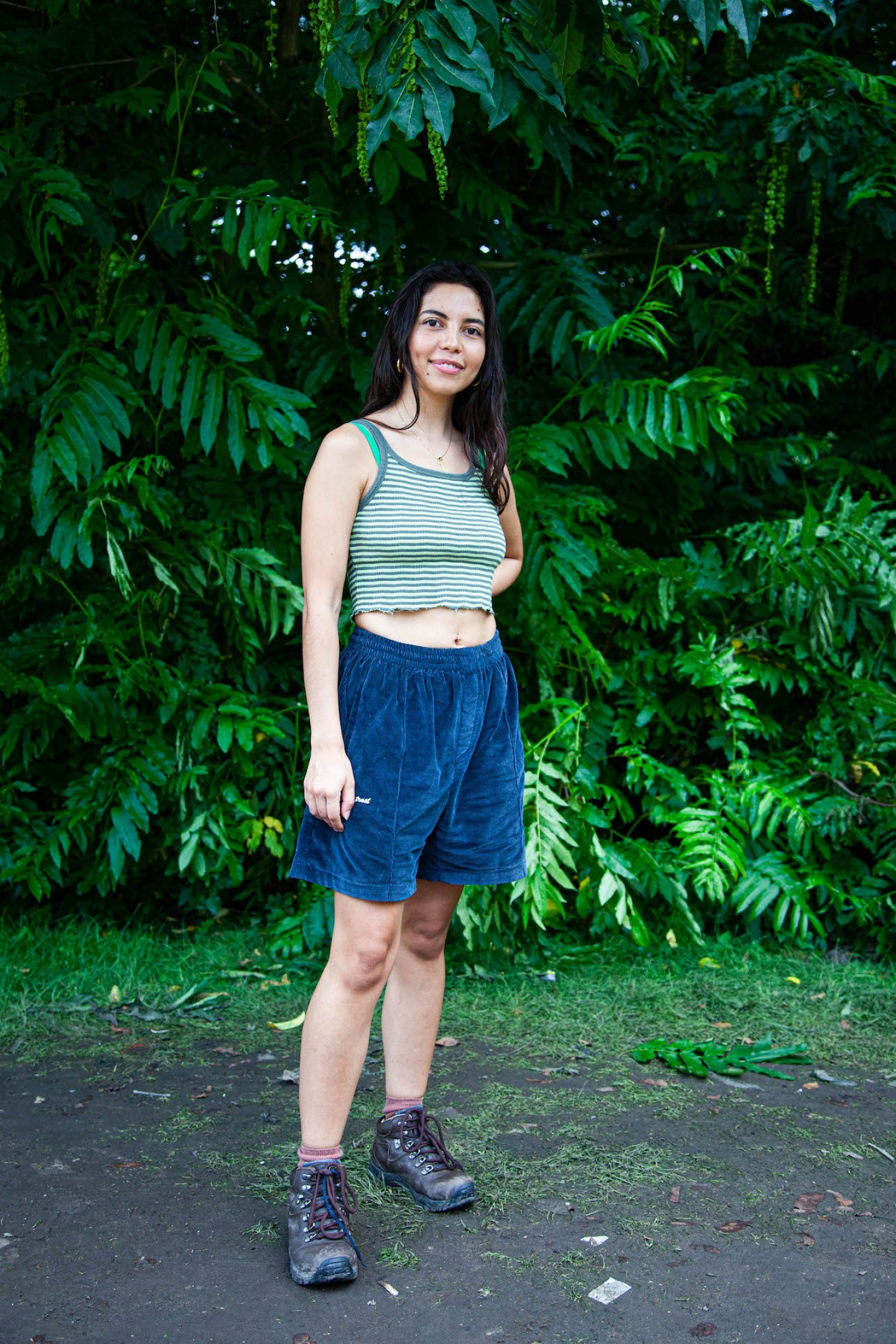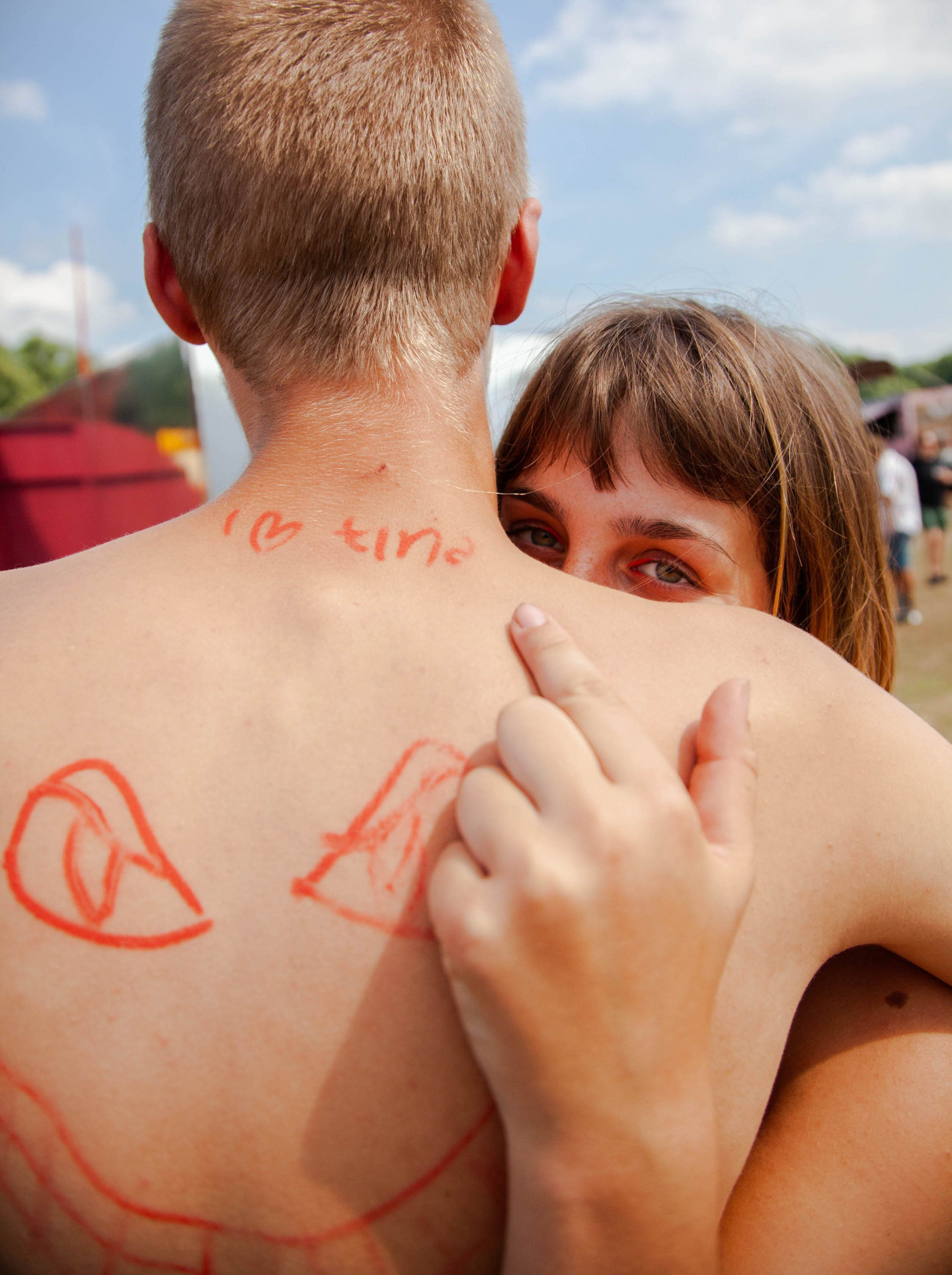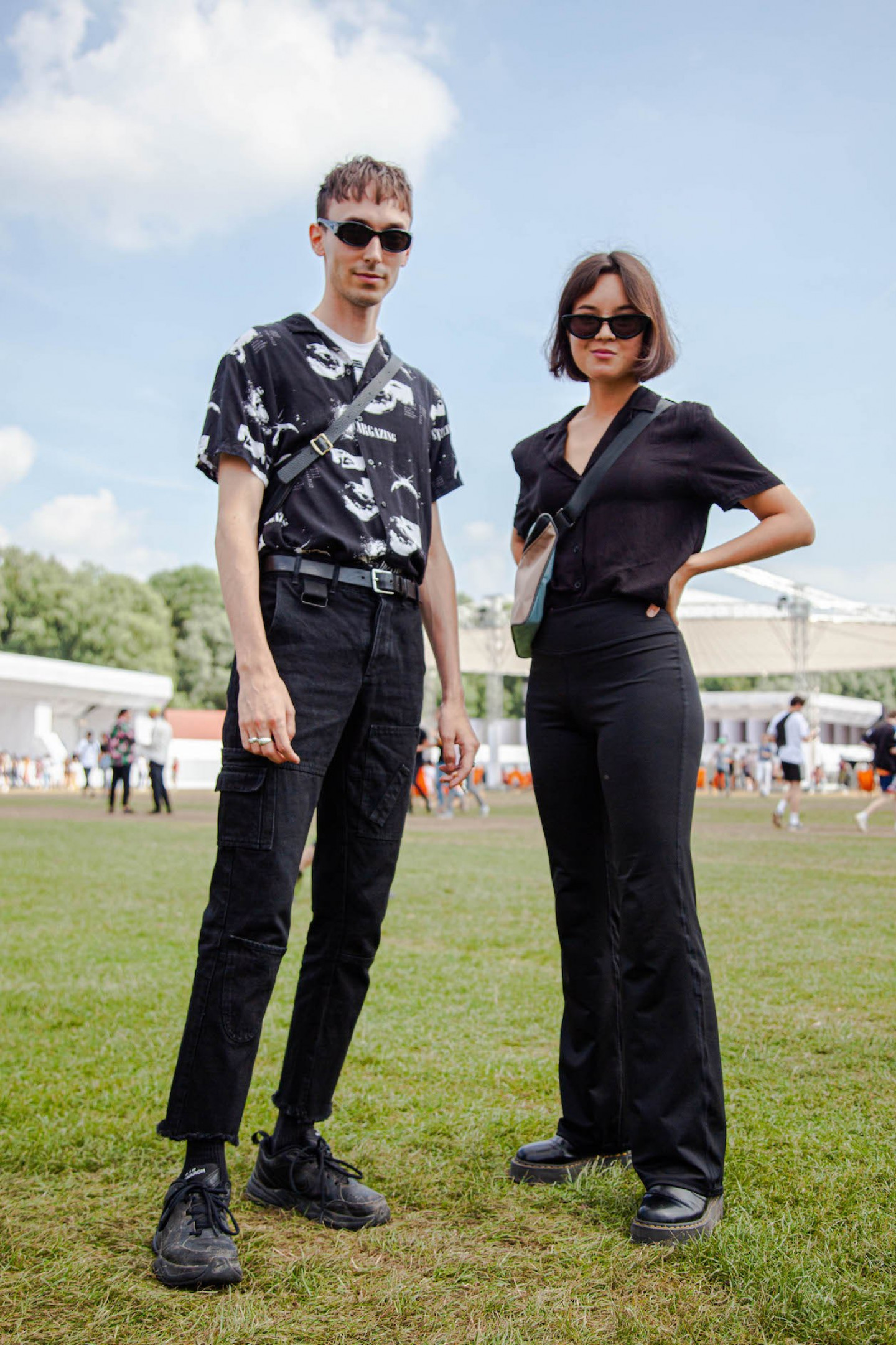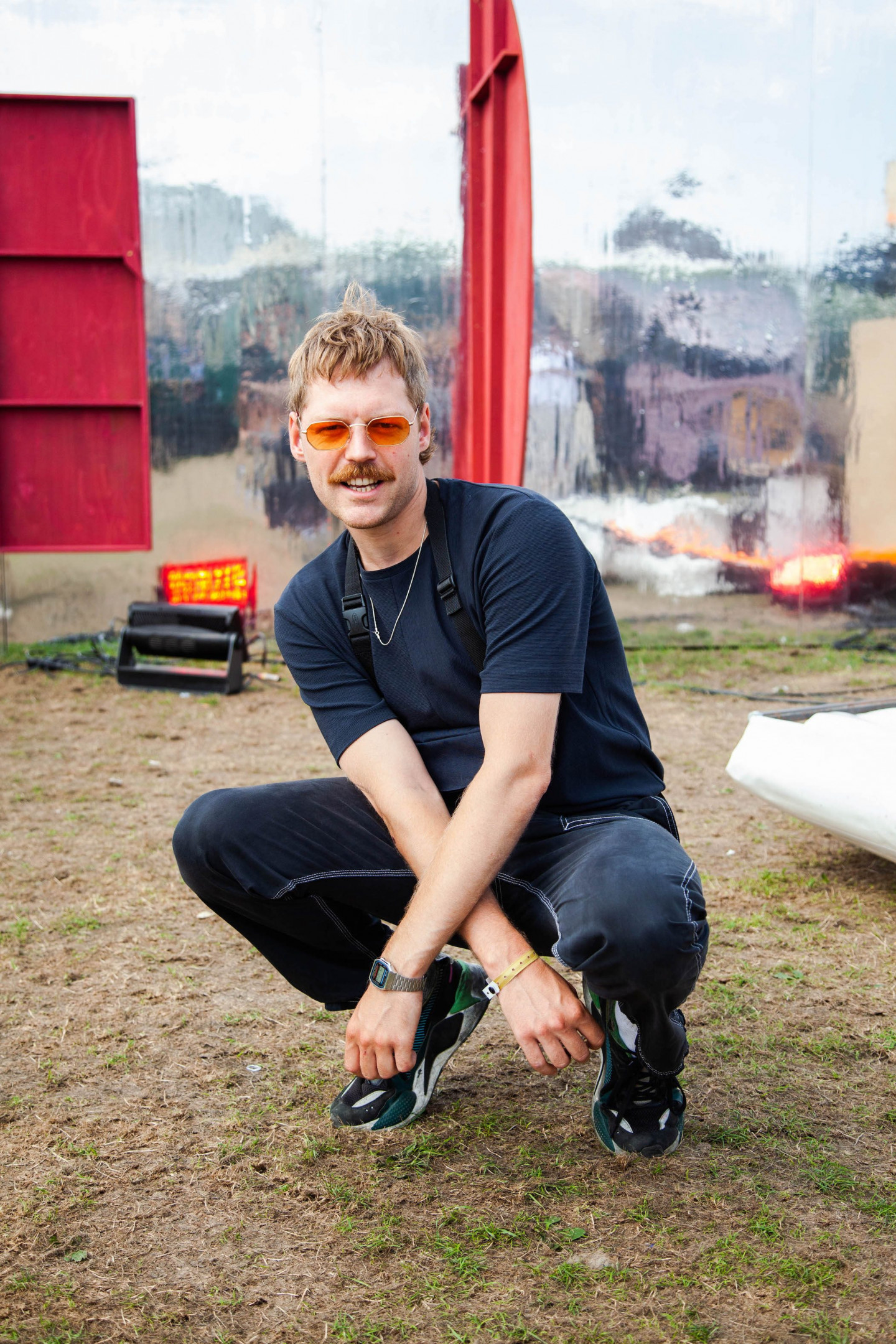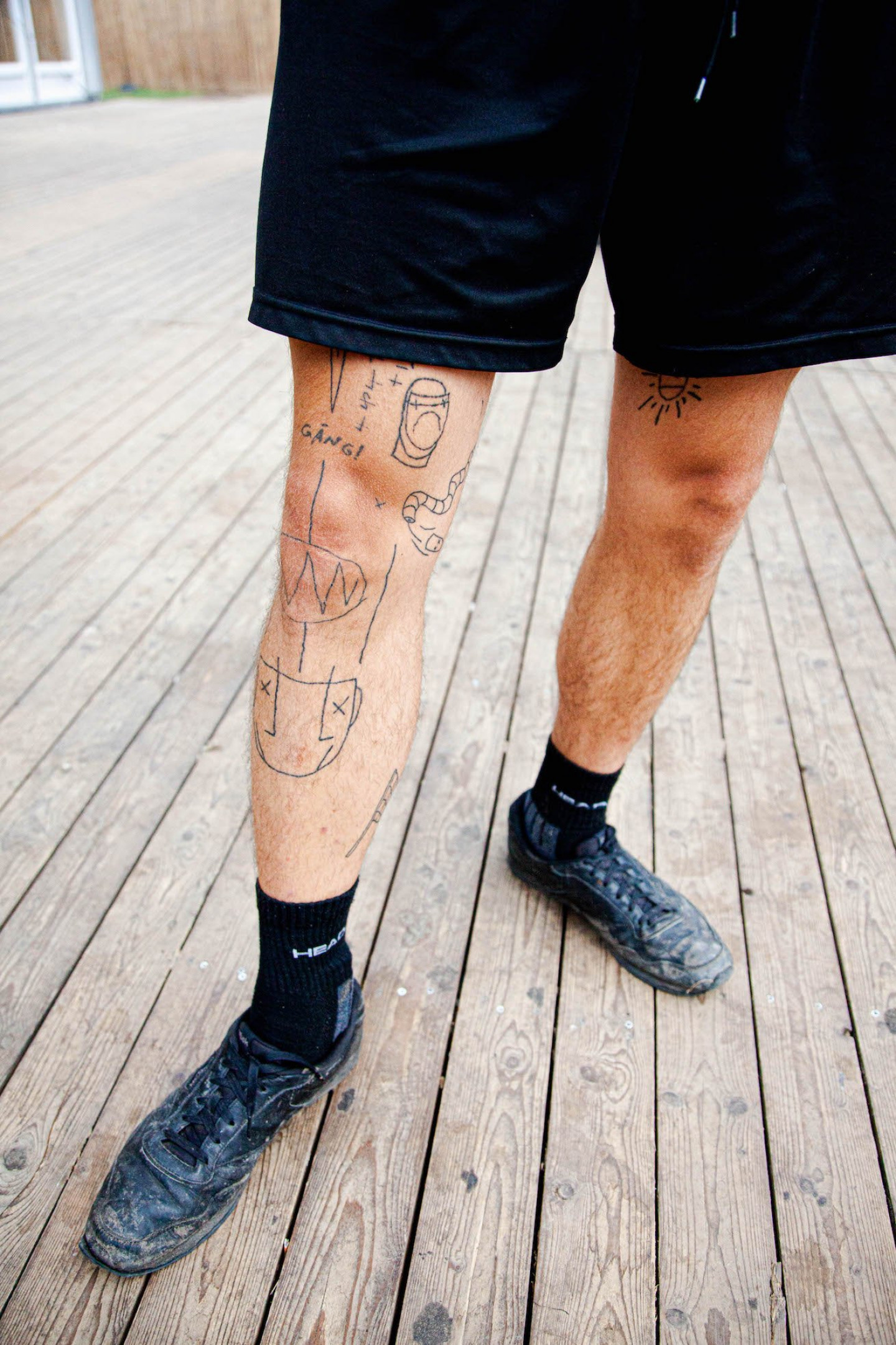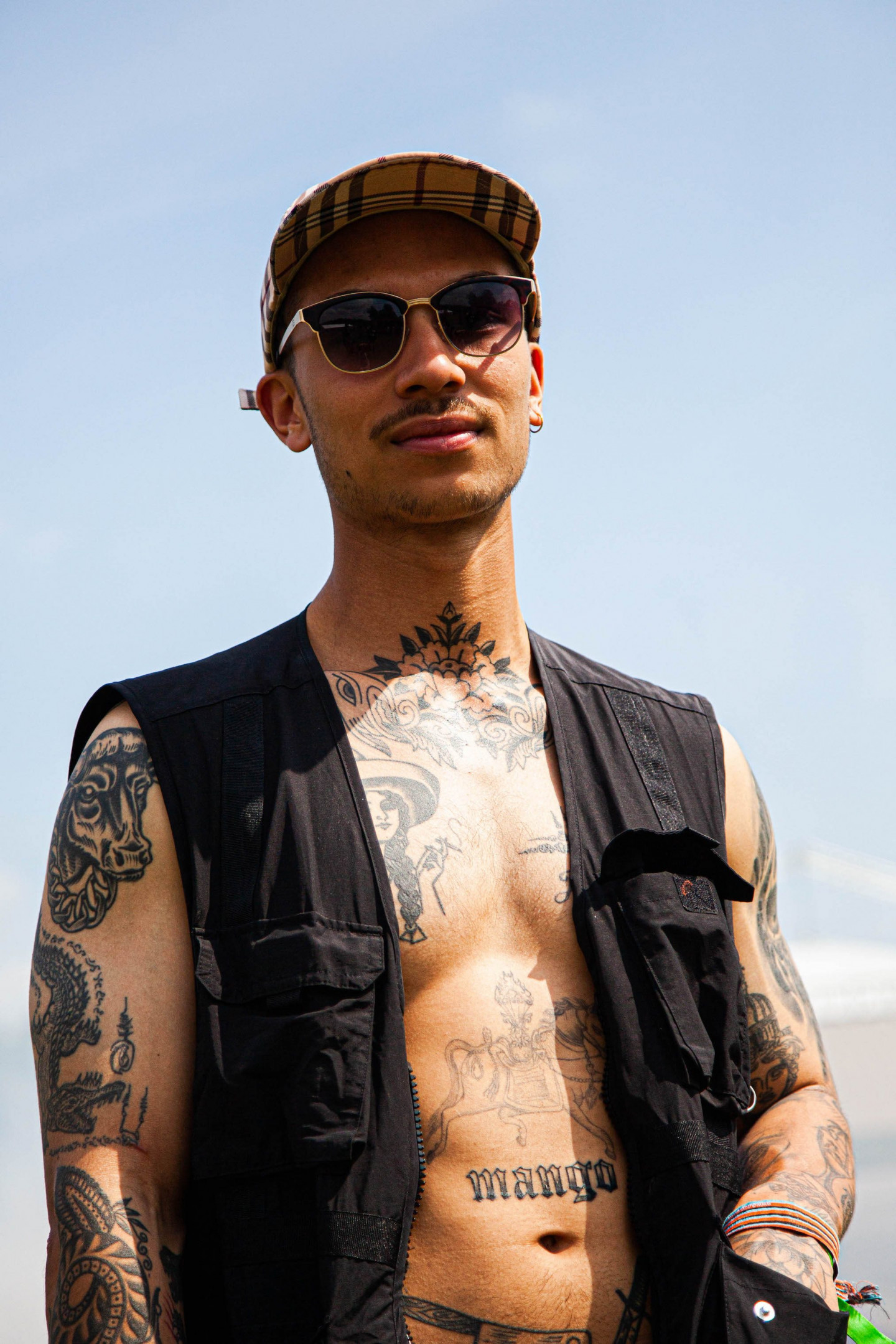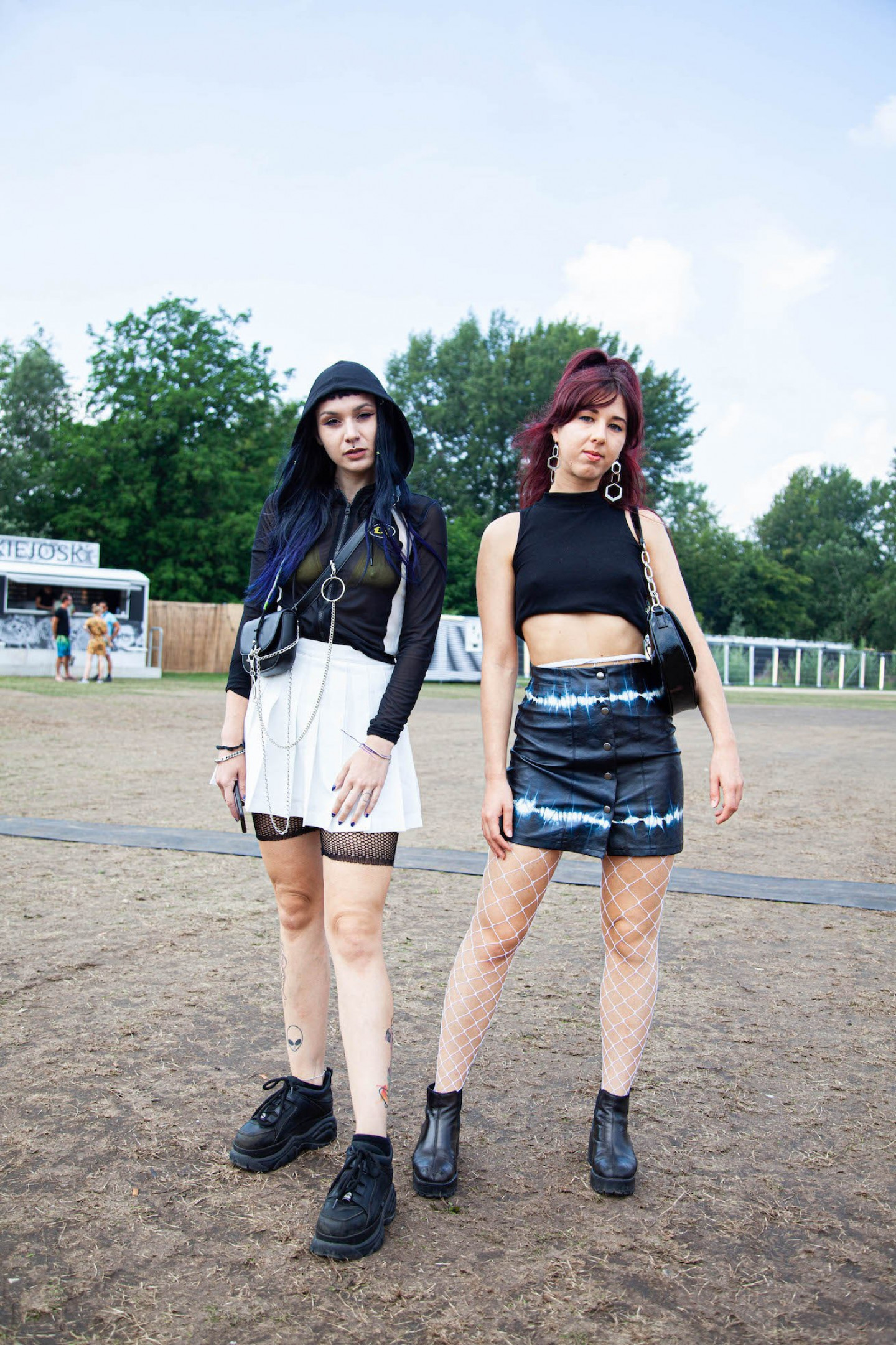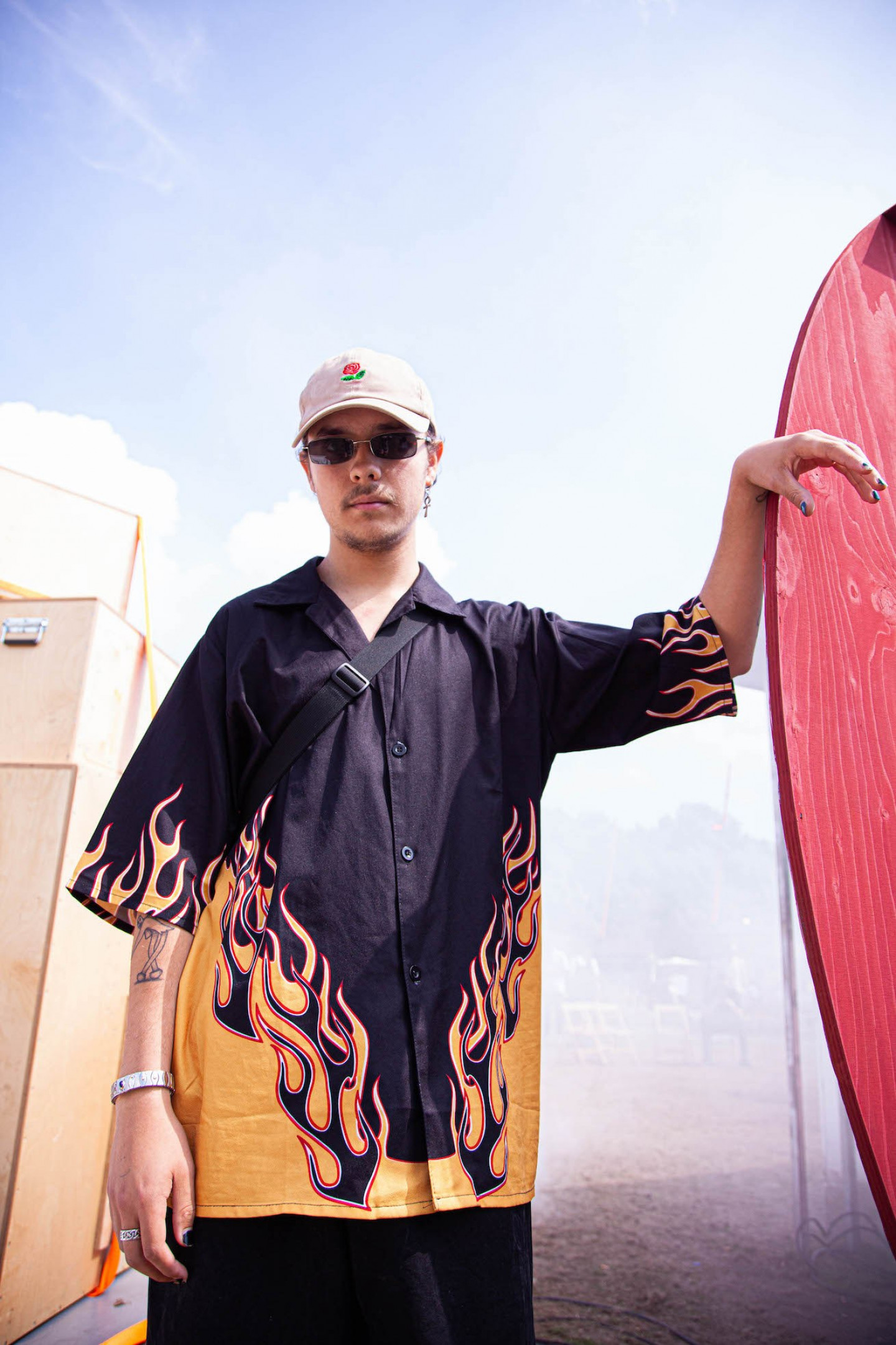 Sunday 4 August - 18:51
Roísín Murphy and her clothes rail bring madcap energy to the Main Stage
CR: Roísín Murphy and her clothes rail bring madcap energy to the Main stageIt's 18:40 and disco queen Roísín Murphy is seducing an inflatable silver alien, as her band tune into a trippy pop vision that you might want to call "Acid Abba". It's getting real. After six hours of untz-untz, doof-doof and other electronic scree, hearing actual physical lungs is exactly the interlude we didn't know we needed, and the Irish disco queen has all the star quality and vocal prowess to turn this late afternoon slot into something to remember. She's back at her clothes rail now - saves time if you just bring it on stage with you - and she's picked out a very dashing egg-yolk yellow trench-slash-deconstructed lab coat. The hi-hats and cosmic pads have kicked in and her alt-disco vision is complete. #Roísínforever
Sunday 4 August - 18:41
Carista showed her versatility at the Main Stage
This DJ here blew us away in 2018, and she gets her rightful ascension to the Main Stage this year. Shine away, Carista.
Sunday 4 August - 18:32
Looking back at one of our openers today
This one just in — local whirlwind and Garage Noord resident Merel making her Dekmantel Festival debut at the UFO today.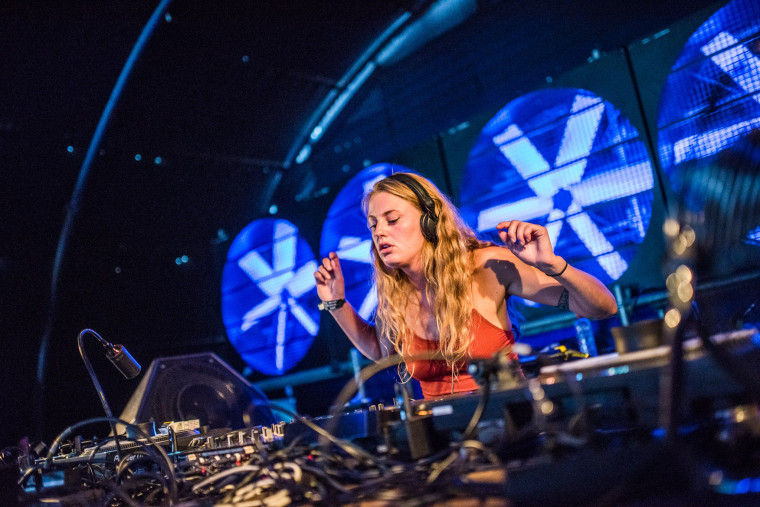 Sunday 4 August - 18:21
Over in the Greenhouse
The crowd was being treated to melodic synth-electro-disco par excellence from veteran Alexander Robotnick.
Sunday 4 August - 18:10
Bold selections and relentless energy from the Gop Tun Collective over at the Boiler Room
Gui Scott and Caio T are representing our dear friends from São Paulo.
Sunday 4 August - 17:55
A Q&A with Slikback in anticipation of his double Dekmantel debut
Kenyan DJ and producer Slikback makes his Dekmantel debut, playing two sets this evening - both at the Boiler Room (starting in a few minutes!) and later at the UFO II stage. Gabriela Helfet (GH) caught up with the Nyege Nyege cohort to find out how he's approaching the day.
Interview - Slikback
GH: ou're playing Boiler Room followed by UFO II an hour later, how are you approaching each set?
SLIKBACK: I will be trying my best to create an atmosphere, and have progression in the sets. I'm excited to play some new stuff I've been working on as well as some tracks I like.
GH: Do you have any pre-show rituals?
SLICKBACK: Not really. I usually just hang out with friends or might check some sets.
GH: Who are you looking forward to seeing at Dekmantel?
SLIKBACK: Tzusing. He has been one of my major influences, and I'm excited to finally catch him.
More of this interview coming soon.
Sunday 4 August - 17:39
Masked madness in the UFO
SHXCXCHCXH, aka the world's most pronounceable group, are mashing it up.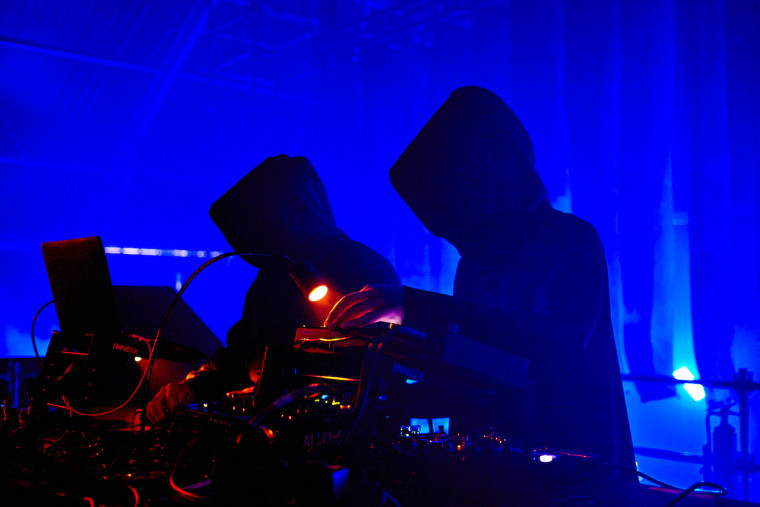 Sunday 4 August - 17:28
In conversation with two Dekmantel friends from the first hour
Femke Dekker caught up with Interstellar Funk and Deniro about them being close to use since our heydays, and discussed how our paths have crossed.

On another note: Interstellar Funk is taking control of the Greenhouse from 6:30 till 8, find Deniro over at the UFO I from 7:45 till 9:15.
Interview - Interstellar Funk and Deniro
Finding a quiet spot at Dekmantel is hard, finding a spot without being surrounded by nagging little wasps proved to be even harder. So this interview with two Dekmantel veterans Interstellar Funk and Deniro was spent running around in circles trying to avoid being stung.
That said, it was pleasure talking to both Olf van Elden and Reynier Hooft van Huijsduijnen about their history with the festival, their labels and whether or not those classic Omar S 12" records belong to Olf or Reinier.
But first things first and credit where credit's due as we actually have Deniro to thank for the name Dekmantel; "I knew they were looking for name to call their parties and as I was shopping for records at Clone, it just came to me out of nowhere. So I walked outside and sent Casper (sic: Tielrooij, one of Dekmantel's founders) a text saying I'd found a name for his parties. And he replied: "sick". And that's how it all began.
It's at one of the earlier Dekmantel parties that Renier and Olf met. "Reynier had such an amazing collection of unreleased material that I approached him - I was working at Rush Hour at the time - with the idea to start a label just to release Reynier's music."
For Reynier this was exactly the jolt he needed to spur him into action and thus Tape Records was founded in 2012. Together with Berend Kirch en Jeroen Kok, the label focuses on a broad spectrum of (timeless) electronic music, with a predilection for 90s Detroit/UK inspired deep melodic and lush sounding techno sounds.
More of this interview coming soon.
Sunday 4 August - 17:14
Psst.. To the Dettmann fans out there...
There might be a surprise at the merchandise stand a quarter to 8.
Sunday 4 August - 16:58
Montreal's RAMZi is a just finished her live set at the Greenhouse
A fitting reviver for sore heads and swaying bodies in the Greenhouse. If anyone can bring the ravers back to life, she can.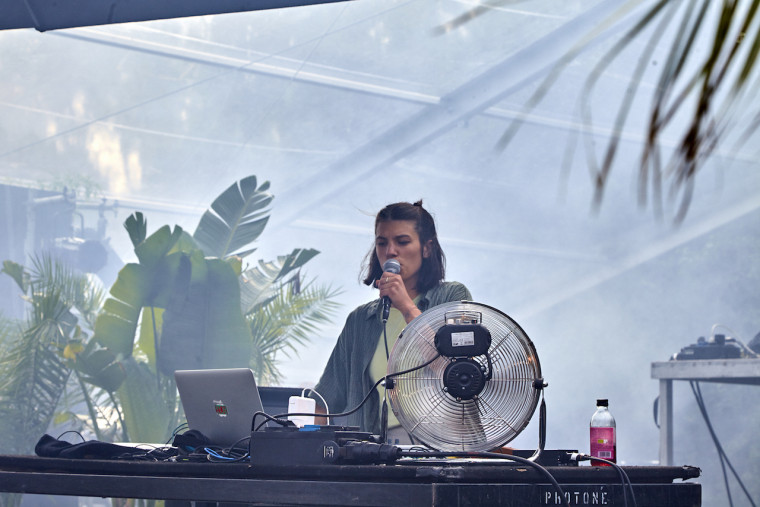 Sunday 4 August - 16:55
Highly anticipated and starting in an hour: Róisín Murphy
Nearing the definition of 'headliner', we're having Róisín Murphy over at our Main Stage at 6pm.
Twenty years on from Moloko's world-conquering 'Sing It Back', Irish disco queen Róisín Murphy is still in love with the dancefloor; a strictly independent artist who keeps on defying expectations with her topsy-turvy pop experimentalism. After offering us stranger, darker visions on recent albums Hairless Toys and Take Her Up To Monto!, Róisín has spent the last few years forging a creative partnership with house pioneer Maurice Fulton, resulting in a quartet of pitch-perfect dancefloor 12"s released on The Vinyl Factory last year.
Maurice "would only take a certain amount of being told what to do," she explained to The 405. "He would literally finish a track and play it straight out in a club. If it worked in a club, I had absolutely no recourse." Soon enough the pair had a whole album's worth of material, but "it didn't feel like an album, it felt like a set of four 12" records," and so they released them in separate, DJ-ready chunks. "It's not just about the club, because not everything is a banger on there, but everything is about that world," she said.
As well as working with Fulton, Roisin's recent club ventures include lending her smoky vocals to 'Illumination', a standout from DJ Koze's recent album Knock Knock. The laidback German was so taken by the collaboration he admitted that "working on a song together with Roísín is even better than not working at all."
Sunday 4 August - 16:39
Alexander Robotnick just started at the Greenhouse
He grabs the mic and dives straight into love problems. A universal topic of all times, and a great start to dance into his set.
Sunday 4 August - 16:31
Carista is one hour into her Main Stage set
We're loving it already. There doesn't seem to be any weariness to be noticed after playing at Shelter last night — her energy proves boundless.

Two bits of her set that already flew by: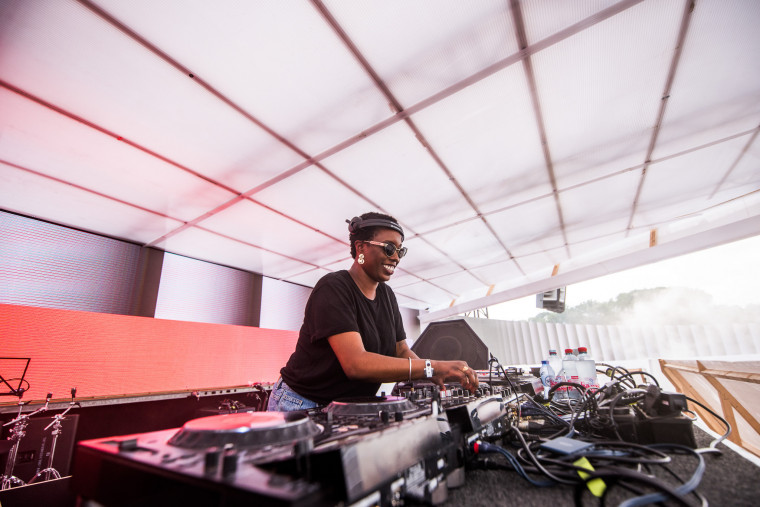 Sunday 4 August - 16:18
RAMZi blossoms in the Greenhouse
CR: What could make more sense in the Greenhouse than than RAMZi's sun-dappled spin on house and techno? The Montreal artist has been growing her own soundworld over the past few years, taking cuttings from around the world and letting them compost into something organic and unexpected. On record, the results are loose and laidback; here in the hothouse it all comes together in a frenzy from under her very necessary shade umbrella. Kudos to any artist whose sound is immediately recognisable from the back of the room - she's nurturing something unique.
Sunday 4 August - 16:17
DJ Python earlier this afternoon
Fresh off his debut EP 'Derretirse' on Dekmantel Records, DJ Python kicks off today's Main Stage. Slow and steady wins the race...
Sunday 4 August - 16:14
Benelux bangers from Stellar OM Source
GS: The UFO is a tricky space to handle early doors - and doubly as tough when the sun is shining, as it is today. See Chal's point about the deck chair... we are very much in warm up territory. Yet the balance of light and dark is something Stellar OM Source handles adroitly as a producer, and the swelling crowd during her set in the festival's enormous hangar is a testament to that. Claps rain down like pin-tacks, snatches of her voice snake through a thicket of acid leads, and at one point, a tune with the skip and clank of Burial's "Archangel" generates massive cheers. She slows down near the end, then rockets back up as the lights turn blood red and the first mosh-stomp of Sunday begins. Insider trading info tells us an EP of new material has found a friendly Dutch home and will be out soon. Today was proof that there's plenty more brilliance to come from this source.
Sunday 4 August - 16:10
Charles Manier brings a post-punk snarl to UFO II
CR: Tadd Mullinix is a multifaceted creature, whose many aliases allow him the space to explore various styles and ideas within certain ringfenced areas. I've never heard him sound quite like this, though - under his Charles Manier guise, he's twisting out a live set of broken, choppy rhythms with shy hints of electro and even reggaeton creeping into the mix. Equal parts gnarly and groovy, there are hints of vintage Public Image and Chris & Cosey in here, as well as more familiar technoid touchstones from the Michigan native. It's more of a head-nodder than a feet-mover, but energy levels are limited right now anyway - there's a guy over in UFO I literally fist-pumping from the comfort of a deckchair. Jealz.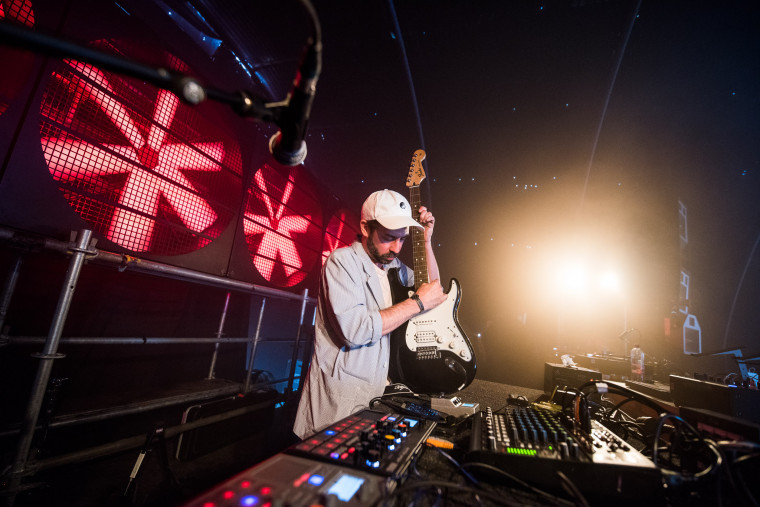 Sunday 4 August - 16:02
The unpacking is in progress
Sunday 4 August - 16:00
In Gop We Tun
Right now at the Boiler Room, we welcome a collective with whom we have a close, fruitful and still growing partnership.

GS: Gop Tun are one of the musical bedrocks of the sprawling urban jungle that is São Paulo. It is not an easy city in which to find unity: over 12 million inhabitants, a pretzel knot of highways, and tastes that range from anarchic electronic carnage to alternative metal to the breezier, historical genres of 1970s Brazil.
As promoters, label bosses and DJs Gop Tun find a solution to make it work, and do so at scale. Whether in warehouses or on boats, they tip the hat to local heritage while expanding the horizons with new music that captures the spirit of Brazilian vivacity. They were our co-promoters for Dekmantel Festival São Paulo in 2017 and 2018, and though we needed to take a breather for the fesival this year, the door is open for future iterations. We have worked with them on regional tours, DJ dates, and all types of nurturing the borders-agnostic, ears-open cultural exchange we value so greatly.
Today, Gui Scott and Nascii make the long transatlantic flight over to Amsterdam in order to DJ as a duo on Boiler Room, after Henry Wu and before DJ Python (Caio T and TYV will be watching from home, so please do give them a wave). Bringing a taste of BR to the BR, and with the sun fittingly beating down on our last day in the Bos for 2019, this one is set to be a stormer. In Gop We Tun!
Sunday 4 August - 15:53
Marie Davidson is streaming from the Red Light Radio
Marie Davidson opens with Caterina Barbieri's Bow of Perception, and so a link is made between the RLR stage today and Bimhuis on Thursday. Don't forget to catch her doing a live set at our Greenhouse stage later today.

Stream our Red Light Radio stage here.
Sunday 4 August - 15:46
CEM is al set and ready for tonight
The Herrensauna mainstay is playing at our Dekmantel Is Burning closing event — the only DJ of the line-up that has been revealed in advance.

Sunday 4 August - 15:38
Stellar OM Source is halfway down her set at the UFO right now
We asked her some question right before her set about how she prepares for live sets and the new album she might have up her sleeve.
Interview - Stellar OM Source
DEKMANTEL: You're about to play a live set here at Dekmantel Festival. What does your preparation process look like, and does it differ every time you play live?
STELLAR OM SOURCE: I change my live set every show which is quite unreasonable! I think I aim at refining it but as many producers know, you end up going in different directions and expanding your projects. It's an endless work in progress for me, testing tracks all the time. So for the festival, as I'm playing in the UFO I made new tracks that I believe would better fit the space. Beside some common sound the set will be 80% different from two weeks ago.
I guess I could settle with a standard set of tracks for a few months but I prefer to use my extra time and continuously develop and rehearse the set. That's the great thing of not using a laptop as I can completely change the set as it's not a fixed file and pushes me to be more courageous. Of course it's asking way more time and risks which I believe translate in the more direct live performance.
DEKMANTEL: We picked something up about a new release you have coming up. Can you already share some insights about that?
STELLAR OM SOURCE: Yes! I finally dedicated time to record tracks for a new EP. It has been a long process and getting the right focus was slow. I am basically almost a year after the original deadline! I wasn't sure of the direction it would take. I follow the music. Somehow it continues interests I developed with the 2013 Joy One Mile. I am very happy how it turned out. I also found a great home for it with priceless support. As for the real exciting details, you'll hear the news very soon!
Sunday 4 August - 15:27
If one stage reflects our palette of sounds, it's probably the Greenhouse
Whether it's grinding electronics, disco, techno, a live band or even dubstep, you can all find it here.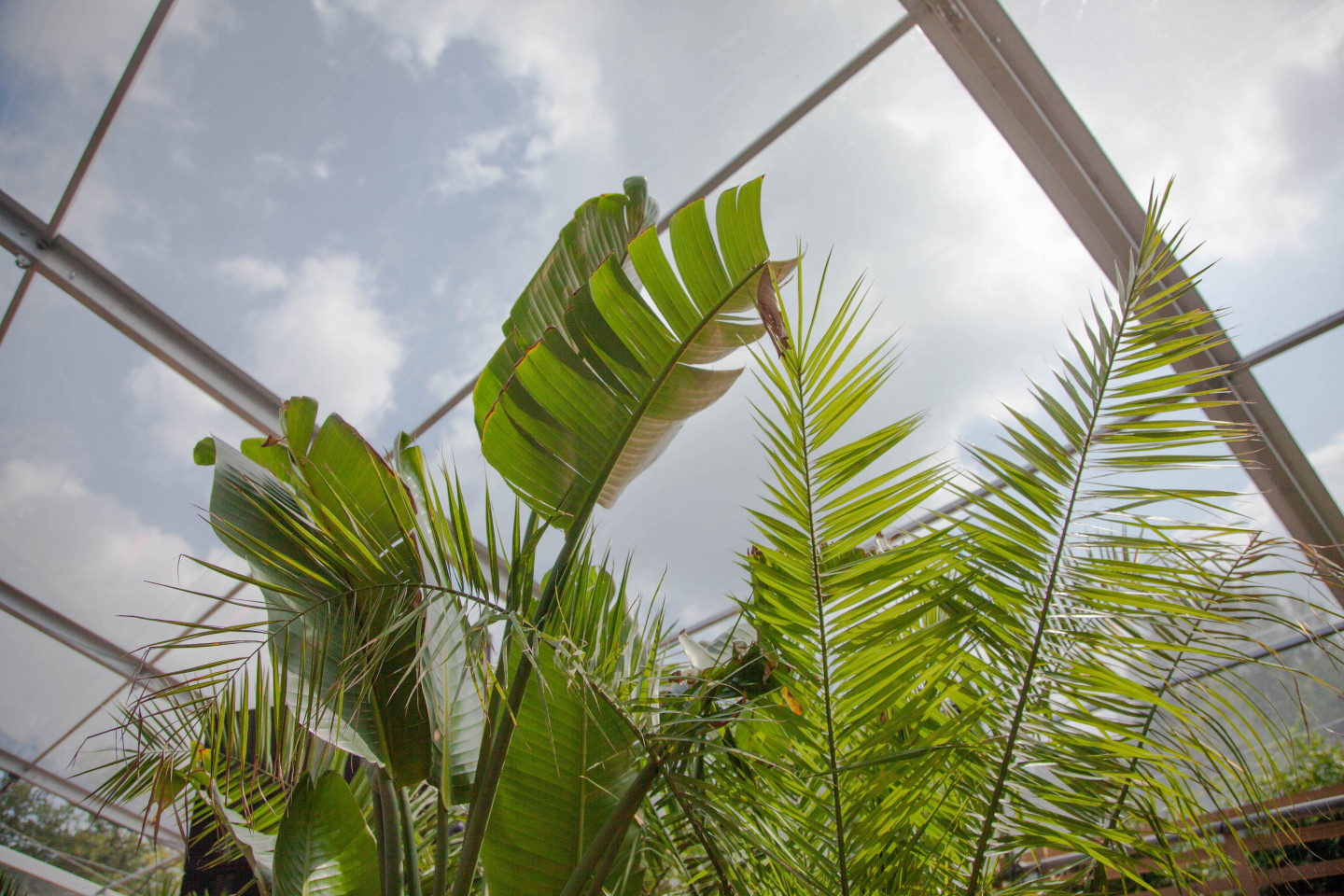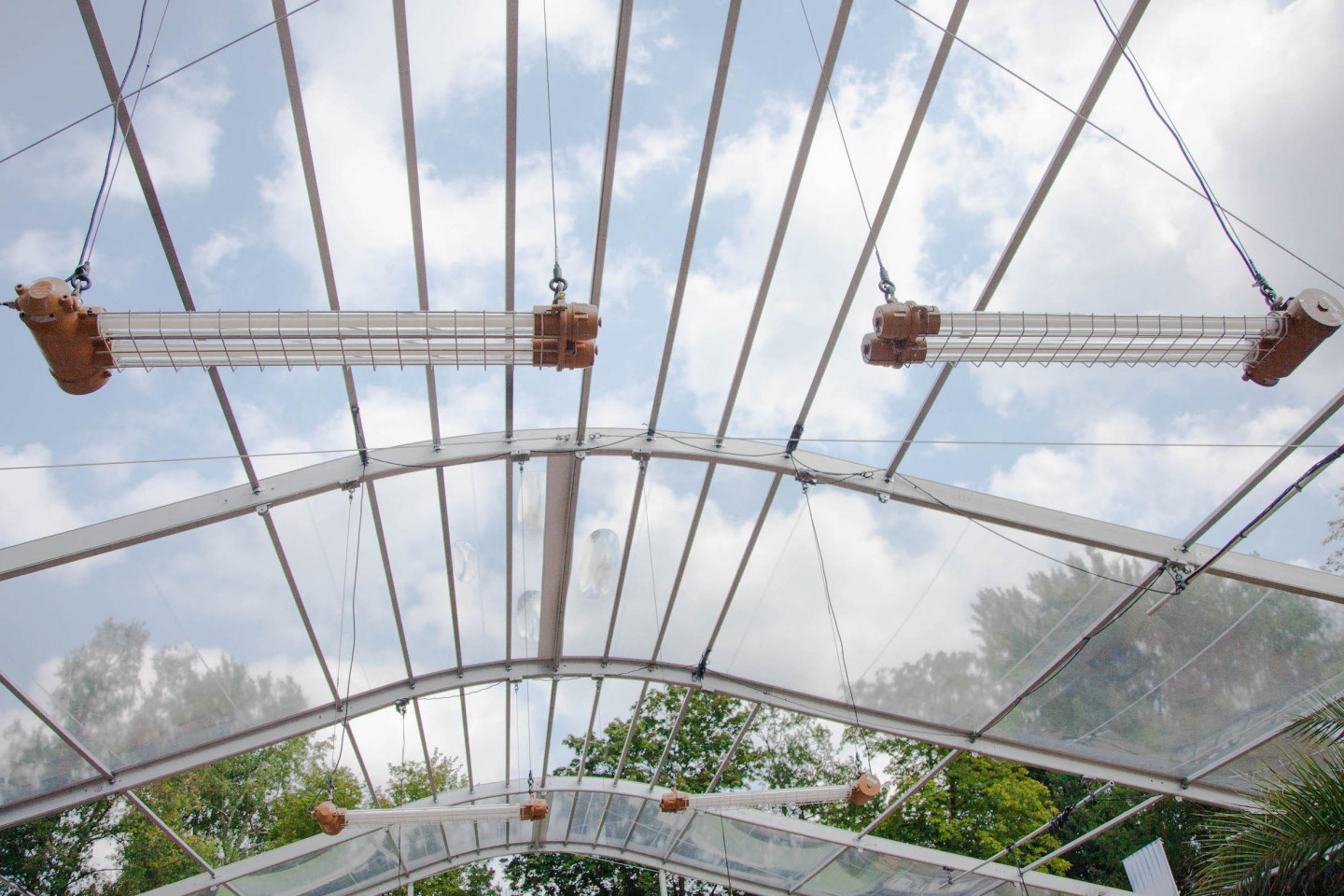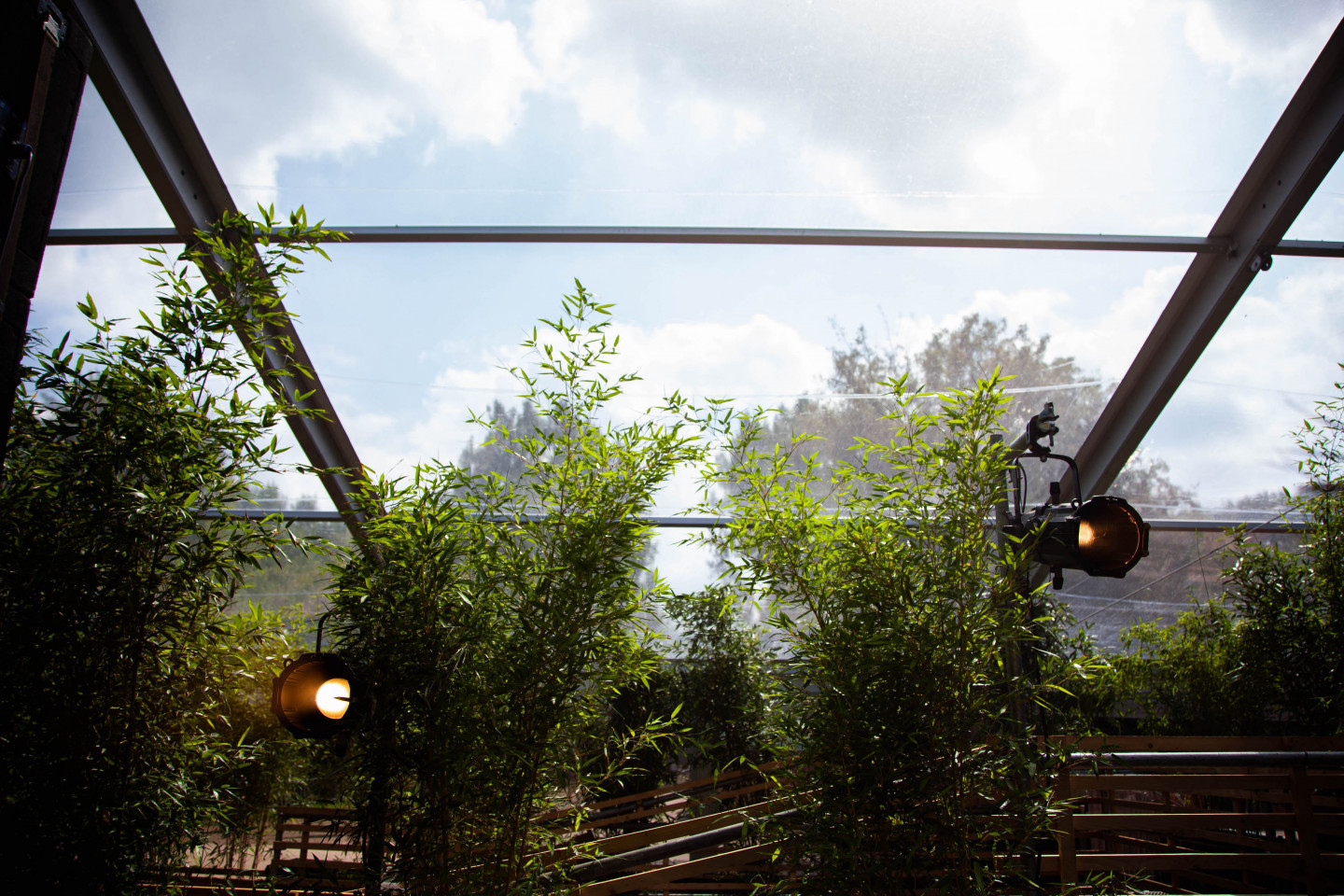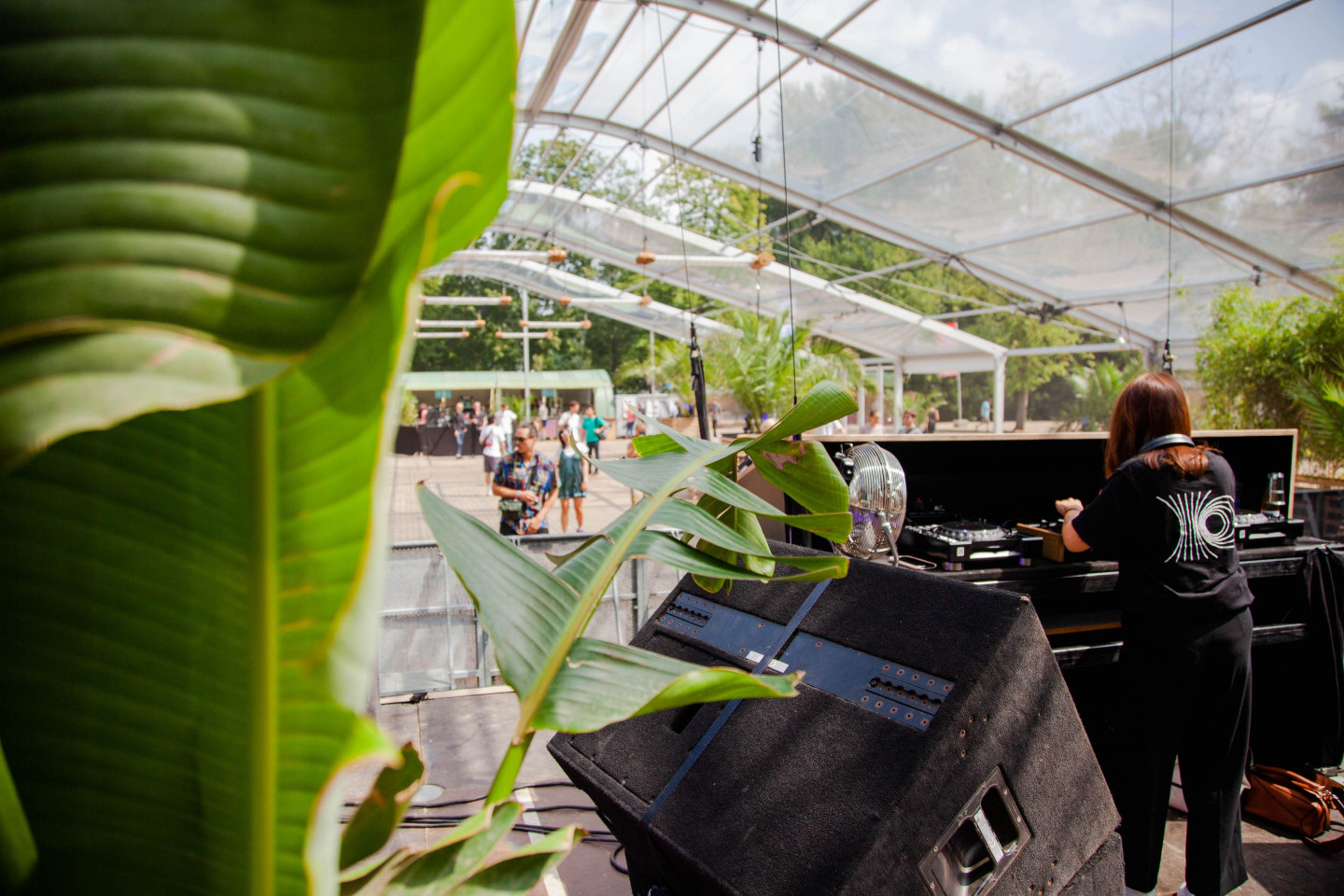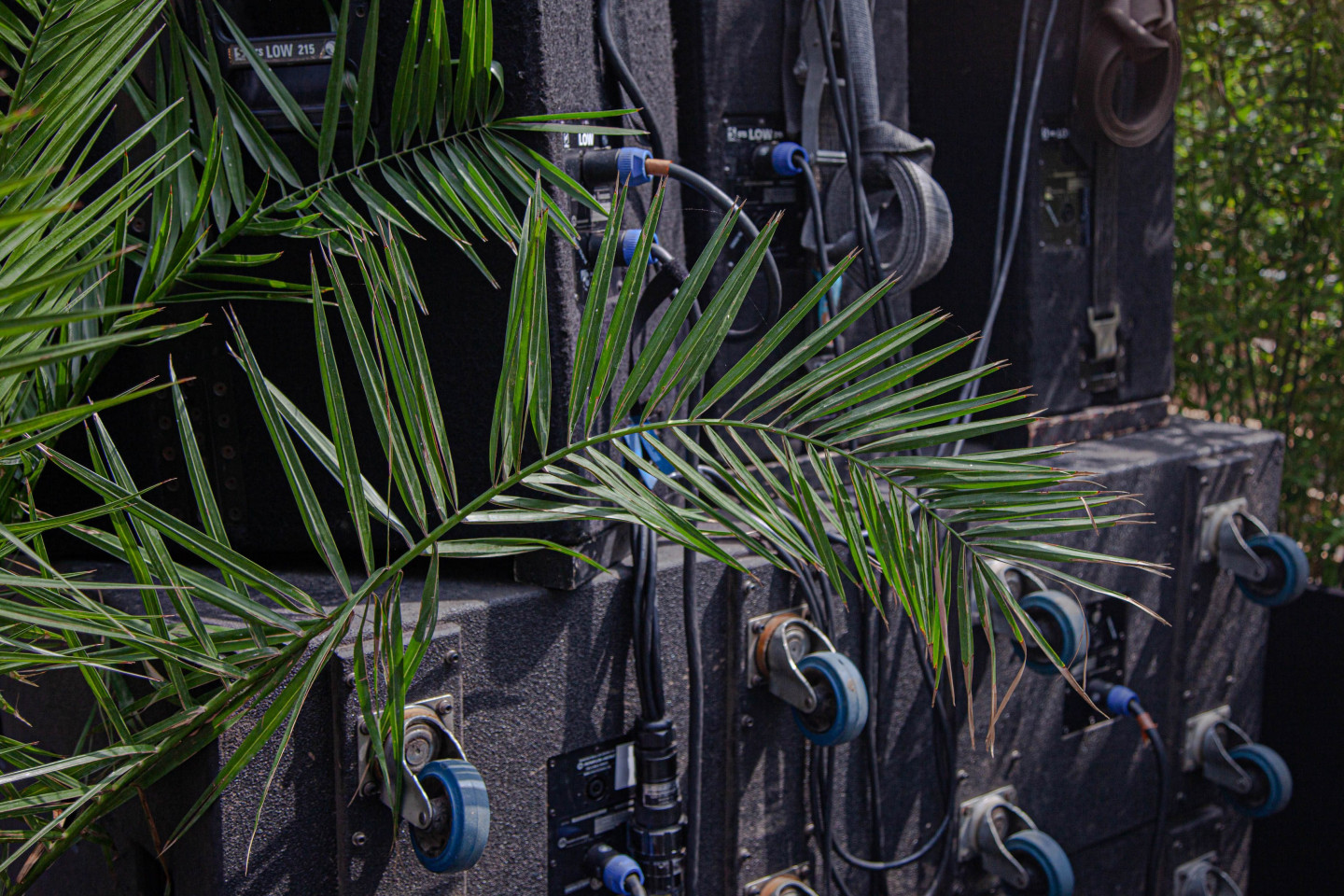 Sunday 4 August - 15:18
Just started at the UFO II — Will the real Charles Manier please stand up
The name might not appear immediately familiar at first, but Charles Manier is actually a legend within the music scene. Otherwise known as James T. Cotton, Dabrye, and more recently as hardcore junglist X-Altera, Charles Manier is just another artistic extension of the extremely prolific and thoughtful Michigan-based producer. Before he took to the UFO II stage, Daniel Cole (DC) sat down with the lesser-spotted artist to discuss his multiple artistic aliases, and how socio-political thinking and radicalism plays a big part in his work.
Interview - Charles Manier
DC: What can we expect from the show?
CHARLES MANIER: My setup is always changing. I have a couple of Electribes, the new ones. They have a couple of problems, but they're stable. I like limitations anyway, so its OK. Sometimes I have a modular synth, but I couldn't bring it overseas. I have a guitar with some vocals - so I'll be doing that too. Not for every track, but for a couple.
DC: I get the feeling that improvisation is at the heart of this Charles Manier project?
CHARLES MANIER: It generally has a loose feel. The last album came about when I started my record label. I wanted to have consecutive albums as to make a broader statement about each project. My ideas incubate for a longer time, and with this alias I can make the music pretty fast.
DC: How do you decide which alias you're going to use?
CHARLES MANIER: I don't know. It feels like it's already in my head. It might have a 4/4 kick drum in it, or if the synthesisers are really waspy, or extra psychedelic.

DC: So it starts by jamming in the studio?
CHARLES MANIER: Some of them yeah. Actually a lot of them. I have sessions in the studio, where I go down there and experiment. Everything I come with, I have an alias for.
More of this interview coming soon.
Sunday 4 August - 15:07
Loud-E, the mysterious Dutch disco don, gets the Grolsch Selectors stage going
Loud-E, the mysterious Dutch disco don, gets the Grolsch Selectors stage going within a matter of minutes. Go check this one out if you want to attend a disco DJ masterclass when it comes to both selections and technique.
Sunday 4 August - 15:05
Mercury rising in the Greenhouse with Yu Su
CR: Vancouver selector Yu Su has practically filled up the enormous Greenhouse already - no mean feat when the temperature is soaring. It finally got hot! The many bandanas in the crowd are currently getting sweat-soaked to cosmic chuggers and thumping dabke jams (now playing - Acid Arab), and she's even made Four Tet's ubiquitous 'Question' sound cool again. Fans of that famed Despacio sound need not be disappointed by the absence of our planned secret guest James Murphy - Yu Su's got the slow-mo style sewn up.
Sunday 4 August - 15:00
Zoning out on a hidden spot in the forest
Sounds of tranquility coming from Rik Payne.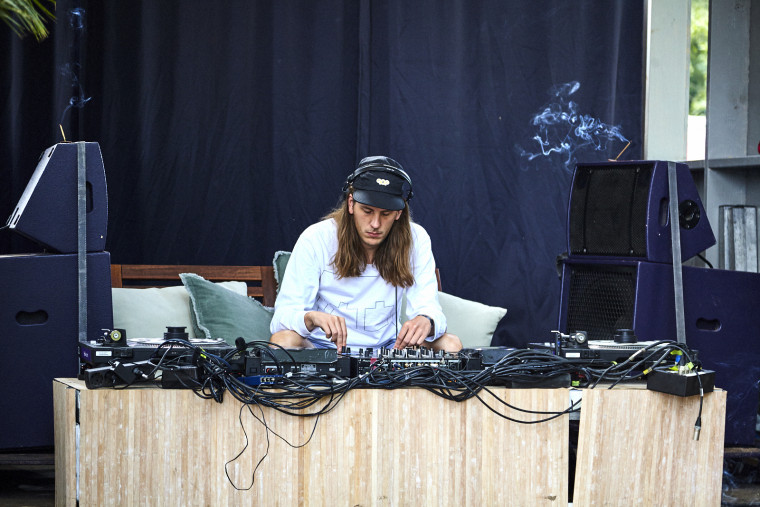 Sunday 4 August - 14:49
A Q&A with John Talabot after his closing set yesterday
Last night the Dekmantel main stage was closed out in the company of John Talabot, a veteran of the festival who has been playing here since day one. The set was deep, dark and trippy, peppered with the Italo flavours emotive swells that have long been synonymous with his shows, but with a level of intensity you may not have heard from him before. As the audience filtered out into the woods, Theo Kotz (TK) caught up with him after the set to reflect on the evening.
Interview - John Talabot
TK: Hi. Thanks for sitting down with us. What an amazing set. Have you ever headlined this stage before?
JOHN TALABOT: No, I've played on this stage twice before but not closed. I played some slots in the middle and I played with Axel [Boman] once.
TK: So do you think you approached this in a different way to in the past?
JOHN TALABOT: I did a completely different set to every other time I've played here. This time I played a lot of American older records, some acid stuff, maybe a bit more ravey. But also really intense, I wanted to play quite intense. I'm not sure if people were a bit overwhelmed, but it was fun. It's the only stage where your quite far away from the crowd so it's hard to play. I really don't know how it went.
It's not easy to feel the energy, but it's interesting to play there. I'm a really open person and I buy a lot of different stuff. For me with music there is a lot of open space, and I like to discover new things and try them out. Doing these kinds of sets is really cool because I can play really different.

TK: You've played the festival many times, since the first one - we wondered if you could tell us about your own history with Dekmantel?
JOHN TALABOT: I remember perfectly the day that Thomas told me about it, we were together in a car and he told me about this idea they had. New acts mixed with classic stuff, with upcoming people from Amsterdam and the country. I thought it was a great idea and they asked me to play the first edition so I said sure, and I've been playing ever since.
It's crazy how the festival has exploded. I think they are very conscious of their role as ambassadors though, and they try to make it work for everyone. Sometimes festivals only care about money.
They also have this really interesting connection with the history of music, celebrating people that sometimes are forgotten but actually started everything. Making this effort to bring the people that have been there fighting for having a club scene, for a healthy community, it's important.
More of this interview coming soon.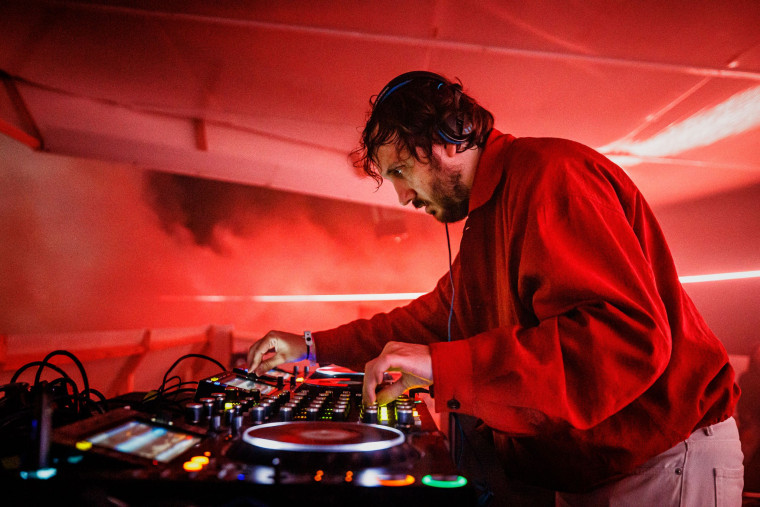 Sunday 4 August - 14:47
Now at the Selectors stage
Loud-E just dropped this one on us at the Selectors seconds ago - he is pushing all the right buttons.
Sunday 4 August - 14:35
The UFOs launch!
CR: We've made it to Sunday, our third and final day in the forest, and while it's warmer and brighter outdoors than it has been all weekend, we're keeping our sunglasses on and heading straight for the UFOs. Over in the tunnel of UFO II, a rising star of Amsterdam's underground is digging into mulchy breaks and tenebrous grooves as Garage Noord stalwart Merel eases us into the final round. Up in the big tent, one of Krakow's most respect DJs is dunking us straight into the proper techno - but Unsound resident Olivia is keeping it cerebral and relatively loose as we get our heads together. Sunglasses staying on for now.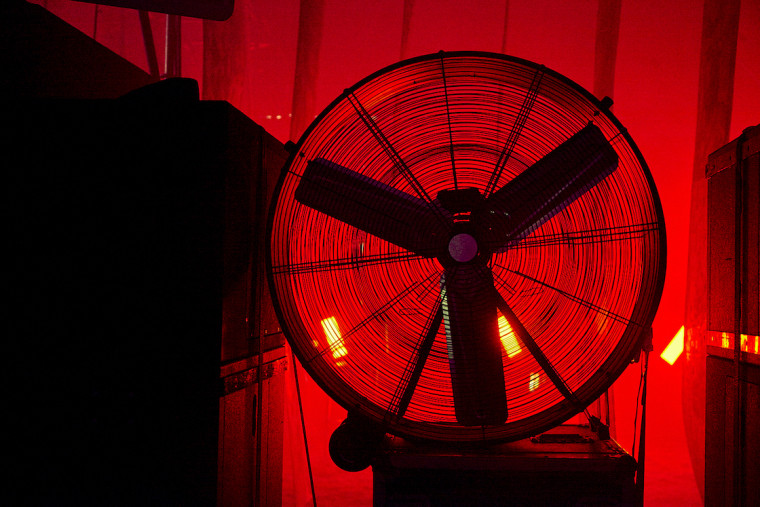 Sunday 4 August - 14:27
DJ Python providing the perfect starting streak
After just dropping an edit of Baby D's I need Your Loving, he played this Sano track — an excellent use of that Murder She Wrote sample.
Sunday 4 August - 14:10
RA captured this moment on the Main Stage
A moment of realization with Jon Hopkins taking over from Upsammy — a promising generation is stepping up.
Sunday 4 August - 13:59
A surprise at the entrance now
A little present from us + John Talabot, Elena Colombi & Yu Su to the people who come down early today.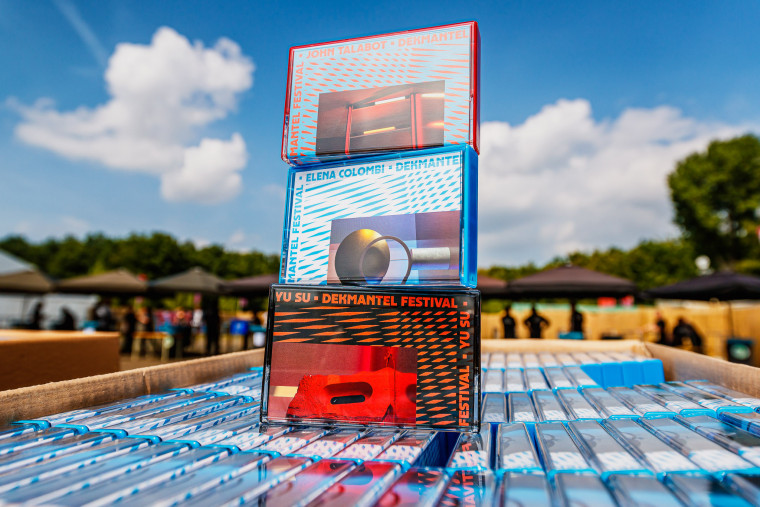 Sunday 4 August - 13:46
Jumpstarting the final day
Doors are open, the first dancers of the final day are trickling through the gates. This is the choice they have to kick of their day. On controls right now are label member DJ Python live, Olivia, Garage Noord resident Merel, Yu Su, Loud-E and King Shiloh.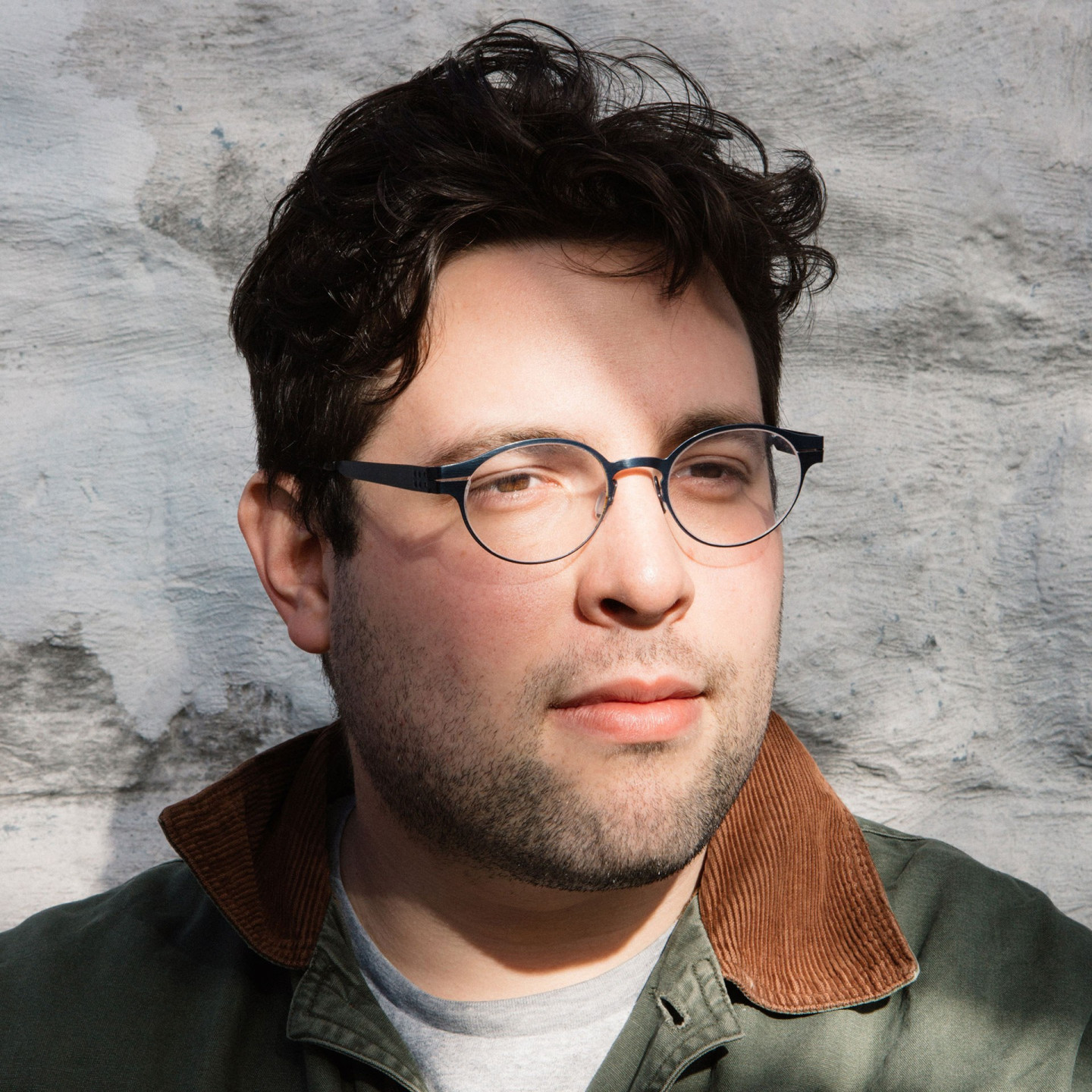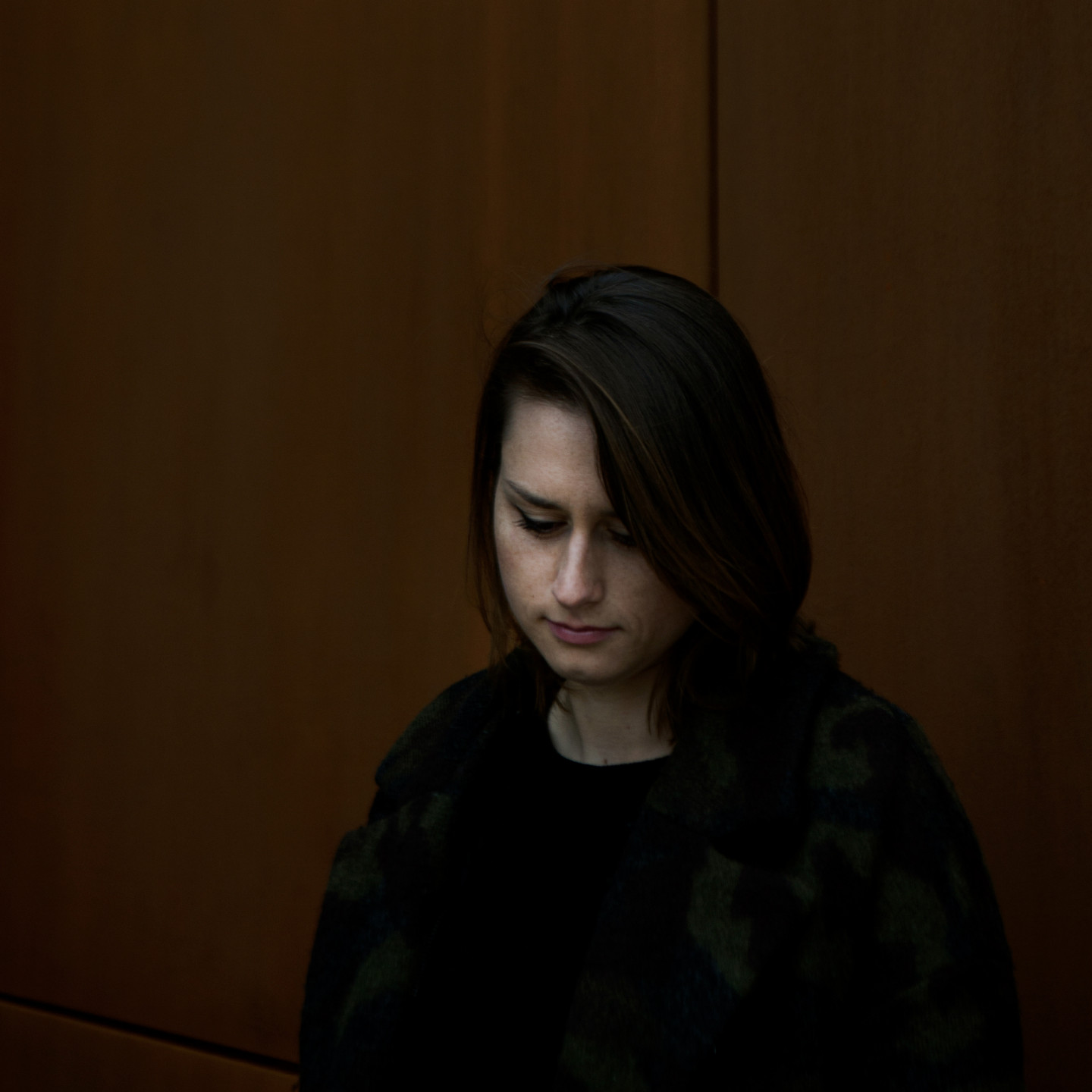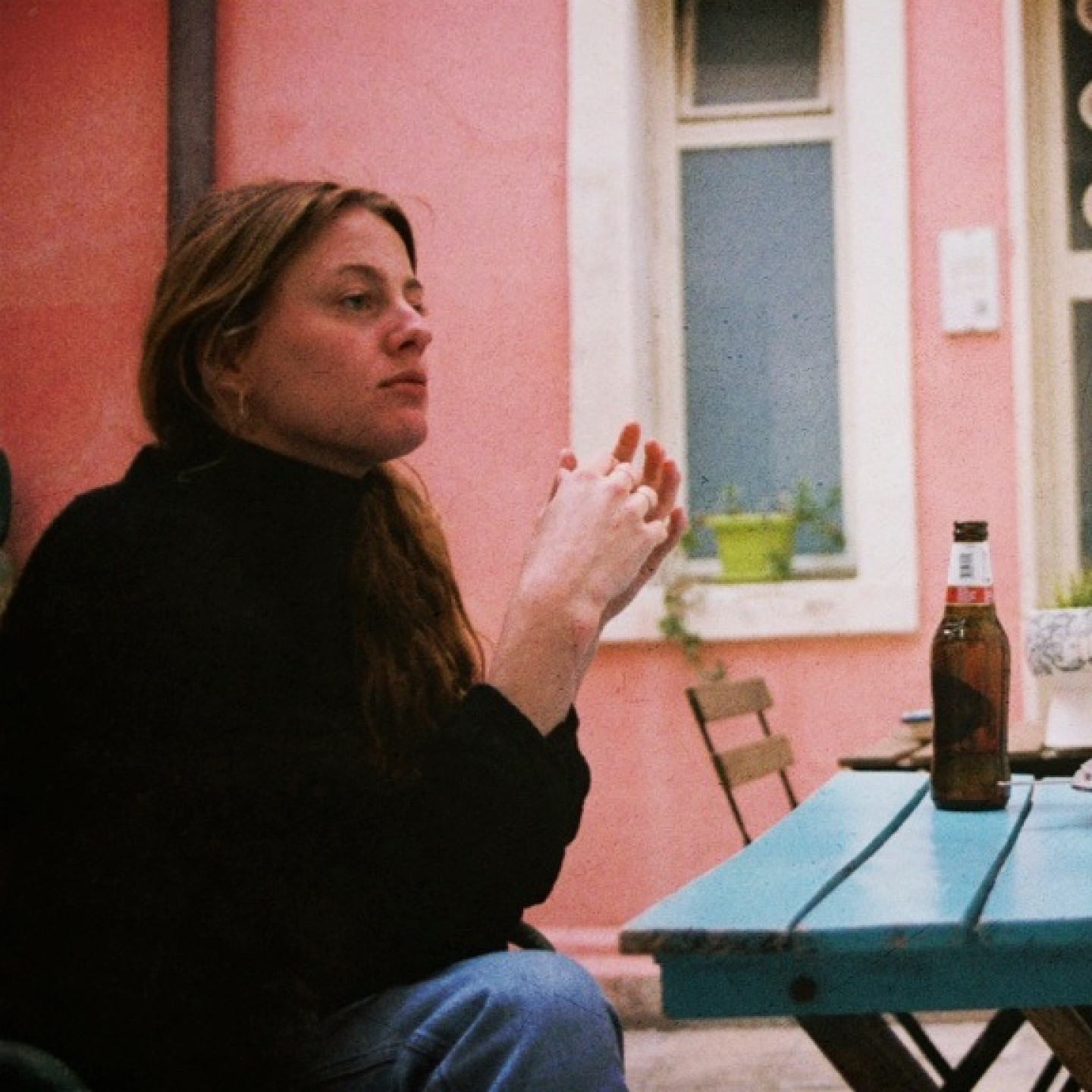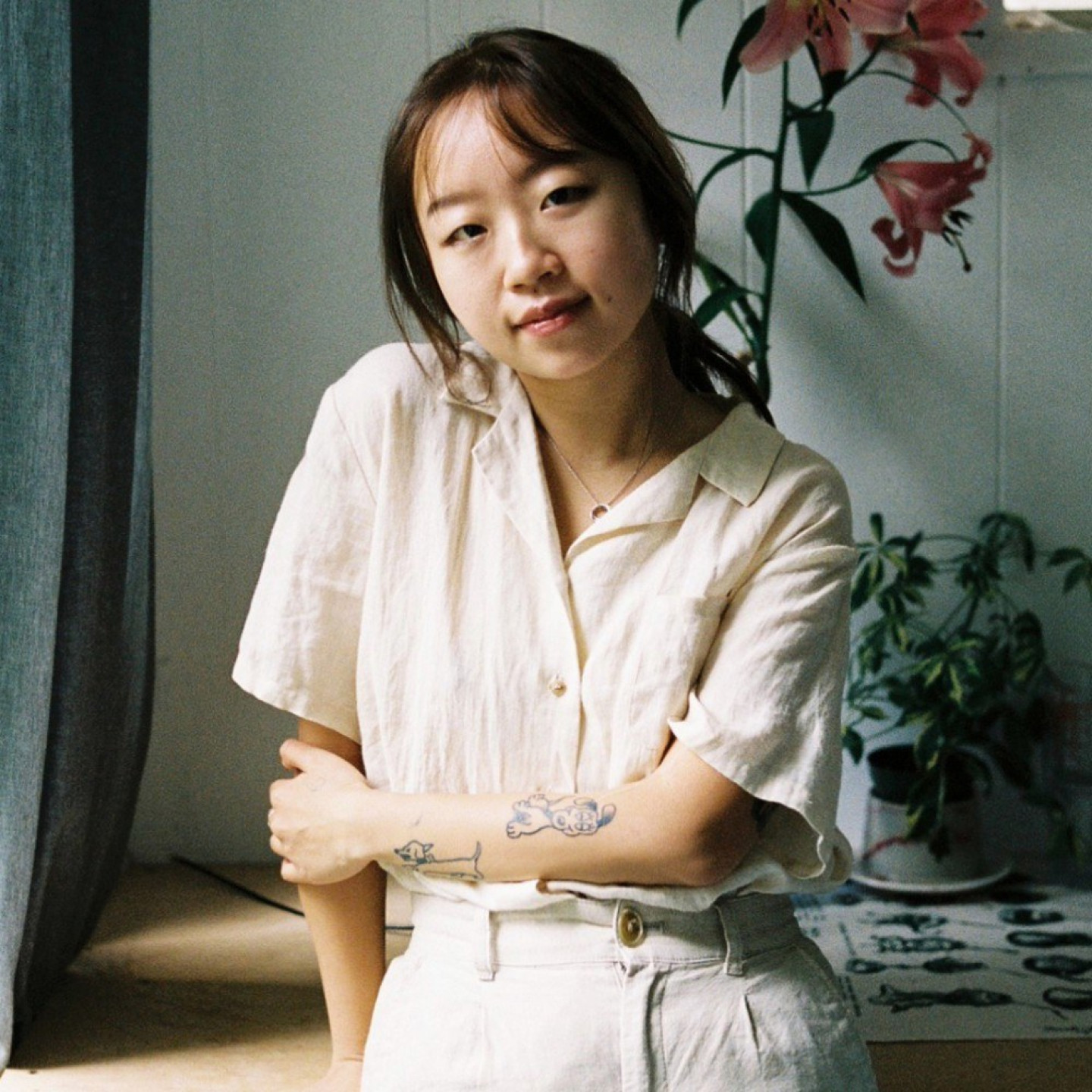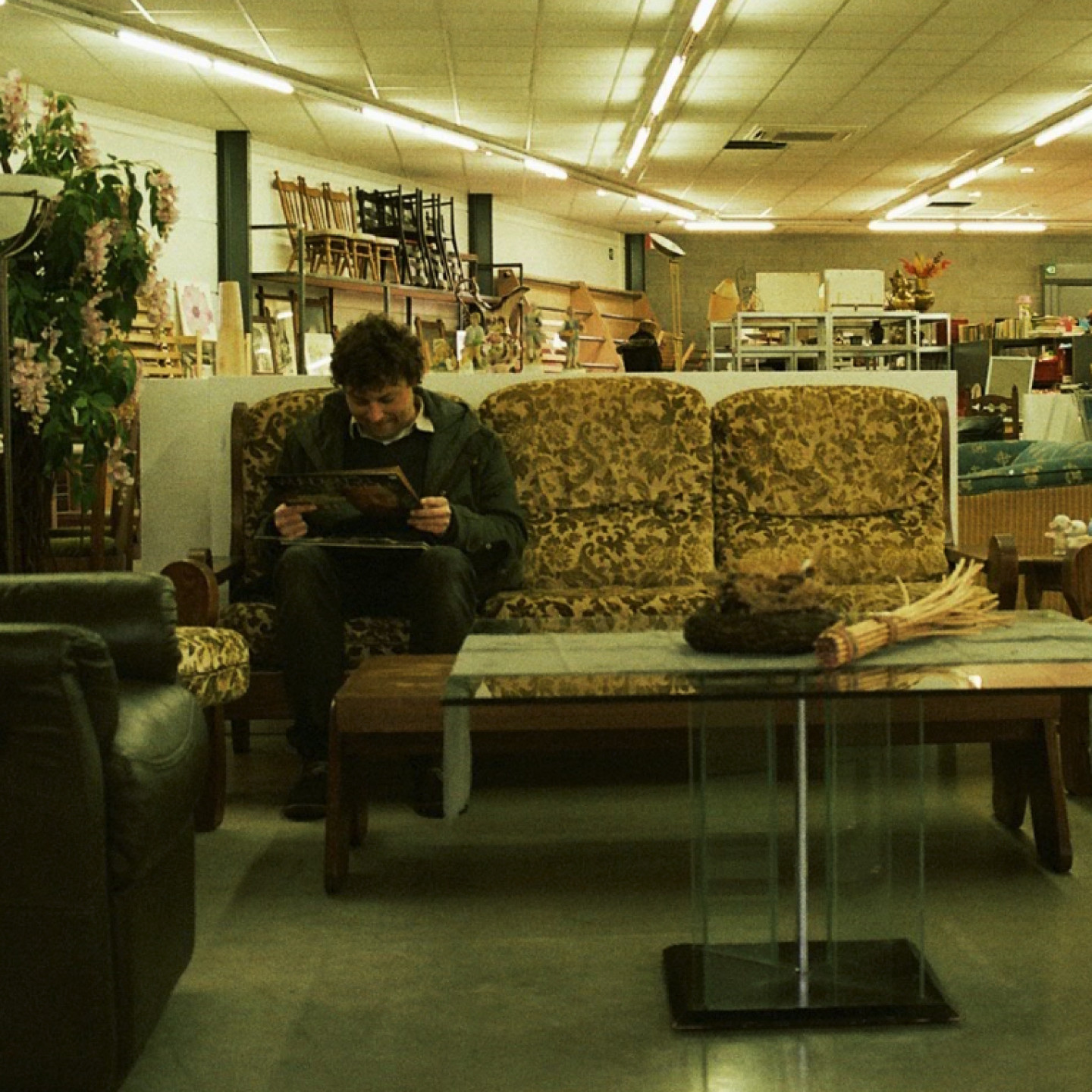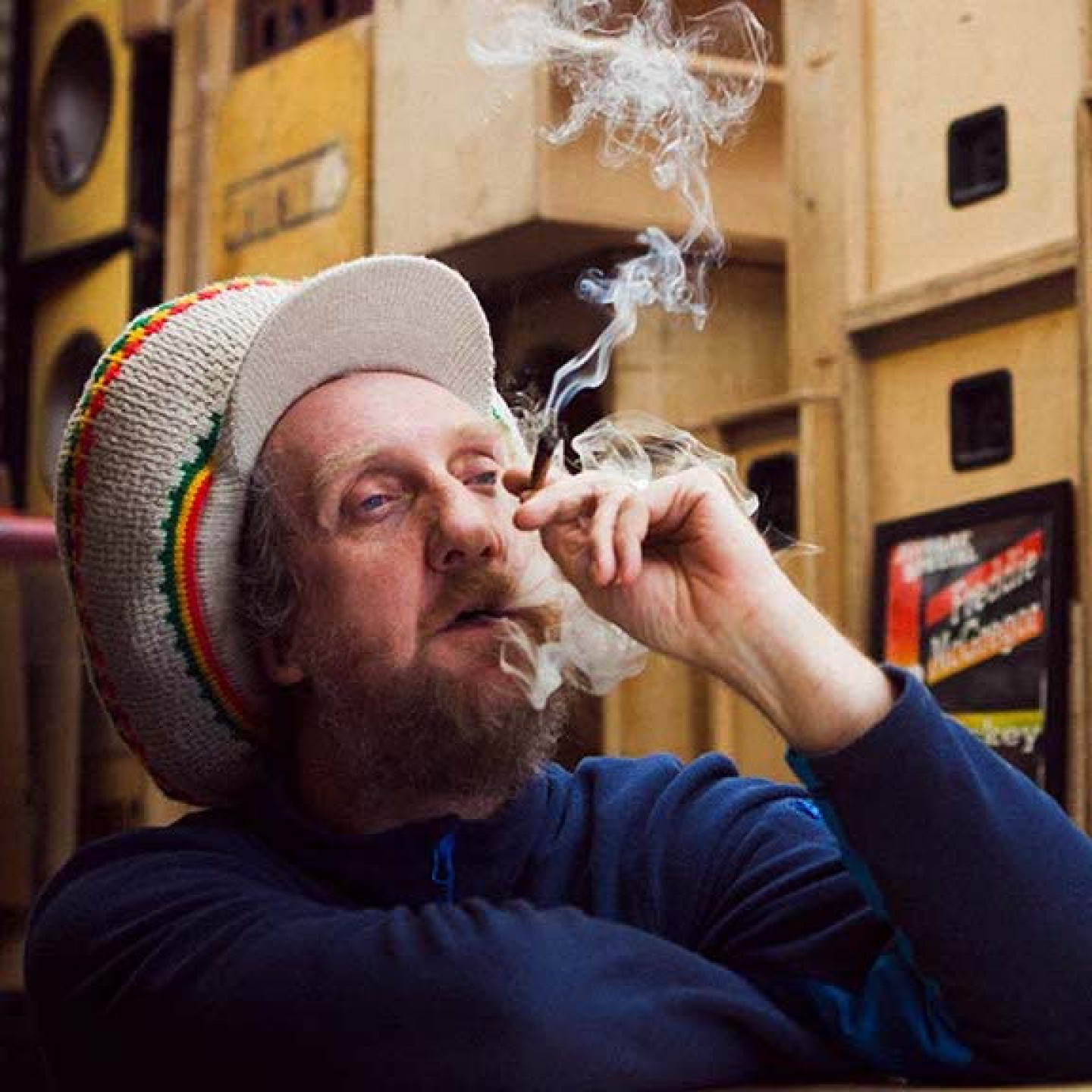 Sunday 4 August - 13:30
Some news on our Selectors Headline
For months we had prepared and closely guarded a special "?" surprise headliner – this was LCD Soundsystem's James Murphy, a major thrill for us to be able to bring to the Bos. We received news late last night that a serious personal situation means James is needed at home. For the 2019 edition of Dekmantel Festival at least, sadly this isn't happening.‬‪
But we have an intergalactic hero stepping in to headline our Selectors stage instead: none other than I-F, a man who has delivered so many iconic Dekmantel moments, including a historical Selectors closing slot in 2015. He will return to action tonight for three hours from 8pm. See you there for a last dance under the willows‬.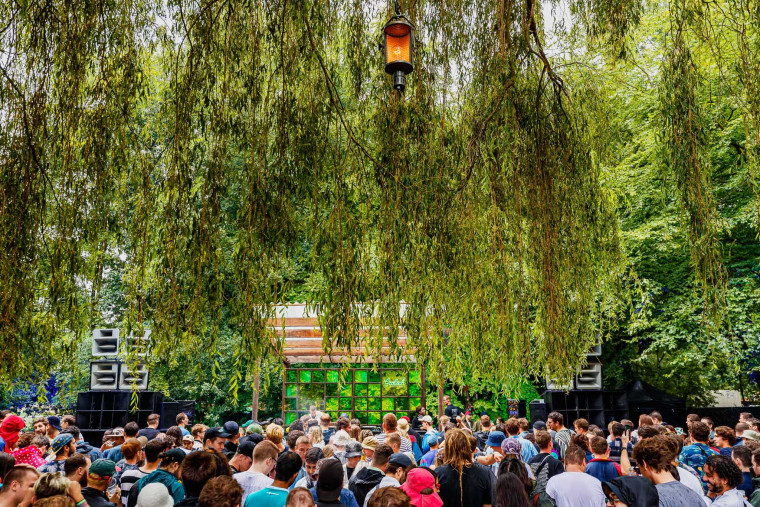 Sunday 4 August - 13:21
Shelter last night
We're usually keeping our Night program intimate and a bit in the unknown regarding the photo and video coverage, but here's a capture (and great caption) from one of the dancers at Shelter last night.

Tonight we're heading to Shelter again, as well as to our Is Burning collaboration (tickerts here).
Sunday 4 August - 13:07
Here we go, the last day
Ease into it if you need to, but don't give up. The performers need your energy! Let's get across the finish line together.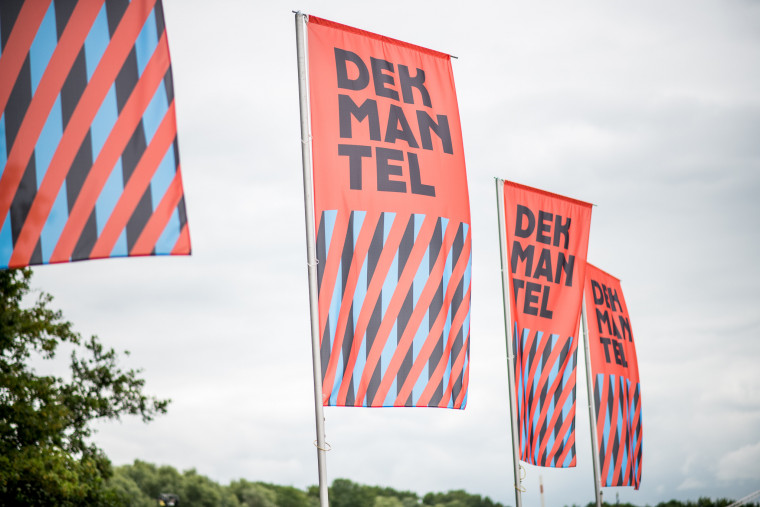 Sunday 4 August - 12:48
Orpheu casting spells on the Selectors stage last night
A closing set of two-hour wizardry by Orpheu the Wizard, the Selectors stage was all his.
Sunday 4 August - 12:26
Deniro prepping for today's set at the UFO
Sunday 4 August - 12:23
John Talabot last night, wow.
An emotional finale to a fantastic Saturday of Dekmantel Festival 2019.
Sunday 4 August - 12:17
With the gates opening in less than an hour, let's look back at how it went down on Day 4.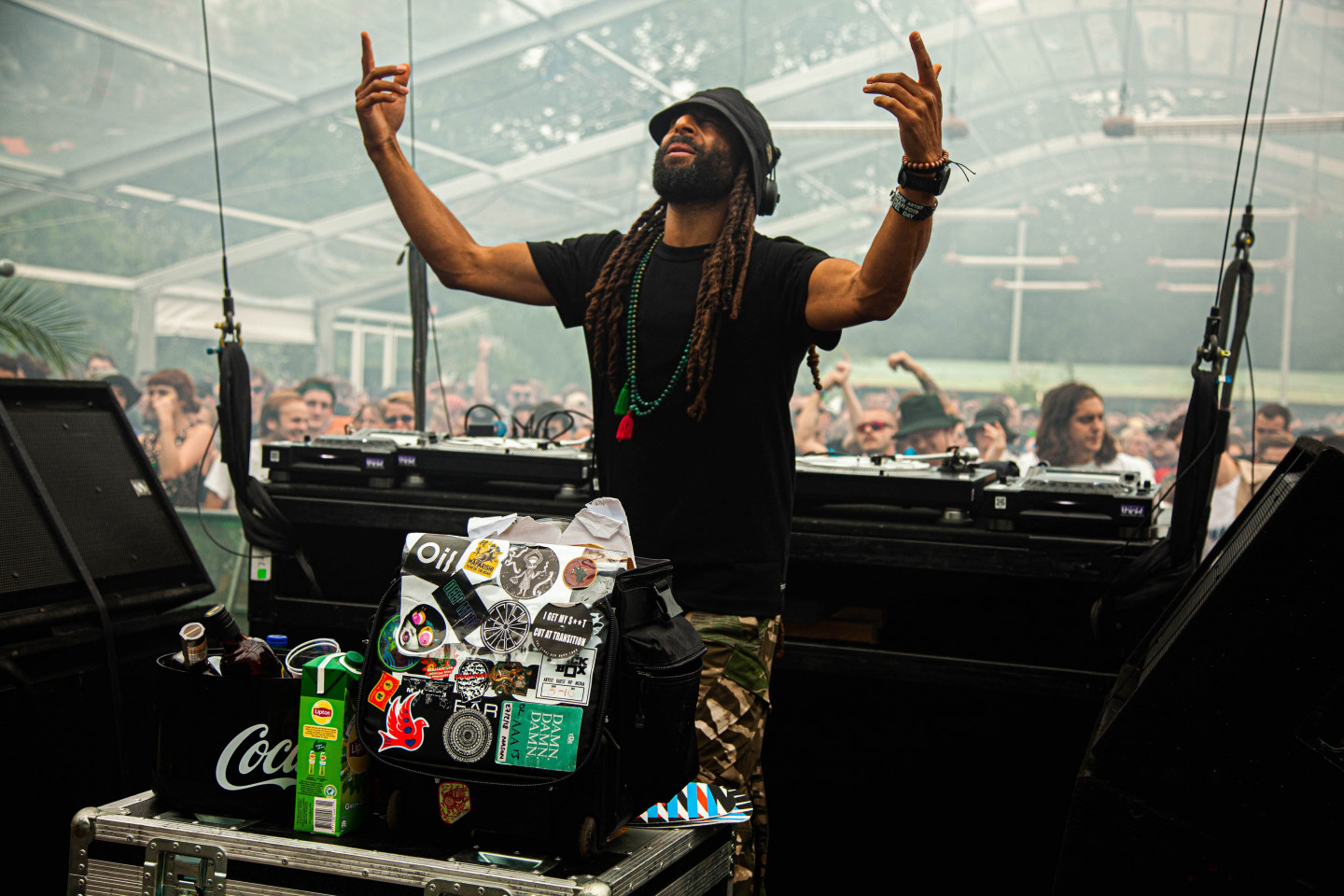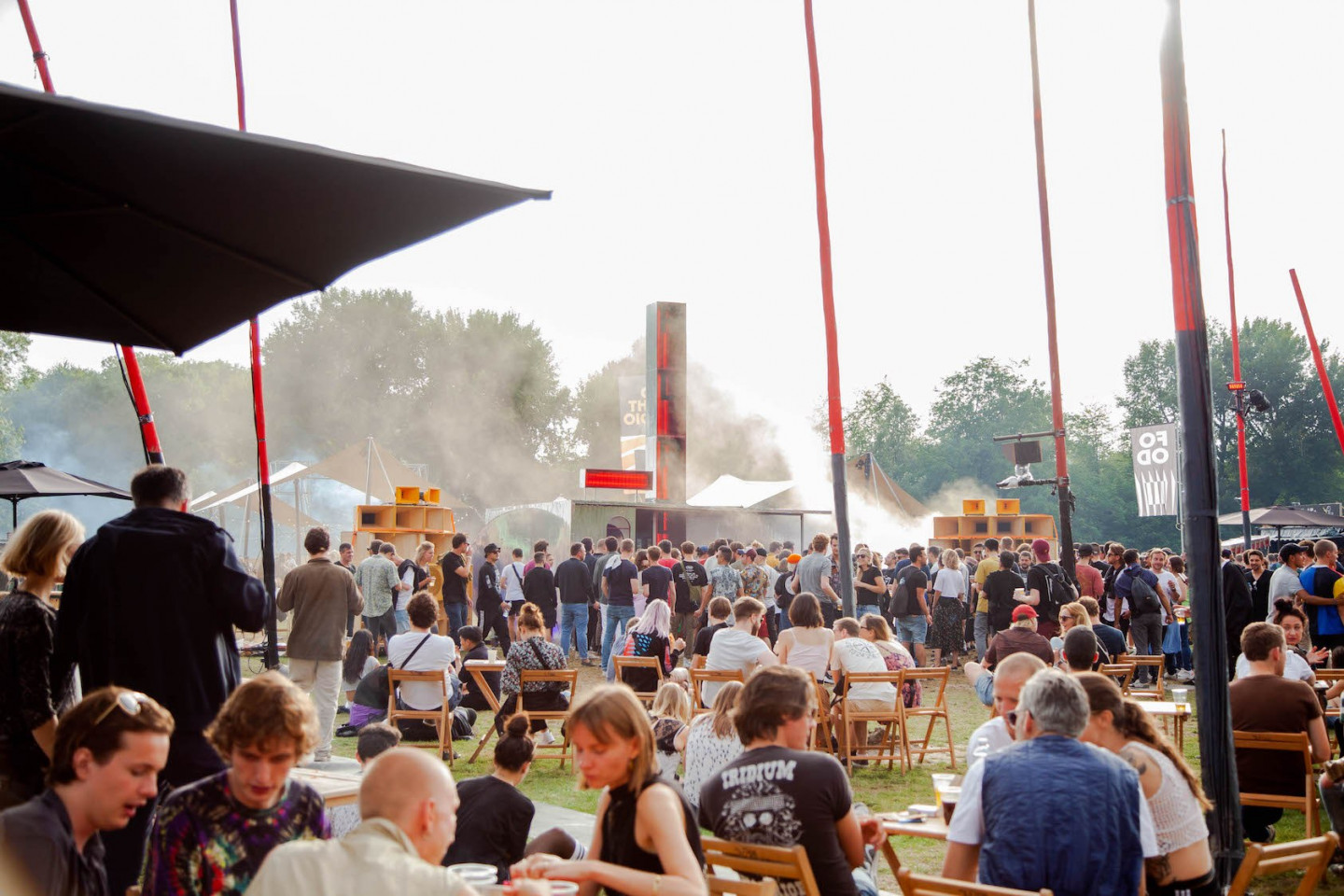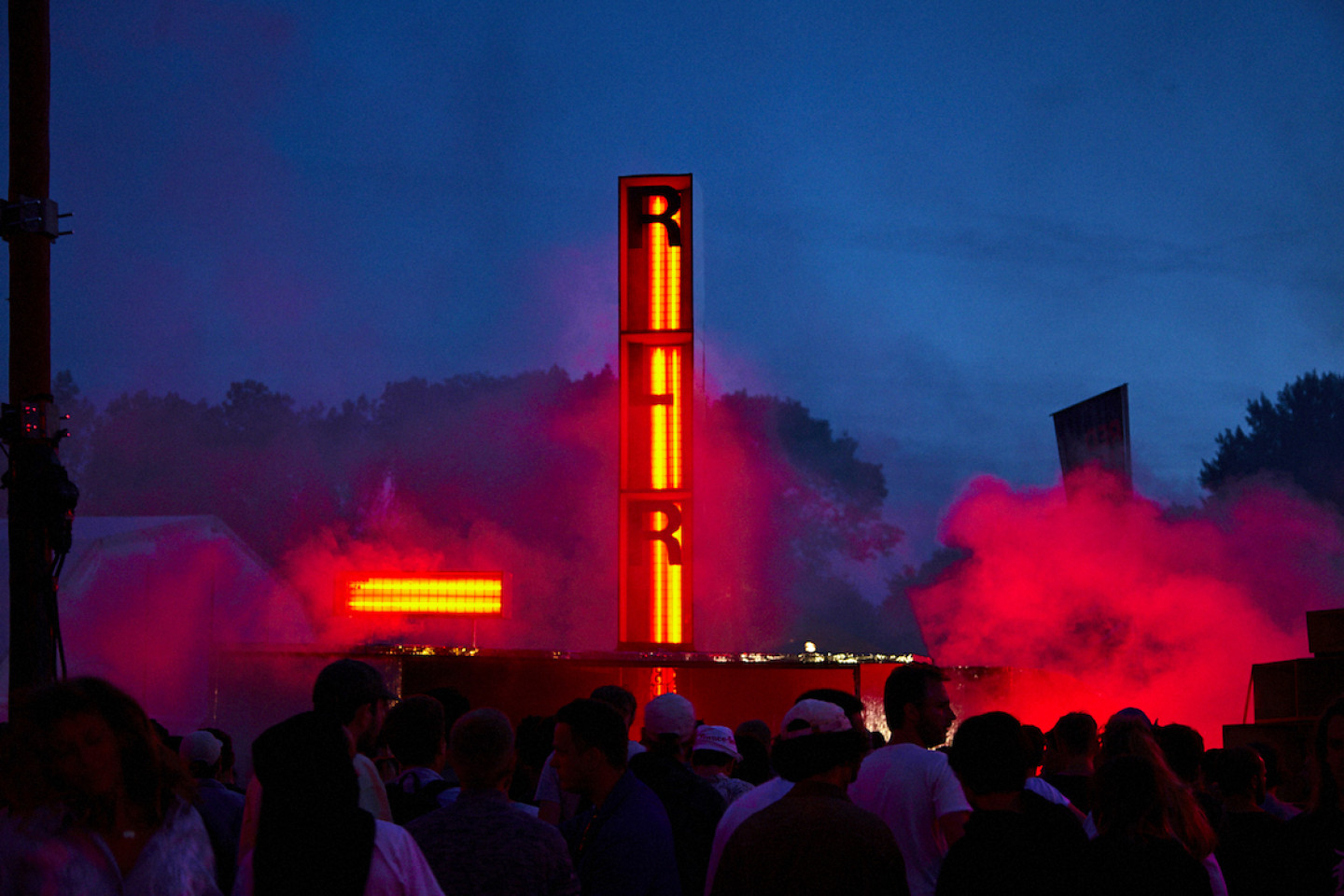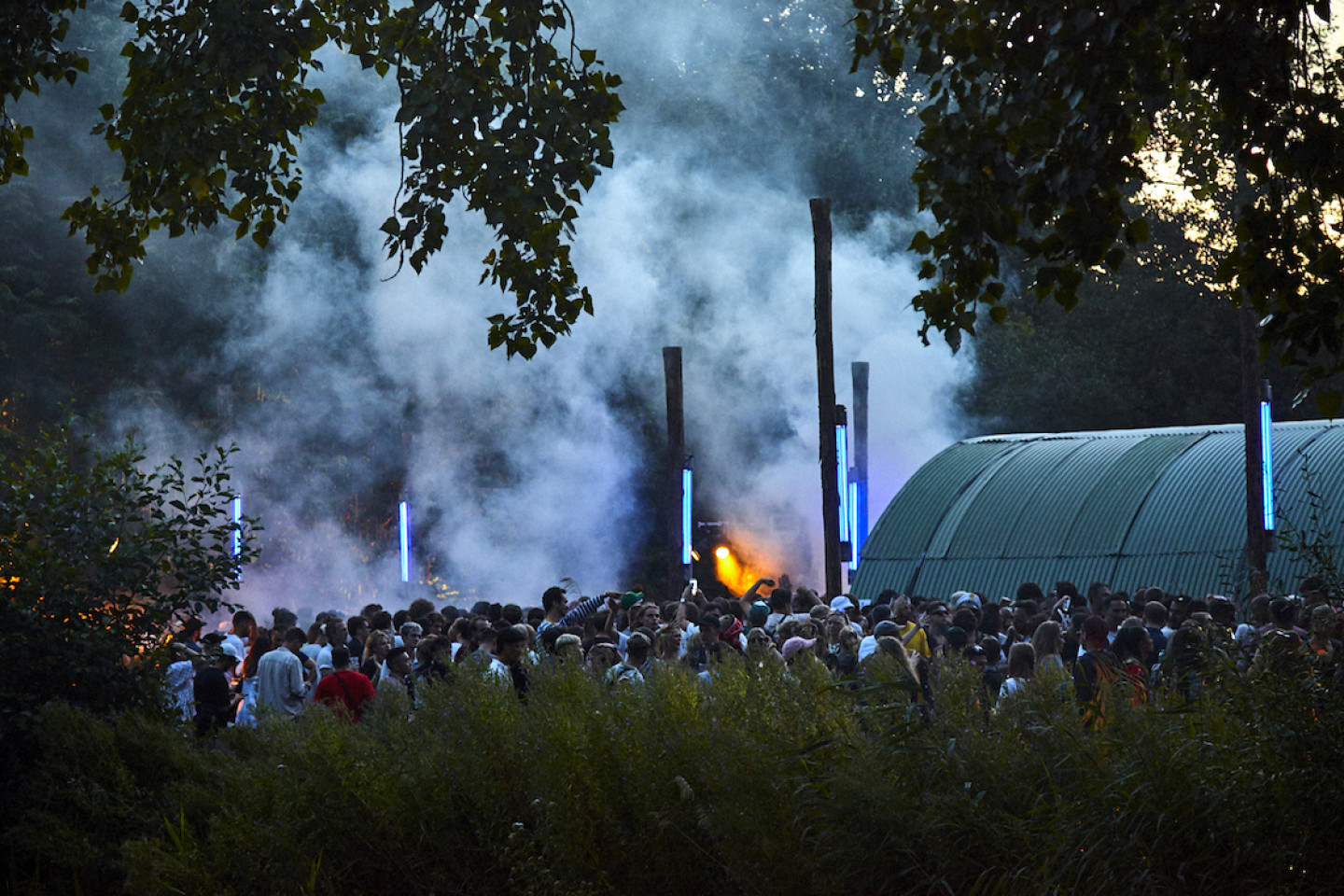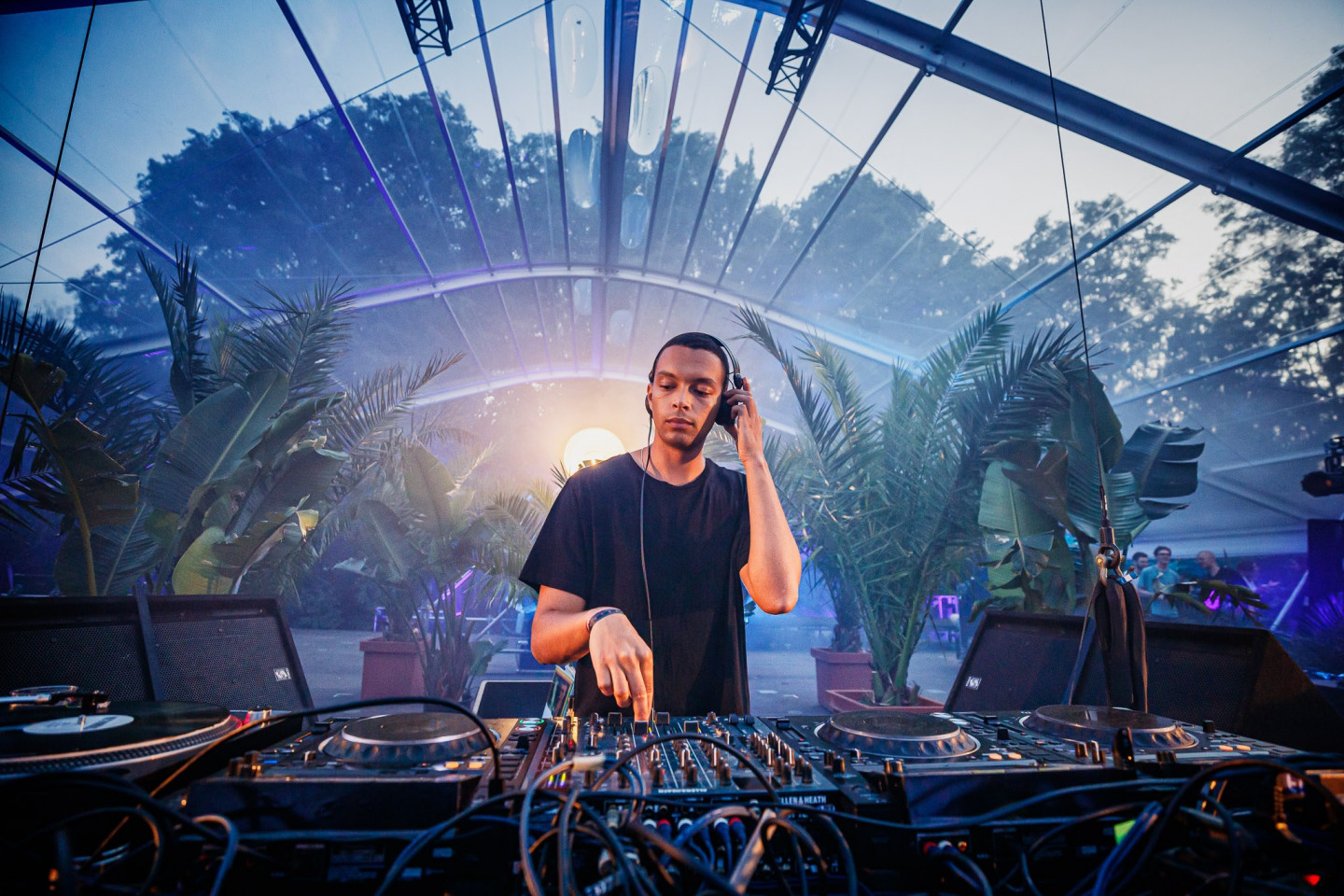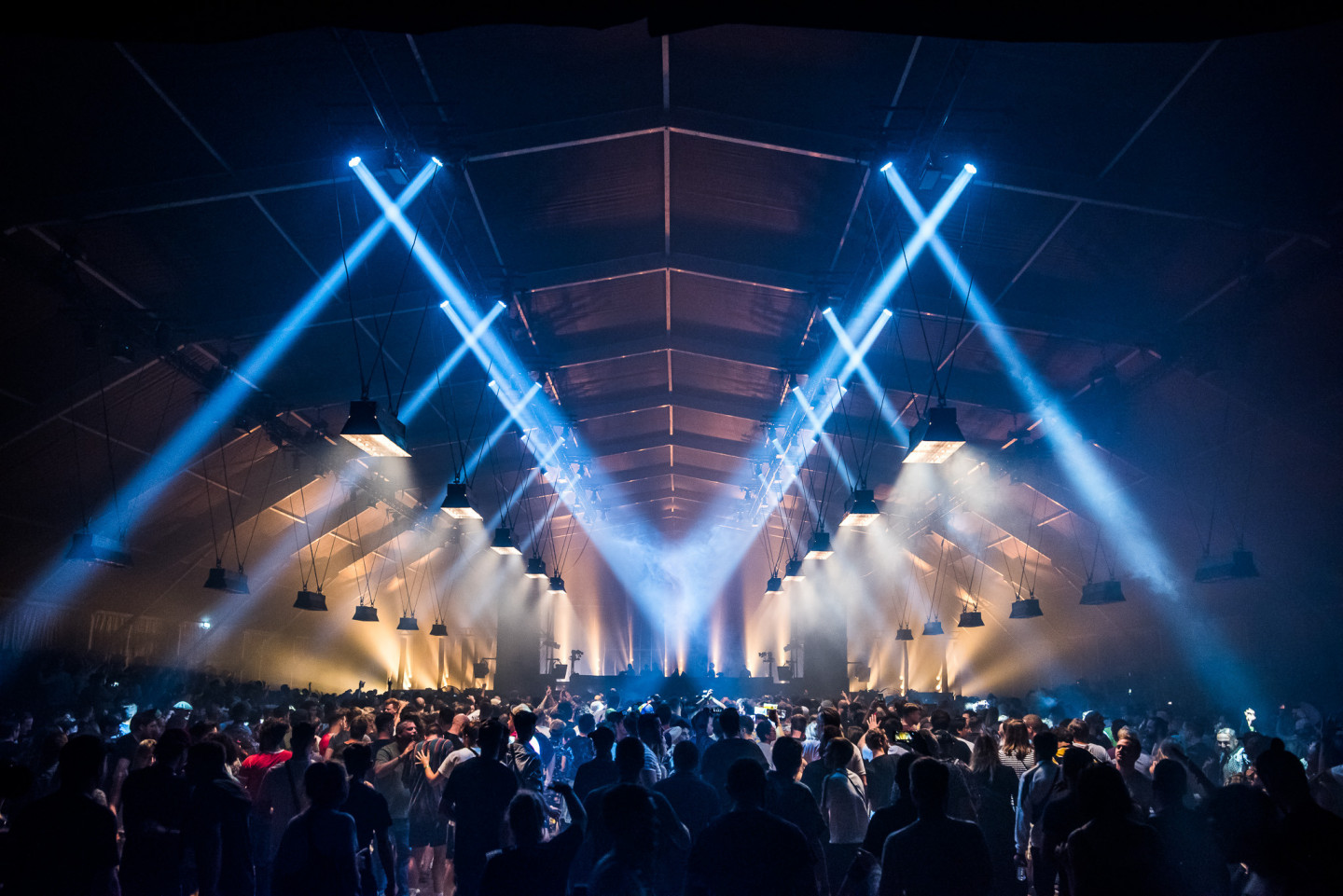 Sunday 4 August - 12:05
Day 5 — These are some artists to drop by today.
This went by fast — we're down to our final day of Dekmantel Festival already. After our mesmerizing Wednesday opening concerts, the Thursday programme around the IJ and two days in the forest, we're getting down to the ultimate day of our 2019 edition.
Spanning eight eight stages, the day boasts a full schedule of must-sees and new discoveries. Choices in abundance, but catch us at least at Róisín Murphy, Planetary Assault Systems (live), Nitzer Ebb and Slikback.