Lente Kabinet Festival 2022 Liveblog
Welcome to the Lente Kabinet Festival 2022 liveblog! Watch this space today and tomorrow for all your essential festival news. Any questions? Get in touch with us via [email protected].

Sunday 6 August - 23:16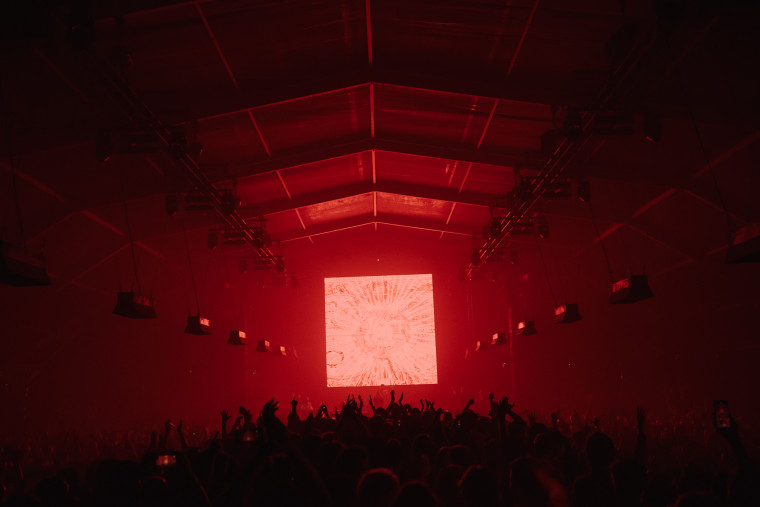 2023x Thank You
Rising into a powerful crescendo, Sunday was a power chord of a finale. B2B duos really stole the show – there was Jane Fitz & Marco Shuttle's potent chemistry, Peach & Shanti Celeste bringing the tangerine-hued transcendence we all needed and Rey Colino & Roza Terenzi dabbling in all things ravey, bassy and acid-infused. Taking it to the next level, Hyph11E was a seismic force of nature at the UFO II, laying down her signature blend of dance music that destroys the negative space between jungle, footwork and DnB. Not to mention The Knife's Olof Dreijer serving up a cocktail of West African-inspired rhythms, Kuduro, and pointillistic, melodic techno at the Greenhouse.

It's impossible to not feel nostalgic already, but as the curtains close on the 9th edition of Dekmantel festival, we look back not only on 5 incredible days but also towards the future. Next year will be our 10th anniversary and the decade-mark warrants some serious celebration. Pre-registration is available now – sign up via the website.

A big thank you from Team Dekmantel and your liveblog authors Ozzy & Tarona. It's a wrap! #Dekmantel23
Sunday 6 August - 22:30
What's that tune?
The last Shazammed track of #Dekmantel23 is straight from the ORDER Mothership at the Connects stage. Firetruck Sunday from Chicago Shags - no title could be more fitting.
Sunday 6 August - 22:00
Behind the Scenes: Sustainability
Sustainability is a big thing at Dekmantel Festival. Luise from team Dekmantel is the invisible star of all things sustainability. We borrowed her for a few words.
L: "Can you describe your role in a few sentences?"
L: "I'm the coordinator of certain projects that are related to sustainability. On the festival itself it's mainly the raw material management."
L: "What do you find most interesting in your role?"
L: "Definitely the potential of all the things we can do and accomplish regarding sustainability. On the festival itself it's about making gains in small steps. On the off-festival days, we do long term thinking and planning how we can make an impact in the long run."
L: "What's the biggest challenge for you?"
L: "It's the scale at which we have to win terrain. There are so many people, places and different types of materials involved, it requires creative thinking and perseverance. For example, we literally go through trashbins to identify what people throw away and see how we can do better when recycling. Identifying small, changing big."
L: "What's the weirdest trash you've ever found."
L: "So many.. This year we found a bicycle pump, hemorrhoids cream and new shoes..."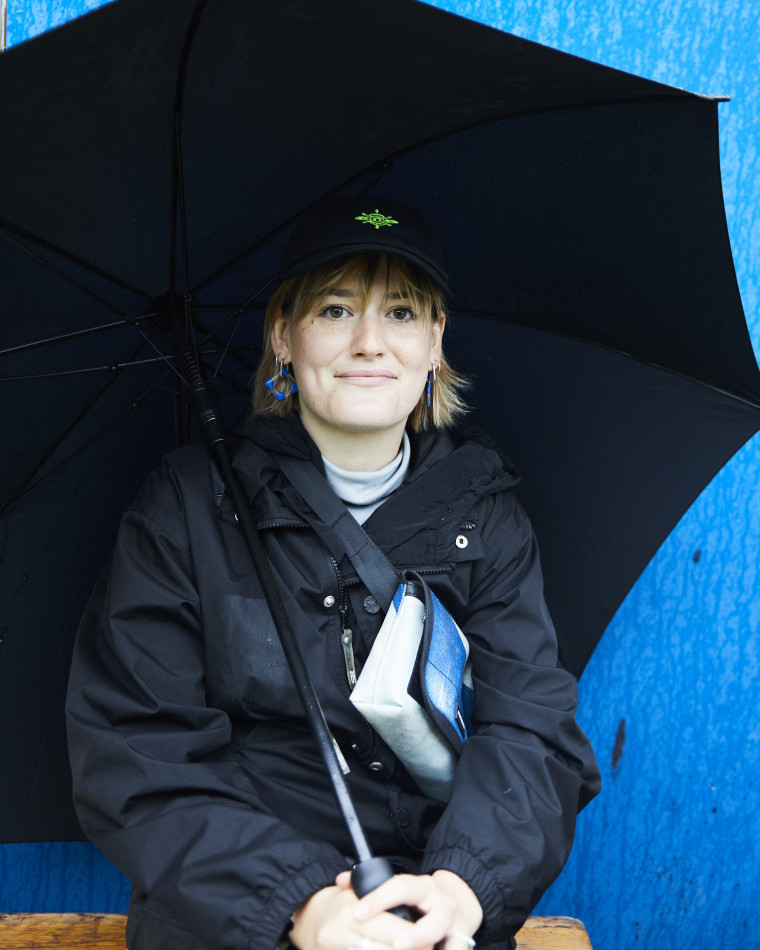 Sunday 6 August - 21:30
Favorite post-show ritual?
As we're nearing the end of #Dekmantel23, we took one more opportunity to get to know this year's artists better. We asked Mika Oki and Jerrau "what's your favorite post-show ritual?":

Mika Oki
"Put some tiger balm on my back."

Jerrau
"Stand in a corner, cry and then chill."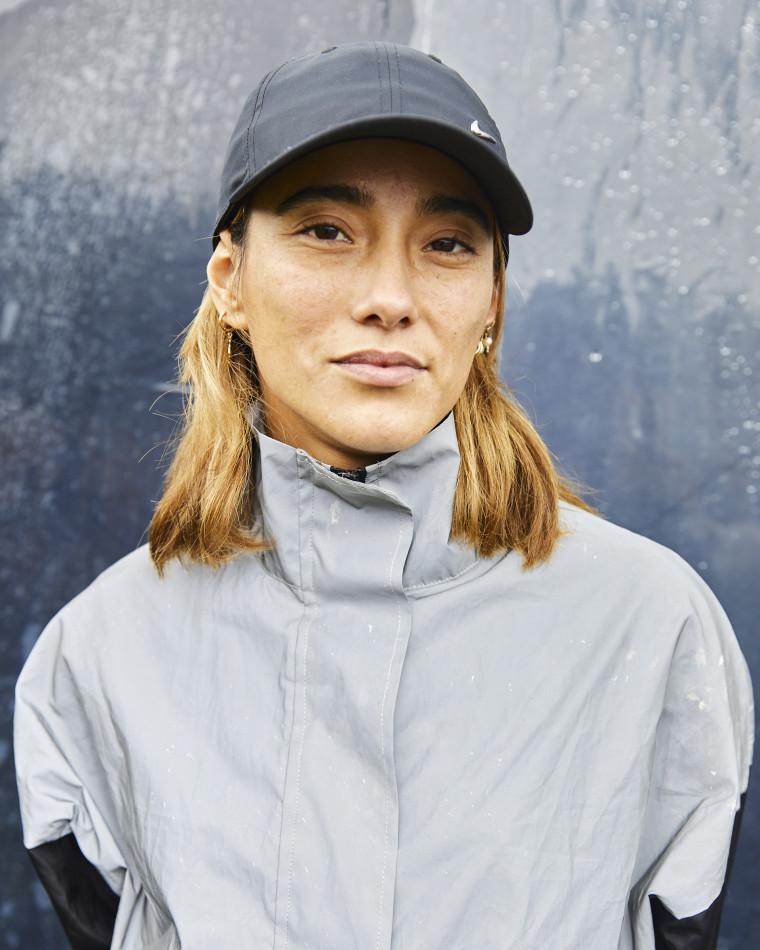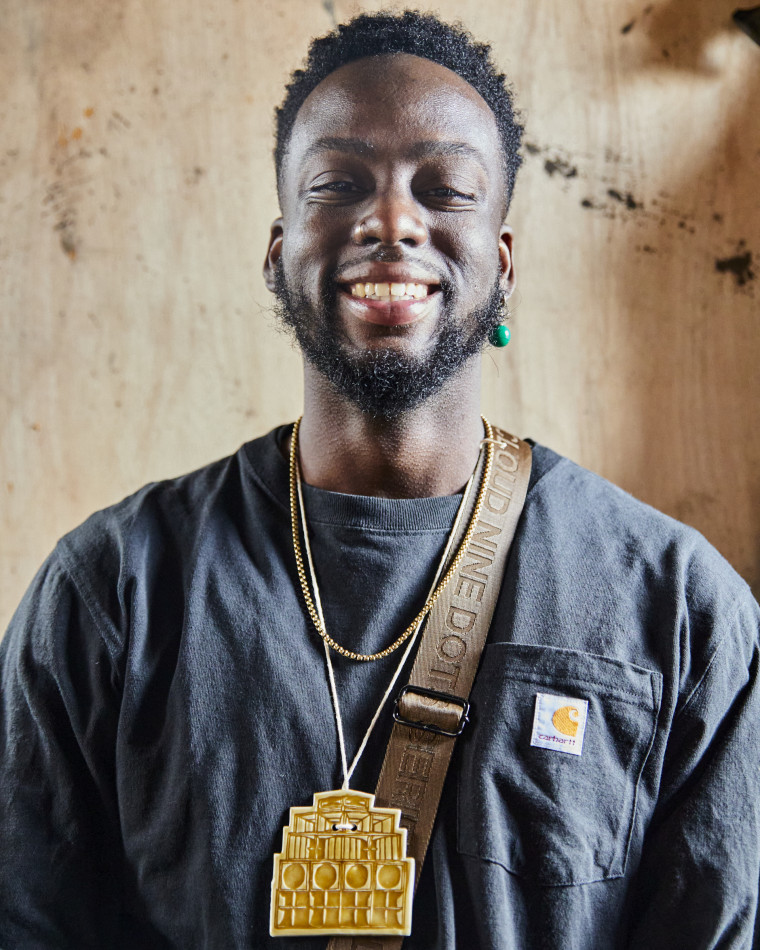 Sunday 6 August - 21:00
Brothers On The Slide
Hearing Cymande play "Brothers On The Slide" will stay with us forever. What a magical concert!
Sunday 6 August - 20:45
What's that tune?
Peach is kicking it at the main stage with a fresh release on Hessle Audio
Sunday 6 August - 20:30
Behind the Scenes: Light & Sound
They operate in silence and are hard to spot in their black outfits. Every memorable set starts and ends with a great stage manager. Without them, Dekmantel Festival woud not be the same. We caught a few of them for a few words in between welcoming artists, pouring natural wine and protecting the base.

Emma - Visuals at UFO II
L: "What's your favorite type of visuals?"
E: "I like simple stuff, it's mostly authentic and I like a lot of abstract, non-realistic things. I try to create a tunnel vision with my visuals, especially during the night when the effect is strongest. Another thing I like to do is switch the visuals completely halfway through the set, do something completely unexpected."

Gijs - Sound/Krackfree Soundsystem at Connects
L: "Most challenging thing about your job?"
G: "This stage is like a playground, the music types are constantly changing so we have to constantly adapt to the different styles and make the soundsystem sound great. Also what's challenging is that the amount of people is constantly changing. People are like pillows, they absorb the sound, and the more pillows, the more power we need to reach everyone."
Arnoud - Visuals at The Loop
L: "How do you prepare for your assignment?"
A: "Usually I don't prepare that much, of course I think about what to bring but during the set, just like a DJ, but it's mostly about getting into a tunnel vision and sensing what feels right. Quite unexpectedly, Young Marco contacted me to talk through his plans for his set to create a good visual storyline. It doesn't happen that often that artists want to do this. The special thing about Dekmantel specifically, is that the magic happens on the spot depending on many factors. I've been doing this work since the first edition and I think I got a feeling for it."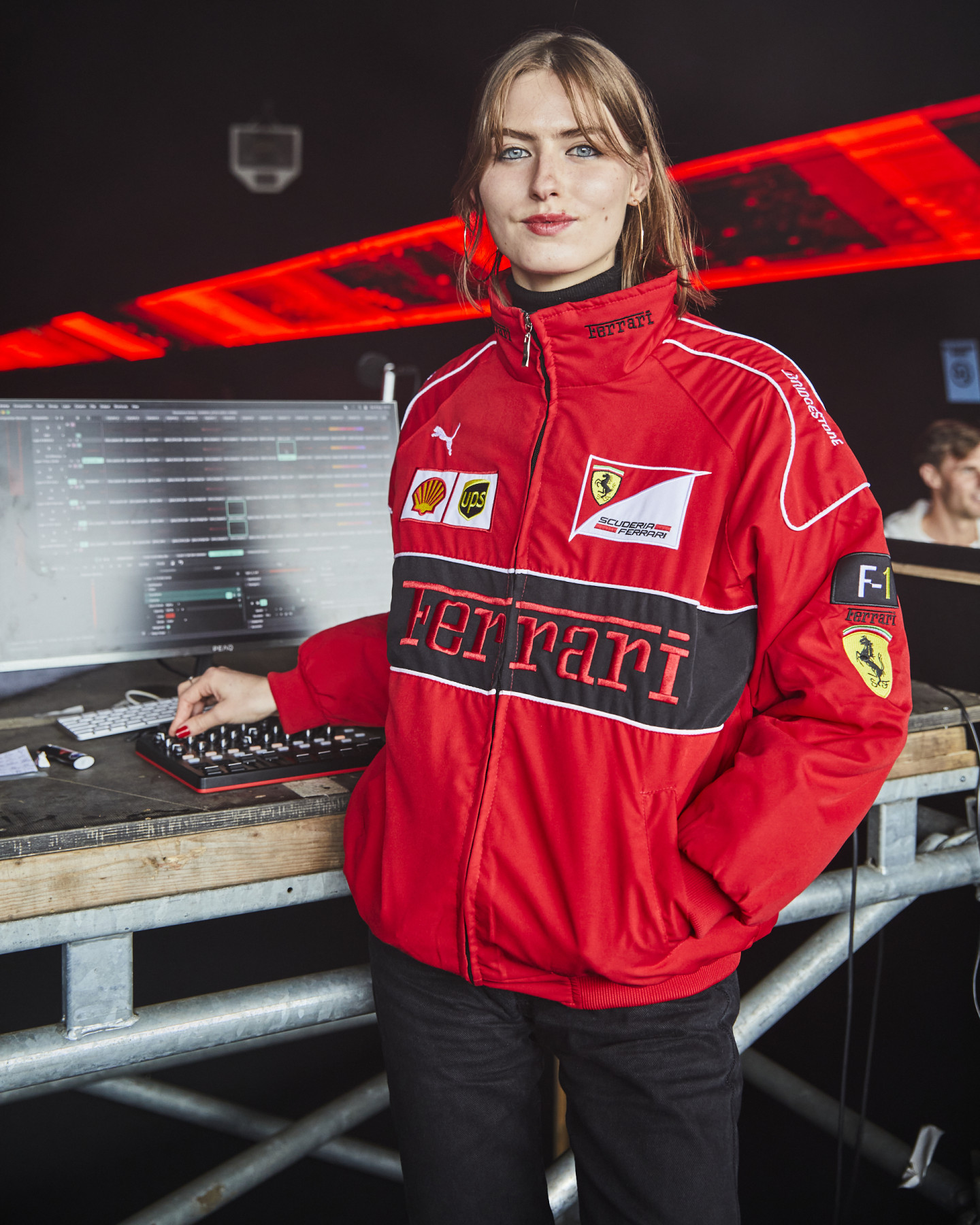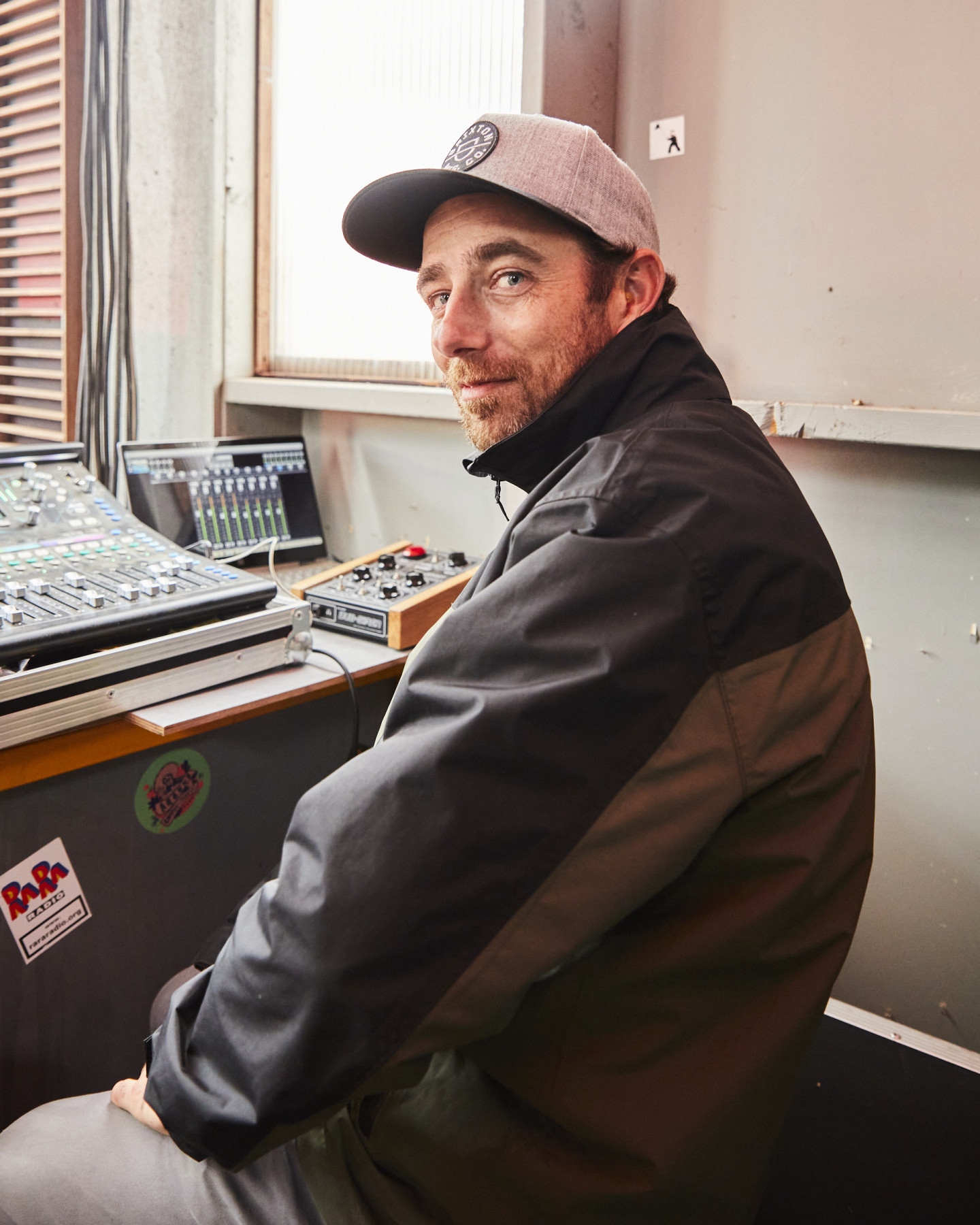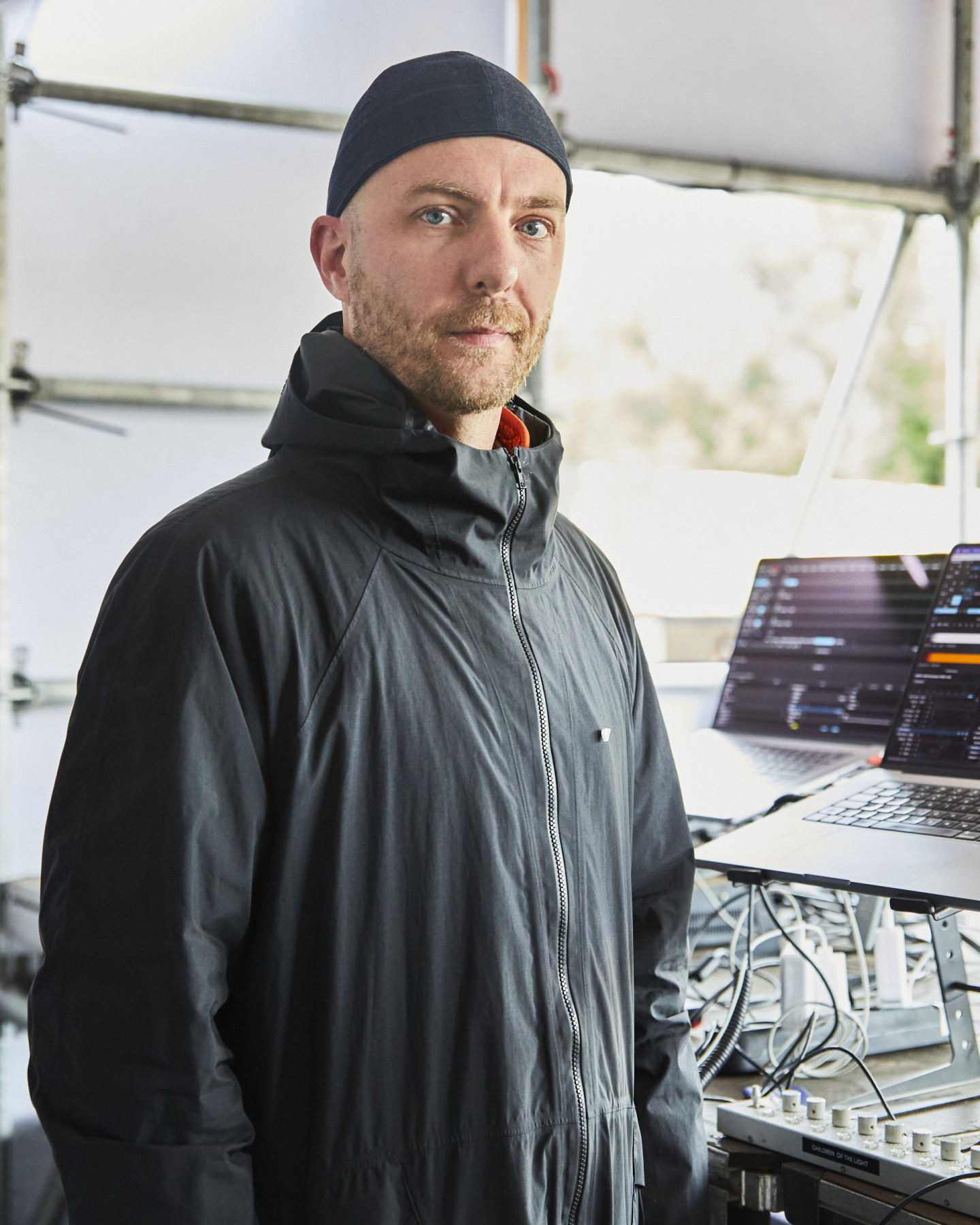 Sunday 6 August - 19:45
The most random item saved on your USB?
The #Dekmantel23 Magazine contains insights into the minds and USBs of this year's artists. We asked a bunch of people "what is the most random item saved on your USB?". Here are a few outtakes.

MikeQ
"A contact sheet photo from an Aaliyah photoshoot by my friend Eric Johnson."

BEA1991
"Yamaha XT 600E bike instructions."

Lenxi
"Install file of the Lemmings video game."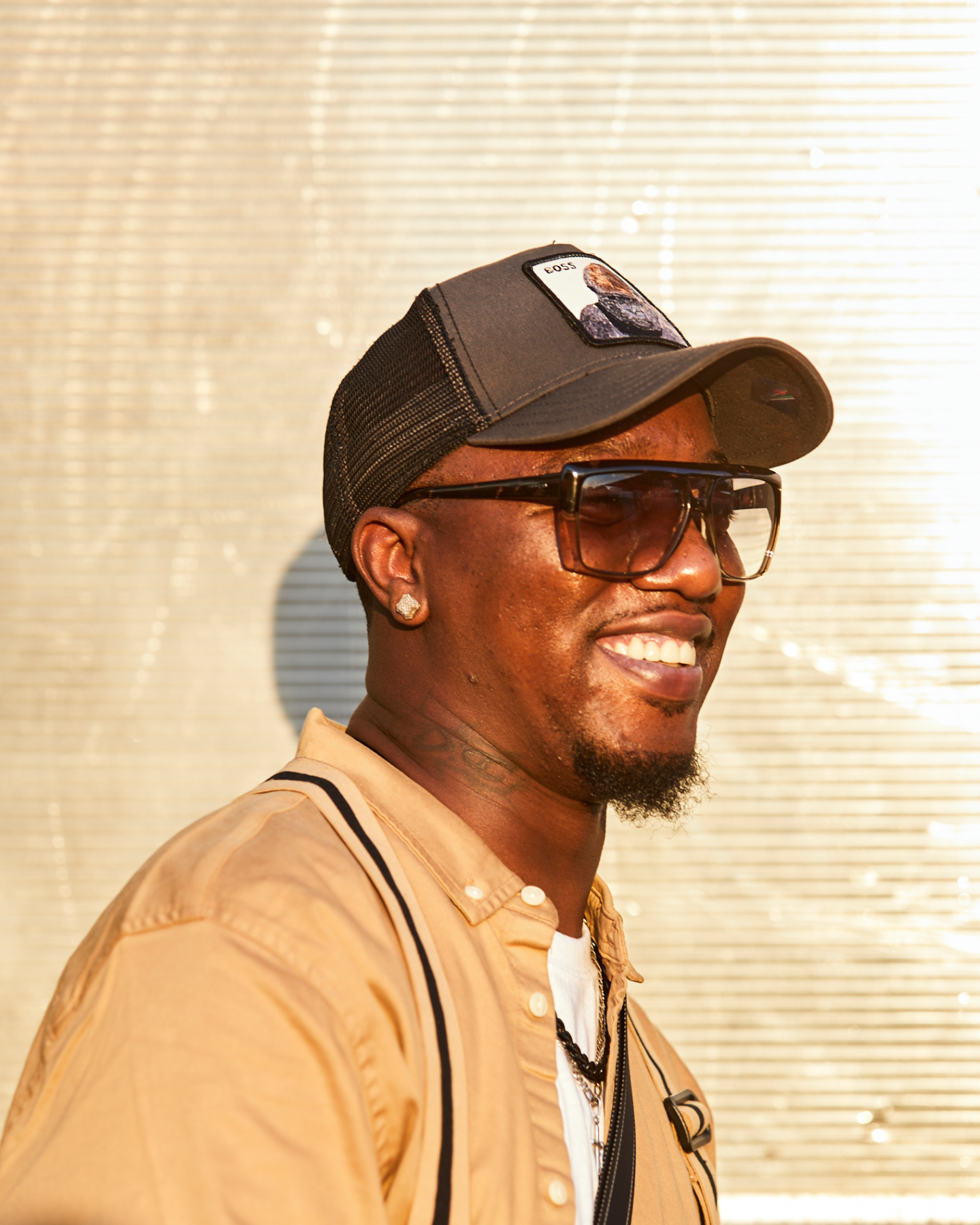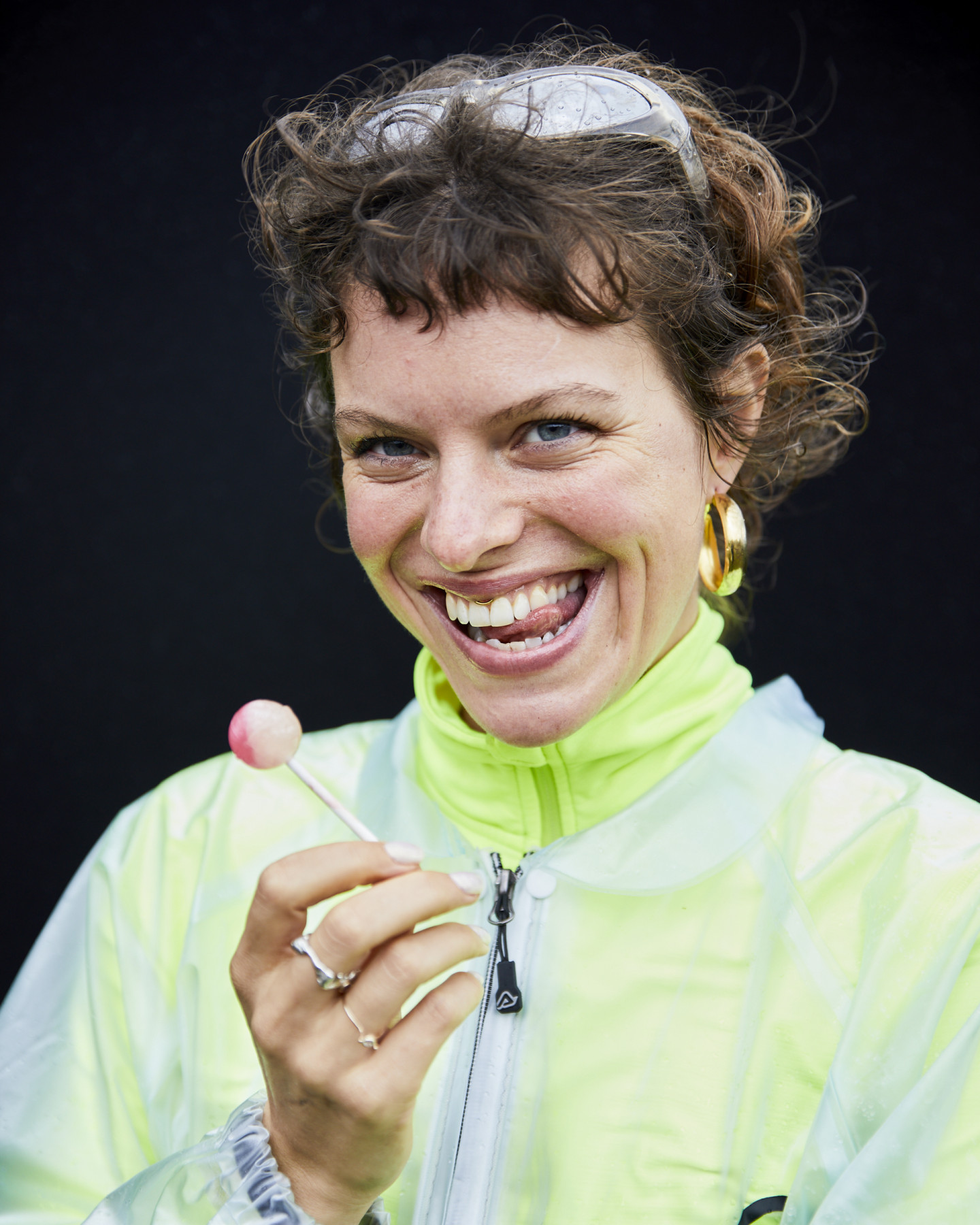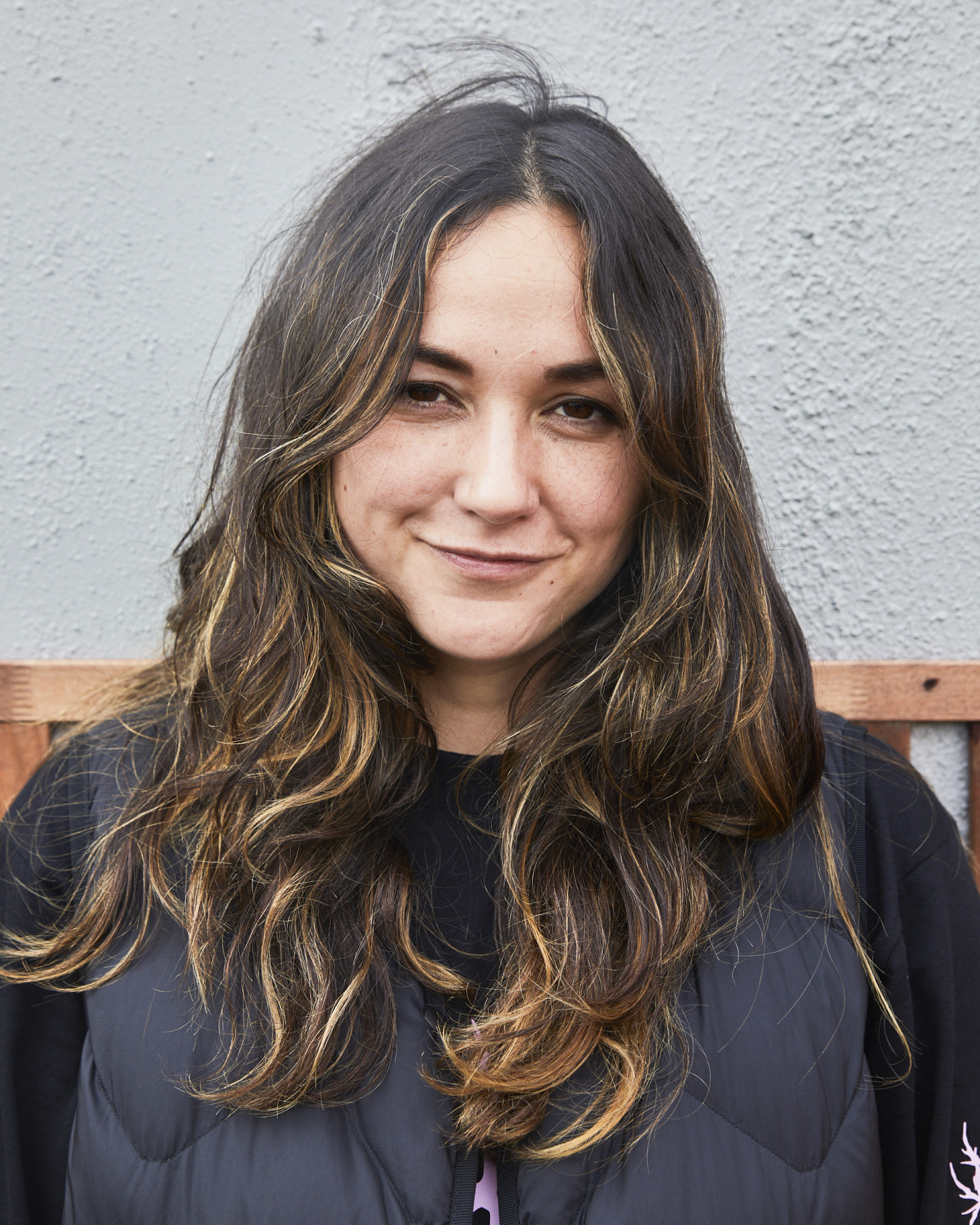 Sunday 6 August - 18:55
What's that tune?
Who can ignite a crowd the second she puts down the needle of the turntable? Exactly. Octo Octa.
Sunday 6 August - 17:49
Machiny-music
We catch MSJY after an interesting set at the Nest that started with tractors on the dancefloor and ended with a crowd dancing like a well oiled machine. Let's do a vibe check with her.

L: "You played Selectors back in 2019, it was warm, at the beach.. Now you're in Amsterdam, it's cold and wet. Do you play different sets depending on the weather?"
M: "Wetserdam! Oh god, sorry... But yeah, totally! Every set is contextual and different for me, it's important for me that the DJ set fits in the setting. I mean, it helped that the weather was shit. Initially I planned, like, OK it's a Sunday, people have been raving, let's keep it light - but then it started pouring and the weather was not giving light. I thought, let's keep it really murky and swampy. I did something in between, I think."

L: "If you were in the crowd at your own set, what part of your set did you like the most?"
M: "Probably when I was playing just for machines - tractors - they came to put down wooden plates agains the muddy floor. I would want to be there for that. Just to see the spectacle. Also in that moment I was playing very machiny-music. It just happened to align perfectly with what I had prepared."

L: "You lived in Groningen, and you also organized events there. If you could curate the Nest yourself, what kind of vibe would you go for?"
M: "True, I used to run a queer party with Fafi Abdel Nour who is playing here later. But wow, yeah, that's a billion dollar question. I would probably slow it down honestly. Like at least the first half, I would focus on people who really curate their sets and play interesting genres and match them together. For me it's not important to have a musical lineage per se, but more like a vibe, a mood. I feel like everything is fast now, and I believe we can re-educate people to slow things down. Sitting in the music a little bit better."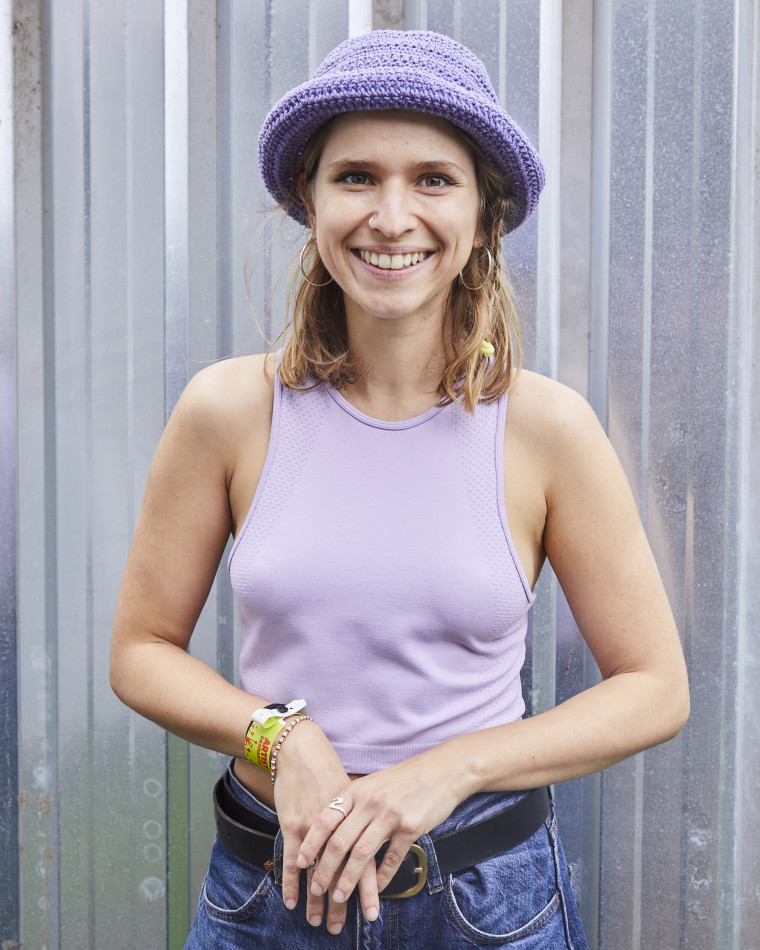 Sunday 6 August - 17:08
Suze Ijó Connects
This year's Connects stage is hosted by Young Marco, Mad Miran and Suze Ijó - three longtime Dekmantel familiars - for Friday, Saturday and Sunday respectively. We see Mad Miran jumping and bumping from left to right, she looks happy and proud. We catch her for a few words.

L: "How is it going?"
S: "I'm really excited, the weather could have been better, but we're going to make it a nice day. I can use some chilltime though, haha."
L: "You're playing after Cymande, how is that for you?"
S: "Cool, a really nice band. I'm inspired by them, but I'll do my own thing. Sunshine tunes, despite the rain, to keep the vibes right."

L: "You curated the line-up of the Connects stage today. What is at the core of your curation?"
S: "I first took a look at what was already programmed at the festival to see whatever I am missing myself in the line-up. The curation by Dekmantel this year is nice, but I was missing a more house-y or slower sound. So I basically programmed whatever sounds I wanted to add to the already booked list of people."

L: "You're playing at your Connects stage right after your set at the Greenhouse. How will these sets different from one another?"
S: "The set at the Greenhouse will really be my own thing. At the Connects stage, I'm playing with Gayance and we will try out new things together. She had really great ideas that are completely different from what I usually do, and I thought it would be cool go along with it. We haven't practiced anything so it will be quite interesting to see how we end up playing."

L: "Can we get a sneak peek into your head?"
S: "Think dancehall, hiphop and many more things you're not used to from me."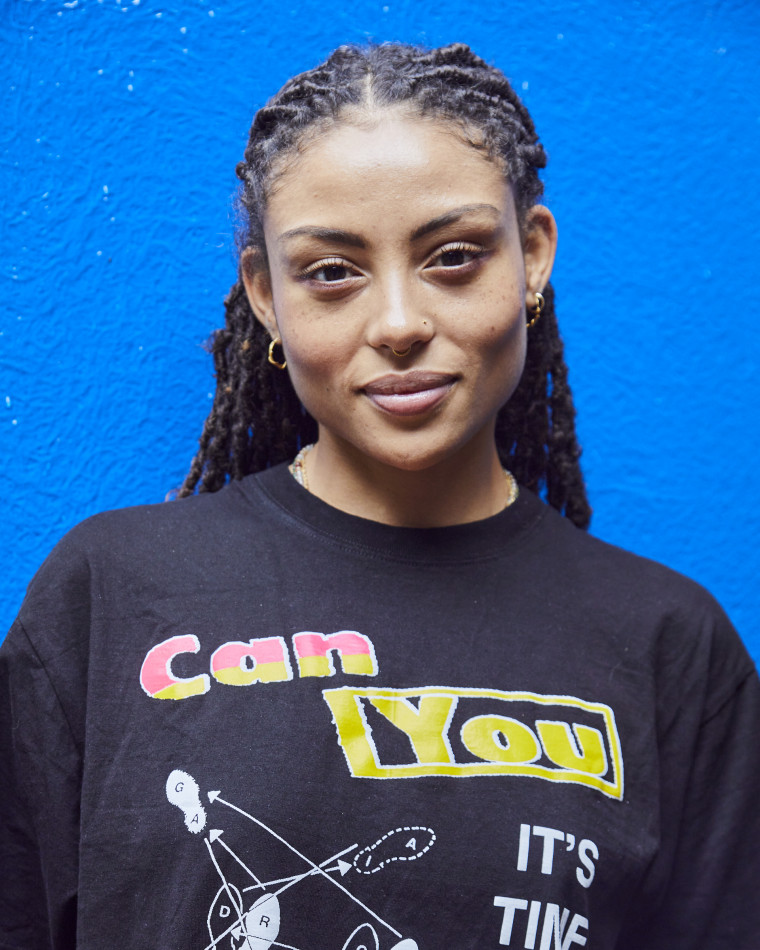 Sunday 6 August - 16:03
What's that tune?
Clone and Radio TNP affiliate Charmaine is staying true to her signature sound with a 90s classic by Larry Heard.
Sunday 6 August - 14:56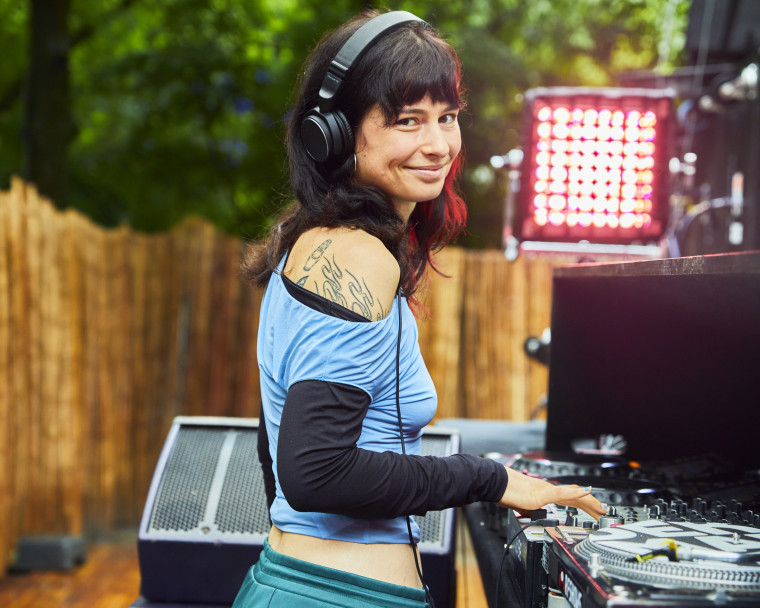 Kicking off the green getaway with a smile
The DJ, and label boss of Animalia & Cirrus from Melbourne kicked off the Selectors stage with her specific, entrancing sound. Among amazing producers & DJs like Dashiell, OK EG, Reptant, Roza Terenzi, the vibrant Kia continues the export of quality music out of Australia.
Sunday 6 August - 14:16
What's that track?
Hearing Charlie Bones open the Greenhouse feels as natural as walking. After having listened countless hours to his radio shows, this cosmic disco-krautrock crossover by the amazing German band Eroc falls exactly in line with the selections we're used to from the pleasantly chaotic DJ.
Sunday 6 August - 13:30
Greenhouse at its best
During her Dekmantel debut, Avalon Emerson took the Greenhouse on a mind-expanding journey through mountainous builds, cresting arpeggios and earworm melodies.
Sunday 6 August - 12:58
Buckle up for the last ride of Dekmantel 2023!
Powering through to the final day, what a finisher we have in store. From Eversines' dreamy club interludes to cult 1970s outfit Cymande, to new MC supergroup DJ Nigga Fox, DJ Danifox and DJ Firmeza, Sunday offers up an assortment of sounds that oscillate between soft and psychedelic to pulverising bass. Wandering around the festival site, each stage is likely to pull you in a different direction, offering up a fresh variety of flows, flavours and eras to sample.

Shifting gear from light to dark and back again, find DJ Koolt on the Selectors. A hot tip from head booker David Cornelissen, Koolt – who is often referred to as the Godfather of the Uruguayan scene – plays vinyl only from his mouth-watering collection. Later on, stop by UFO II for Tzusing's face-melters, before catching Dekmantel darling and this year's curator of Connects, Young Marco closing out The Loop. All this and more beckons. It might be the final hours, but #Dekmantel2023 will be going out with a bang.

Saturday 5 August - 23:00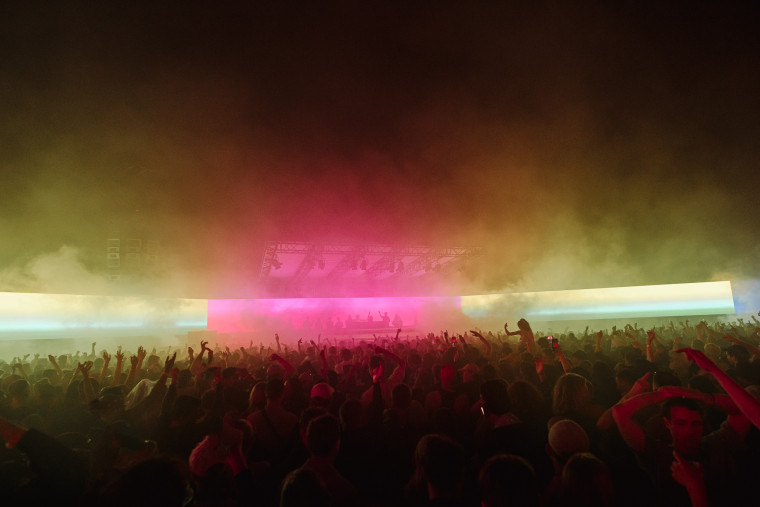 Stellar Saturday
Saturday evening at The Loop was a true testament to the power of techno. The kingpin of ultra-detailed modular synthesis, Blawan's live show was punctuated by atypical micro-rhythms. Surrounded by a tangled pile of patches and a stack of analogue gear, the Voam label co-founder manoeuvred his way through dark, gritty twists and turns, switching from gothic minimalism to jubilant two-step vocal cuts. Closing out, VTSS returned to Dekmantel after her inaugural appearance in 2022. Choosing the heaviest electronics and laser-lit pop, the Polish-born, London-based DJ and producer partnered headsy, heads-down selections with thrill-seeking bass.

Over at the Greenhouse, Shygirl's breathy falsetto was intoxicating. Performing tracks from her debut album 'Nymph', the British rapper kept things hot and heavy, juxtaposing her trademark ethereal voice with bluntly poetic lyrics. Meanwhile at UFO II, Crystallmess' melodic techno, afro-trance and abrasive dancehall set the crowd into a frenzy before DJrum, with his signature, unbelievably slick turntablist skills rode the cross-fader into oblivion. Tomorrow (we can barely believe it!) is the last day, but there's so much in store – radio-darling Charlie Bones, cult 70s outfit Cymande, powerhouse duo Hyperaktivist & Nene H and Wishmountain's triumphant return following a decade-long hiatus.

Saturday 5 August - 22:52
What's that tune?
Shanti Celeste is stealing the hearts of the crowd at the Selectors stage with this oddball by Hamatsuki on the recently released on Saoirse's compilation album for fabric London.
Saturday 5 August - 22:30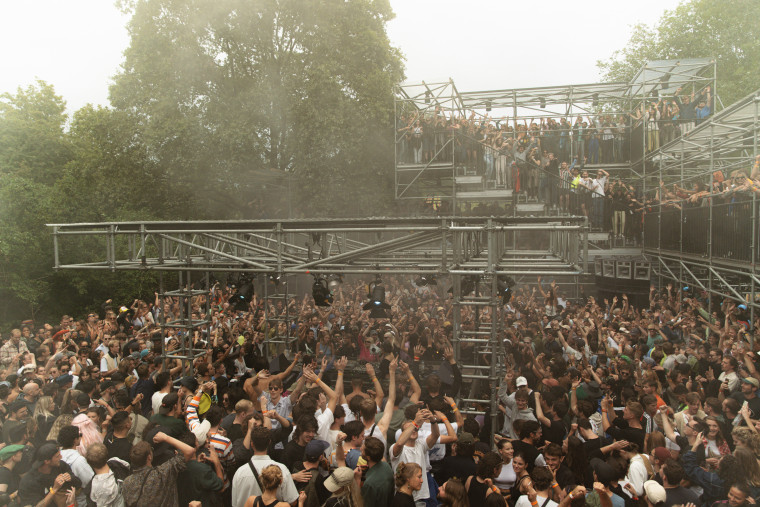 Can you HÖR it?
We're used to some madness at Dekmantel, but the Radar stage with HÖR today was something different. Three levels of people locked into the music. We're happy this is all documented on film.
Saturday 5 August - 22:00
The first-time festival advice you (n)ever needed?
The #Dekmantel23 magazine has some essential tips that can make your festival experience a lot more pleasant for yourself and others around you! For example, we've asked three of this year's DJs their "first-time festival advice you (n)ever needed?":

Salome
"Don't take a huge purse, like I do."

Dis Fig
"Please wear deodorant for your armpit-level-heighted comrades."
Passion DEEZ
"Skip everyone that you've already heard of."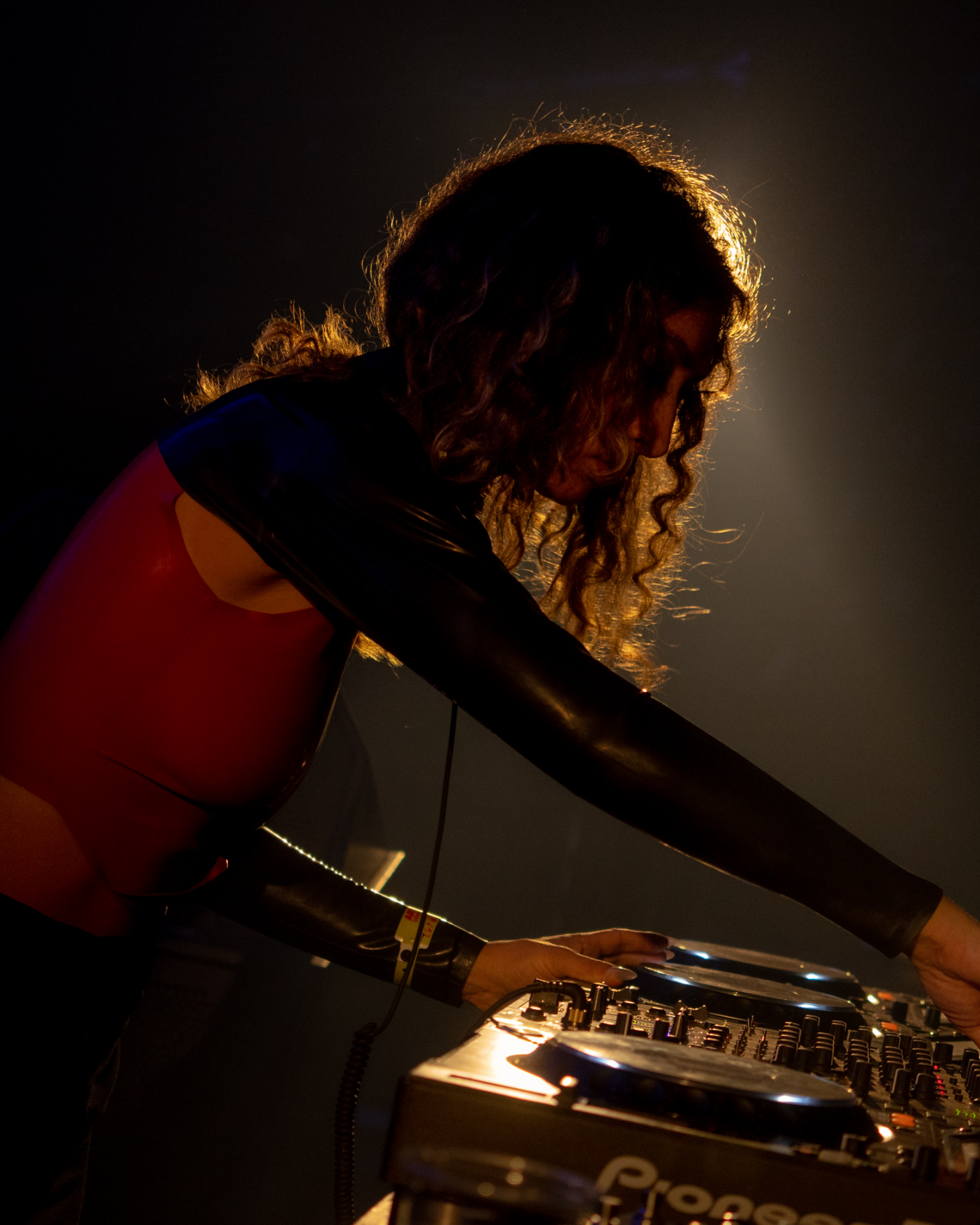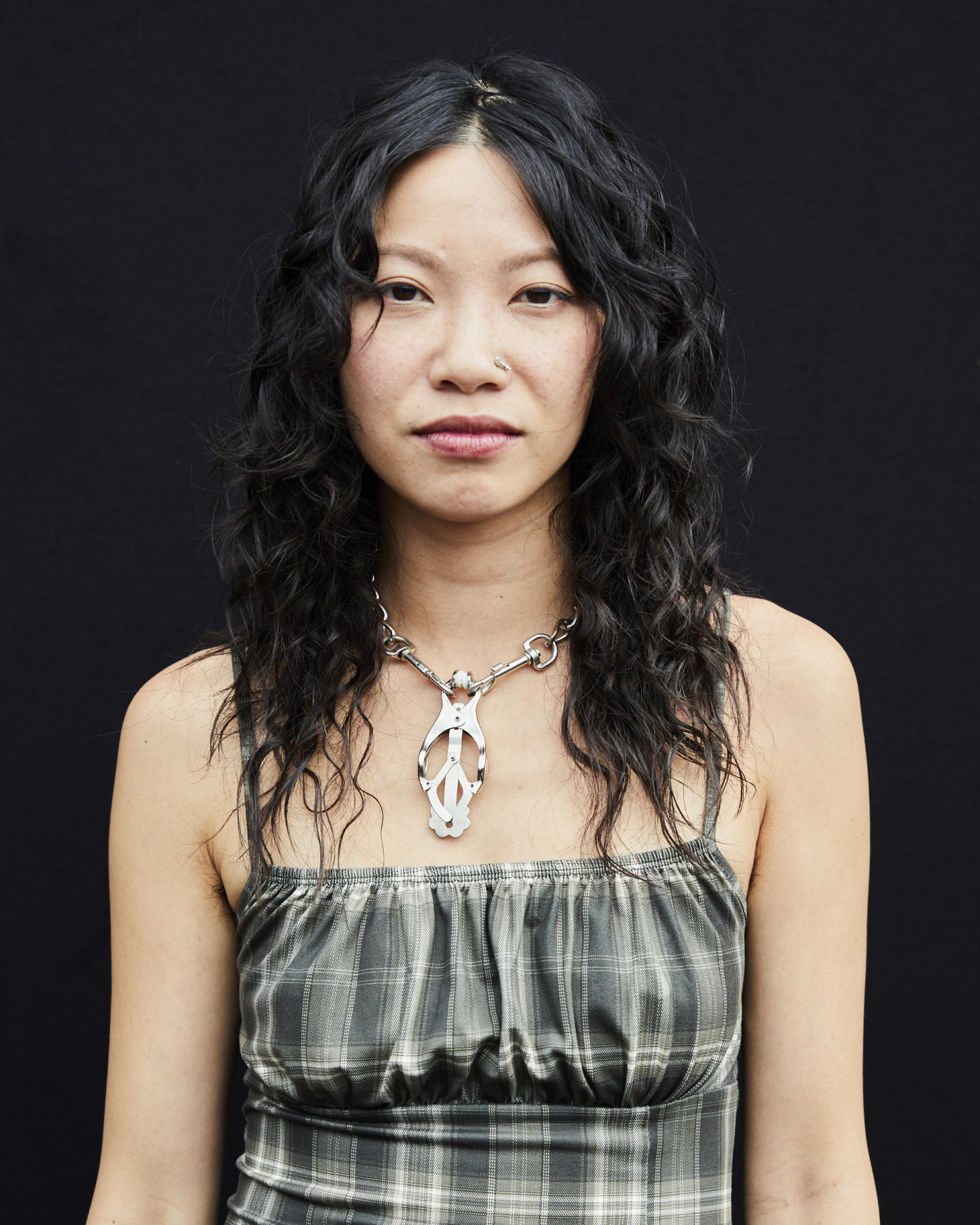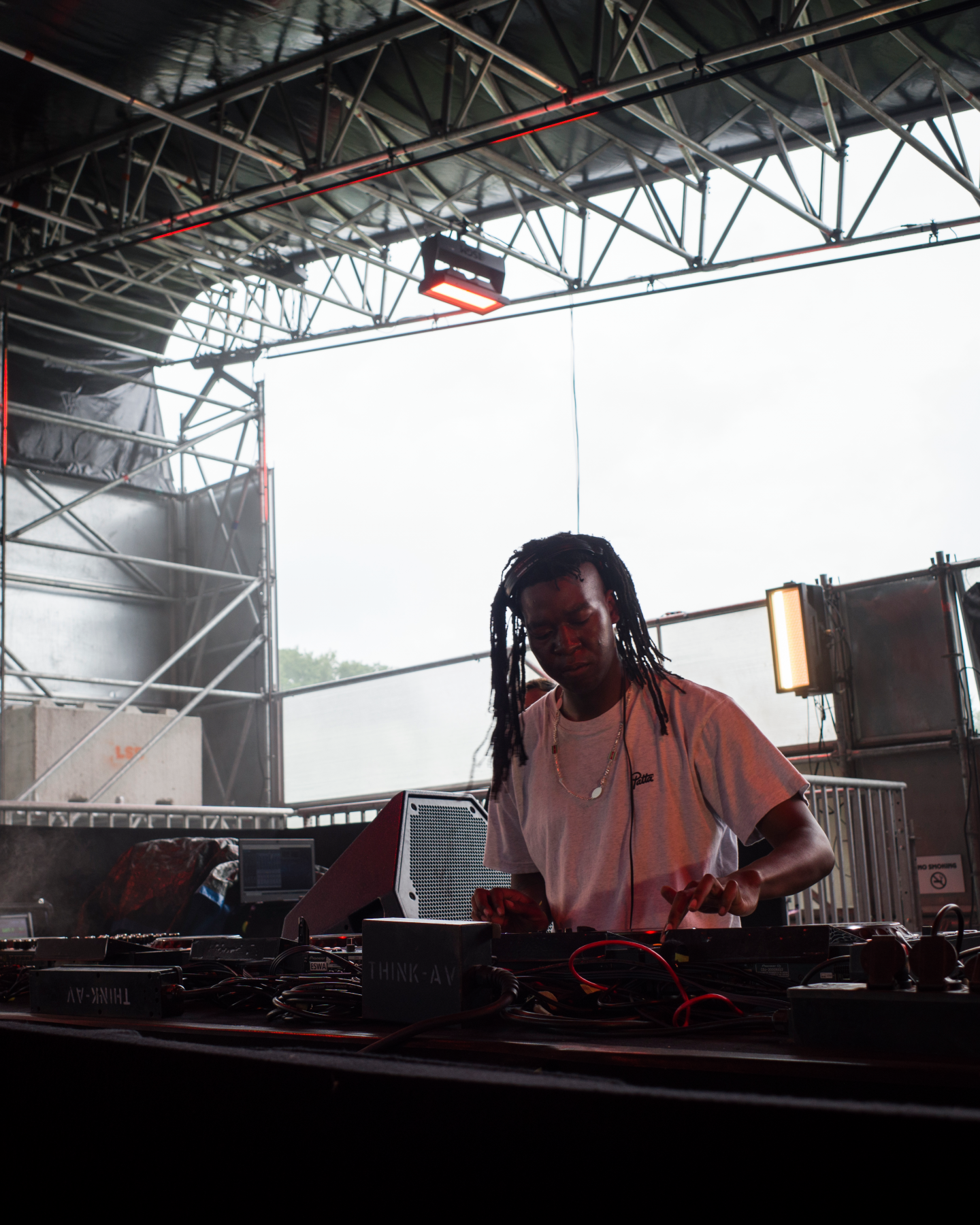 Saturday 5 August - 21:30
What's that track?
The Nest is really on a different level today. Martyn elevates the crowd to new heights with this absolute classic!
Saturday 5 August - 21:03
Local Power
Our city's local DJ power never fails to amaze. Marijn S, Rozaly and roelien all played remarkable sets that closely tie in with Amsterdam's underground sound. Whether it's through their involvement with local radio stations like Radio Tempo Não Pára and Echobox Radio or through their captivating sets in, around and at the edges of the city, these DJs shape up the musical landscape of 020.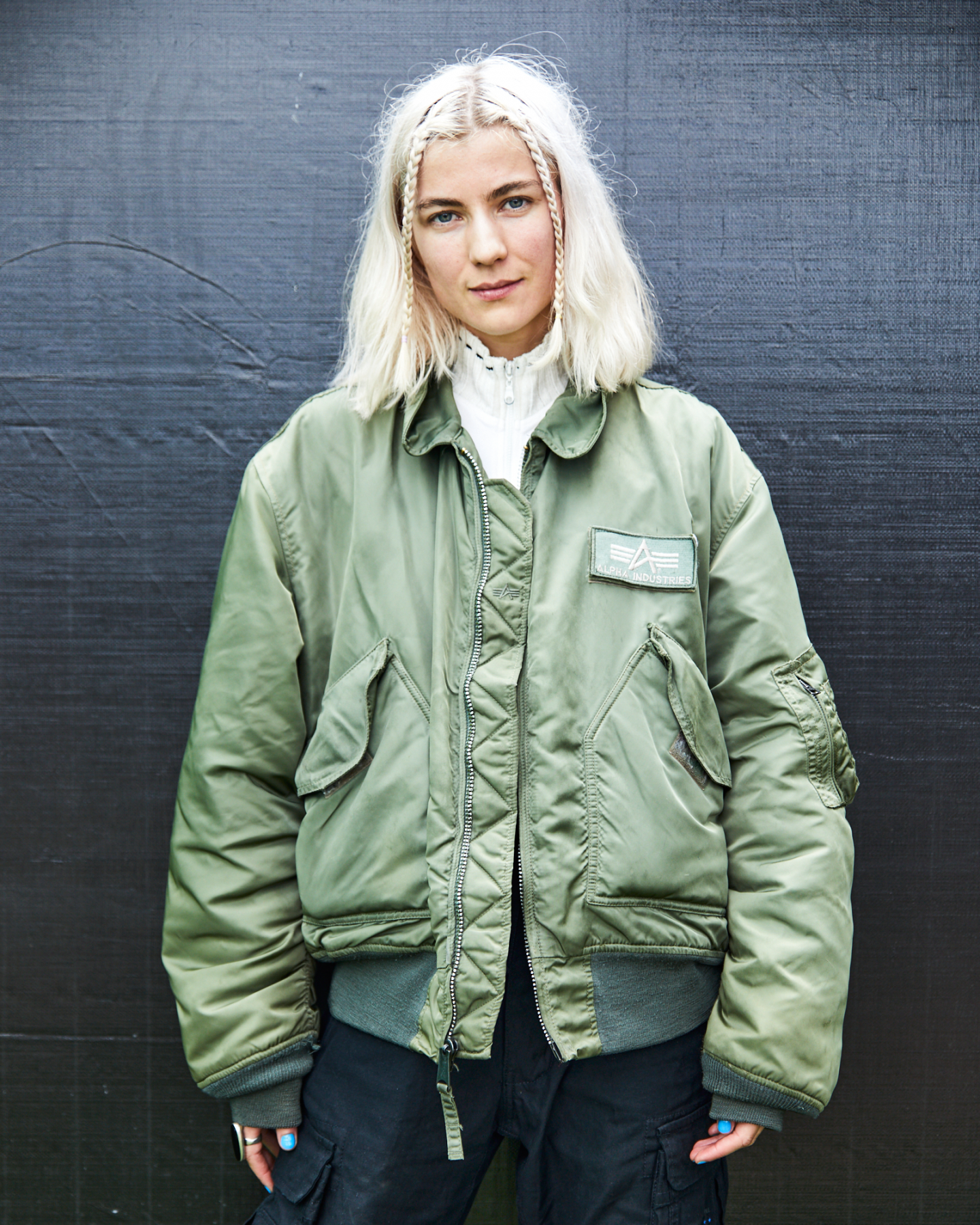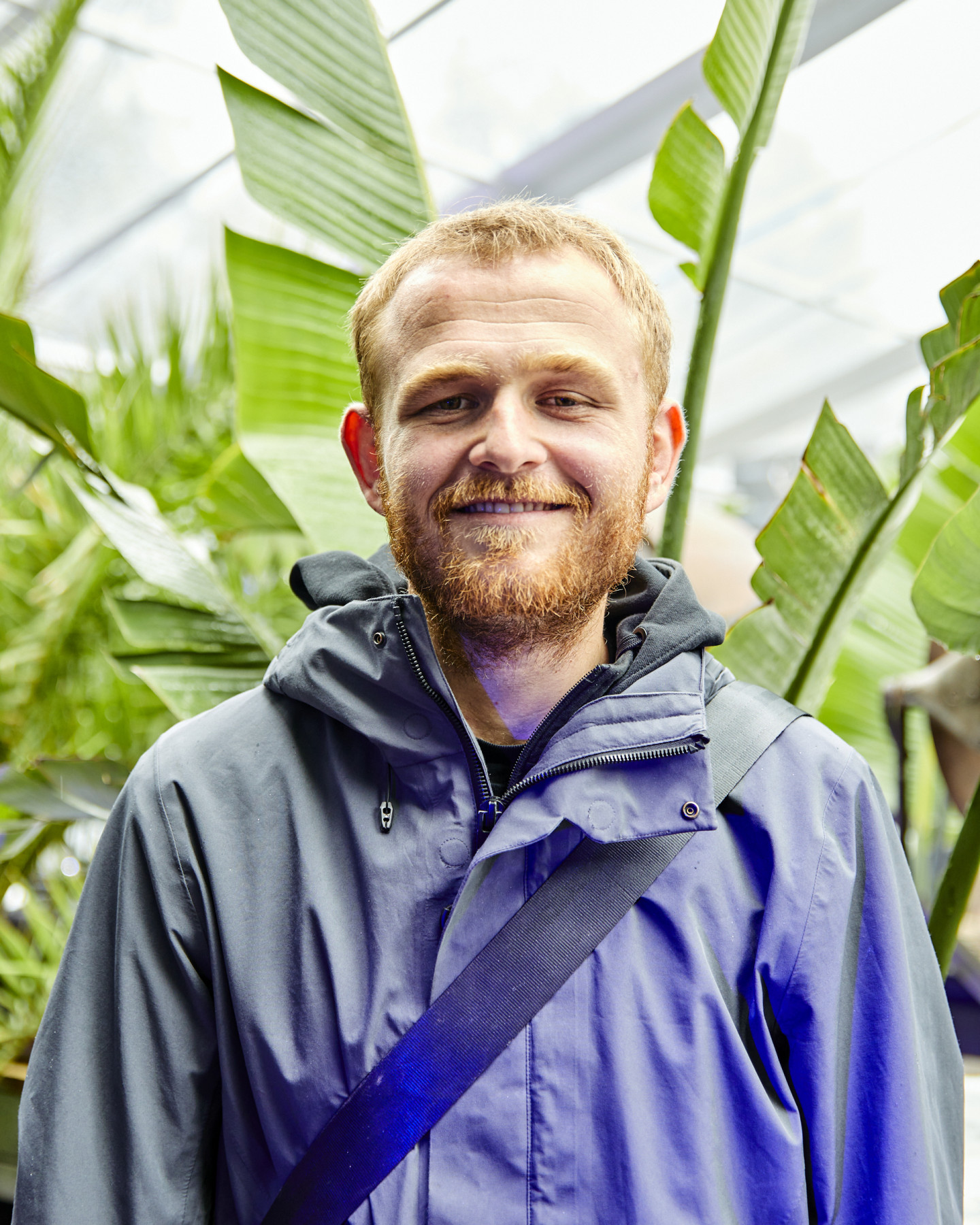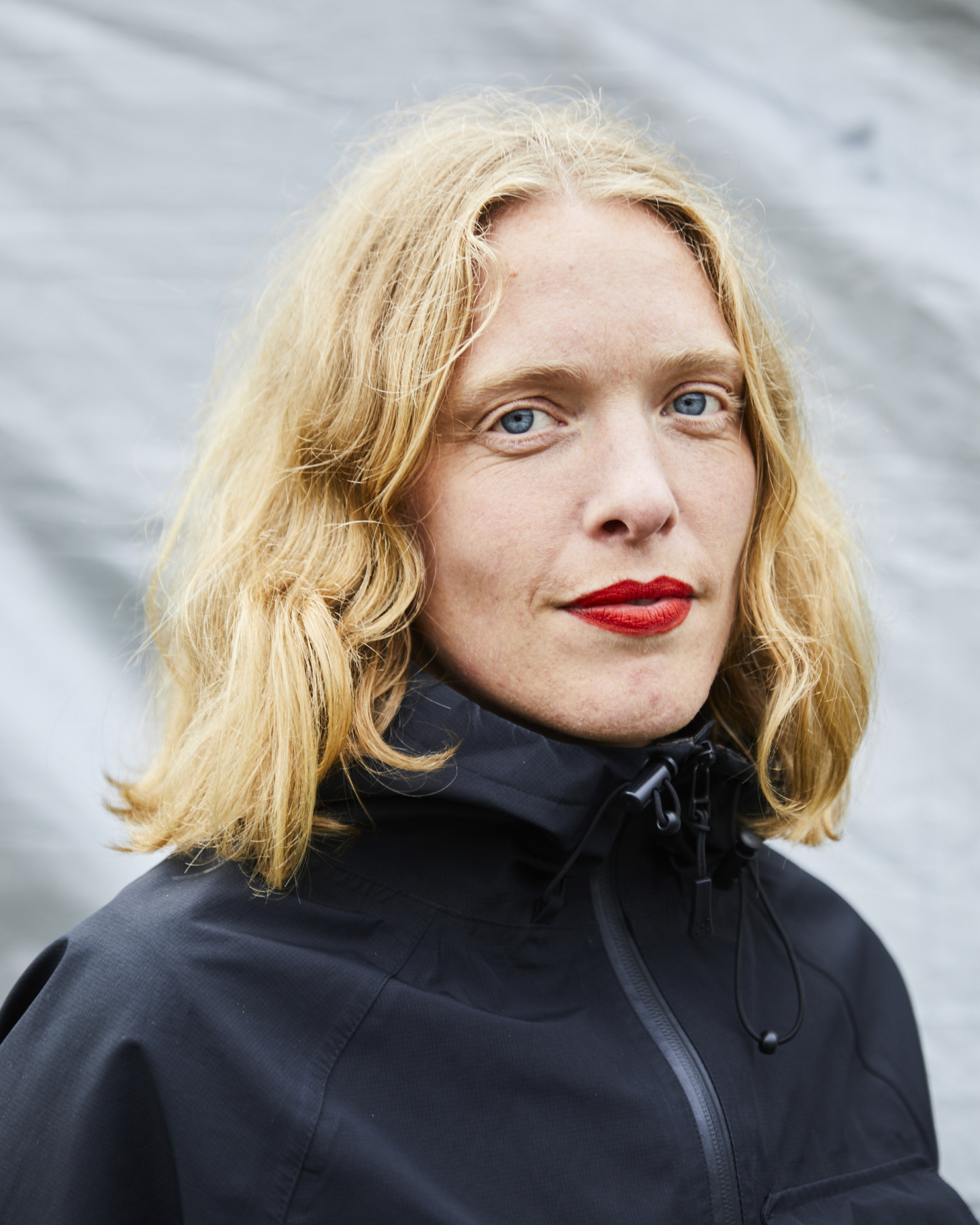 Saturday 5 August - 20:15
The Nest is a place for synergy
Twisting, turning and spiralling at the speed of sound, Ehua and Toma Kami join forces at The Nest for a perfectly frantic back-to-back. The Nest at its best.
Saturday 5 August - 19:52
What's that track?
PLO Man is boosting his way through the Selectors Stage with his unidentifiable selections. Finally, we managed to recognize something in his record collection.
Saturday 5 August - 19:30
Mad Miran Connects
This year's Connects stage is hosted by Young Marco, Mad Miran and Suze Ijó - three longtime Dekmantel familiars - for Friday, Saturday and Sunday respectively. We see Mad Miran jumping and bumping from left to right, she looks happy and proud. We catch her for a few words.

L: "How's your day?"
MM: "Very good. Unfortunately I arrived a bit later than expected because I had to play at the after and needed some sleep, but I still managed to catch a bit of roelien's set. Kleine Kova's performance just now was perfect - it was NICE!"
L: "You played a set with music exclusively from female producers. Tell us a bit about it."
MM: "Yes, I wanted to do something special and different. I am a woman and wanted to challenge myself, and it was actually quite challenging. It made me realize how few women make electronic music. I did my best and was fortunate enough to receive a lot of material via e-mail, really sick stuff from all over the world. Marijn S, for example, SICK!"
L: "When Dekmantel asked you to curate a full-day line-up, where did you start?"
MM: "It was an opportunity for me to program people who deserve a better podium. I love going out and dancing myself to the people I programmed today. I simply thought about the people who I enjoy seeing/hearing, whose tracks I play often and who I think could easily play in the UFO II or the Nest. These people trigger something in me, so I invited them."

L: "If there was one thing you could change about the Connects stage, what would it me?"
MM: "Did you see I had my phone in front of the booth with a little text saying 'Female Producers Only'? I'd love something above the DJ booth, one of those big LED banners with moving text, that display who is being played so creators of the music get more exposure."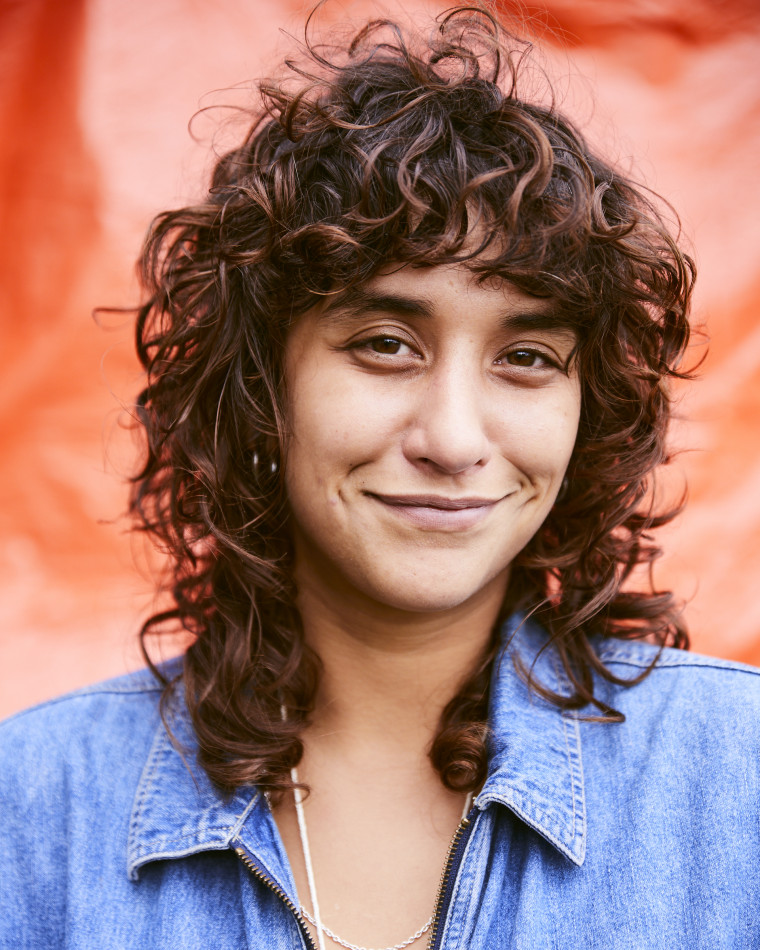 Saturday 5 August - 18:38
The best scenery
Year after year, het Amsterdamse Bos steals our hearts again. Amsterdam's biggest forest has been home to Dekmantel Festival for as long as we can remember.

Did you know that its construction took 36 years, that you can do goat yoga in the spring and that the forest is home to about 1000 newborn grass snake every years? Better keep your eyes open for those...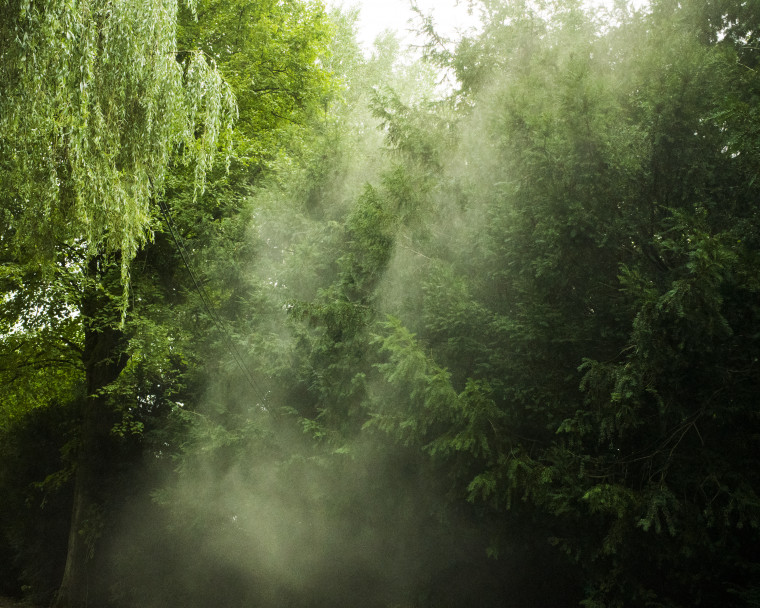 Saturday 5 August - 18:10
What's that track?
Still reminiscing about this 90s house gem dropped by Casper Tielrooij and Gabrielle Kwarteng earlier today...
Saturday 5 August - 17:20
Behind the Scenes: Stage Managers
They operate in silence and are hard to spot in their black outfits. Every memorable set starts and ends with a great stage manager. Without them, Dekmantel Festival woudn't be the same. We caught a few of them for a few words in between welcoming artists, pouring natural wine and protecting the base.
Esther - The Loop
L: "Funniest moment of all time?"
E: "The funniest moment is probably a few years ago. When I went backstage for a moment, I saw 12 DJs on one golf kart racing behind the main stage. Jamie XX, Four Tet, Floating Points... it was beautiful chaos. Also - I don't know if it's necessarily funny, but definitely worth a mention - every year during the closing set, everyone end us crying of happiness. It is a very special moment that everyone sees coming, but it happens again and again."
L: "Do you think you'll cry again this year?"
E: "Come on, Young Marco is closing. 100% we're going to cry."
Camille & Naim - Connects Stage
L: "Favorite moment yesterday at your stage?"
C: "During Sarkawt Hamad's set, the sun broke through the clouds while she was playing a very dynamic set. It was a really nice moment that energized both myself and the crowd."
N: "There were two similar moments with two different artists. When both DJs finished, they had sparkling eyes of joy. Both - Marijn S and Sarkawt Hamad - were moved by what just happened."
Esmee & Puddy - The Nest
L: "What do you like the most about your role?"
E: "What I find very special is that we can empower the artist in their show by being their invisible support, always on their side in the background whenever needed."
P: "Building friendships with the artists. It doesn't matter if I know or like their music, I see them as a human being."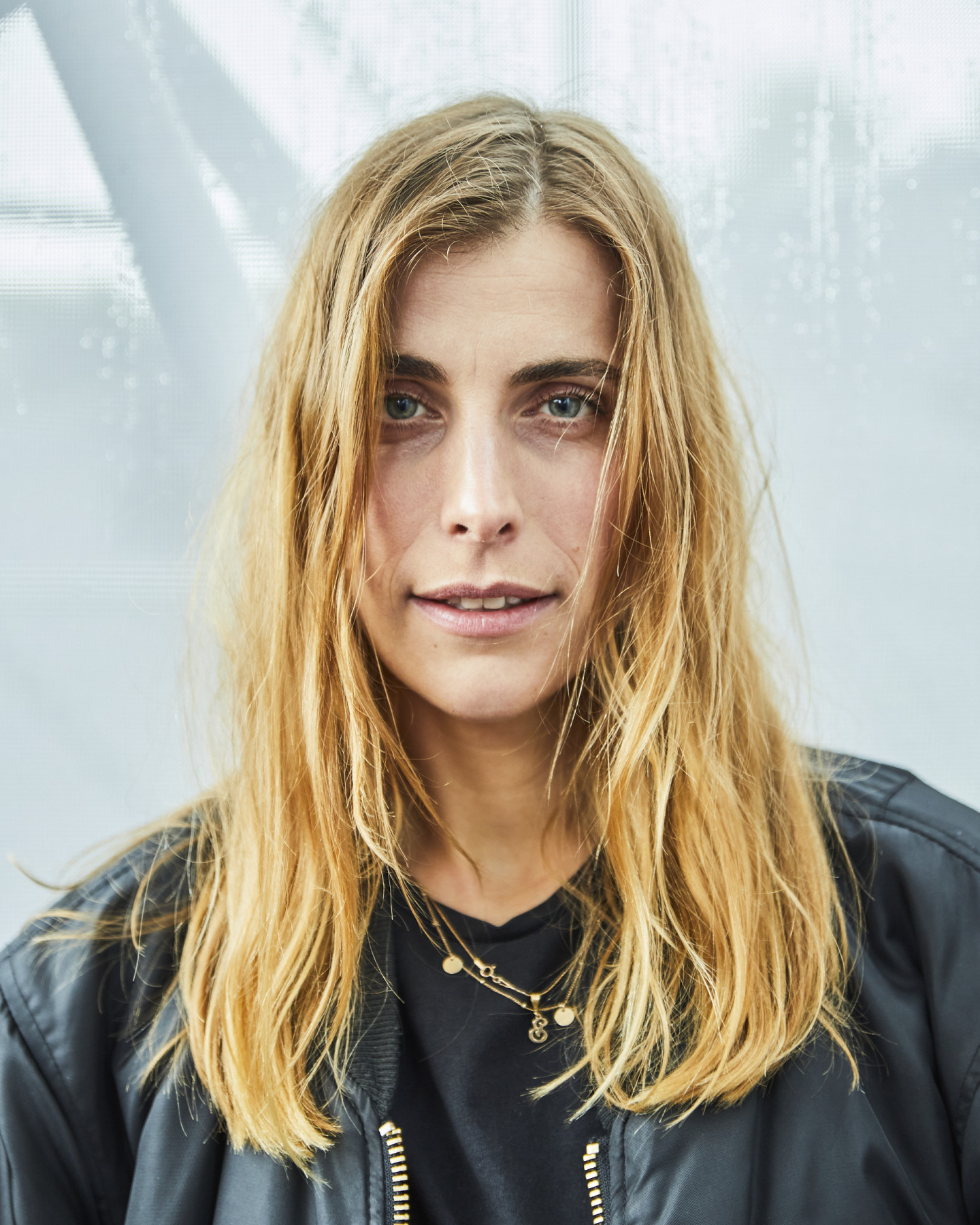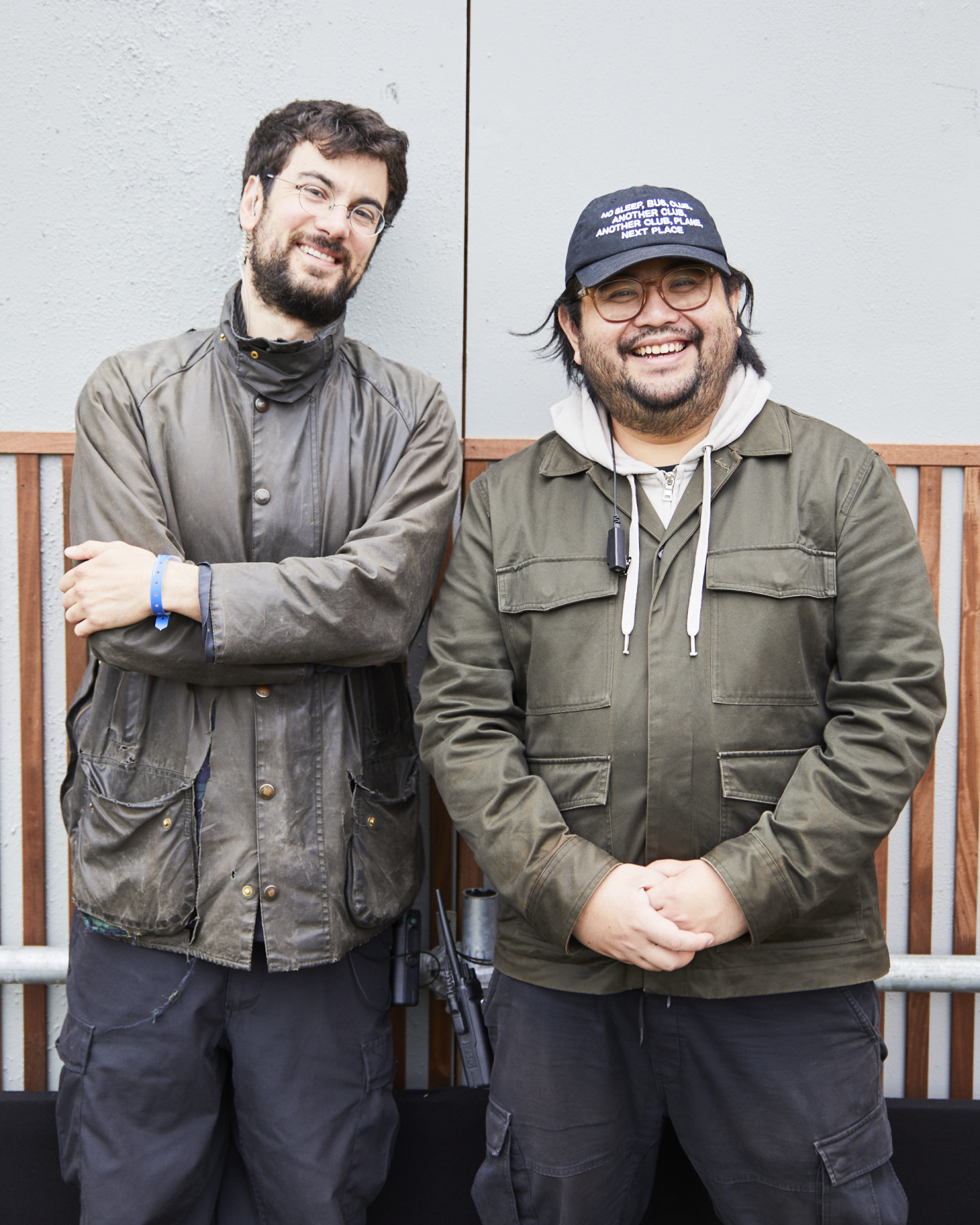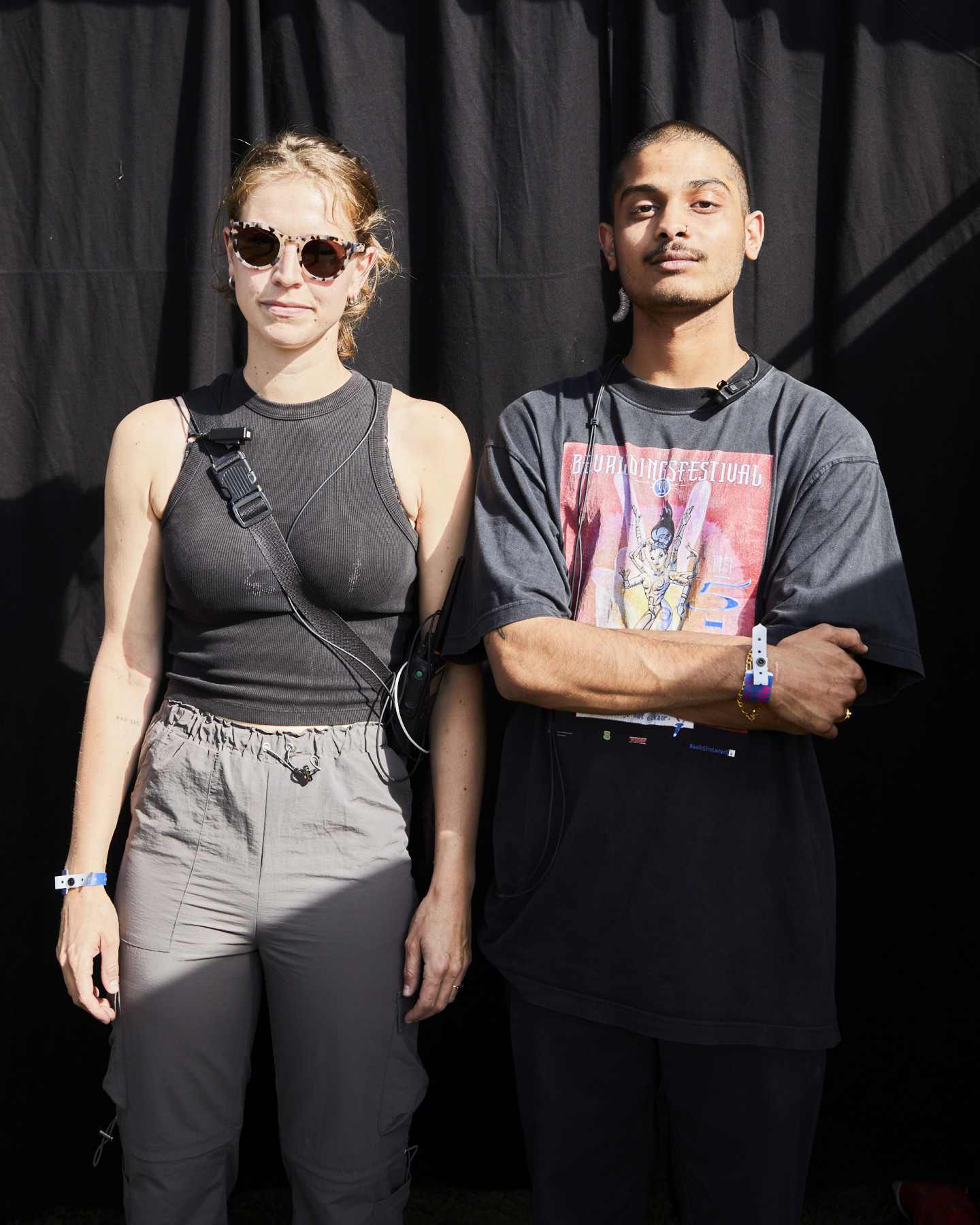 Saturday 5 August - 16:48
Black Gold
Vinyl is not dead - and Ogazón and Garçon are the proof. Both DJs are stealing our hearts with their black gold.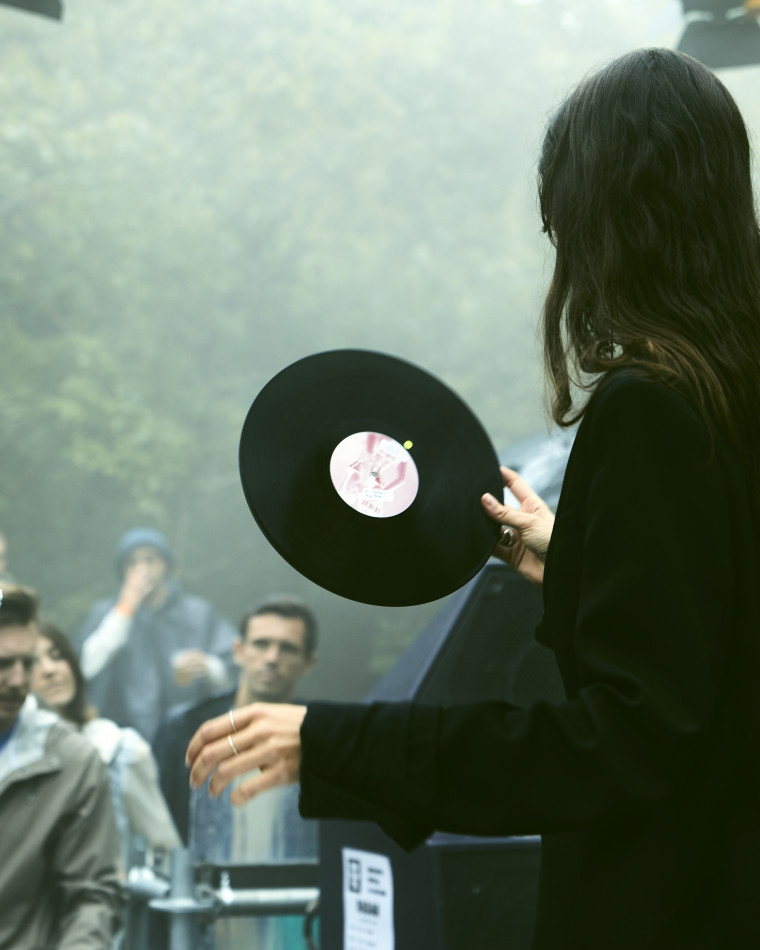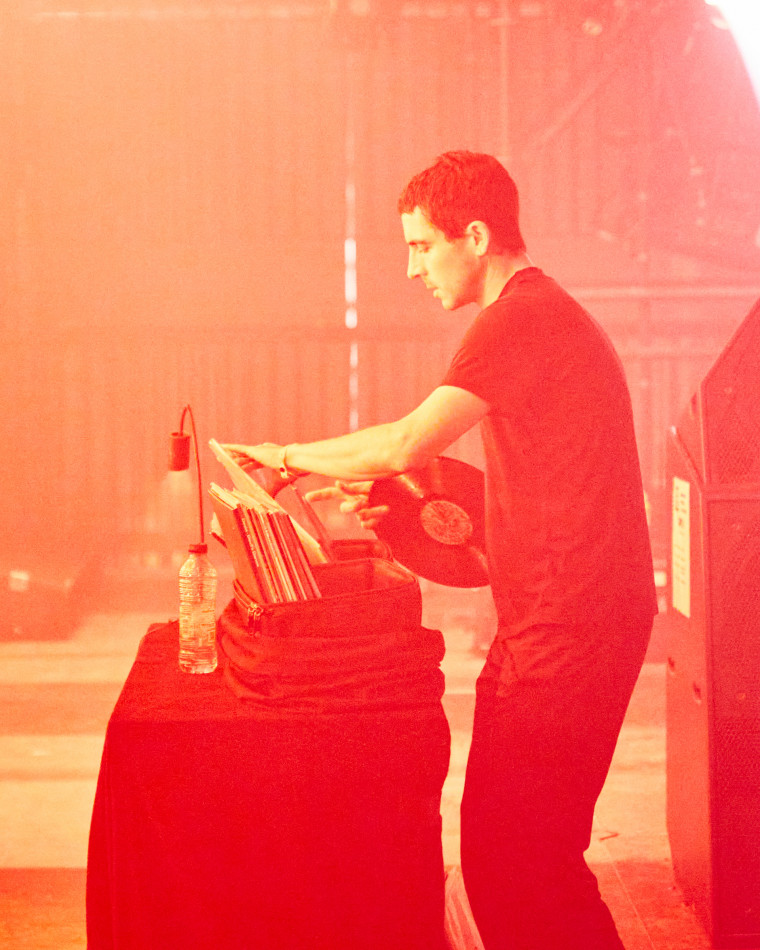 Saturday 5 August - 15:45
What's that tune?
Halfway through Jasmín's 4-hour opening set at The Loop, we couldn't resist to look this entrancing one up.
Saturday 5 August - 15:14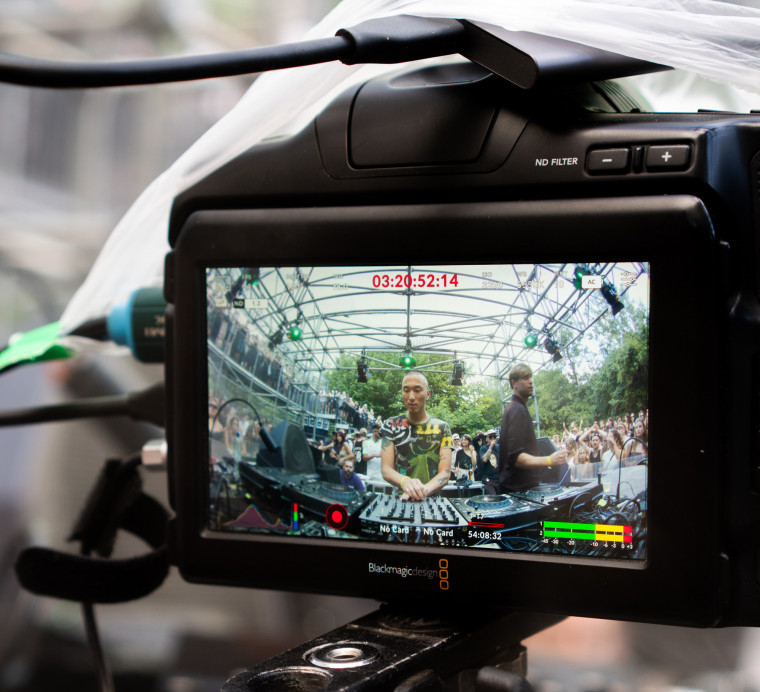 Live again
The Radar stage in collaboration with HÖR is live again all day today with Ogazón, Cinnaman, Ikonika, Slim Soledad, Gabrielle Kwarteng & ISAbella, L.B. Dub Corp, Mama Snake and Interplanetary Criminal. Can't miss this iconic line-up if you're chilling at home.
Saturday 5 August - 14:48
What's that track?
Dis Fig is putting a spell on UFO II with hypnotic electronics by Hypho. Makes you forget about the rain...
Saturday 5 August - 13:30
A highlight in low light
Yesterday Detroit icon Omar S drove, shook and lifted The Loop to his singular heights. After Carista's powerful statement set, Omar S started off with a clean sheet of delightful disco before moving into his own soulful work (gotta love it when hundreds of people sing "I LOVE YOUR GIRLFRIEND" along) and sharper electronics. A truly kaleidoscopic climax.
Saturday 5 August - 13:07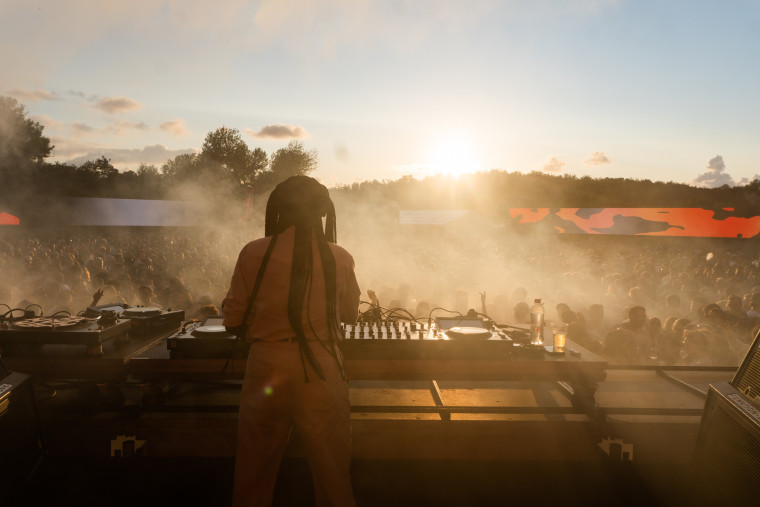 Rise and shine Amsterdam!
And just like that, we're over halfway through Dekmantel 2023! But what an edition it has been so far and with two more jam-packed days lined up, we're far from done yet.

Coming up today, Garçon will be opening the UFO I. The Swiss DJ is firmly rooted in techno, with a singular affinity for the rhythmically multiplicitous landscapes that stretch beyond. Together with Agonis, he helms amenthia recordings, a label that's home to an impressively dexterous repertoire of releases, from the sludgy groove of Konsudd (AKA Konduku and Aa Sudd) to Varuna's mystical, beatless excursions.

Whenever Rrose delivers a new record, no matter what the tempo or genre, the result is always guaranteed: perfectly honed, almost spiritual electronica. Released on her own Eaux imprint in June, 'Please Touch' is no exception. Undulating between radically propulsive rhythms and unfurling synth, the album's title encapsulates her sensual, tactile approach to production – be sure to catch her live.

Saturday sees Amsterdam's all-stars take to the stage. Watch out for local legends Passion Deez, Rozaly, roelien and a special A/V performance by Oceanic. Then there are beloved international returnees like Shanti Celeste, Aurora Halal, Blawan and, making her first ever appearance at Dekmantel, Avalon Emerson is certain to flaunt her expansive take on DJing, venturing into jewel-toned pop ballads, indie bangers and pastoral epics.

Friday 4 August - 23:19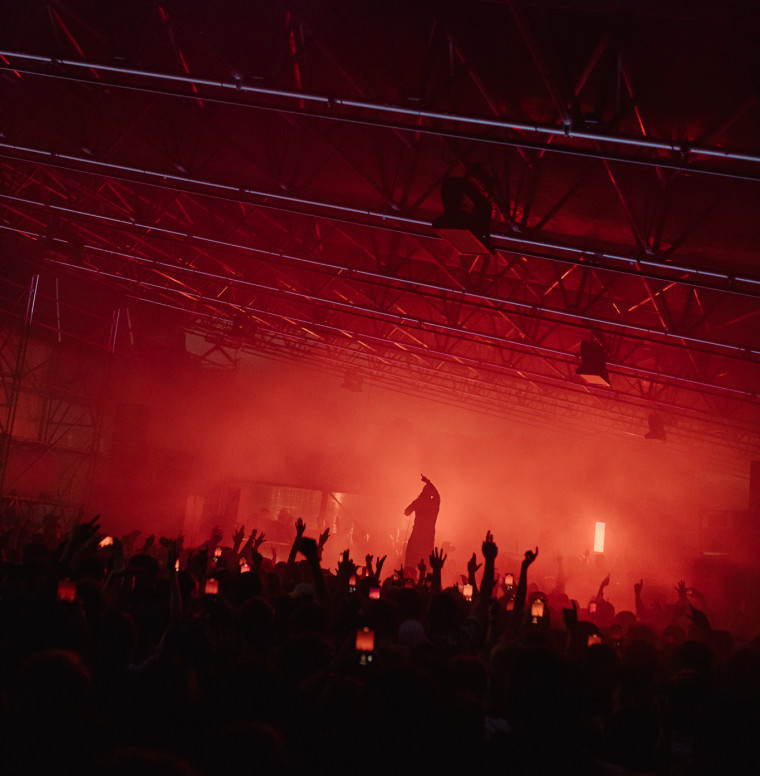 Friday, case closed.
Our year-round anticipation on #Dekmantel23 in het Amsterdamse Bos has been served - Friday is a wrap. Stay on the line for more updates on the liveblog tomorrow. Good night!
Friday 4 August - 23:14
K is the Key
D. Dan & Freddy K took UFO I in its sixth transmission. A match made in heaven.
Friday 4 August - 22:00
UFO I
JakoJako and RAFF treated UFO I what it likes the most: high-paced, high-energy and high-anticipation music.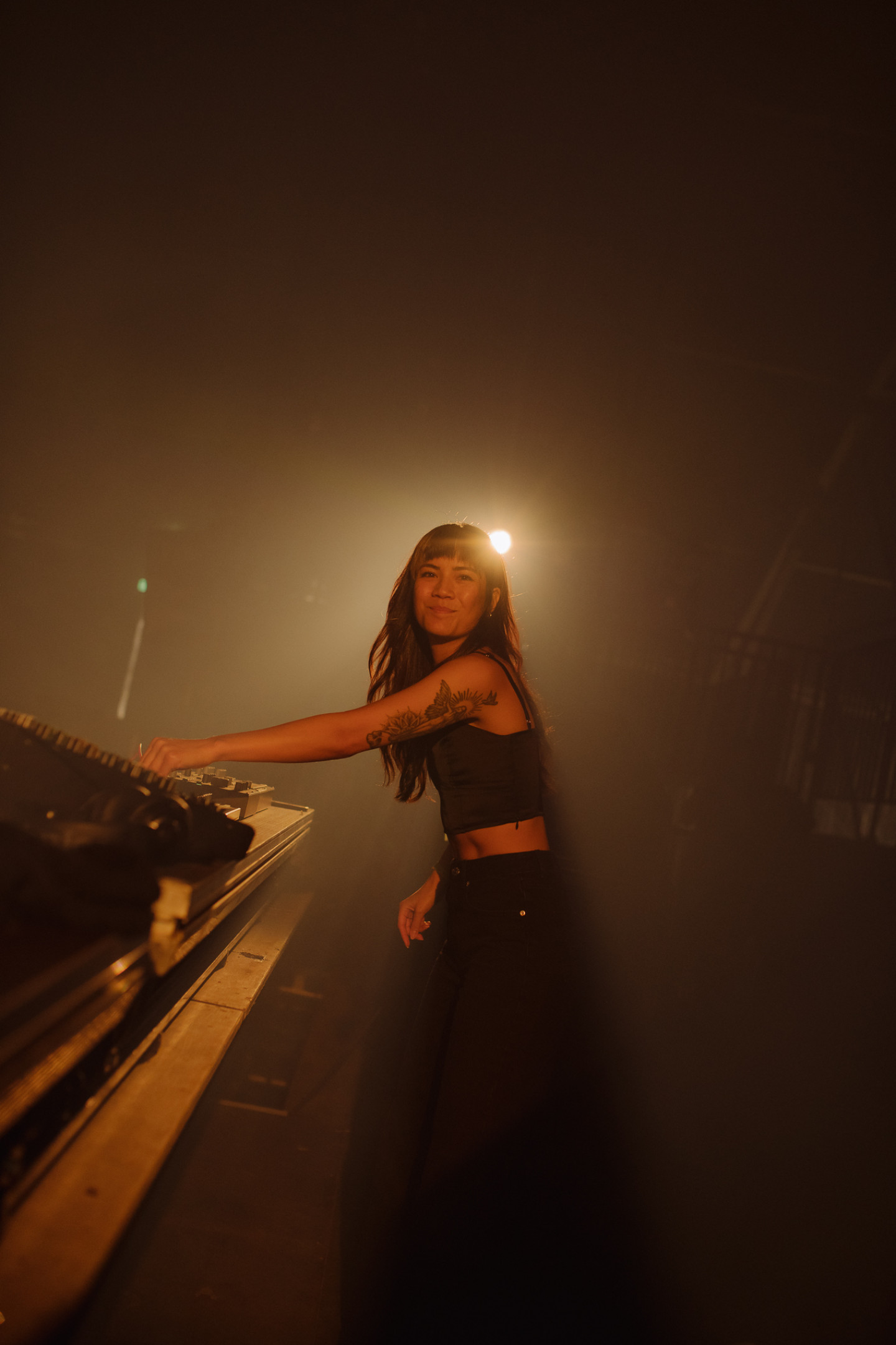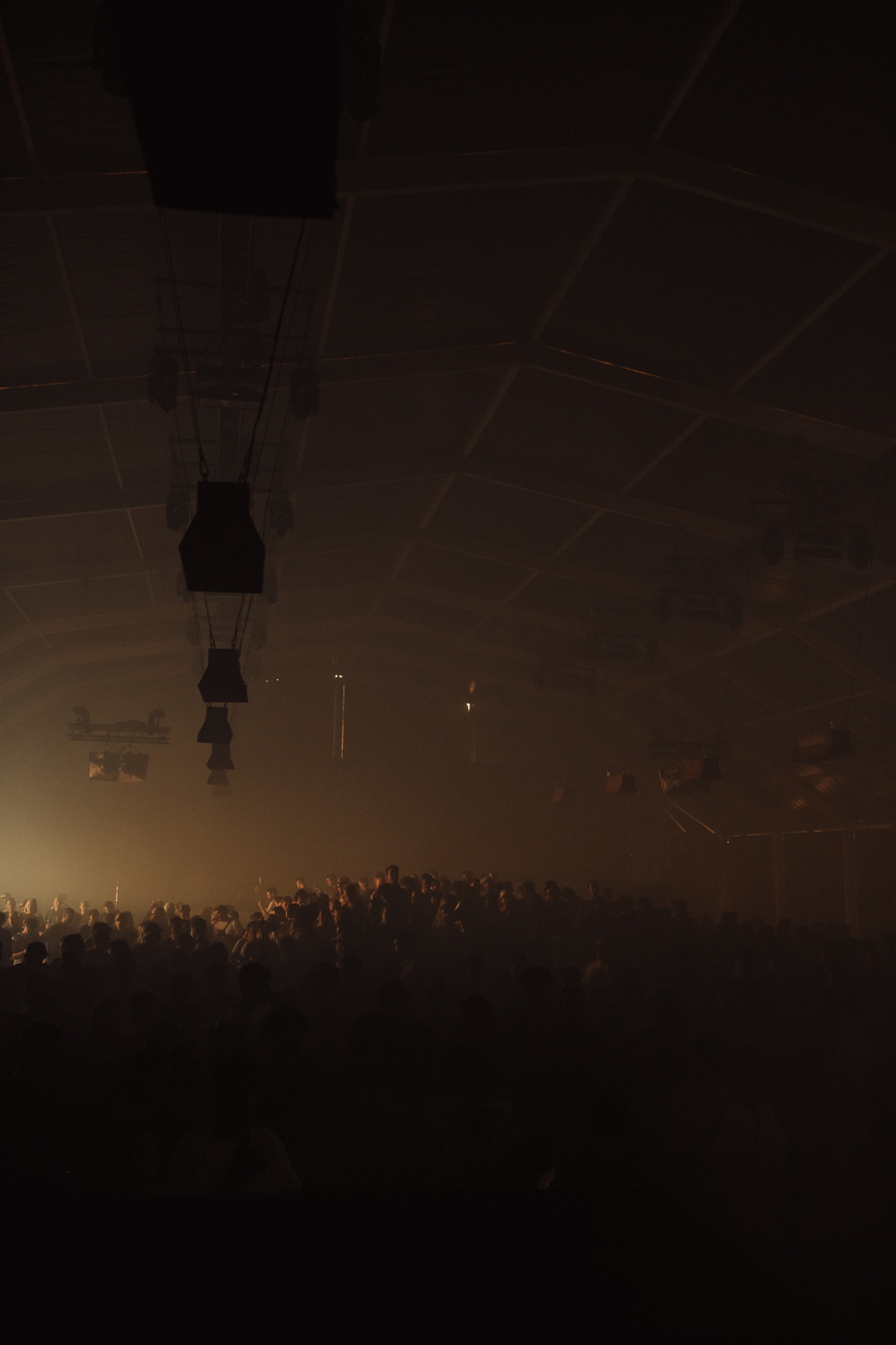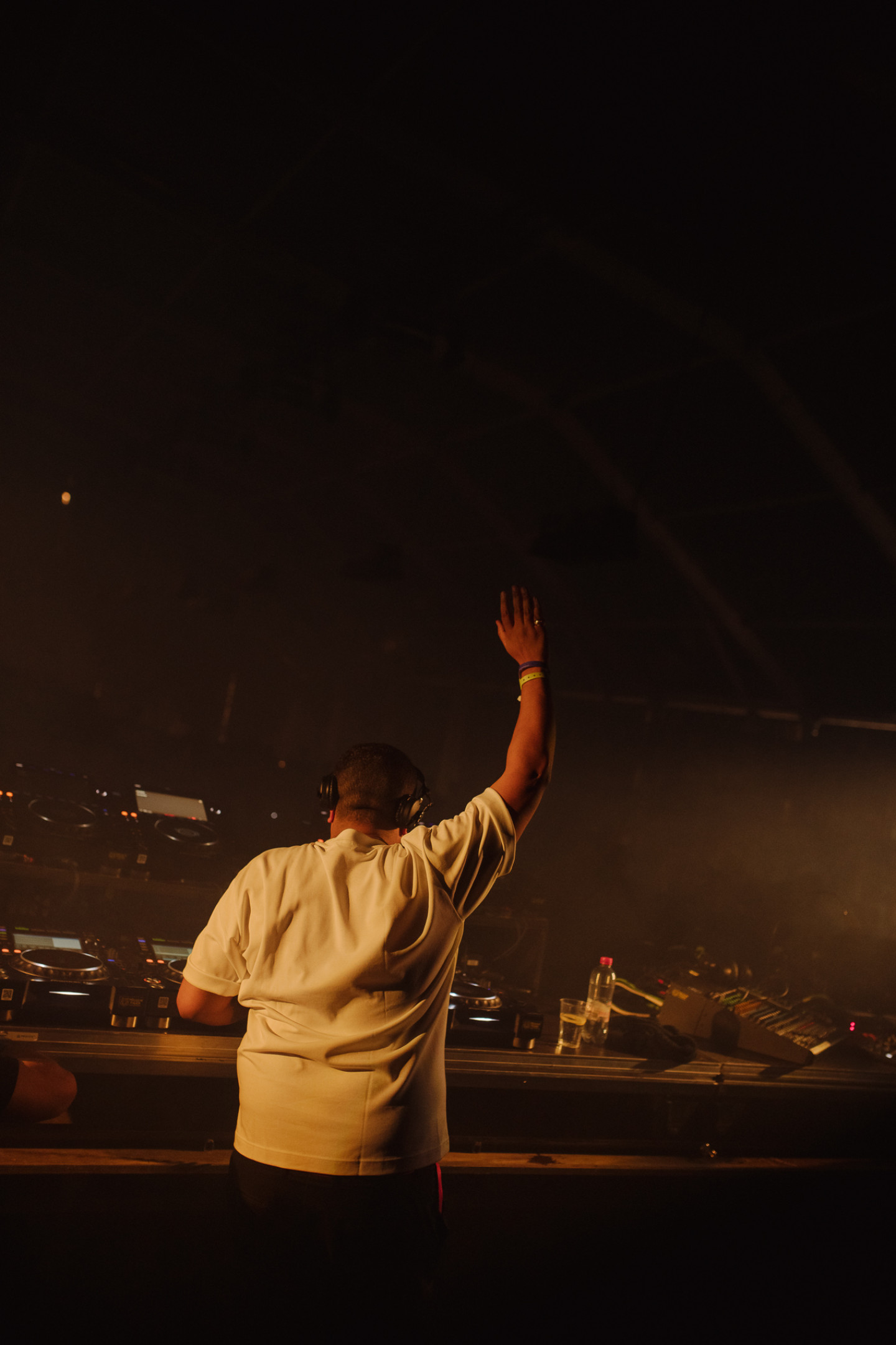 Friday 4 August - 21:30
The HÖR arena
The new Radar stage in collaboration with HÖR overflows from impeccable vibes, and feels like an arena full of people waiting for the next big thing to happen. To follow the livestream from home, head over to our Radar's website.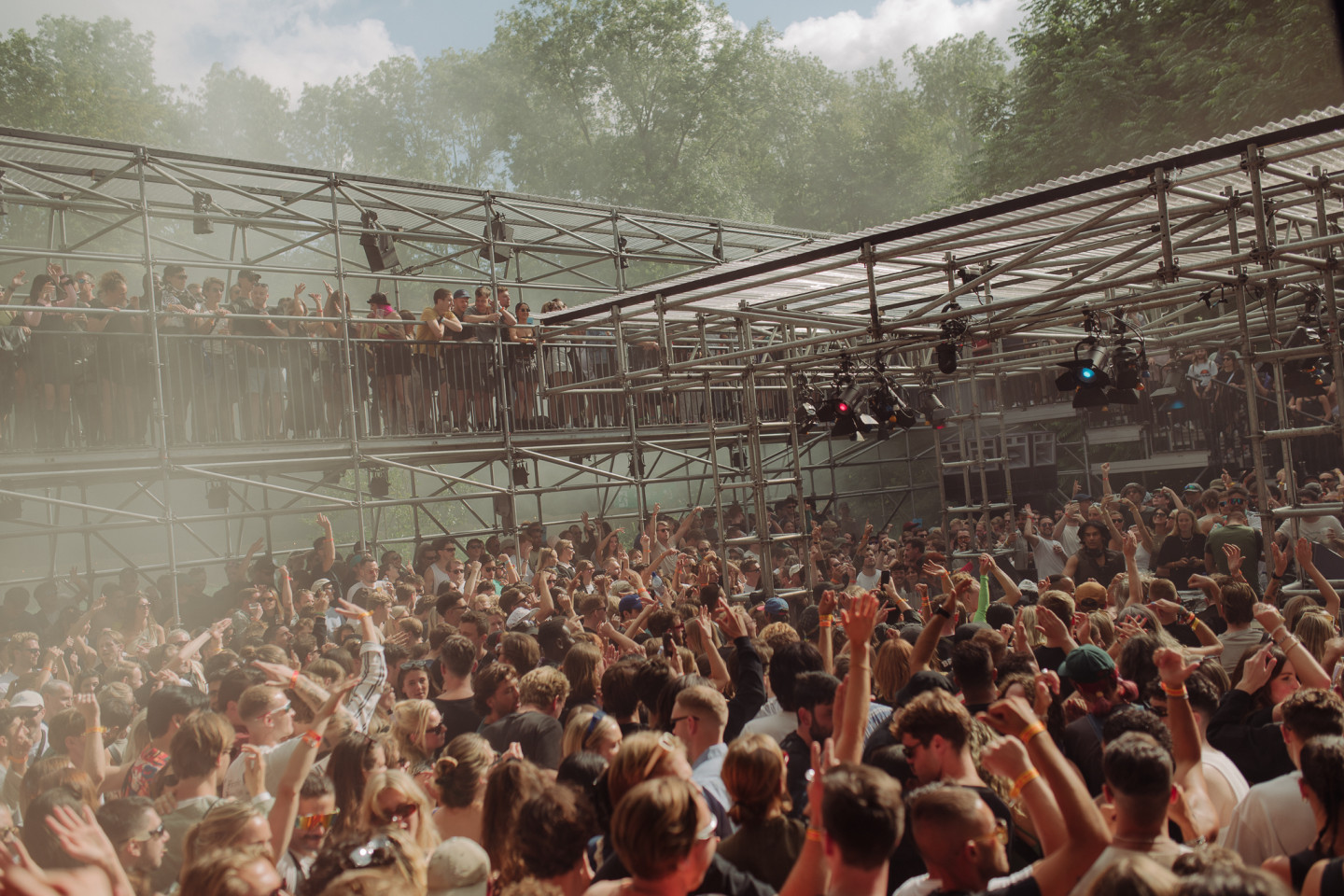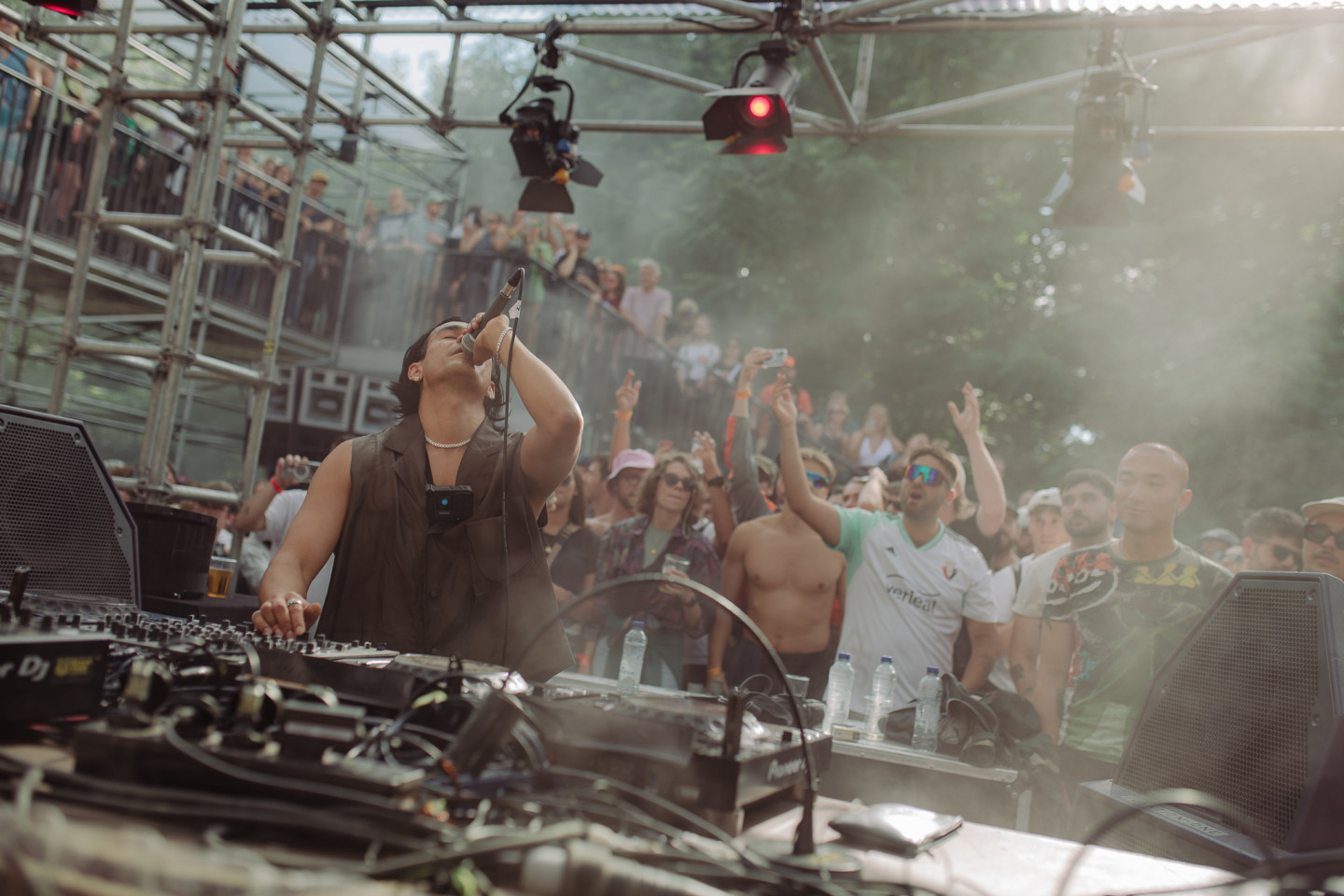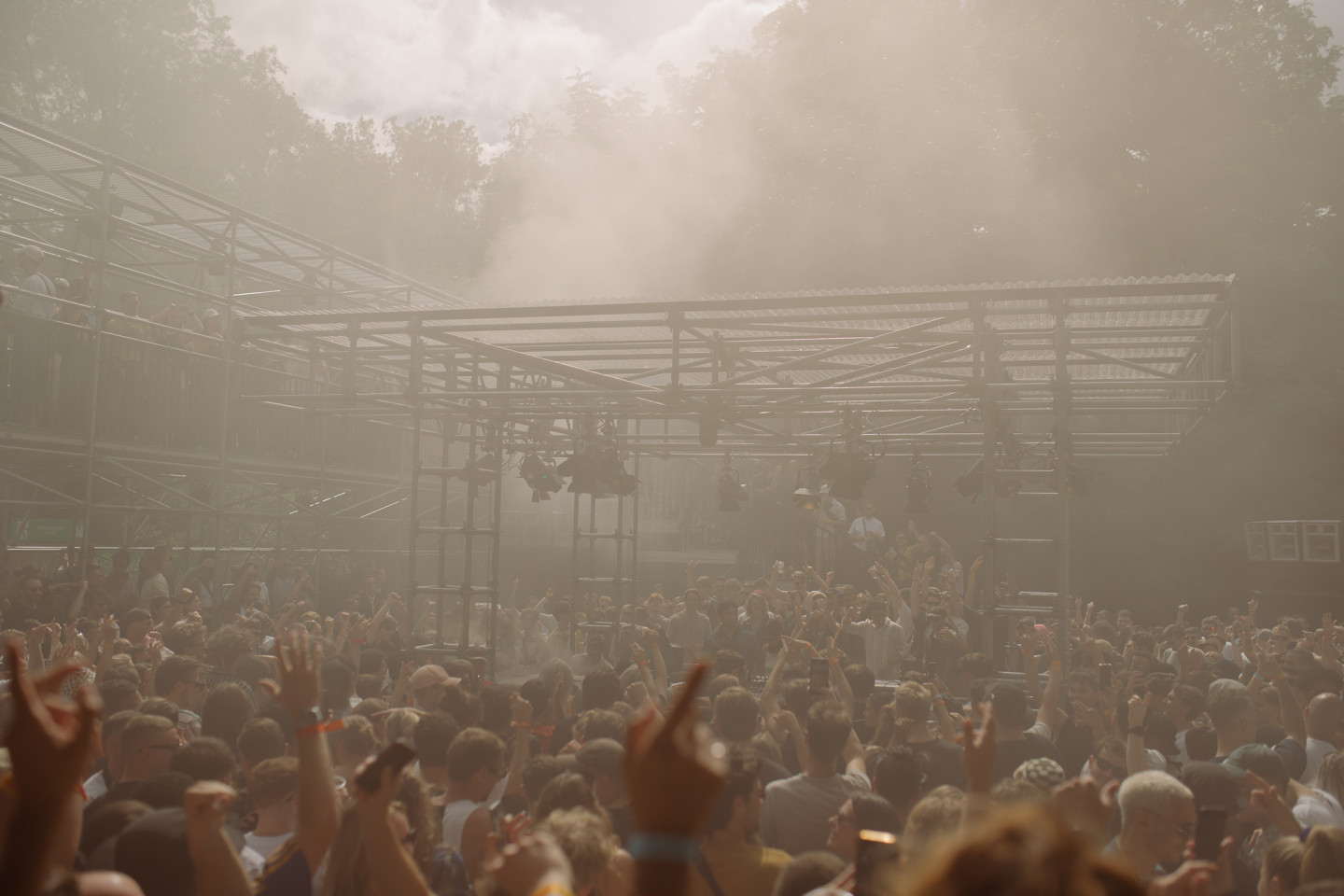 Friday 4 August - 21:15
What's that tune?
Detroit legend Omar S kicks off the Friday grand finale at The Loop with a 2000s delight.
Friday 4 August - 21:00
Helena Hauff's sonic connections
As the ultimate embodiment of a no-bullshit attitude, Helena Hauff is like a refreshing storm after a dense summer day. Simultaneously clearing and electrifying the air with a seemingly bottomless record bag, witnessing the Hamburg-based artist behind the decks – juggling vinyl, vibes, BPMs and cigarettes – is forever exciting and inspiring. Since her first Dekmantel appearance in '15, Helena Hauff has become an essential element of the festival; playing an unforgettable set with DJ Stingray in '16, closing the giant main stage in '18, and drowning out the UFO darkness in '22, to name just a few. This year, she's back at the stage that once began the mutual love affair and became a turning point in her career: the Greenhouse. For the Dekmantel Magazine, Jasmin Hoek went in-depth with Helena Hauff. Here's an excerpt:

J: "Hi Helena. I've seen you play countless times and every set is different, but also very recognisably you. How do you prepare for a set in the earliest part of the pro- cess? Which elements of a gig do you take into consideration beforehand?

H: "It depends. Sometimes I don't prepare at all or just take some ran- dom records with me, and sometimes I still have some records with me from the weekend before, and end up not having time to change them beforehand. Other times, like for a couple of the Dekmantel shows, I think about who's playing before me and who's playing after, and how I can make that transition. I take over from the artist before me, keep up their vibe, and slowly progress into something different that is more in the direction of the artist playing after me. I do that a lot actually, when I'm considering what to play. Obviously, it only really works when I have some kind of sonic connection to the other artists on the stage. If it's too far away from what I do, I tend to ignore it, and do my own thing. I do believe the best sets often happen when you take the bag that you played with the weekend before, and try to create a new set out of what you've already played. When you think 'maybe I should play the other side of that record today', that's when the fun and surprising things happen. I've noticed that even more with B2B sets, the best ones happen when it's unprepared."
Friday 4 August - 20:30
What to expect?
"I'm a little bit unsure about this one... It's a dance festival, and I don't do that at all." Just before Gary Numan's performance in the Greenhouse today, we asked the synth-pop star what to expect.
Friday 4 August - 20:15
First thing that comes to mind about Dekmantel Festival?
The #Dekmantel23 magazines flew out the box! In case you did not manage to get your hands on one, we're here to share a few excerpts from the magazine. We asked this year's artists "What is the very, very, very first thing that comes to mind when thinking of Dekmantel Festival?":

Nèna
"Portaloo-gate 2014"
Ikonika
"Doof Doof doof"
Tash LC
"Great sound and openmindedness"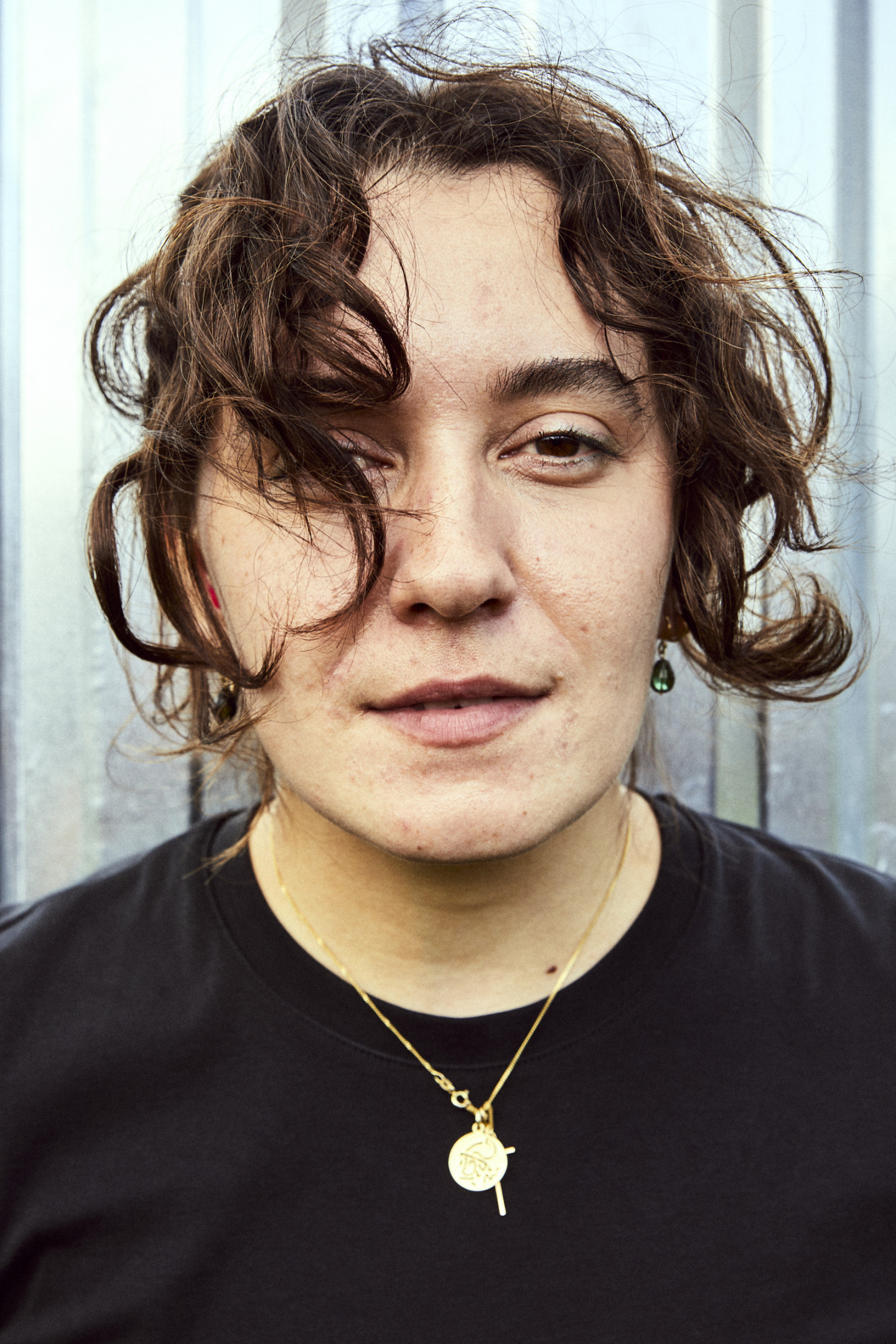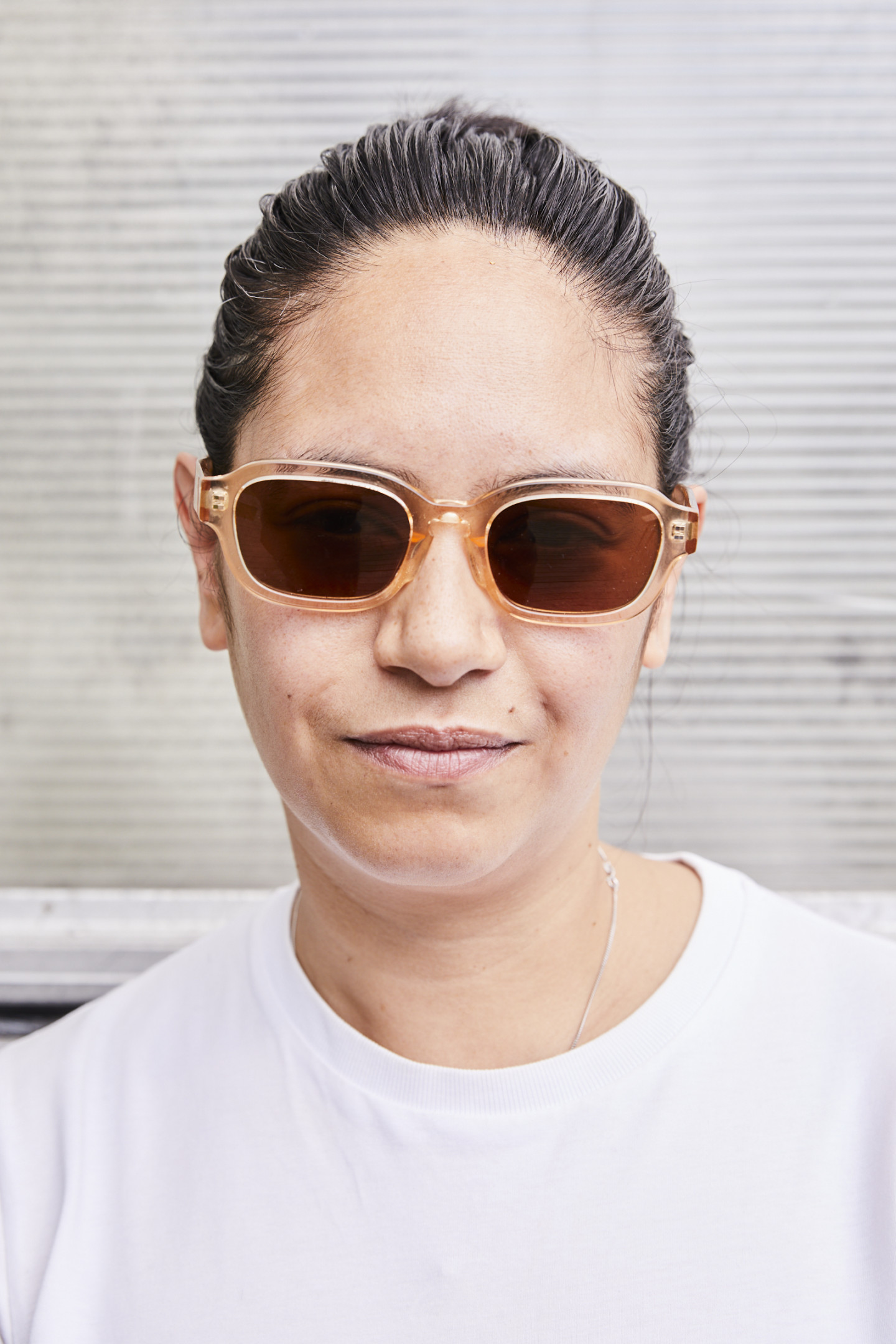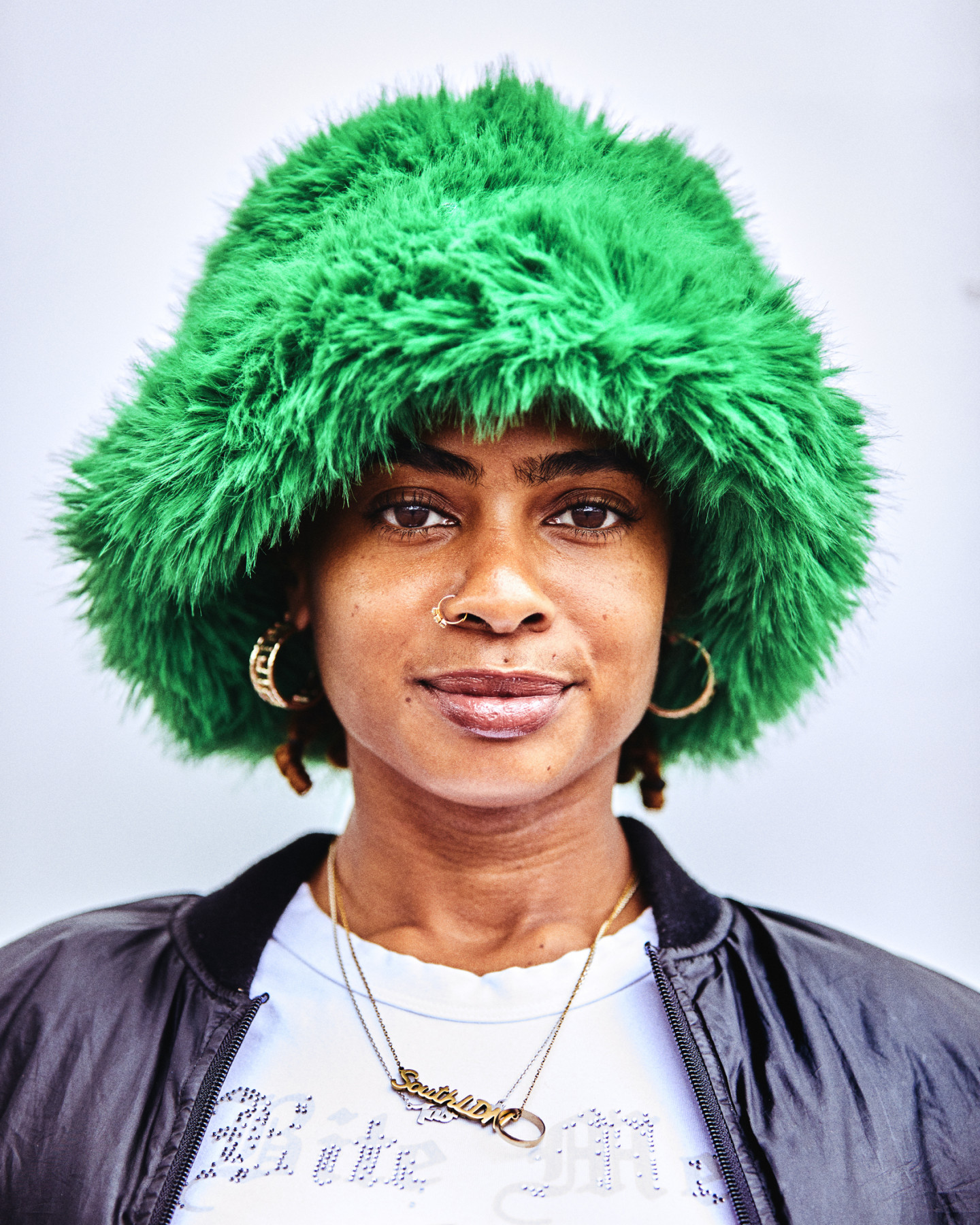 Friday 4 August - 20:00
The Top Guns of Gop Tun
Transporting that São Paulo flair to Amsterdam. A moment captured while the Gop Tun crew opened our Selectors stage with 200+ minutes of top-tier club music.
Friday 4 August - 19:45
A warm welcome
After making the dancefloor explode, C.FRIM hands over the keys of The Nest to MikeQ. A beautiful moment captured by our photographer Tarona. Now, time to bounce again.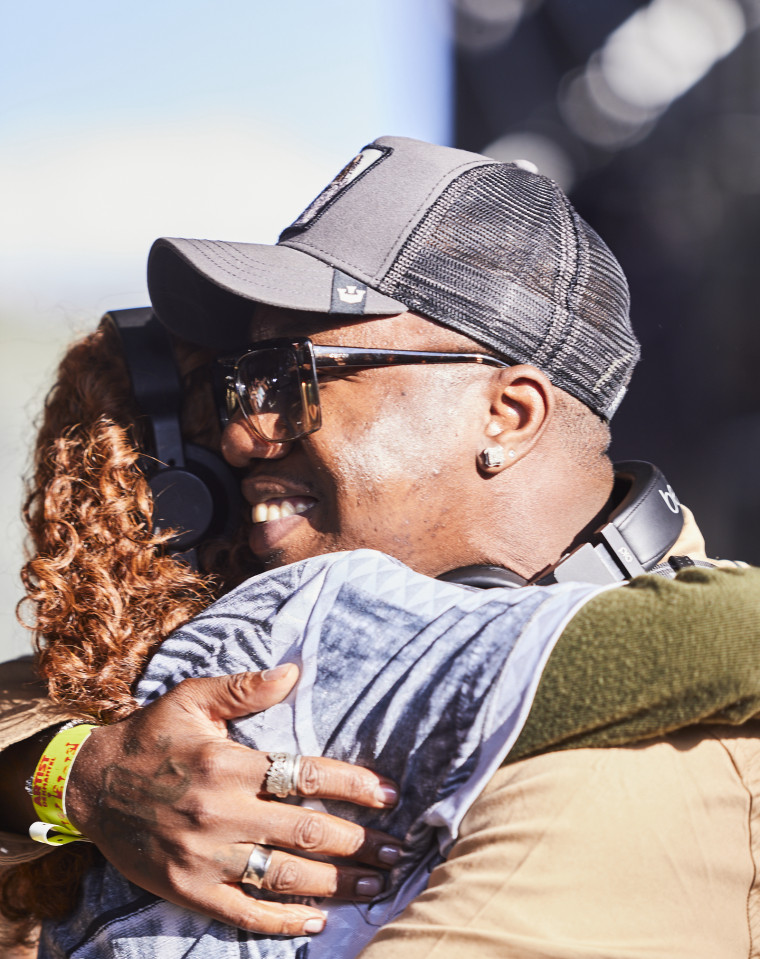 Friday 4 August - 19:30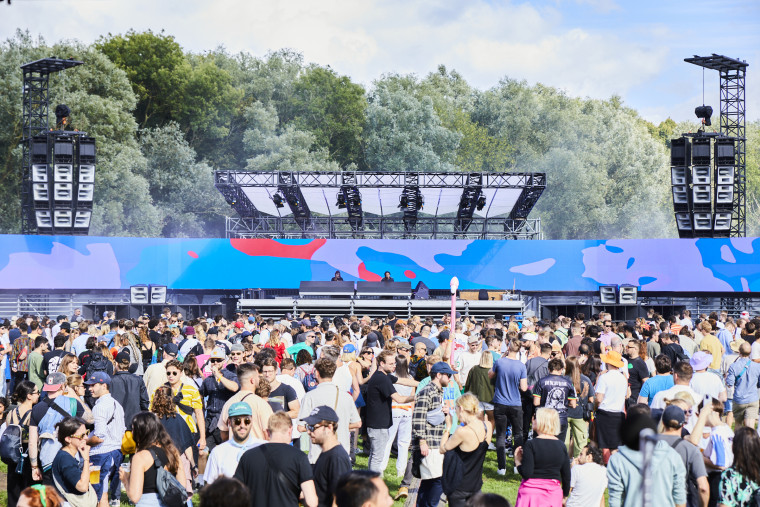 New Year, New Me
This year the #Dekmantel23 main stage, The Loop, went through a big transformation. Same background, different foreground. Can you spot the differences?
Friday 4 August - 19:04
What's that tune?
Never not the right time for a cheeky one. livwutang knows how to get the crowd on track again!
Friday 4 August - 18:26
Raver from head to toe
The recently released XT-4G OG shoe in collaboration with Salomon is making quite the appearance in het Amsterdamse Bos. Designed by Michael Willis, the shoe pays homage to Dekmantel's home ground and the unstoppable festivalgoers that unite there. Don't worry if you're not around the merchandise stall, you can get yours via the webshop too!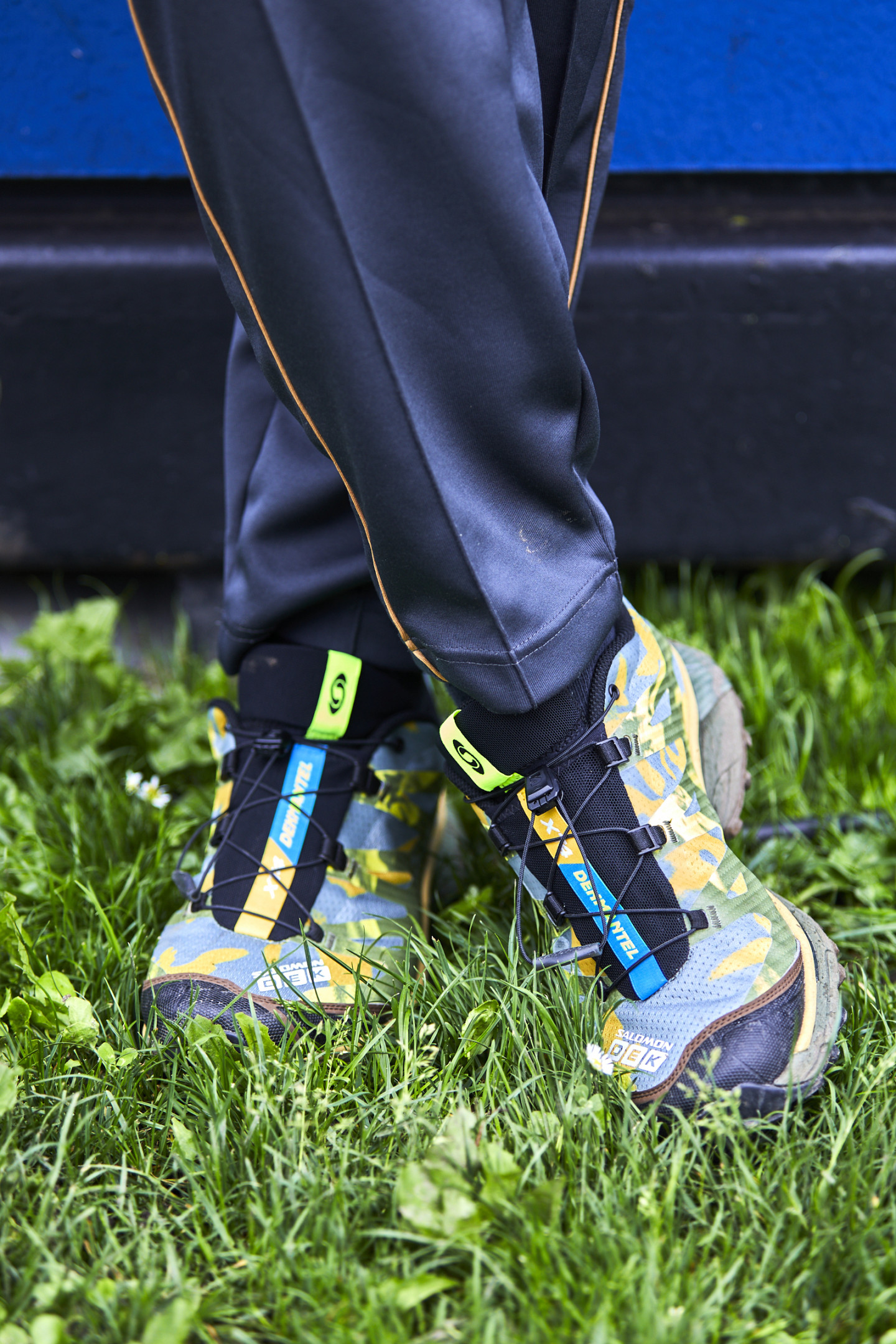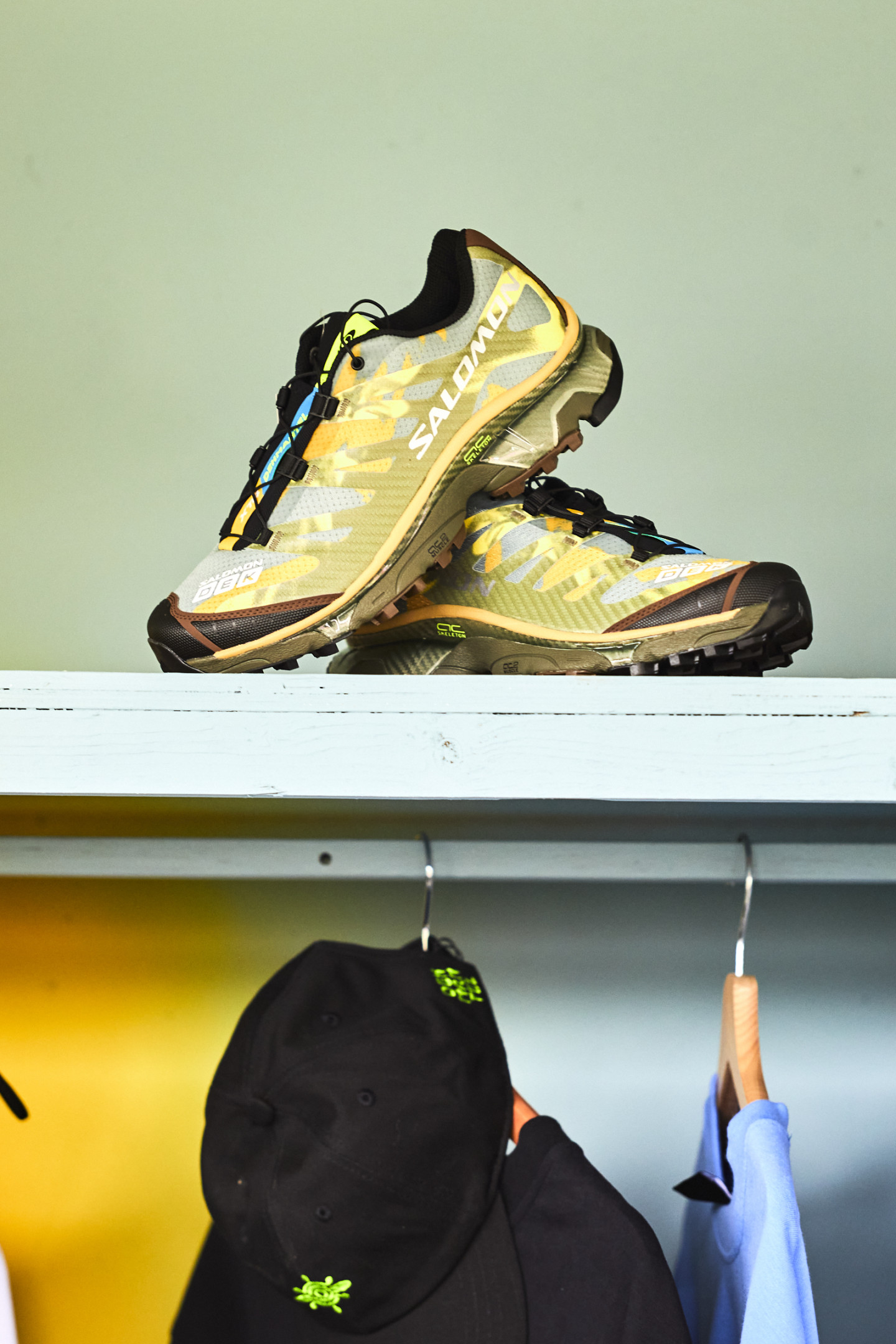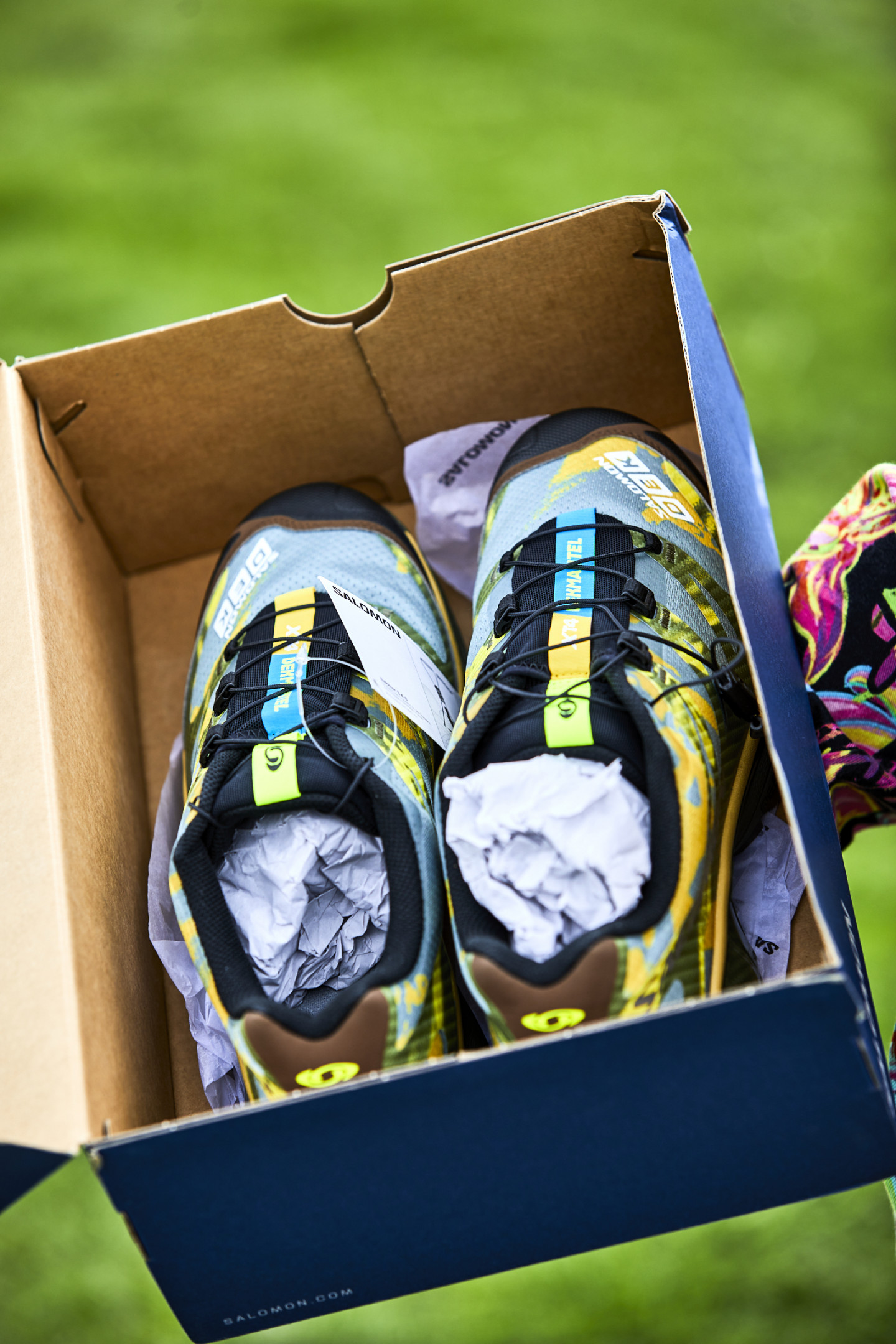 Friday 4 August - 18:06
What's that tune?
The Selectors stage is dripping in 90s sounds with John Talabot & Orpheu The Wizard right now. A big one from the Powertraxx Records label!
Friday 4 August - 17:37
Young Marco connects
This year's Connects stage is hosted by Young Marco, Mad Miran and Suze Ijó - three longtime Dekmantel familiars - for Friday, Saturday and Sunday respectively. Like the captain of his own ship, Young Marco watches closely how his invited guests connect with the crowd. We catch him for a few words.

L: "How do you feel about the stage so far?"
YM: "The sun is shining, the speakers are loud and people are smiling. I'm very happy with how it's going. Couldn't be happier, actually."
L: "You opened the stage with an ambient set by yourself. What made you, as someone we mostly know for his high energy sets lately, choose for this?"
YM: "I wanted to welcome the newly arrived visitors with something easy and personal - and open the floor for my invited guests."
L: "We're listening to Marijn S right now, what made you book her for Connects?"
YM: "Her release on Spray was really cool! She's a talented producer and I envisioned her as a great mid-day act to keep the energy high. Something she's very skilled in!"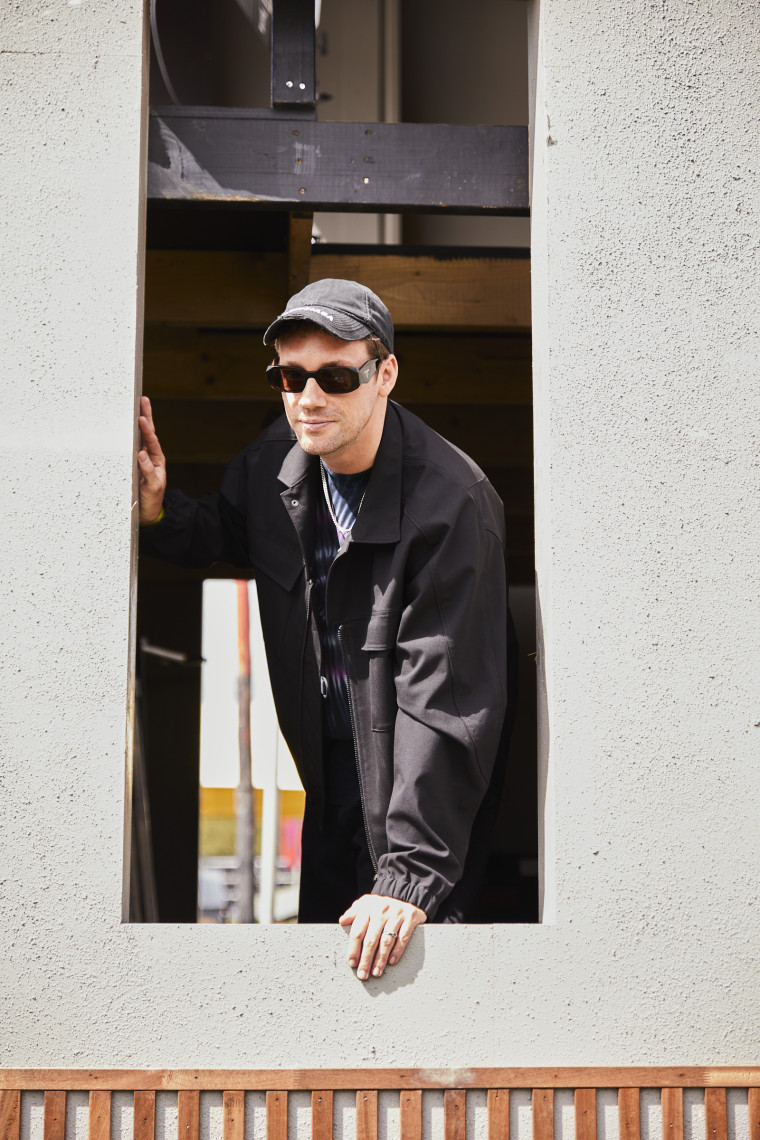 Friday 4 August - 16:22
What's that tune?
Nosedrip treats the Greenhouse on a New Musik classic!
Friday 4 August - 16:06
Behind the Scenes: Media Team
Every year, a team of passionate writers, photographers and videographers make sure that the best moments of Dekmantel Festival are captured and documented. We talked to a few of the creators who make all of this possible.
Tarona - Photographer
L: "Who are you most looking forward to photograph today?"
T: "Tash LC, she looks so sick."
Ino - Videographer
L: "Craziest thing you filmed for Dekmantel?"
I: "Man, I've been filming for Dekmantel for 8 years already. Everything is a blur. Crazy is the normal for me."

Brendan - Projectmanager Communications
L: "Biggest social media fail of all time?"
B: "I once shared personal content on the Dekmantel stories. Maybe three times. Oops."

Leendert - Writer
L: "What's your favorite theme to write about?"
L: "I really like going in depth with an artist or about a certain stage. The stronger the focus, the bigger the fun. This year I helped writing the magazine, which was really awesome to do."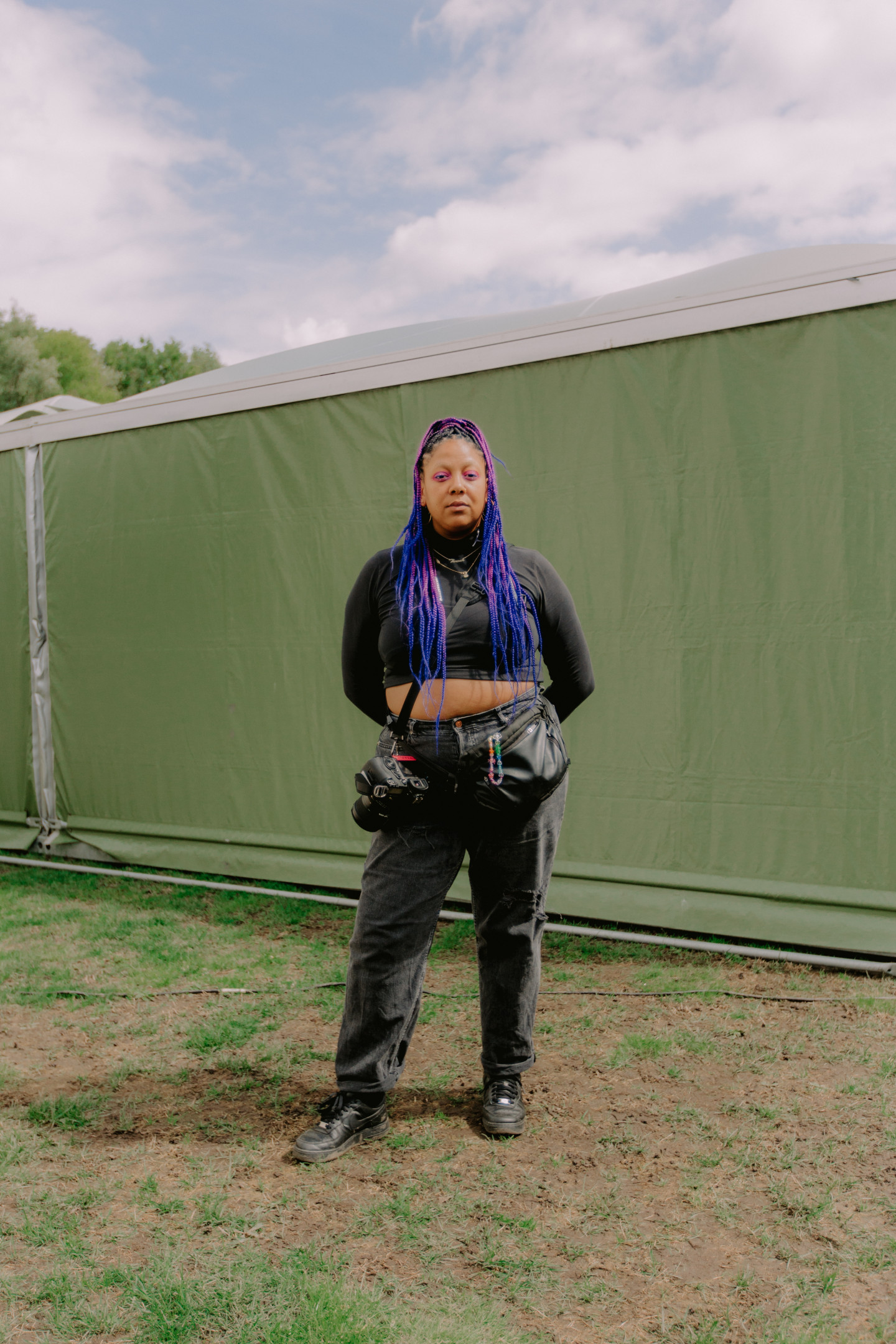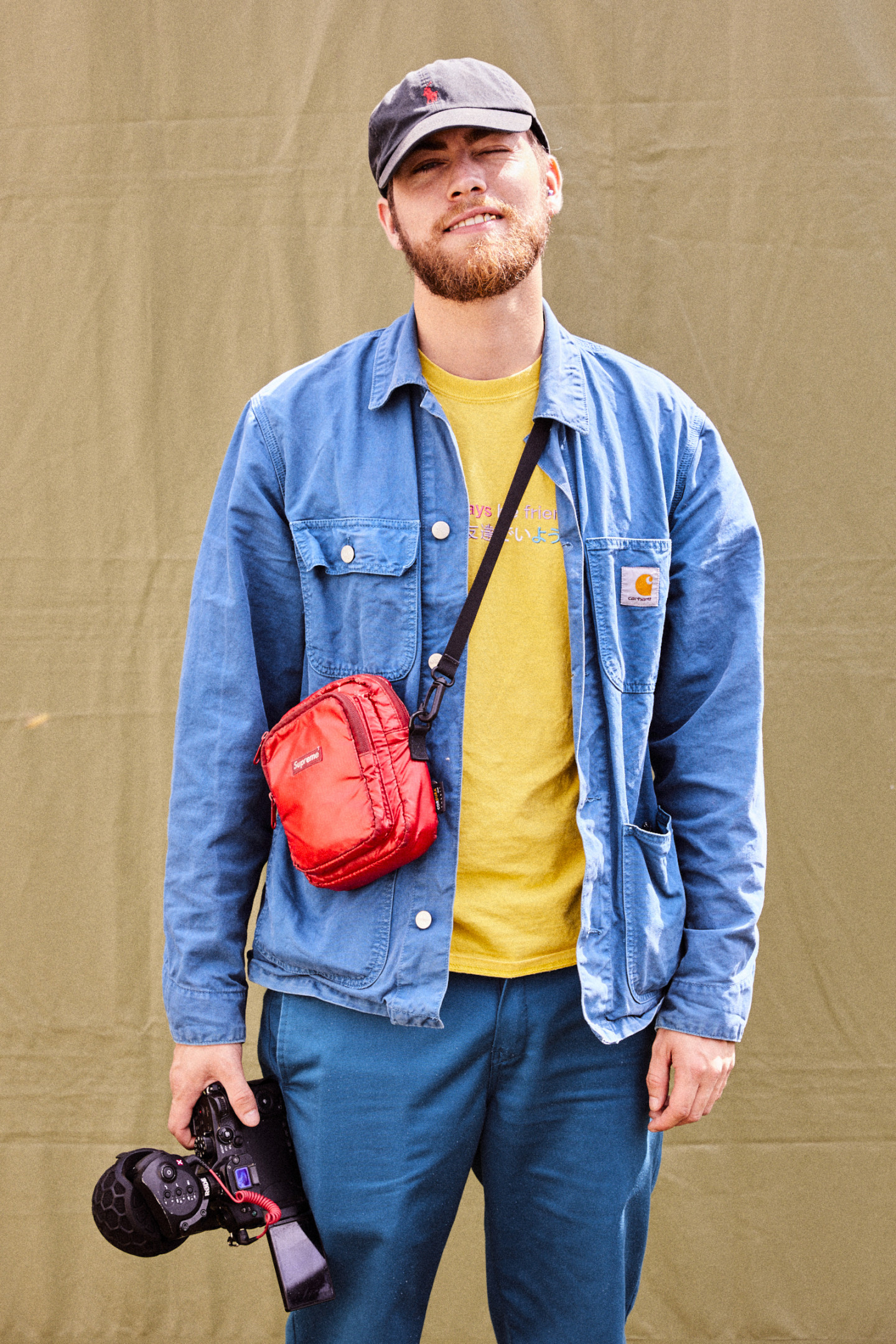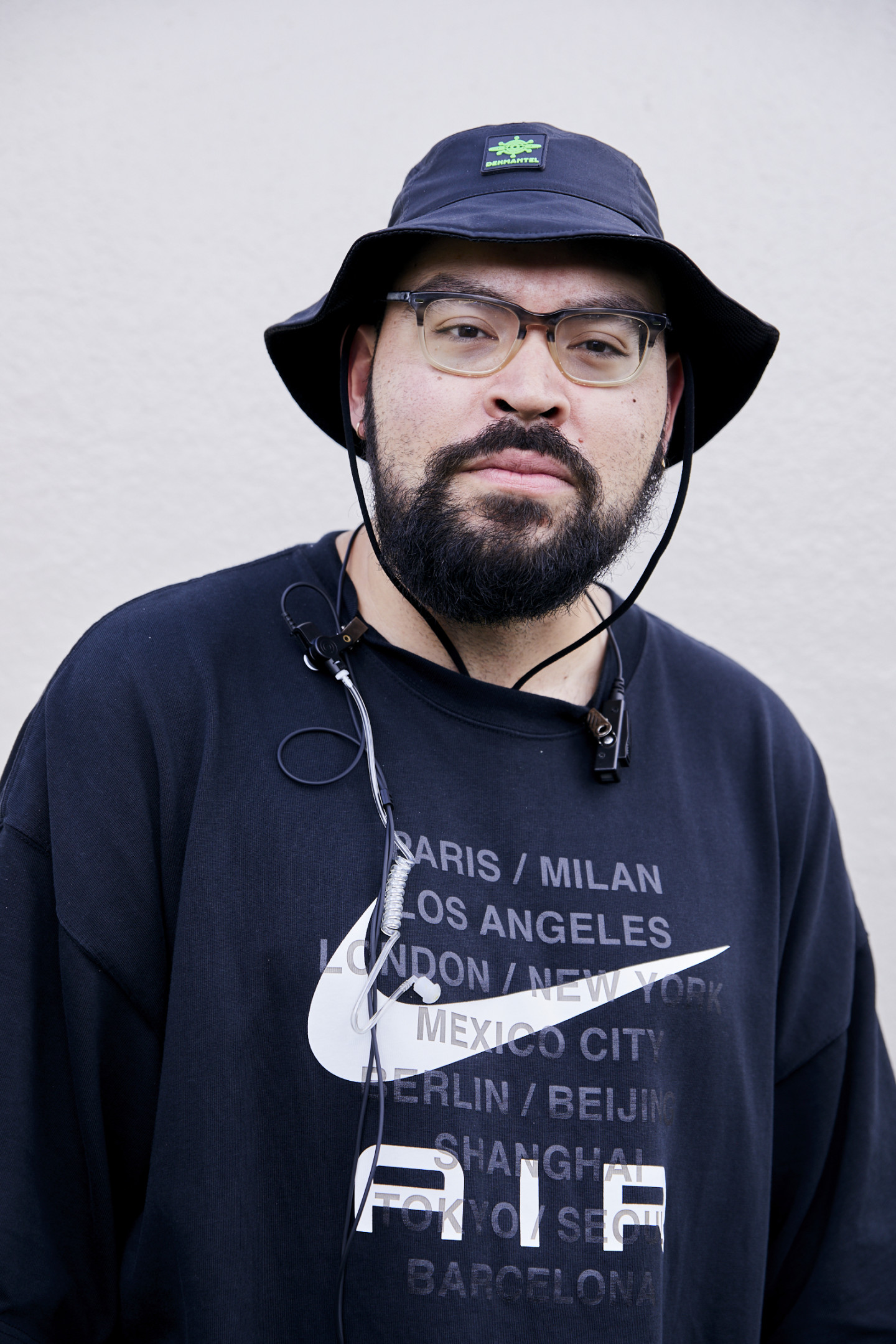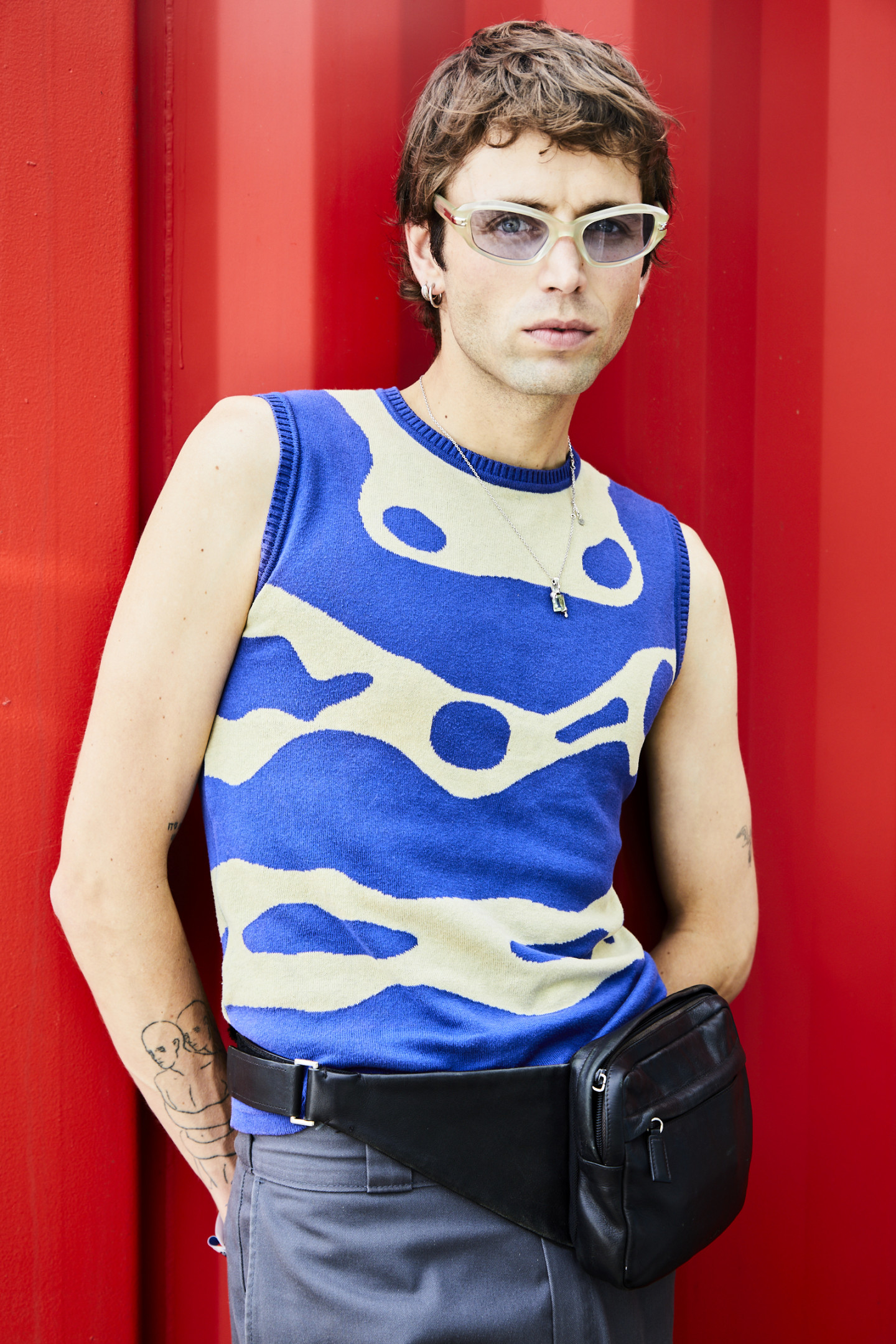 Friday 4 August - 15:48
Interviews by Anna Bogomolova are back!
Who remembers the iconic interviews by Anna Bogomolova back in 2017 and 2018 during Dekmantel Festival? We've got amazing news, she's back at #Dekmantel23! When asking Anna how she approaches the interviews, she answers:
"Overnight, I thought about elements I want to discuss, which strongly reflect on my personal interests. In my conversations with the artist, I try to talk about these elements and get their views on it. I say conversations, because I don't consider it to be an interview. Just like myself, the artist also has their personal interests, and the magic is to end up somewhere on the horizon of a shared line of thoughts. The more personal and open it is, the more authentic."
Follow our socials to stay updated about the conversations.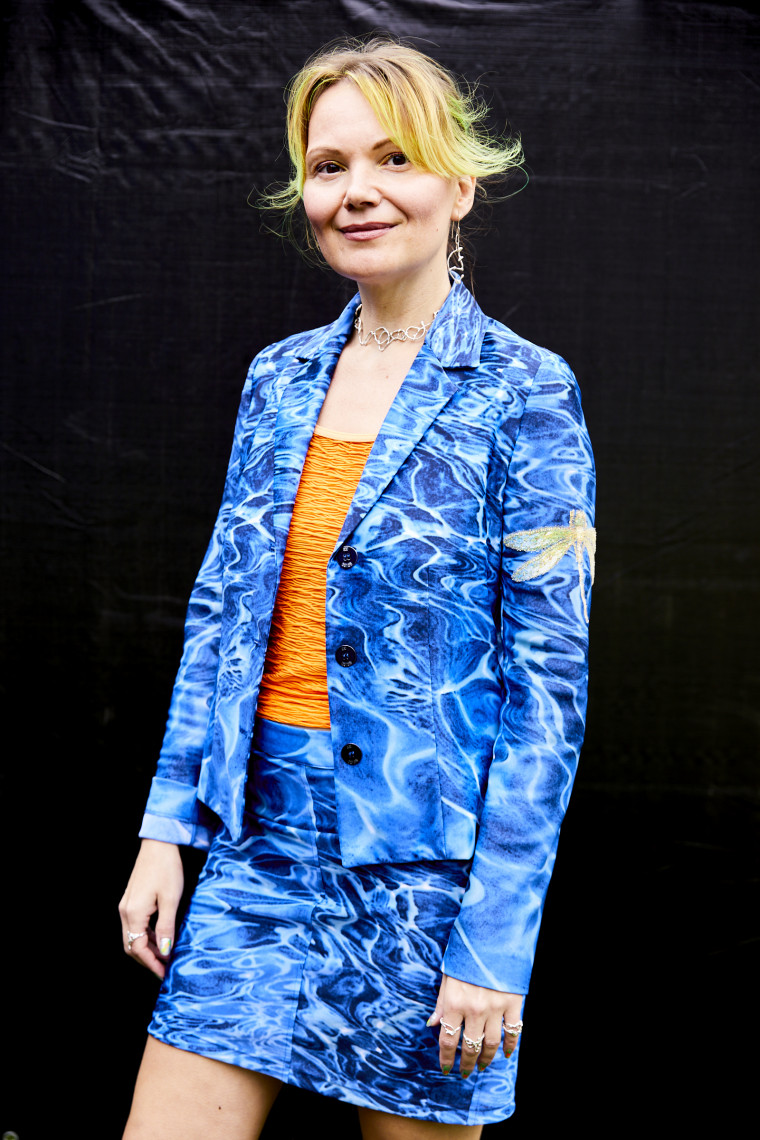 Friday 4 August - 15:12
What's that tune?
We're back with live Shazams from the festival site! First hit: Brazil's sensational Gop Tun DJs while heating up the Selectors stage.

Friday 4 August - 14:35
Early ones are in for a treat!
If you're sleepy, you're not sleepy anymore. If you're tired, you're not tired anymore" - Jeff Mills on the cover of our first-ever zine!

Early visitors of #Dekmantel23 will receive the freely distributed 'TRANSITION' at the Amsterdamse Bos today, in which we celebrate the artists of this year's edition. Be sure to get your hands on a copy. Limited edition!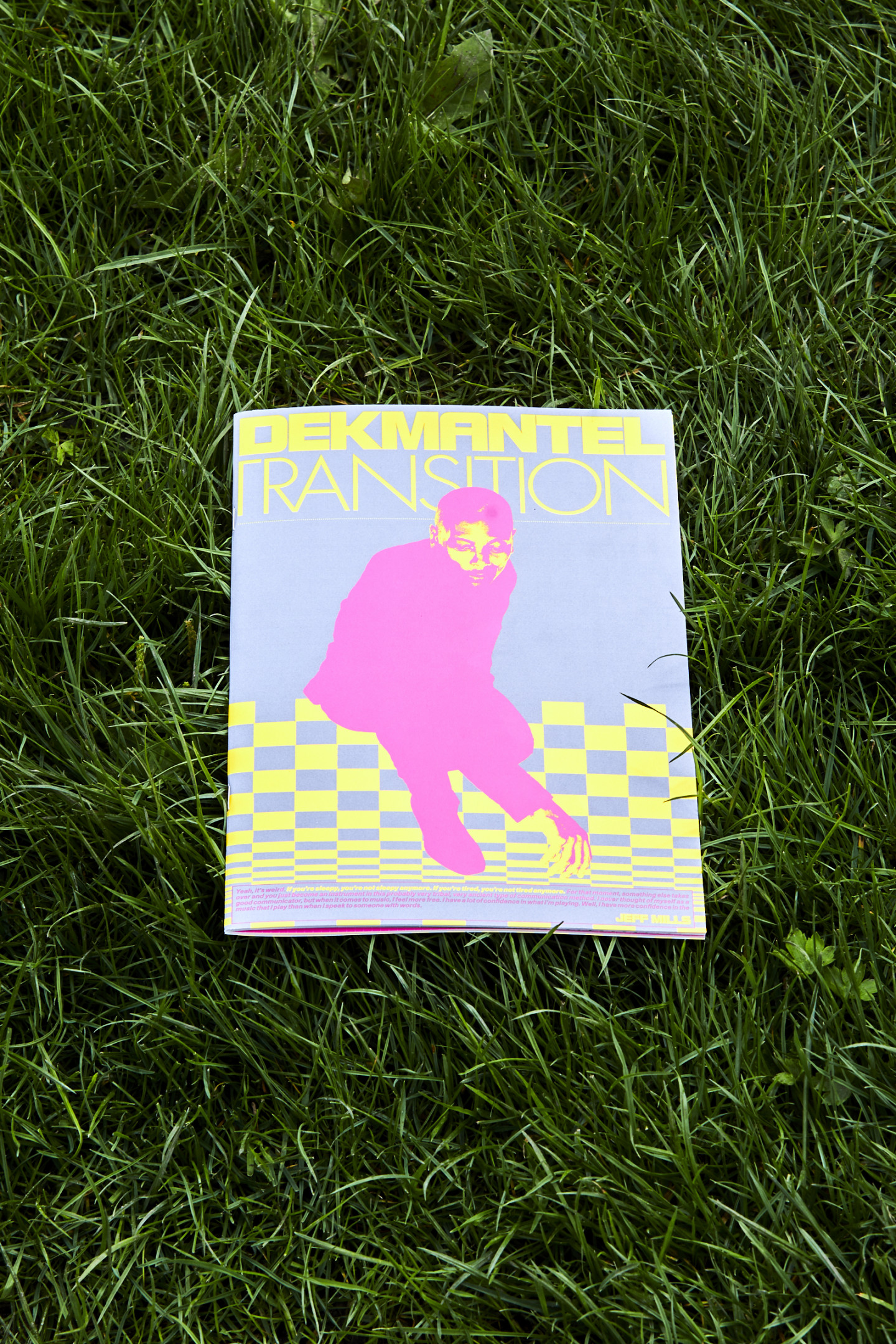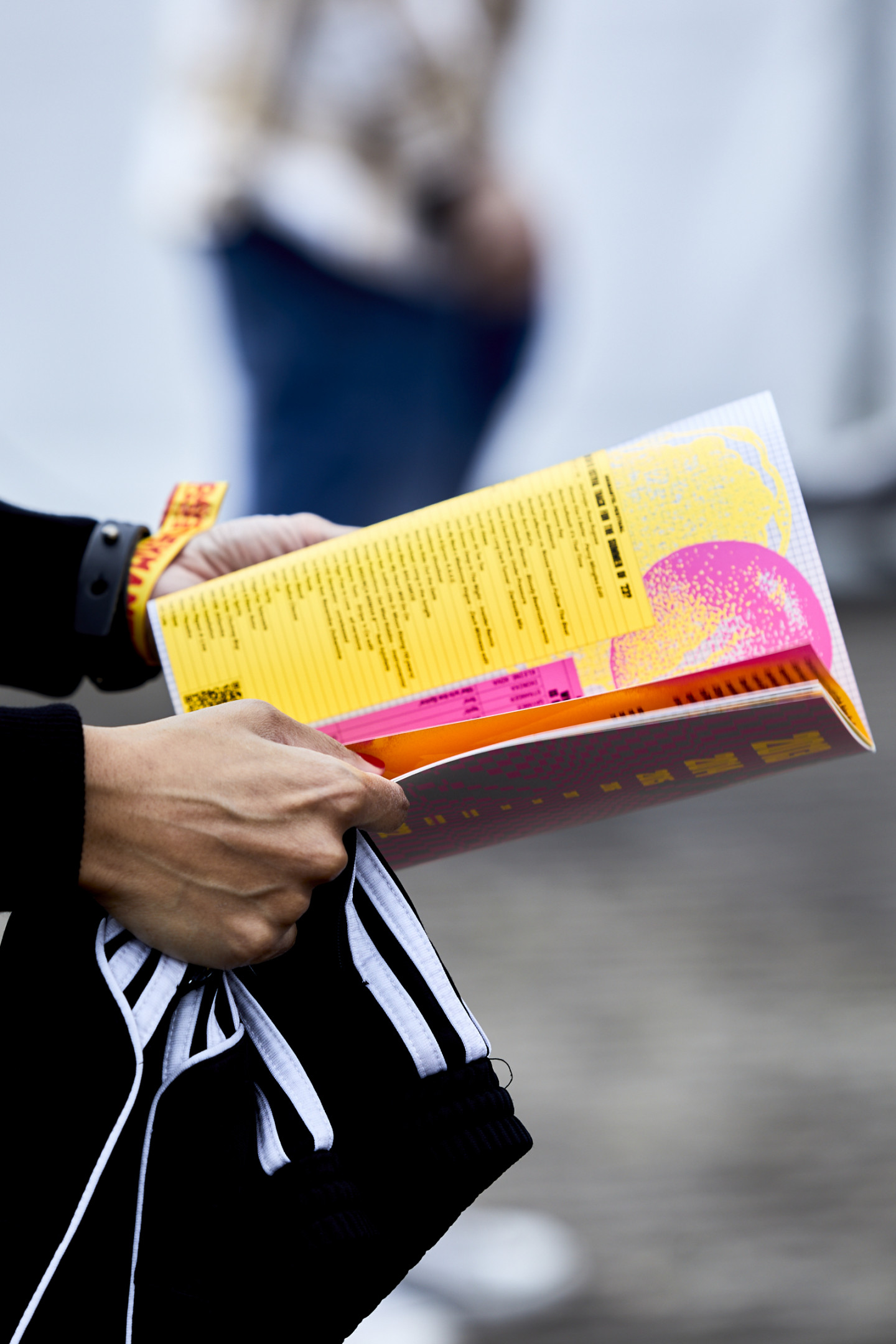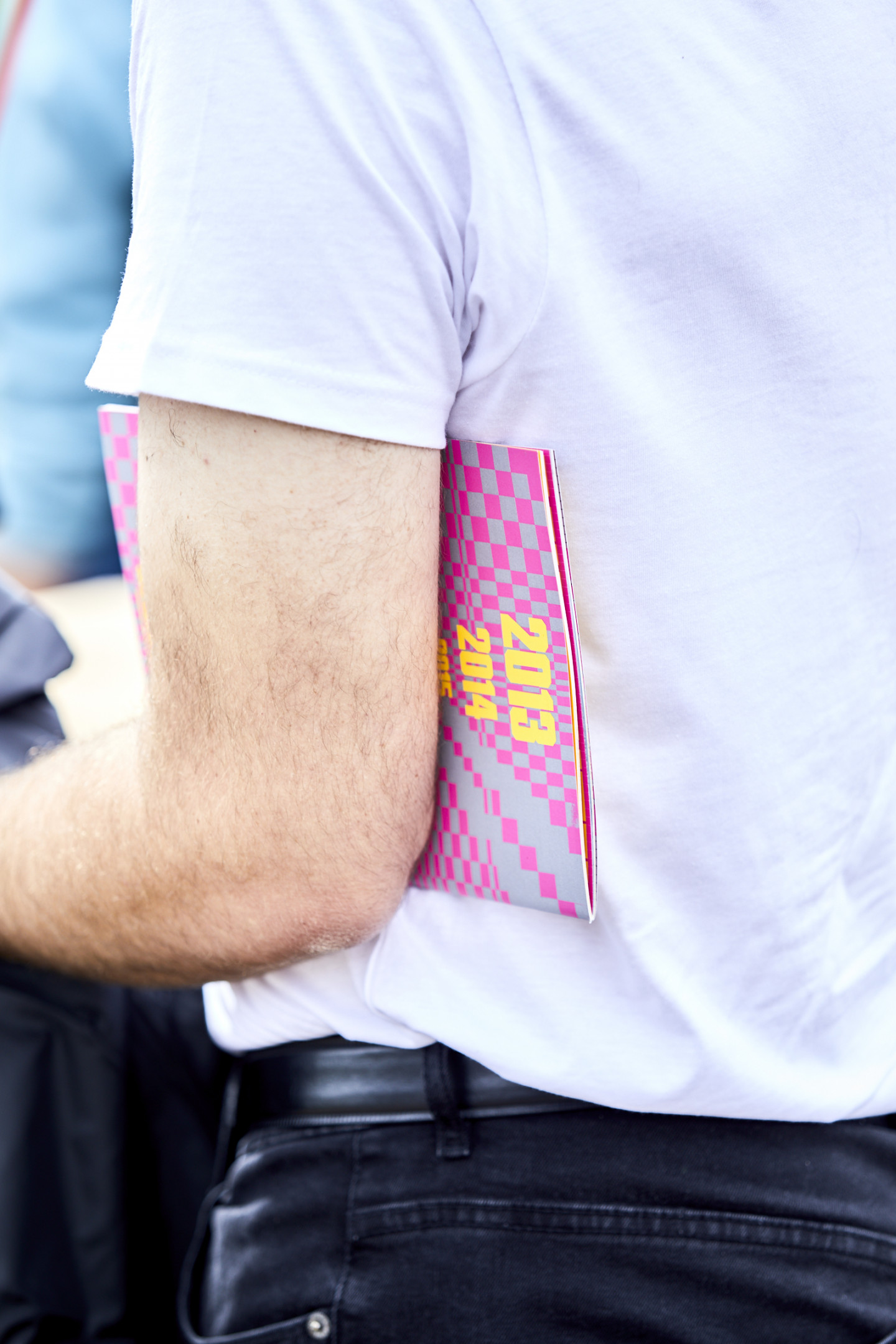 Friday 4 August - 13:46
Dekmantel 2023 kicks off!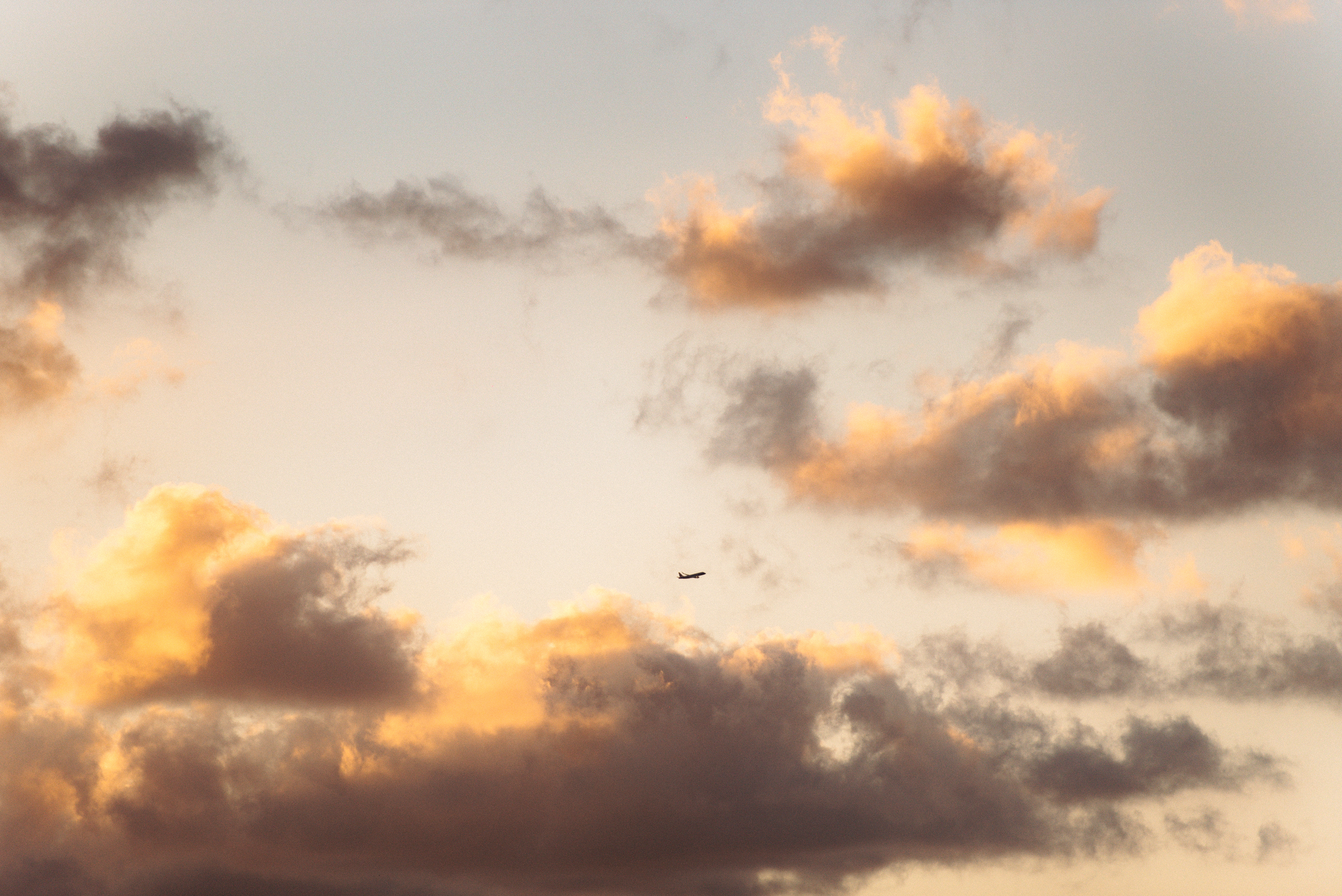 Friday afternoon at the Amsterdamse Bos is always an atmospheric moment. As the first day-trippers arrive and campers pitch their tents, the site starts to come alive, buzzing with anticipation for three full-packed days of festivities. Kicking things off at the Greenhouse, there's no better place to start than with Merel Rhizoom. Mingling psybient and hypnotic jungle with downtempo trance, Merel is indebted to the Dutch West Coast sound, a style that's characterised by raw, uncompromising experimentalism.

Making her Dekmantel debut over on the Nest, bass aficionado Ikonika initially emerged in the post-dubstep landscape alongside artists such as Zomby, Peverelist and Cooly G. Fresh from her collaborative EP Supernova with vocalist 45DiBoss, released earlier this year on Night Slugs, Ikonika will be flexing her razor-sharp live production talent, fusing sci-fi melodies with battering drums and deliciously crisp percussion accents.

Be sure to check out the latest addition: the Radar stage, hosted in collaboration with Berlin's streaming platform HÖR. Delivering the baptismal set is S-candalo, AKA sibling DJ duo Tania and Dominik Humeres-Correa, two stalwarts of Latin-rooted LGBTQIA+ and FLINTA club culture.

There's also plenty of unmissable veteran talent. From synth-pop's Gary Newman to EDM's Front 242 and electro's DJ Stingray (who will be performing a coveted live set), these musicians' once-in-a-generation output has gone on to define genres, sounds and scenes.
Friday 4 August - 02:42
Tomorrow Dekmantel returns to the Amsterdamse Bos,
the lush-forested parkland full of winding pathways and grassy meadows. This year, there are a few small but essential updates on-site. First and foremost, look out for the Radar stage, hosted in collaboration with Hör. There you can catch, amongst others, Luke Slater in his L.B. Dub Corp guise, Interplanetary Criminal, hot from his 2022 Number 1 UK hit with Eliza Rose and Amniote Editions label boss Mama Snake viperine selections. The Loop sees new stylings and a series of artists, including Young Marco, Mad Miran and Suze Ijó, lend their skills as selectors to curation, inviting their favourite acts and DJs to Dekmantel 2023.
As Thursday comes to a close so does Dekmantel Aan 't IJ, but what an instalment it was. To mention just a few highlights: the titan of experimental ambient William Basinski blew us away, delivering waves of manipulated distortion. World famous Iranian percussionist Mohammad Reza Mortazavi beat out layers upon layers of trance-inducing polyphonic rhythms and, over the water at Parallel, club renegade Parrish Smith raised hell with his elixir of noise, punk, techno and pop.
Friday 4 August - 01:48
And that's a wrap,
thank you for two beautiful days 'Aan 't IJ'! Tomorrow Dekmantel Festival 2023 continues in our favourite place: the Amsterdamse Bos. See you there.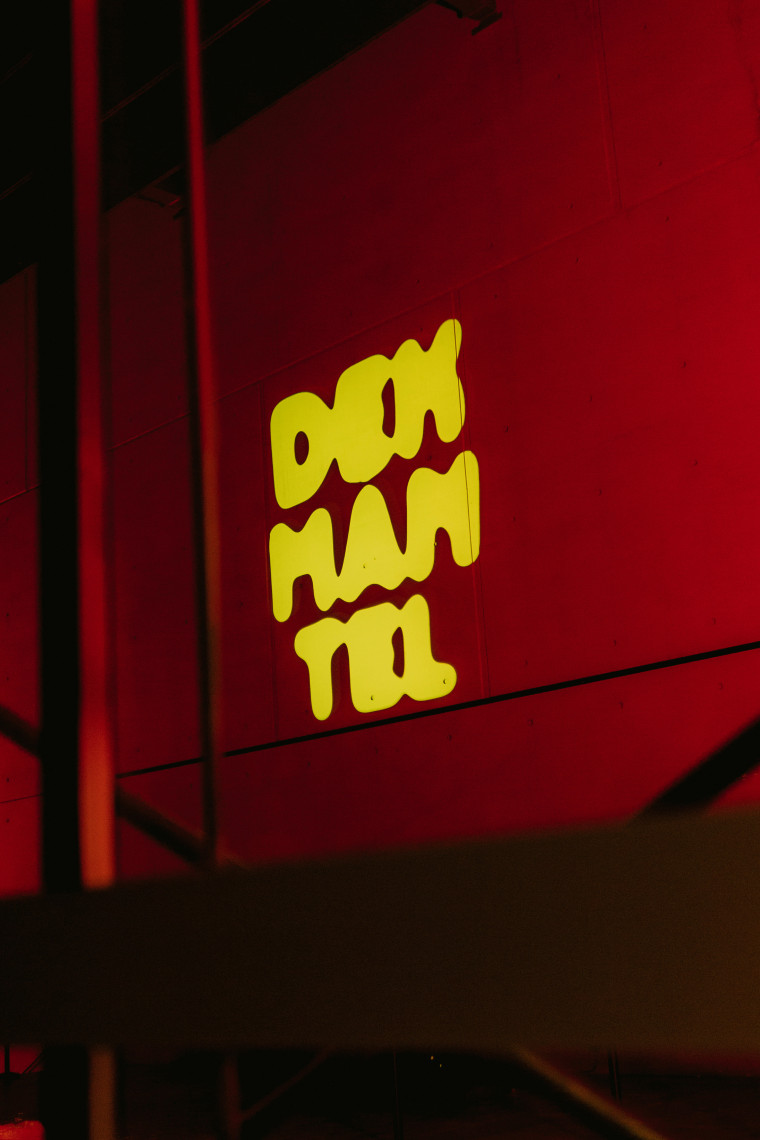 Friday 4 August - 00:30
William Basinski
William Basinski taking us out of time for a minute...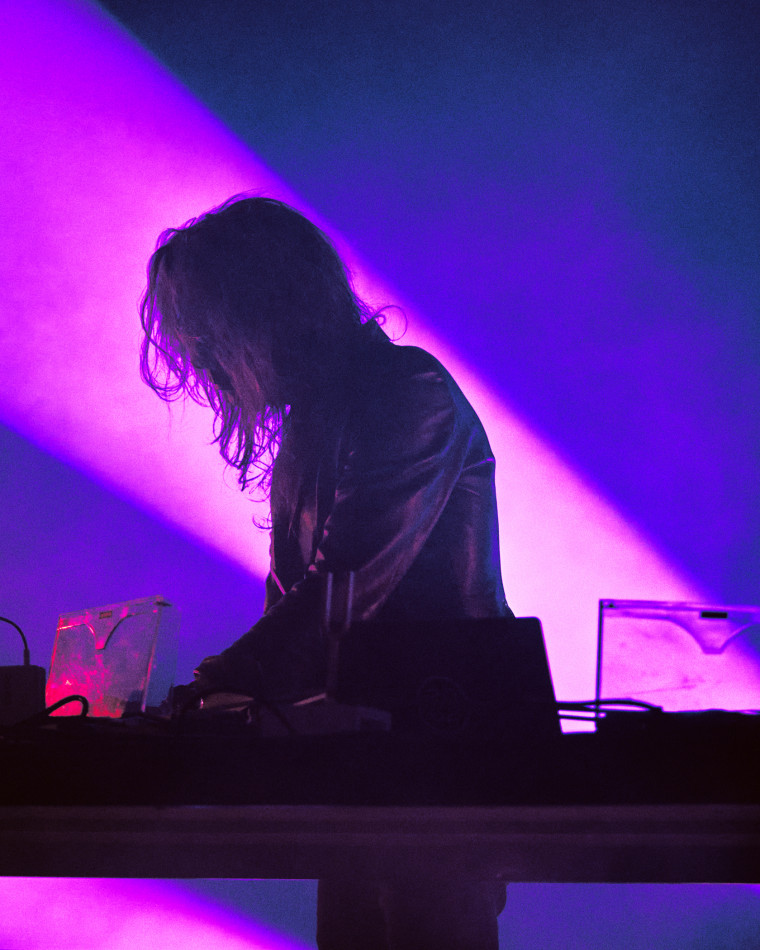 Friday 4 August - 00:03
Tune in for the last hour of Echobox Radio live from the Muziekgebouw
We're heading into the last hour of the Echobox Radio broadcast live from the Muziekgebouw foyer.
Tune in here for the final hour.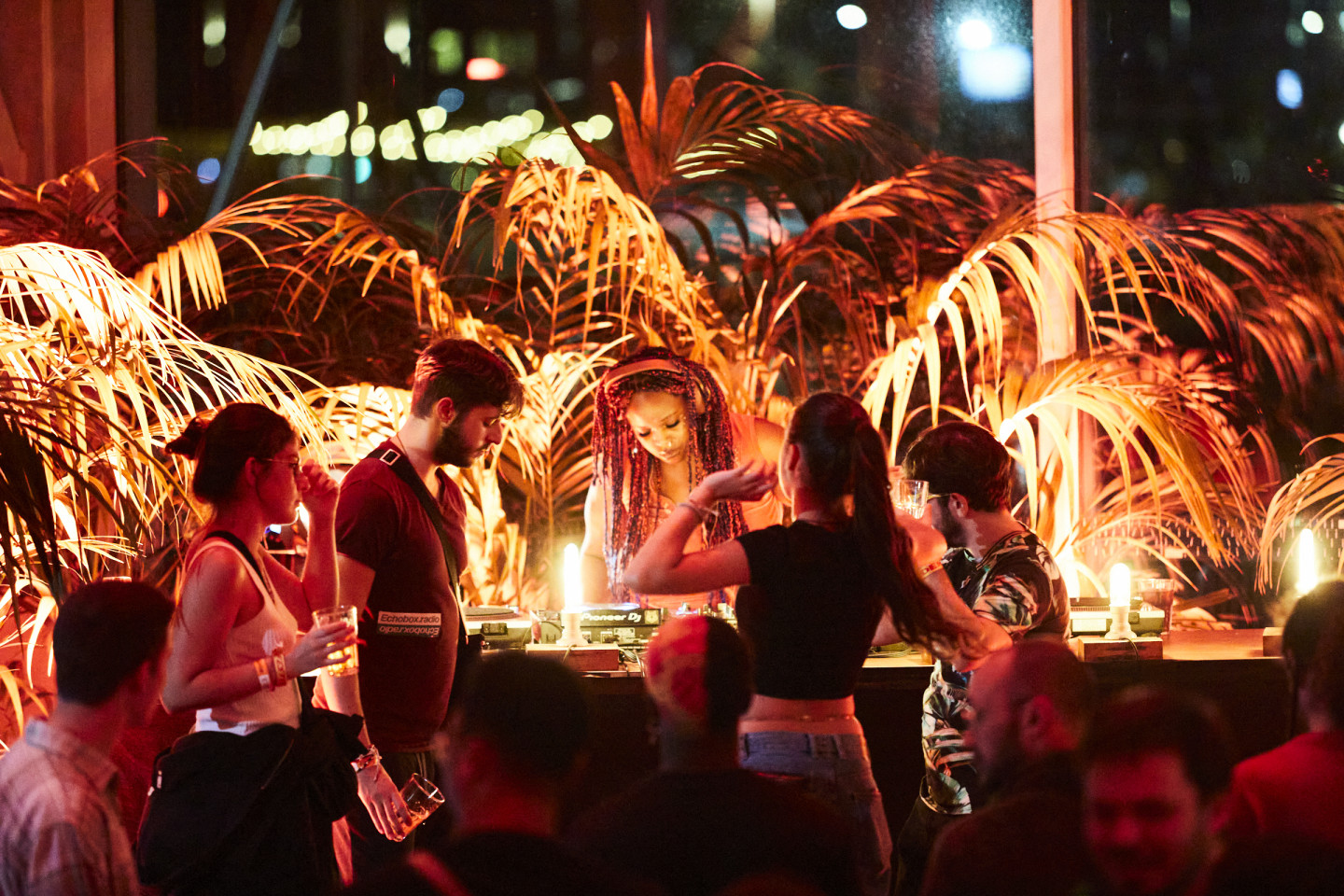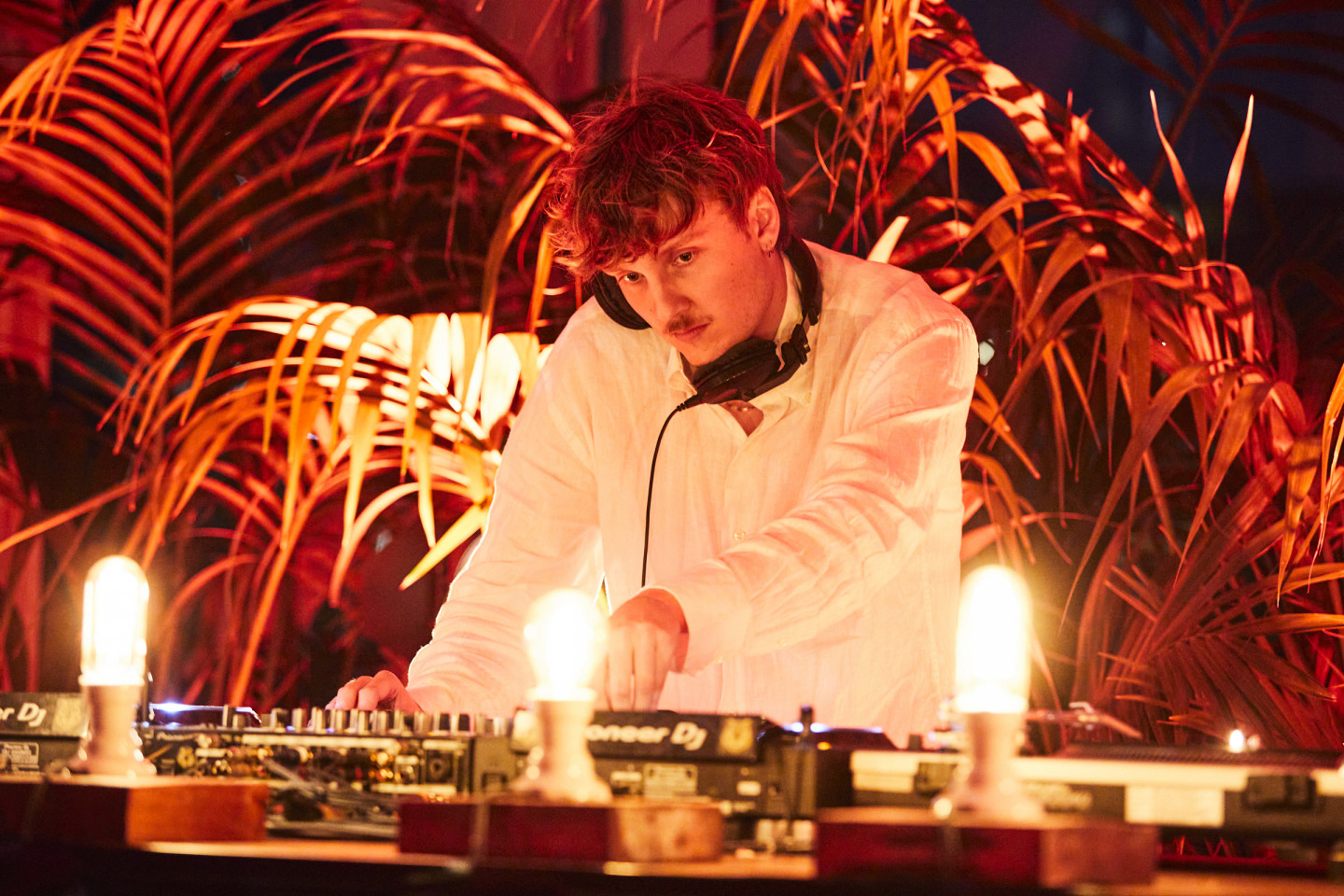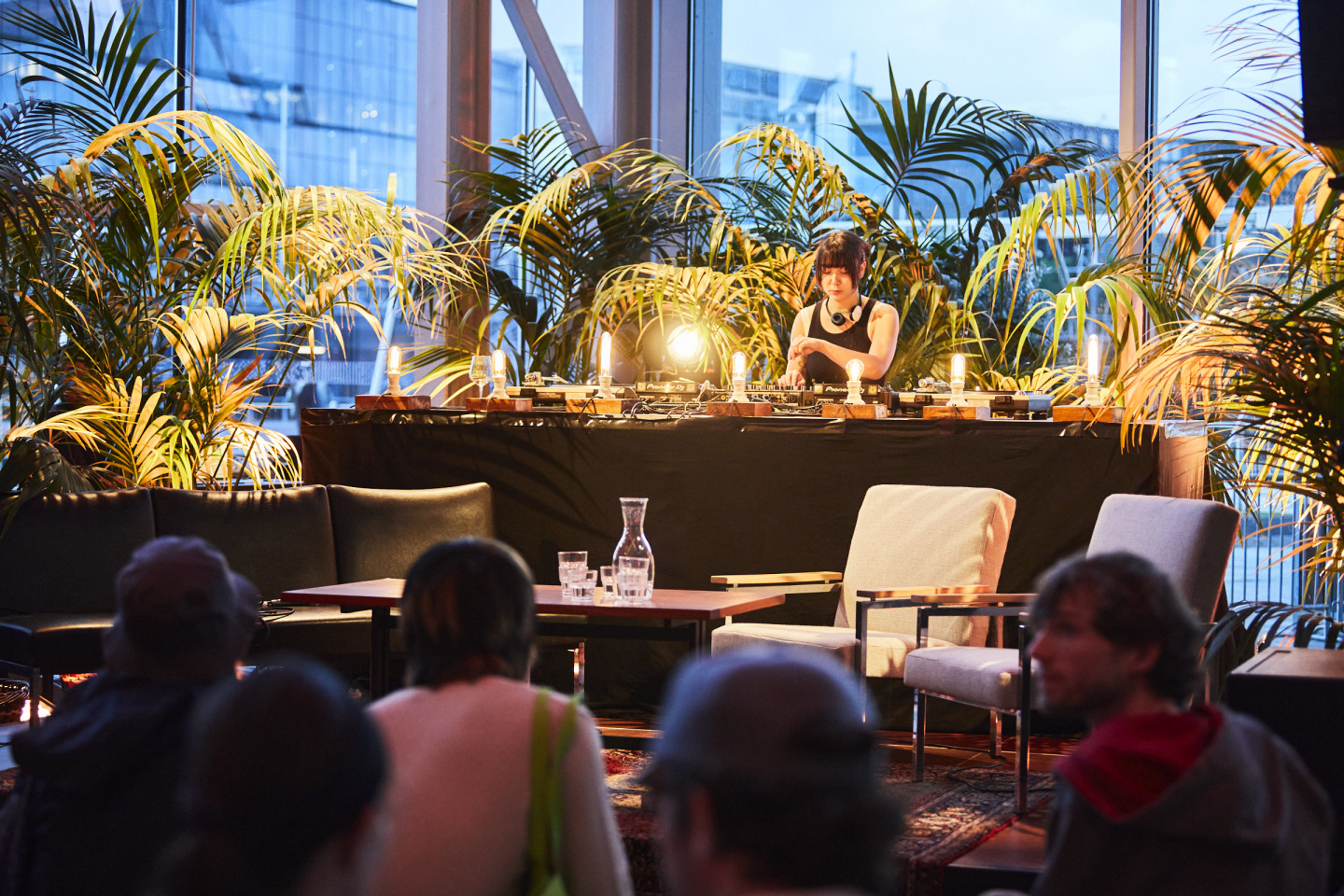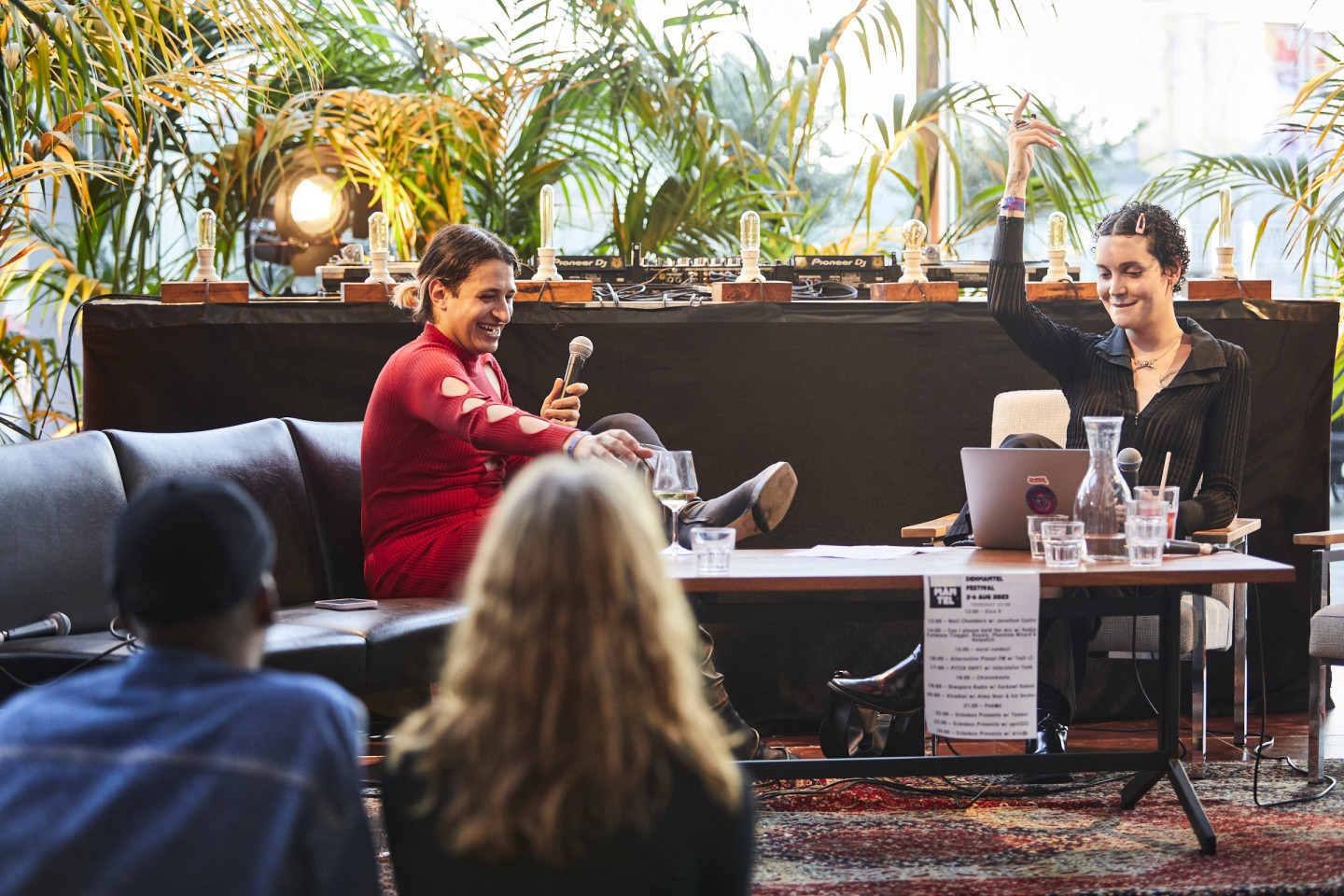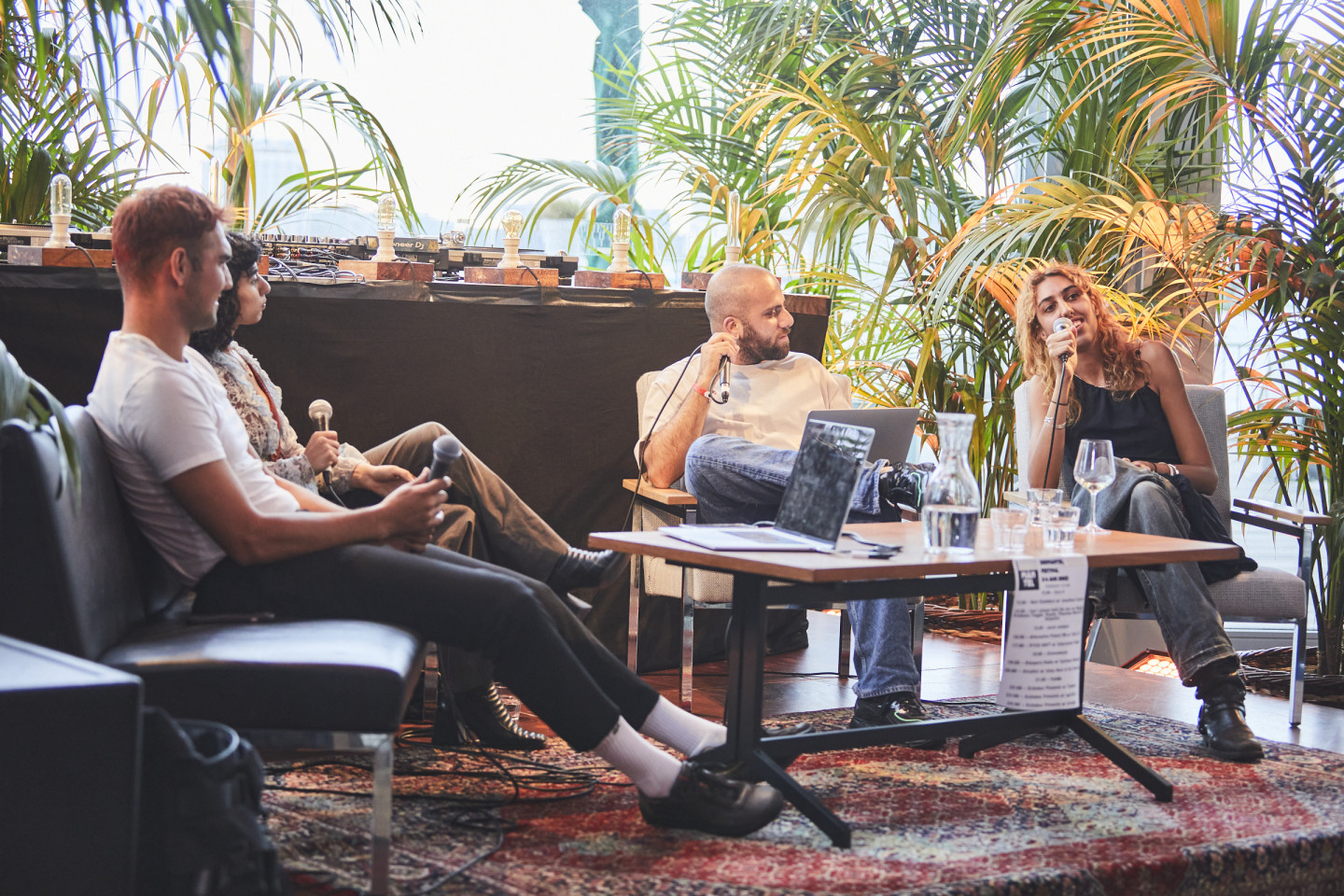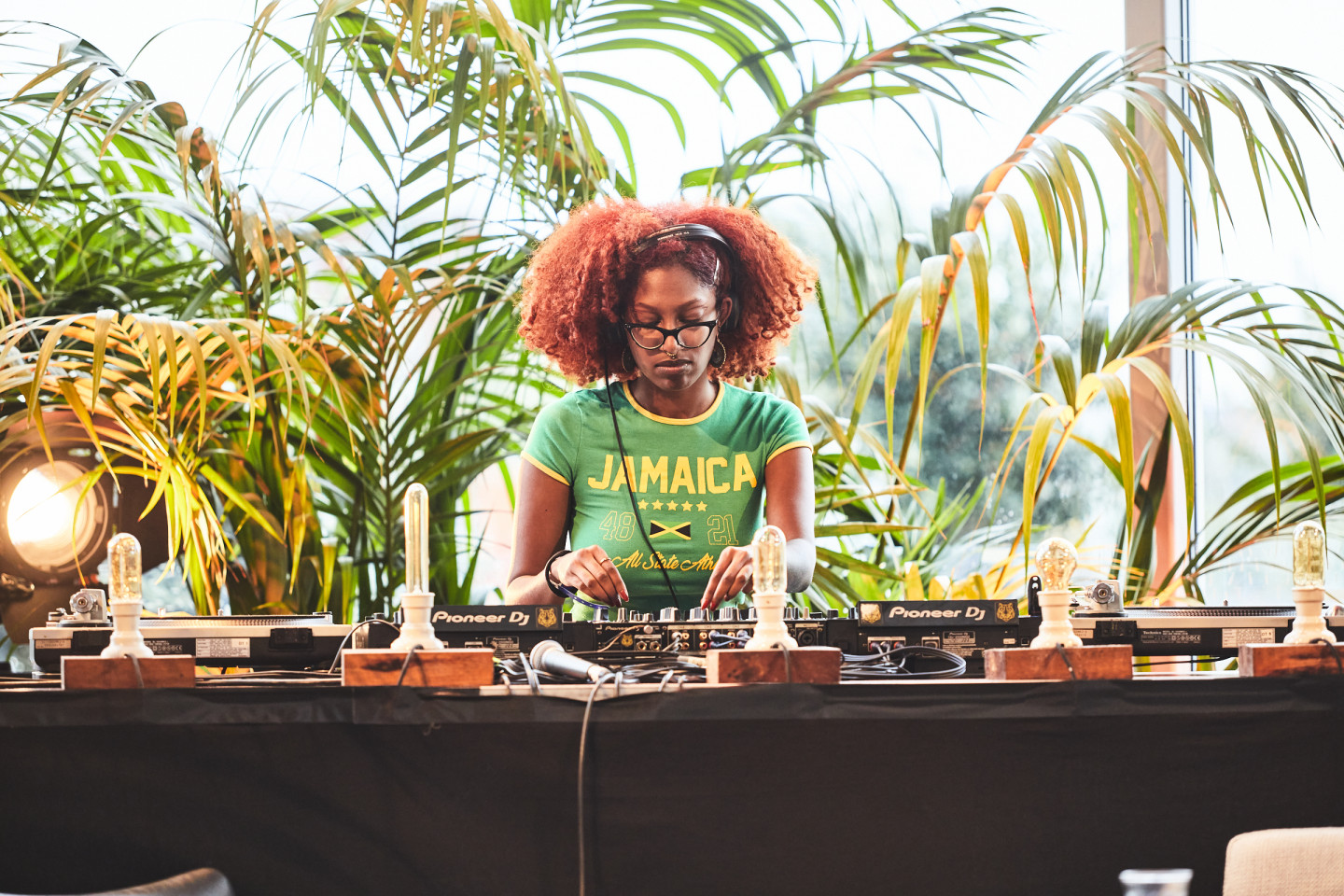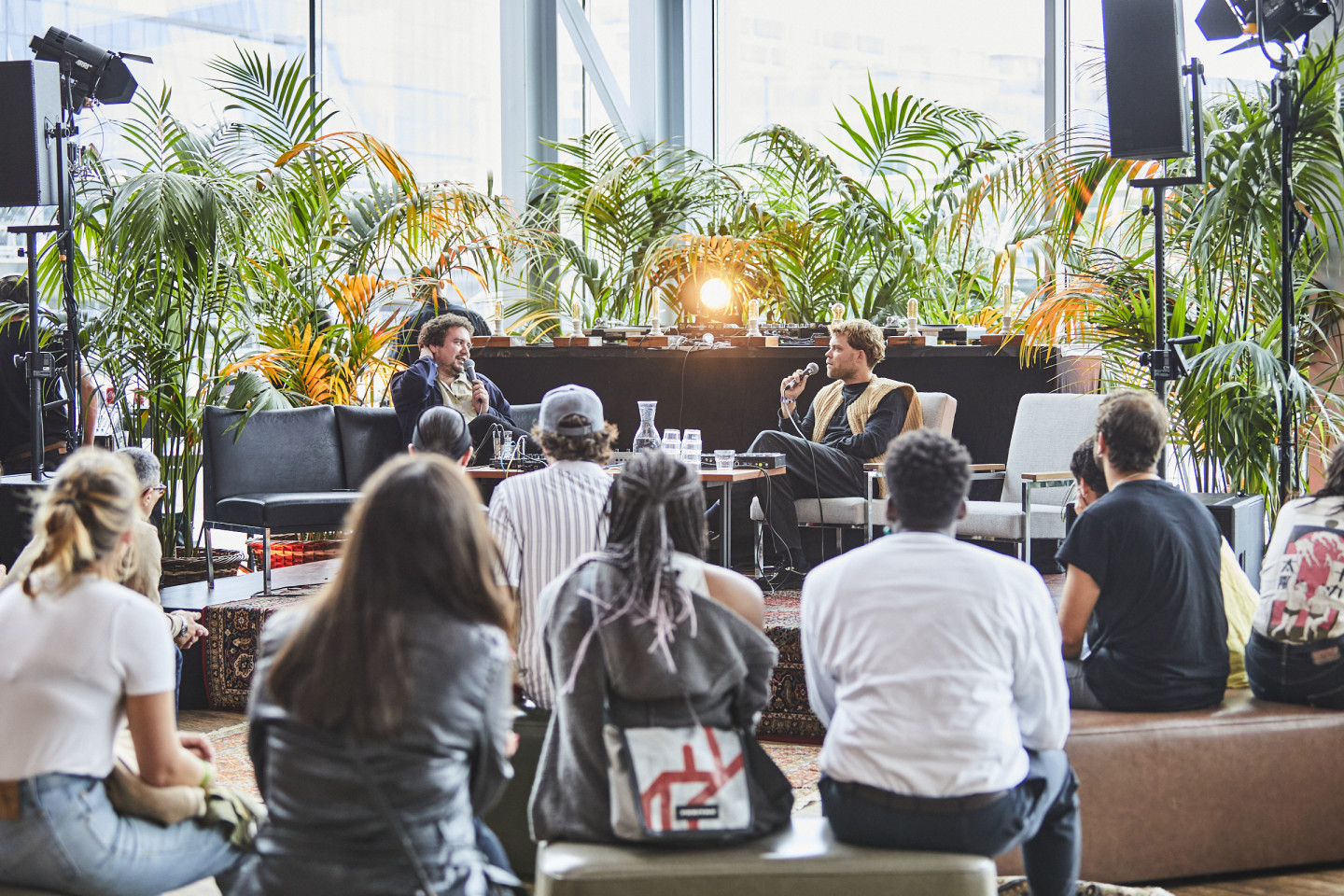 Thursday 3 August - 22:37
Leave it to Sevdaliza to put on a show.
From futuristic pop bangers to richly orchestrated soundscapes and raw ballads, the all-round artist unfurls her shapeshifting visions on the Dekmantel Festival 2023 stage.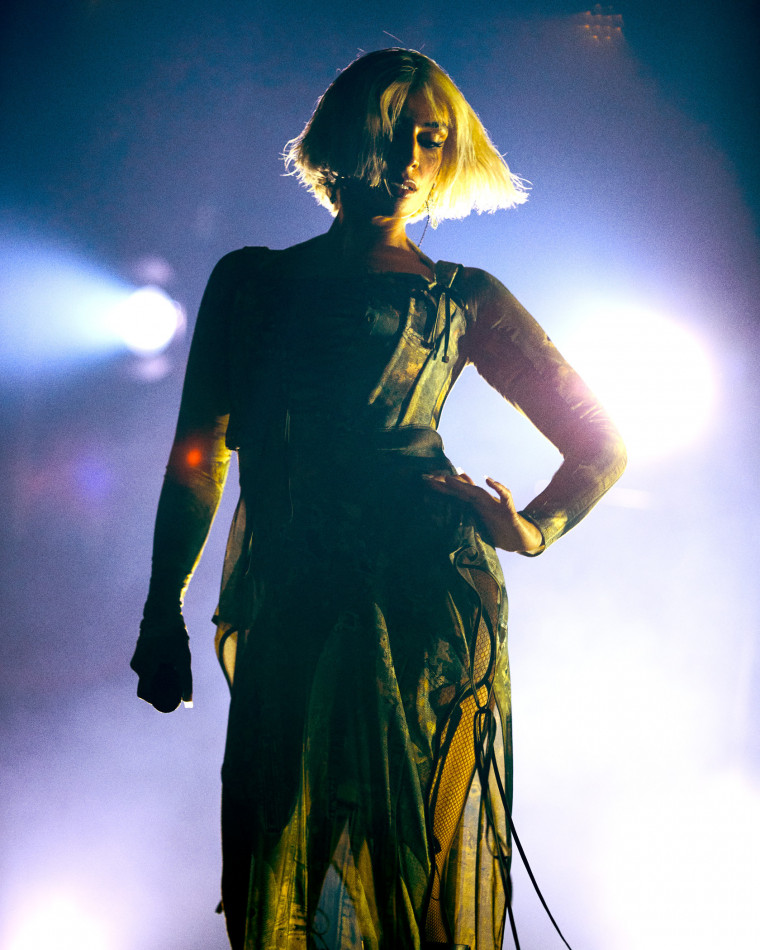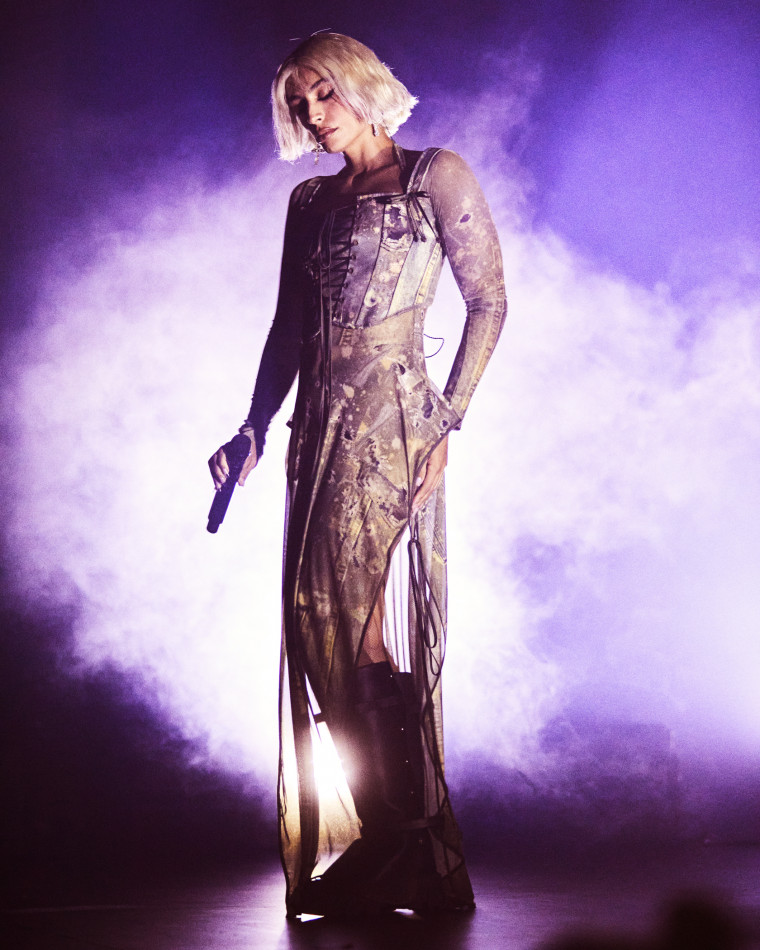 Thursday 3 August - 21:58
If ever you need a masterclass in DIY music making,
Arushi Jain is your go-to guide. The modular synthesist, singer and producer brings her ambient variations on ancient ragas to Dekmantel Festival 2023 Aan 't IJ.
Thursday 3 August - 21:30
Live film score: La Planète Sauvage
A must-see highlight of our conference: a live-scored screening of the 1973 cult film 'La Planète Sauvage', rewritten by Nitai Hershkovits in 2021 and performed in collaboration with Institut Français.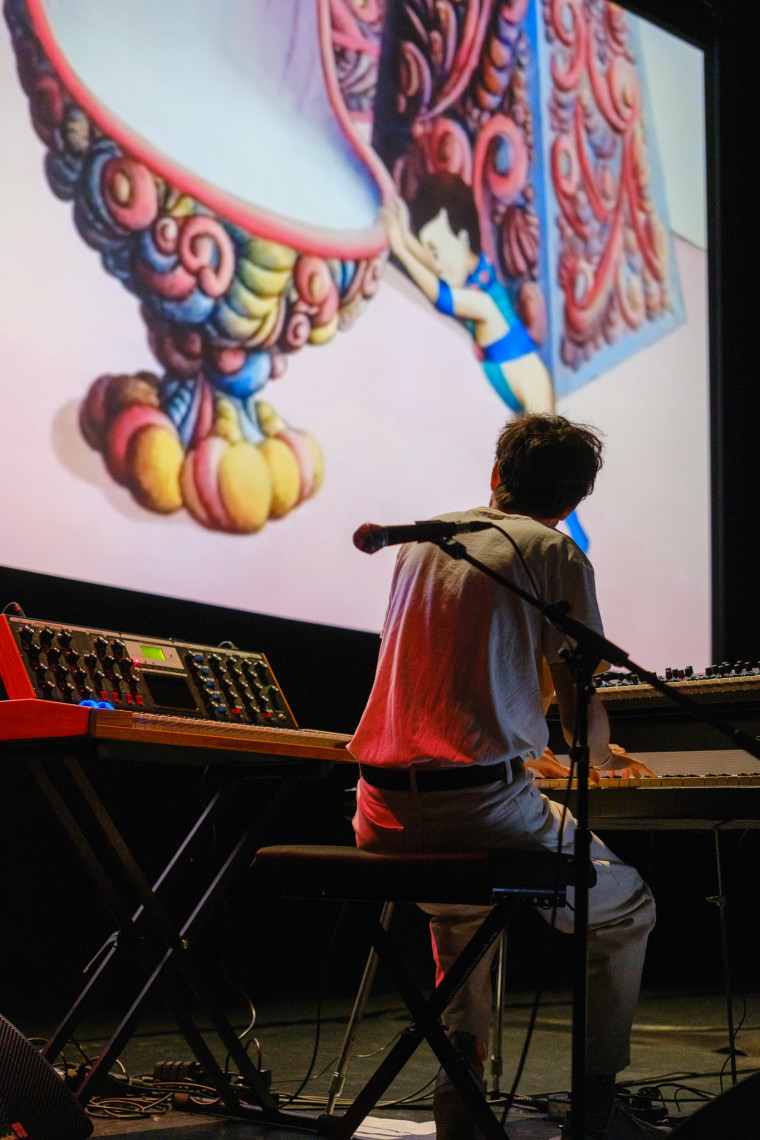 Thursday 3 August - 20:52
Playing favourites: Donato Dozzy
Playing Favourites' with Donato Dozzy: an exclusive peek into the Italian master's bottomless record collection at our music conference with Resident Advisor.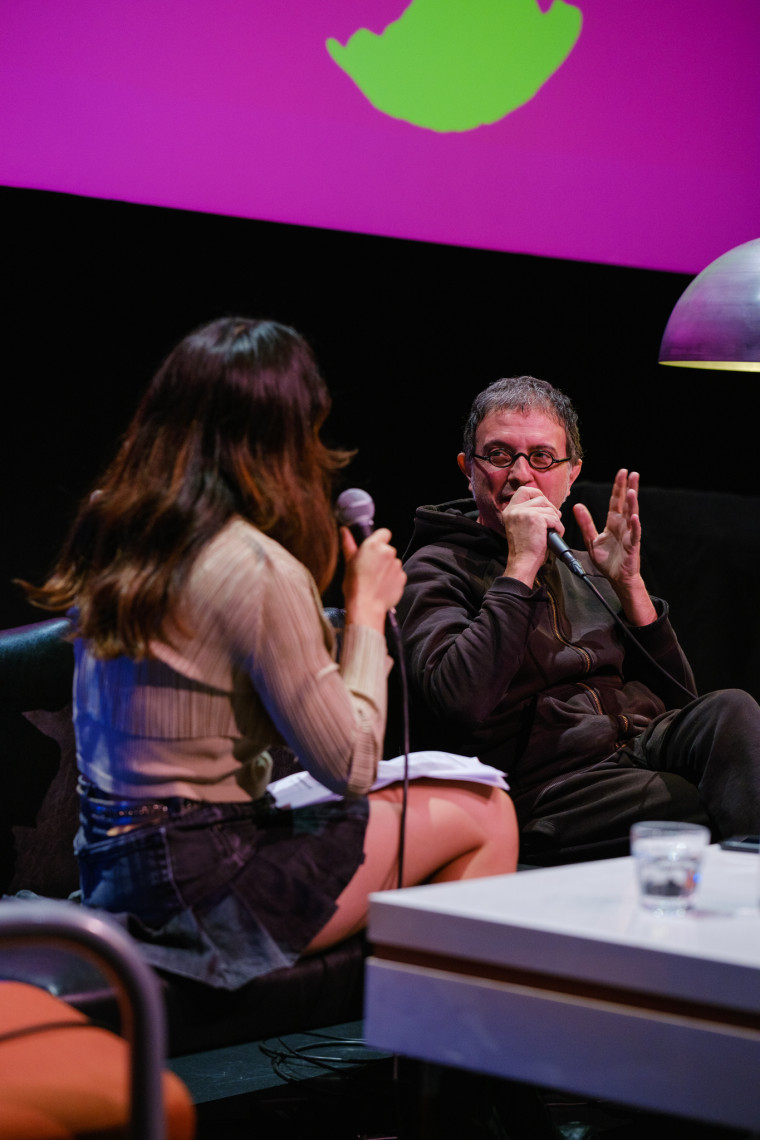 Thursday 3 August - 20:36
Nala Sinephro
To describe Nala Sinephro's festival debut as ethereal would be an understatement. Cosmic? Celestial, perhaps? Guess you had to be there.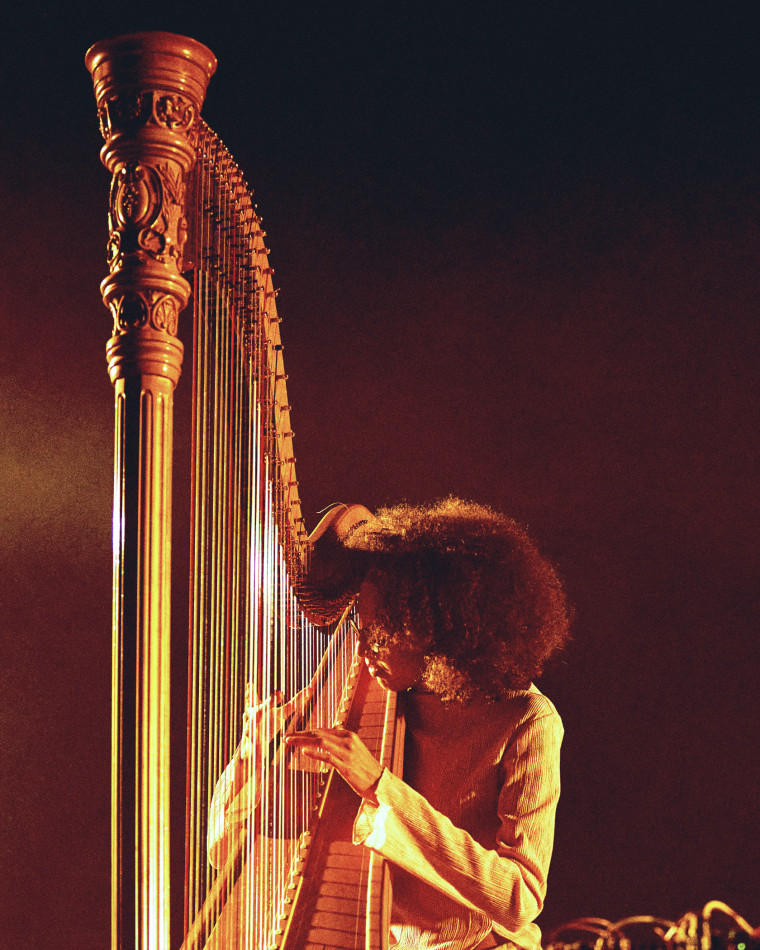 Thursday 3 August - 19:19
Production Workshop: Ikonika
Ikonika shared her unique production techniques with an eager crowd at the IJ Lounge.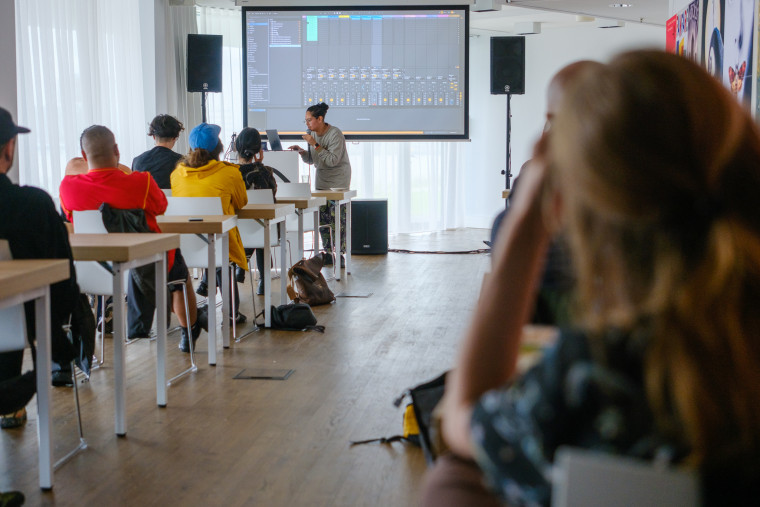 Thursday 3 August - 18:30
And we're off!
The musical programme for Dekmantel Festival Aan 't IJ starts now, unfolding at a myriad of venues along the river.
Thursday 3 August - 17:55
RA exchange: Salome
Earlier today, Amsterdam-based journalist Souhayla Ou-Oumar had chat with Herrensauna resident Salome.
Thursday 3 August - 16:55
Alternative Planet FM w/ Tash LC
Tash LC in conversation with Slimfit for Alternative Planet FM – live on Echobox Radio.
Tune in here.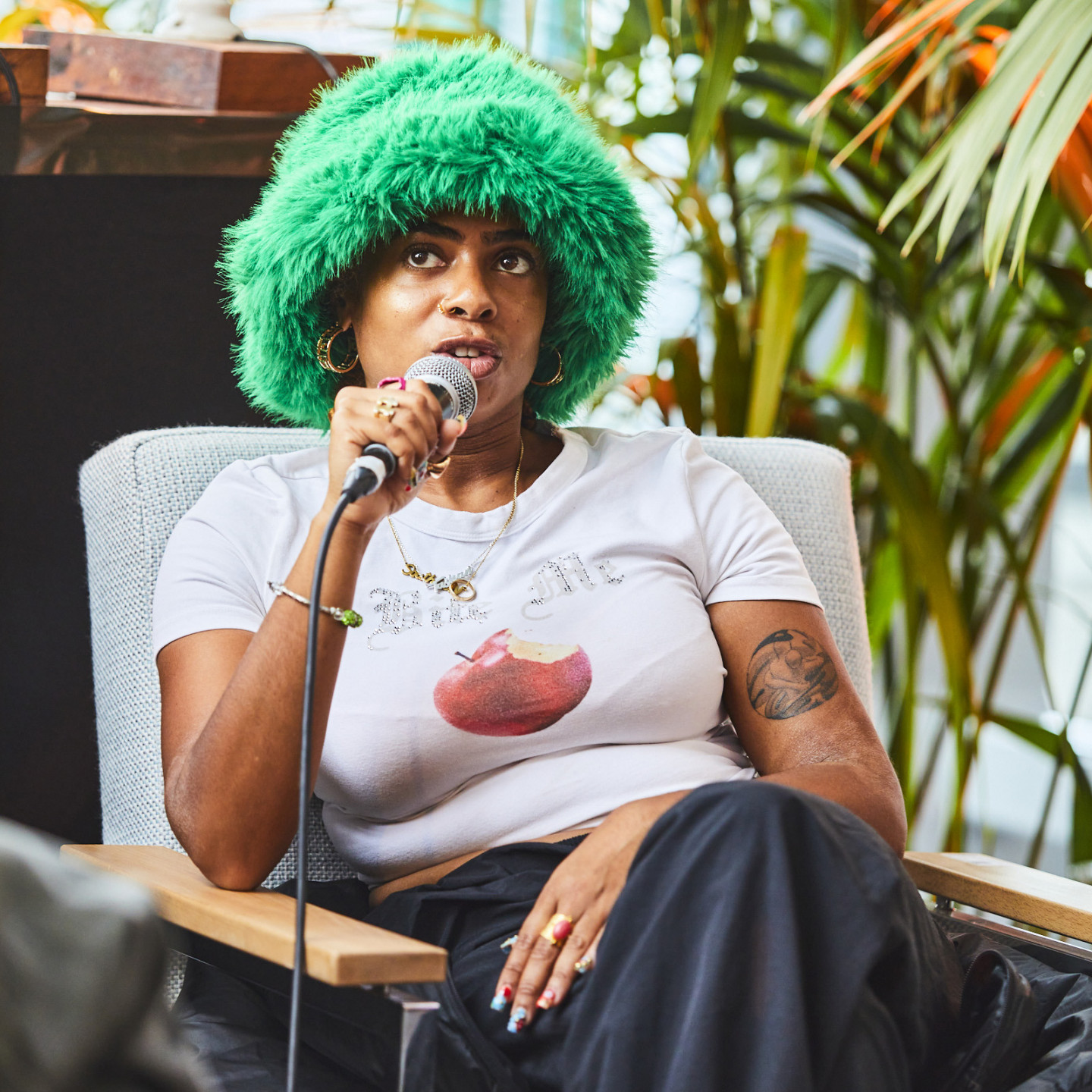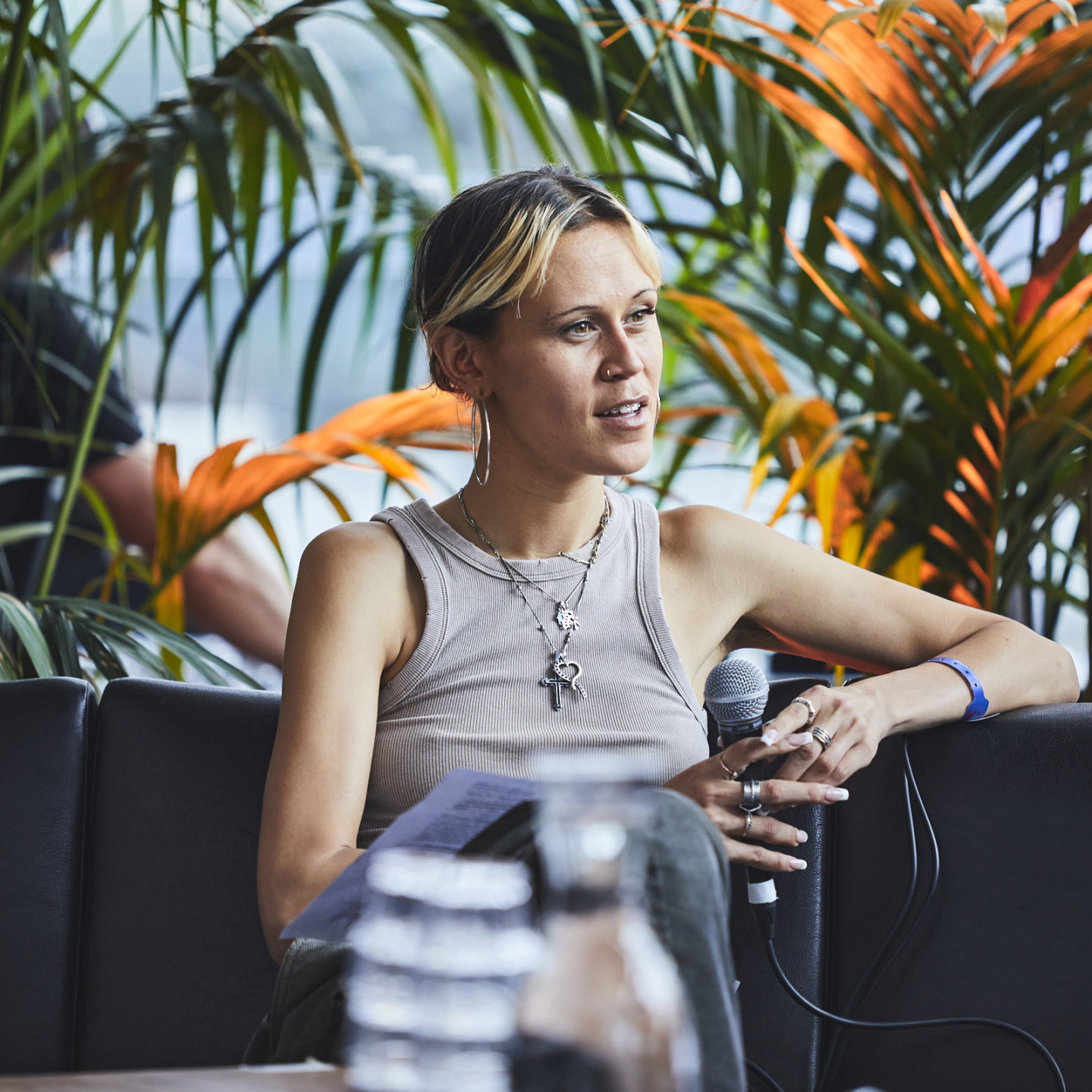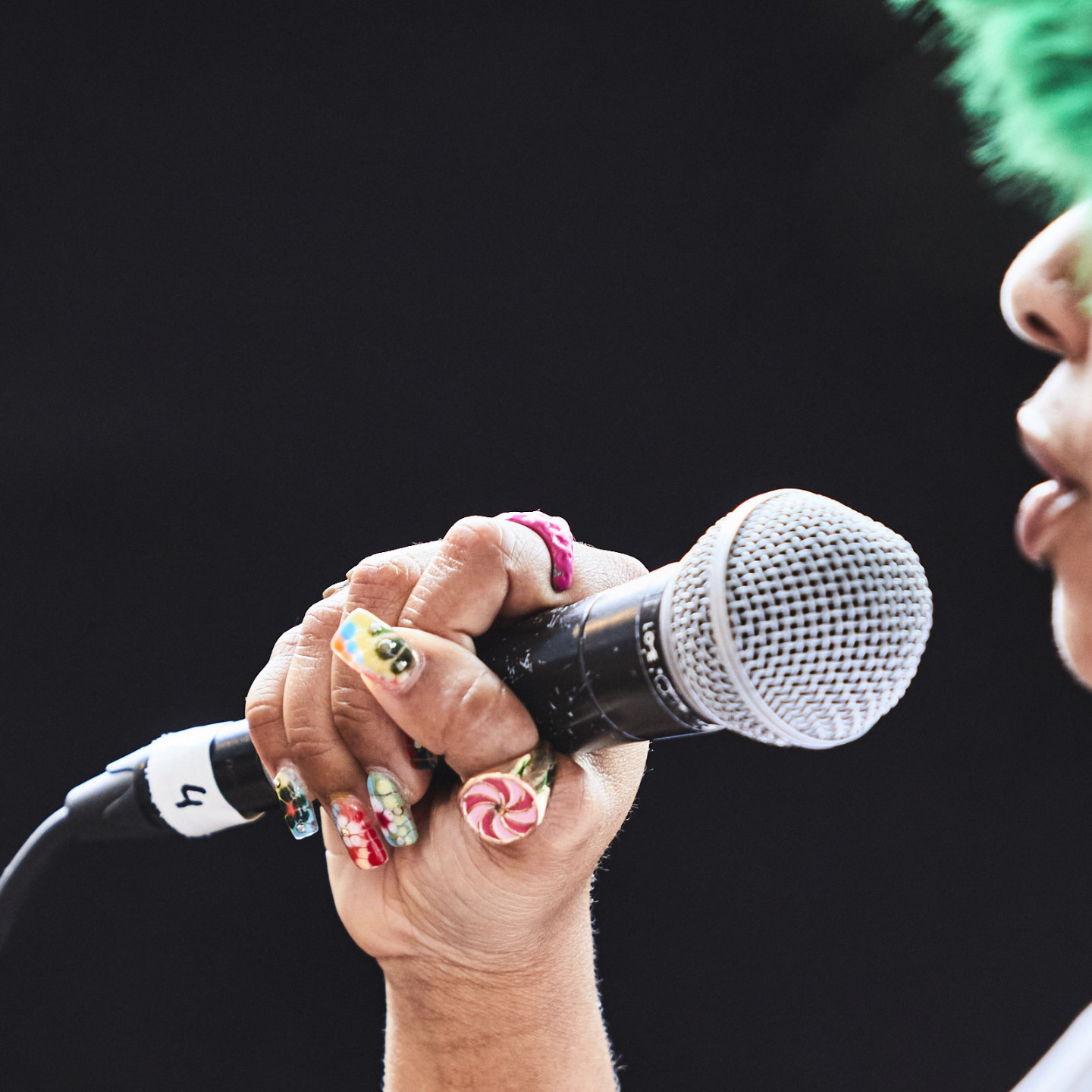 Thursday 3 August - 16:33
Getting It Back: The Story of Cymande
Cult '70s outfit Cymande was one of the first bands to merge African rhythms with rock, funk, reggae and soul. Their story is finally told in the 2022 documentary "Getting It Back: The Story Of Cymande", shown today at the Eye Filmmuseum.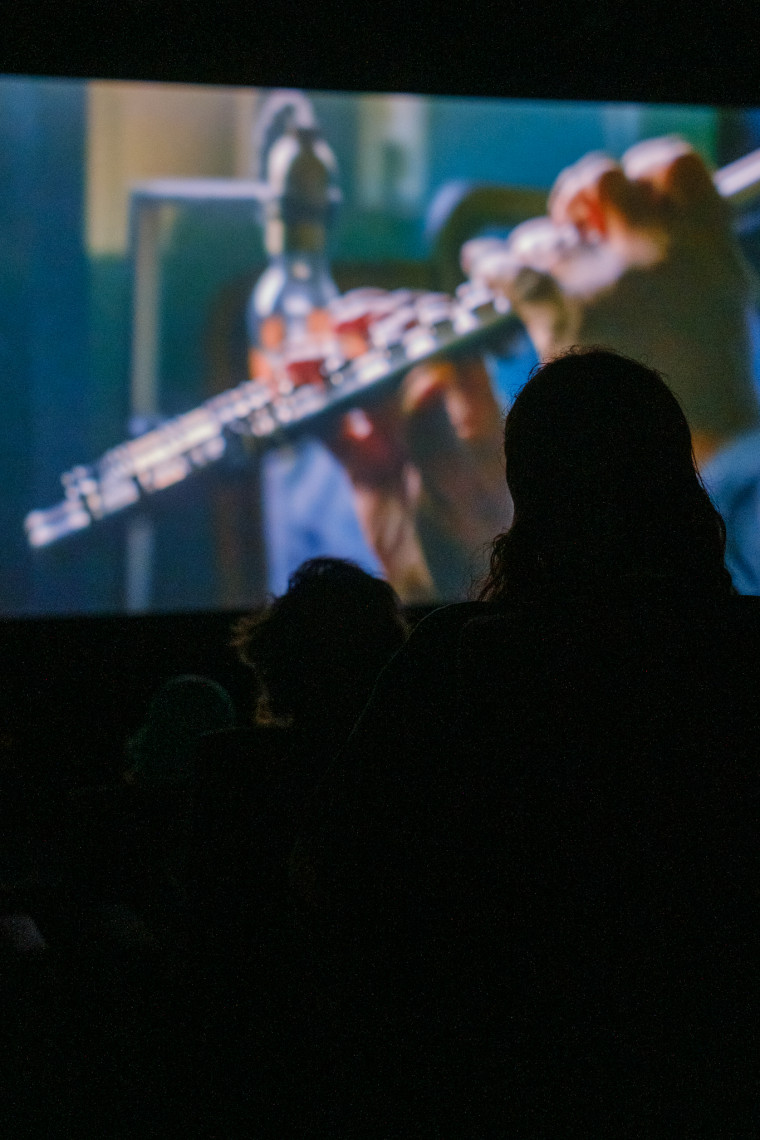 Thursday 3 August - 16:16
Production Workshop: Martyn
Martyn presented an overview of his production workflow, giving invaluable tips & tricks along the way.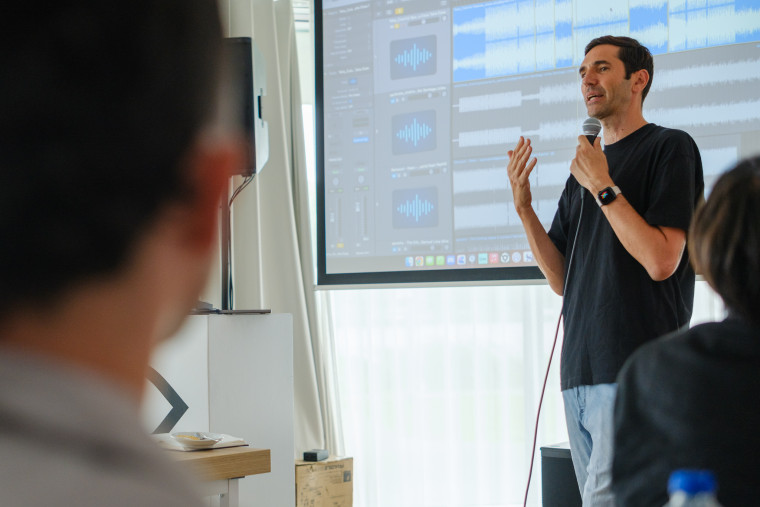 Thursday 3 August - 14:40
Can I Please Hold The Mic
w/ Hadjja Fatama Tinggel, Rozaly, Phantom Wizard & Hotpatch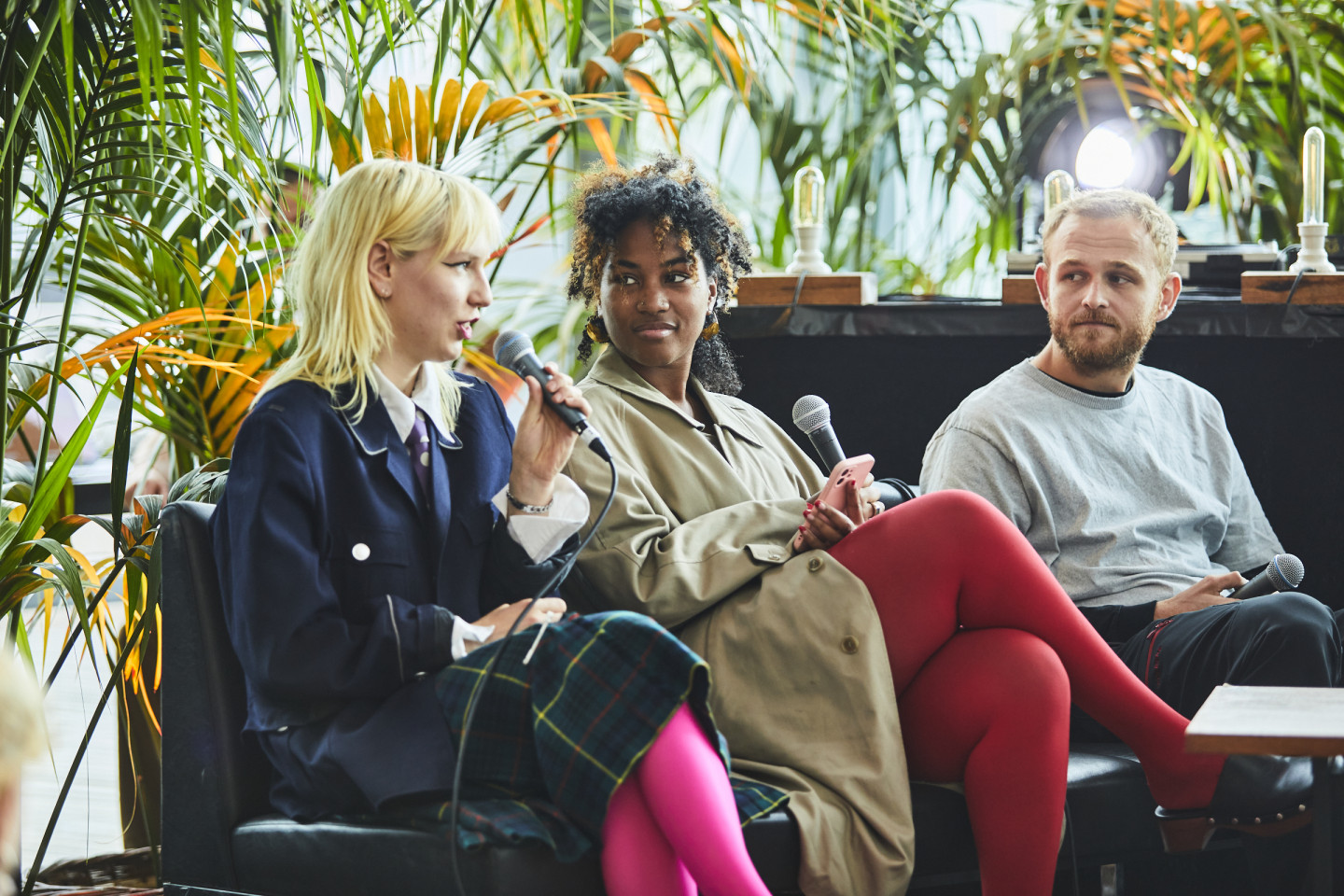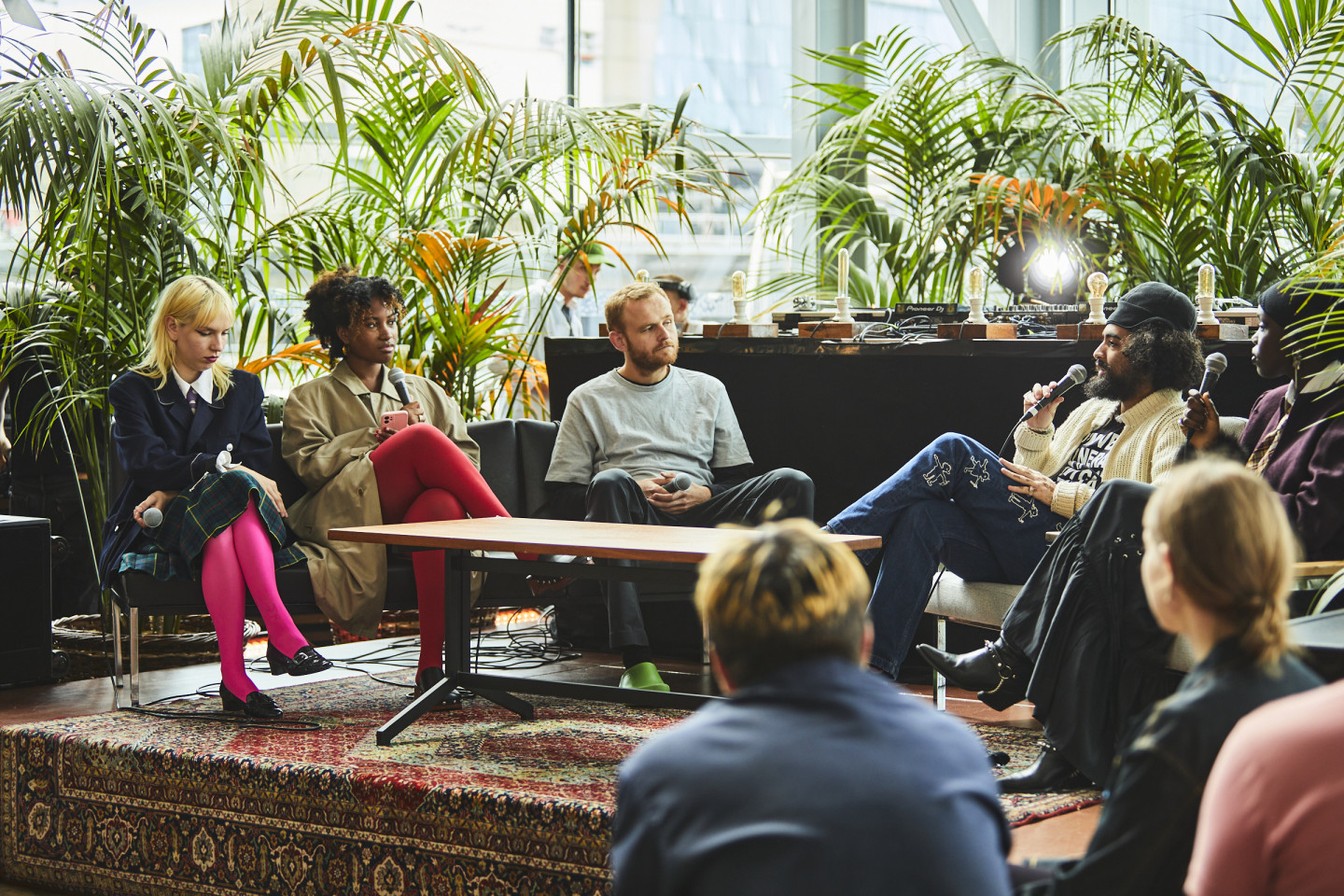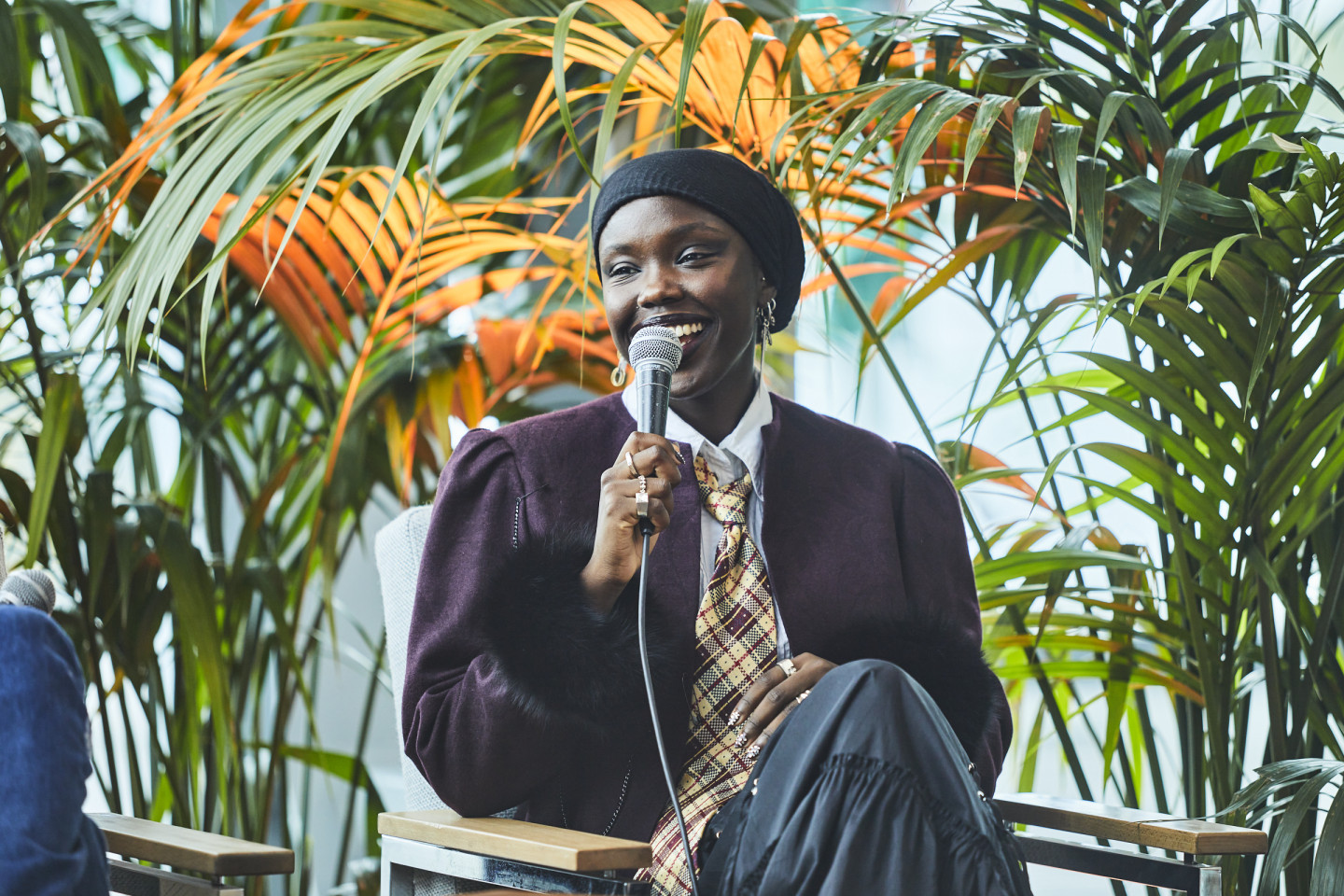 Thursday 3 August - 13:59
RA Broadcast Journalism Workshop hosted by Chloe Lula
In the first workshop of the day, Resident Advisor's senior producer Chloe Lula teaches the ins-and-outs of how to make a podcast in a media environment that increasingly favours different formats.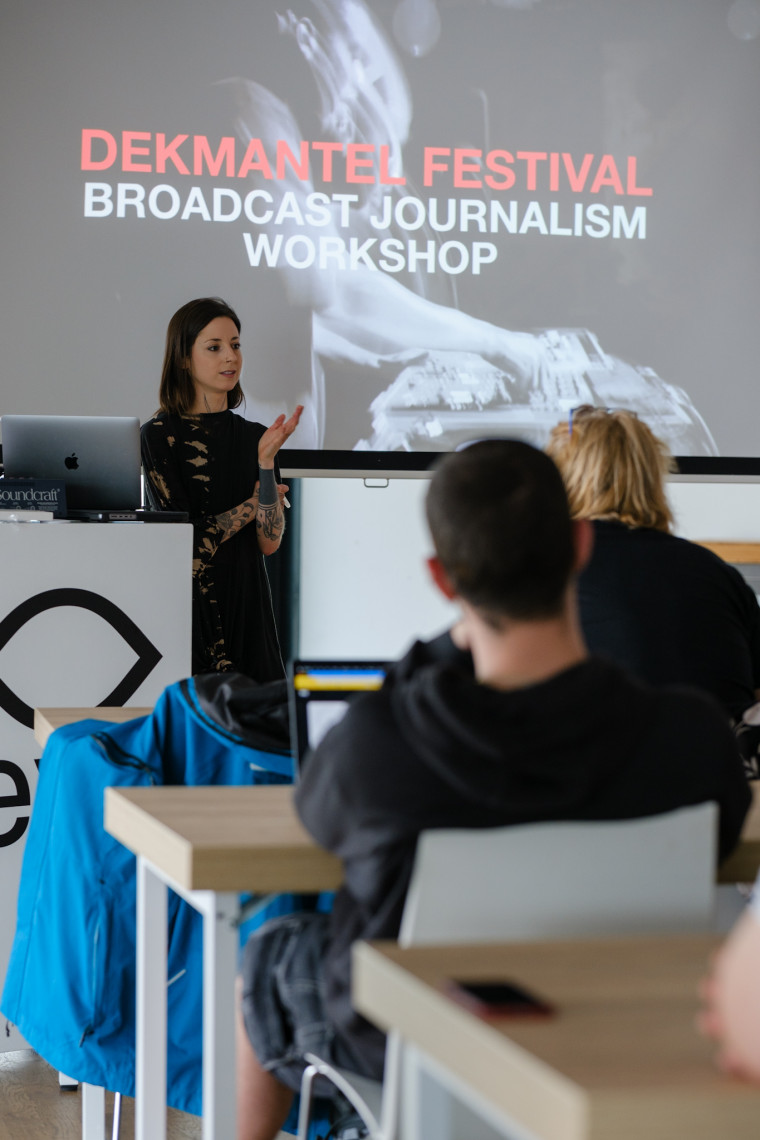 Thursday 3 August - 13:42
Echobox Radio live from Muziekgebouw
Echobox Radio and its adventurous residents are broadcasting from the Dekmantel Festival 2023 hub today. Join us in the Muziekgebouw foyer for the live recordings or tune in via the Echobox website.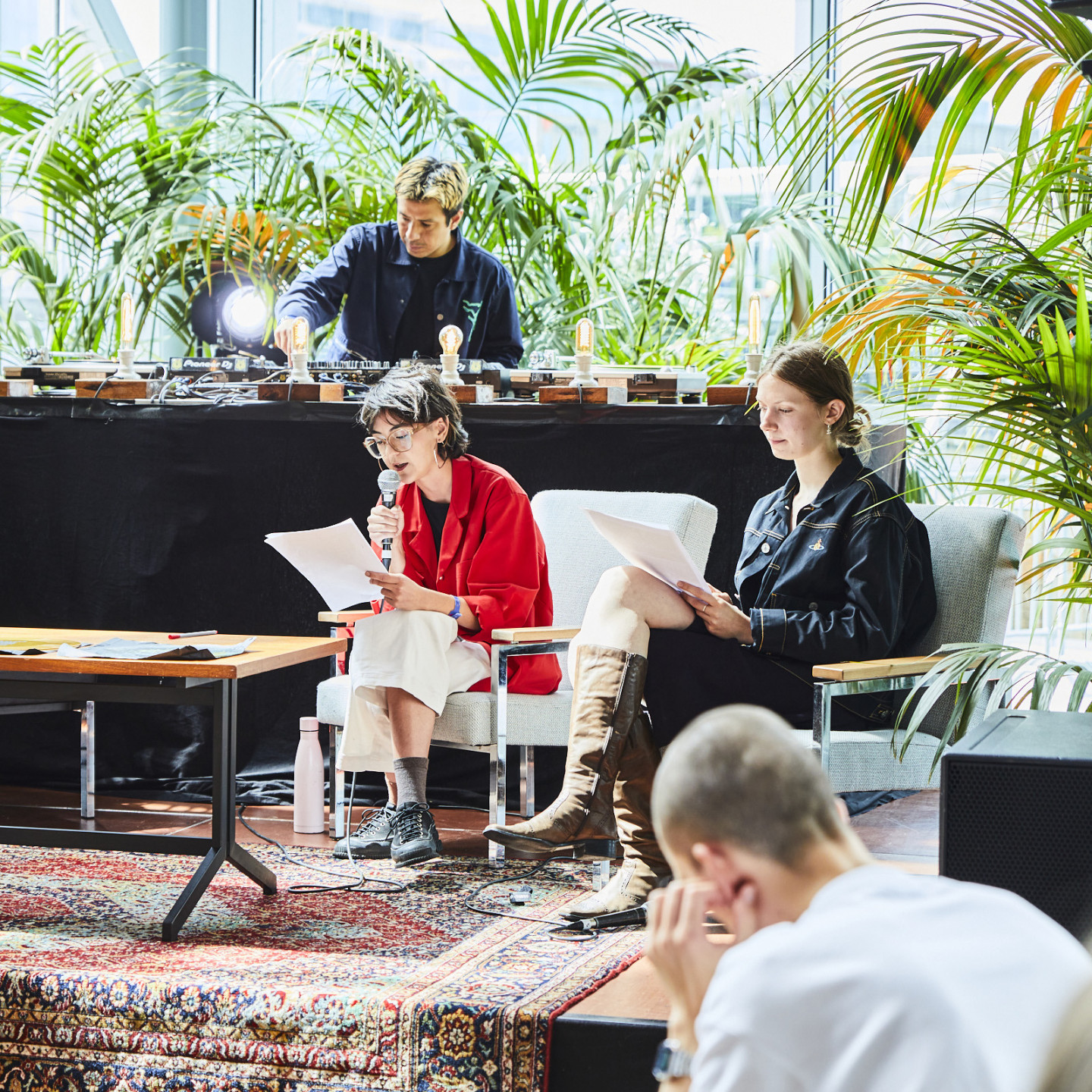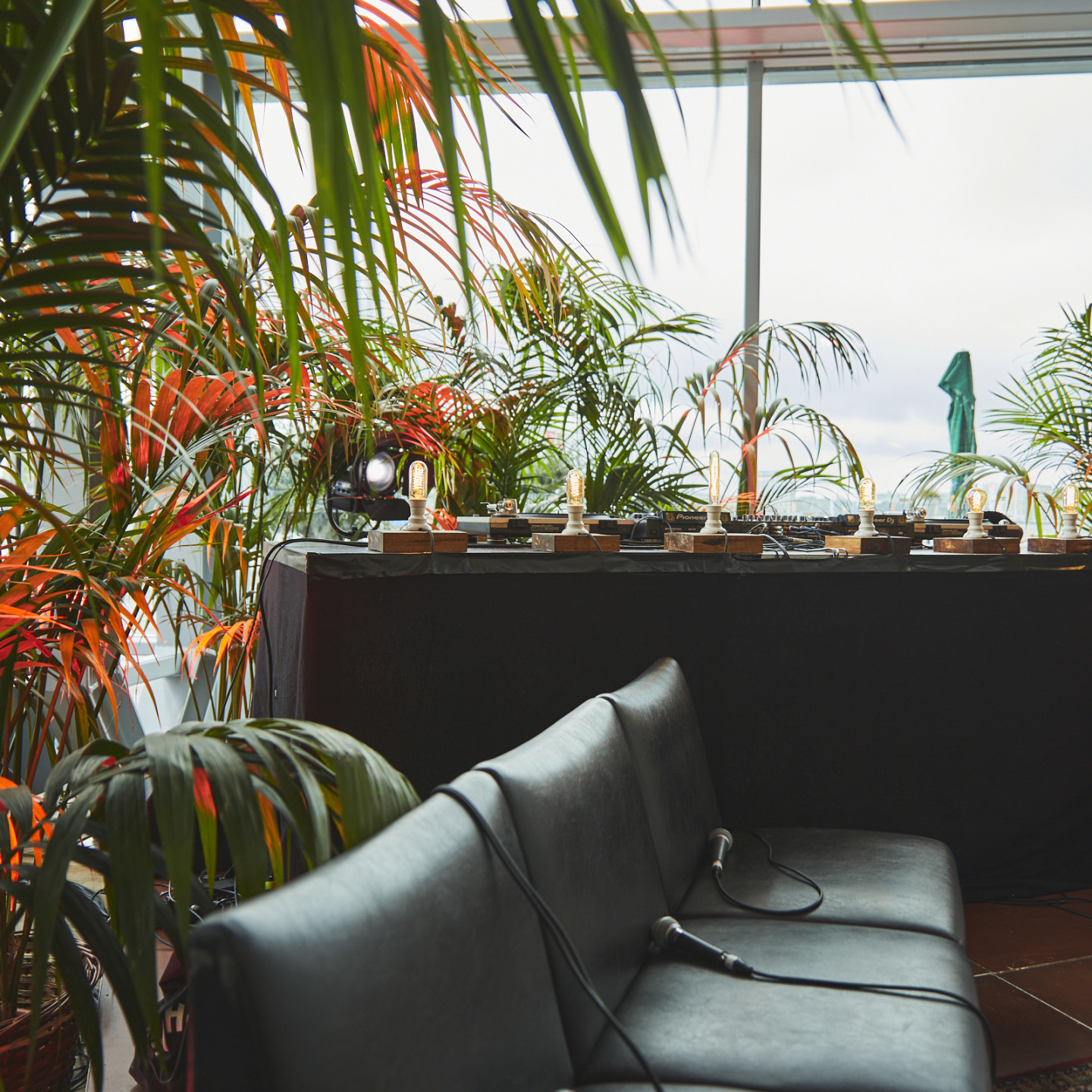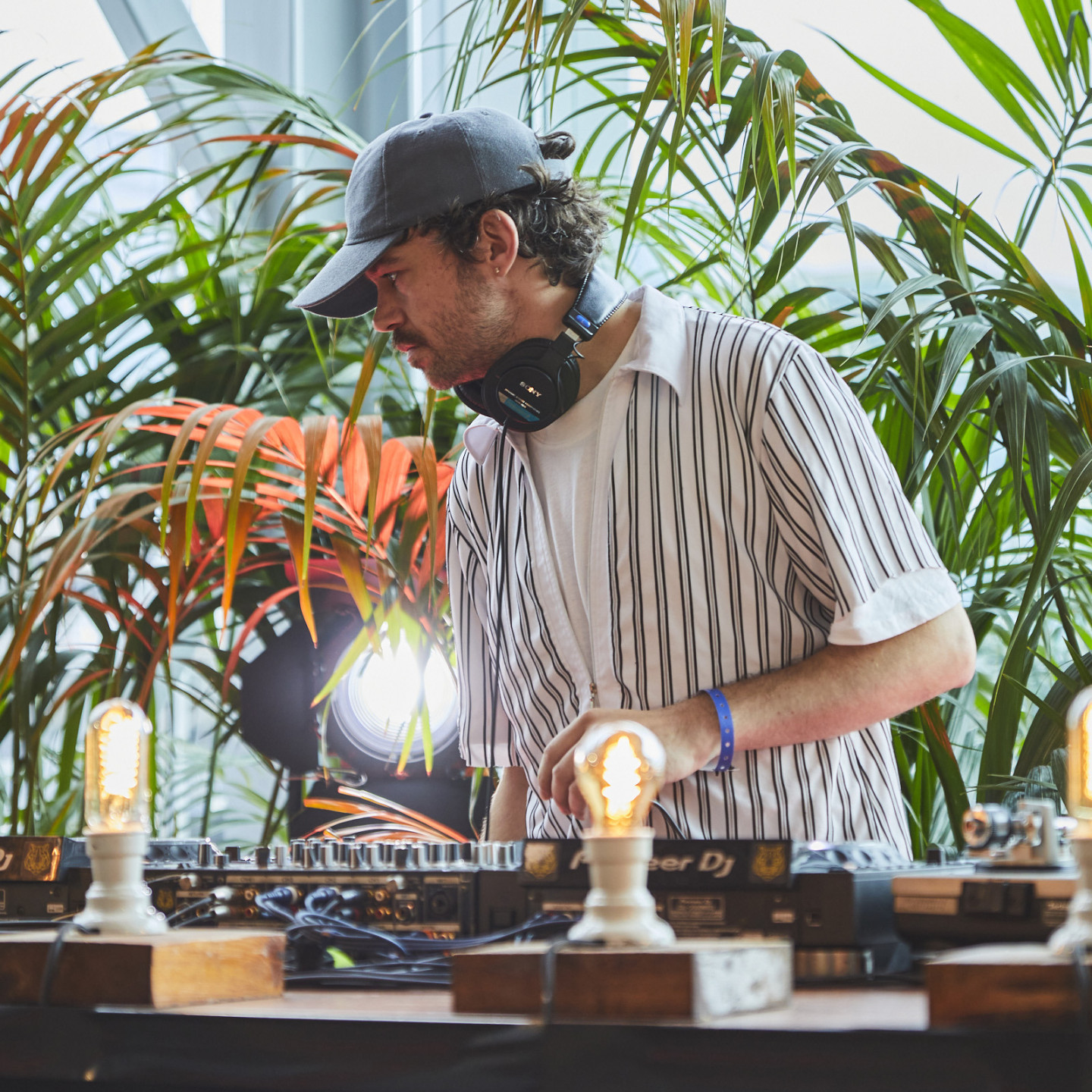 Thursday 3 August - 12:30
Day two of Dekmantel Festival 2023 is about to begin! First up: our music conference takes over EYE Filmmuseum all day, with Resident Advisor hosting various workshops, panels and screenings. In case you haven't registered, you can still drop by for a number of (freely accessible) programme items, but please note full is full.
The times of some programme items have been changed – please check out the Dekmantel Festival 2023 app for the most up-to-date timetable.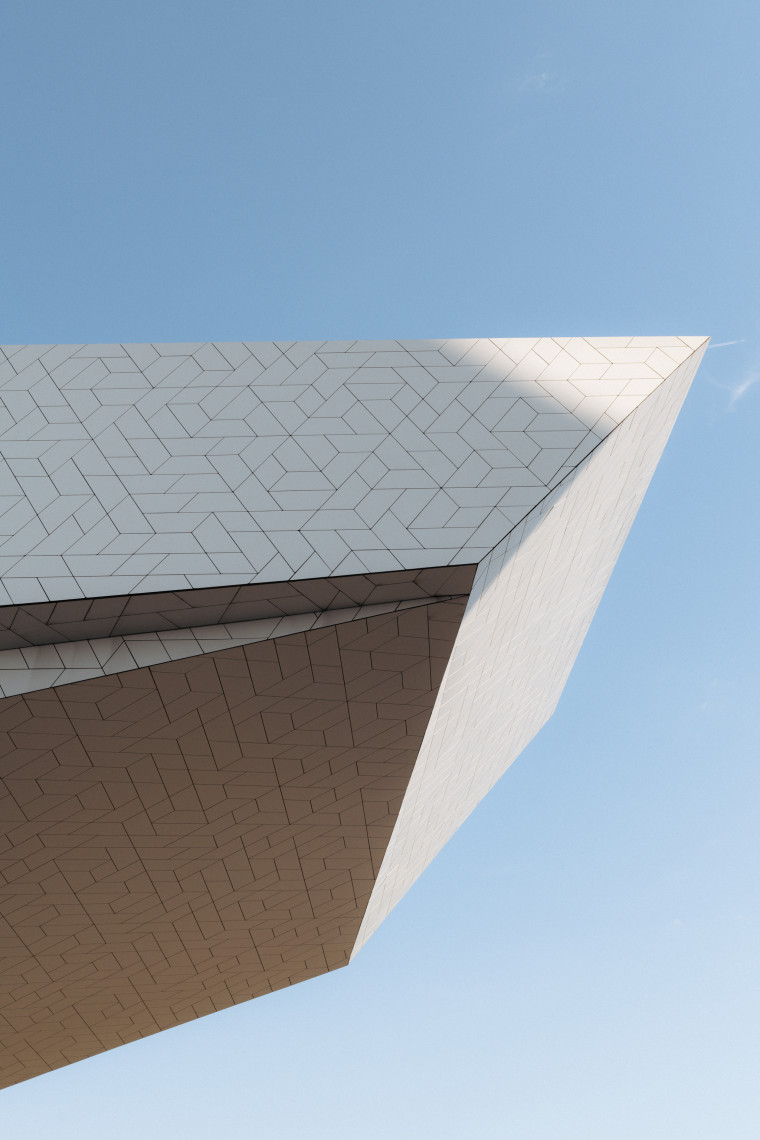 Thursday 3 August - 11:05
Dekmantel Festival 2023 Day 2
Today we're ecstatic to be back at the EYE Filmmuseum for another instalment of the Festival Conference, hosted by our friends at Resident Advisor. The Conference is free of charge and features talks and interviews with the likes of Donato Dozzy and Salome, as well as workshops from Martyn and Ikonika. There are also a series of film screenings, including La Planète Sauvage, René Laloux's 1973 masterpiece. Composed of beautiful, hand-painted stop-motion, the movie is best known for its innovative score drawn from a palette of effects-laden guitars, flutes, Fender Rhodes and strings. On the occasion of the 50th anniversary, Dekmantel presents a new synth-driven version of the live soundtrack.
Meanwhile, in the Muziekgebouw foyer, the Echobox crew will once again be on the airwaves, broadcasting radio residents alongside sets by Dekmantel line-up all-stars. From Aural Conduct by eponymous label founder Luke Cohlen to Oneven's PITCH SHIFT show with special guest Interstellar Funk, turn on, tune in and get stuck into the programme.
Come evening, the festival is in full swing along the banks of the River IJ. There's Hieroglyphic Being and Jerzy Maczyński's premiere at the Bimhuis, a performance that's set to demonstrate the pair's vast sonic repertoire and penchant for free-floating jazz-style improv. Twisting together trip-hop, alternative R&B and art pop, Sevdaliza is sure to put audiences under a spell at the Muziekgebouw, while IDM icon Higher Intelligence Agency will be performing classic 1990s tracks alongside more recent material, including 2022's Song Of The Machine, an album inspired by recordings of 250-year-old beam engines.

Wednesday 2 August - 23:43
This was day 1 of Dekmantel Festival 2023
See you 'Aan 't IJ' tomorrow for the second day - we're starting at 12:00 with Echobox Radio live from the Muziekgebouw foyer and RA Conference from EYE Filmmuseum.
Wednesday 2 August - 23:39
First copies signed and sealed.
Keep an eye out this weekend.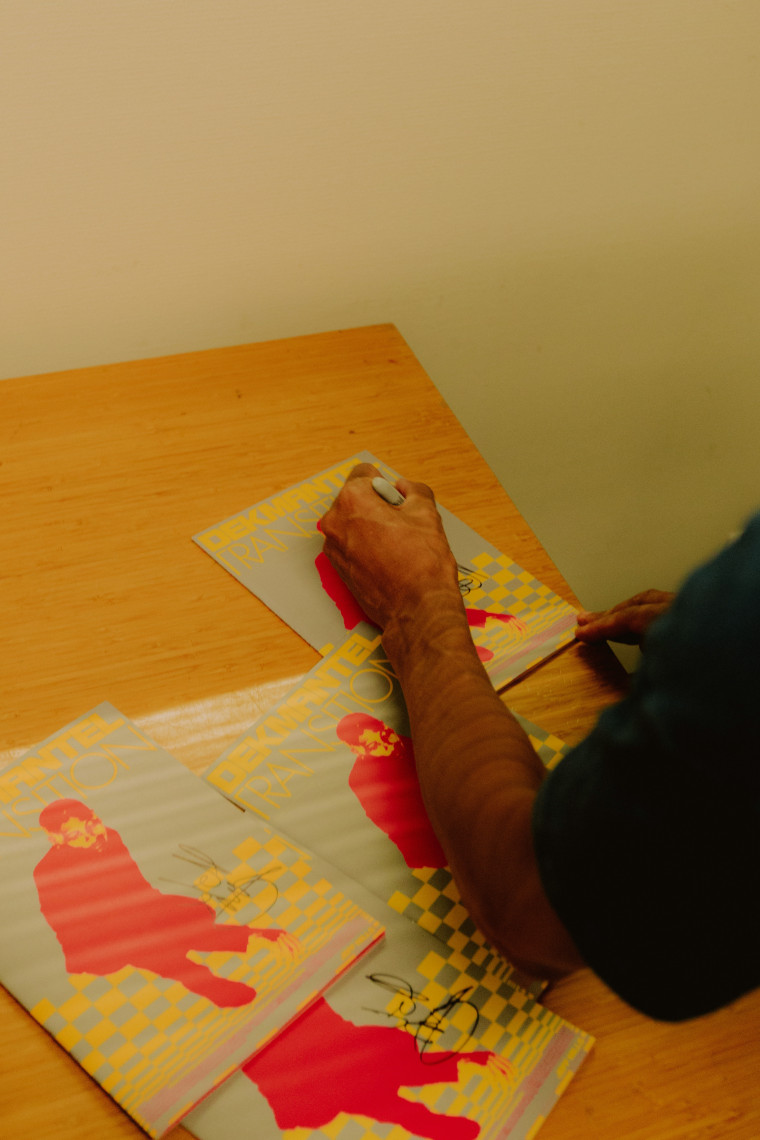 Wednesday 2 August - 23:17
Tomorrow Comes The Harvest
The only Jeff Mills entrancing Dekmantel Festival 2023 with Jean-Phi Dary and Prabhu Edouard.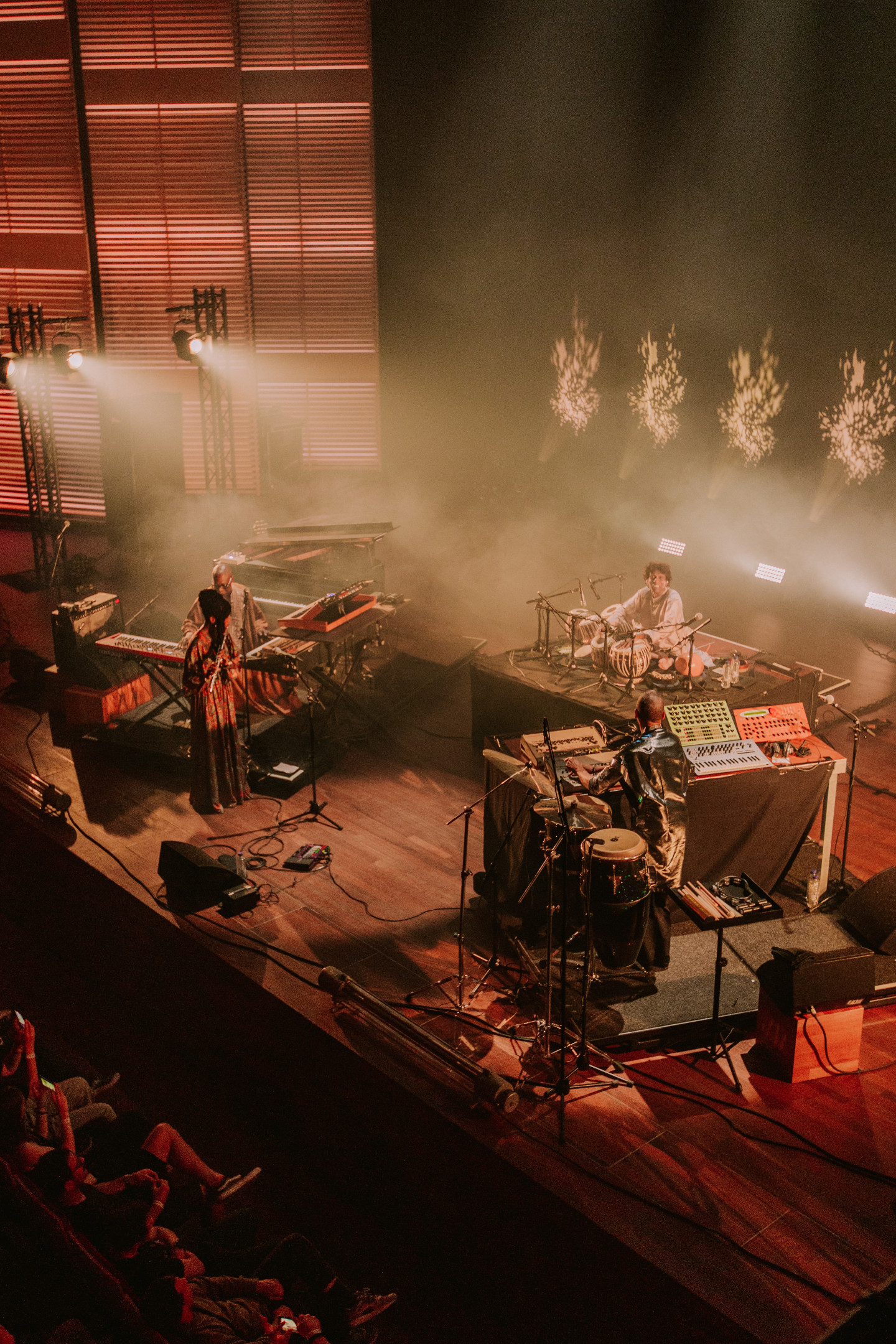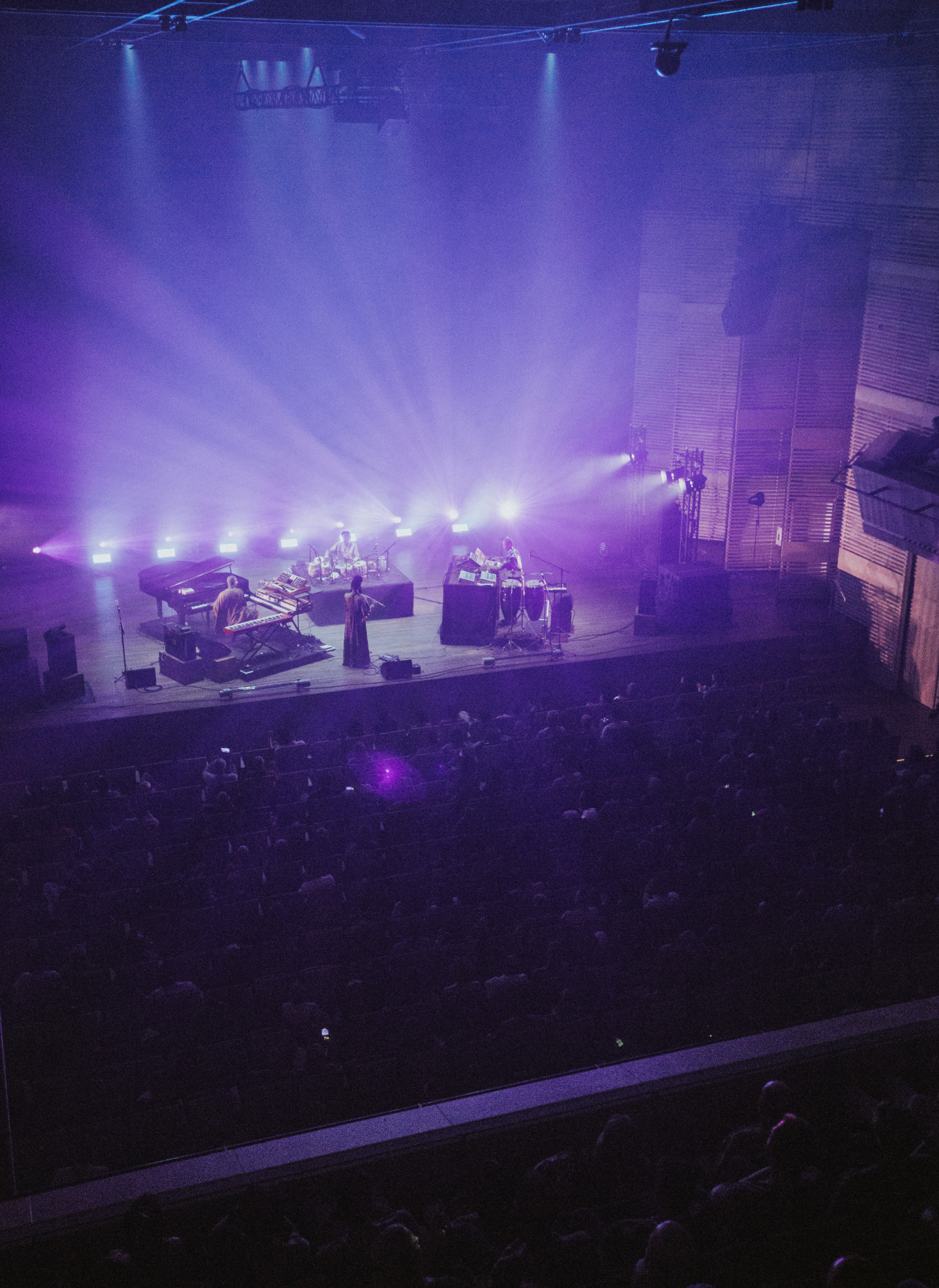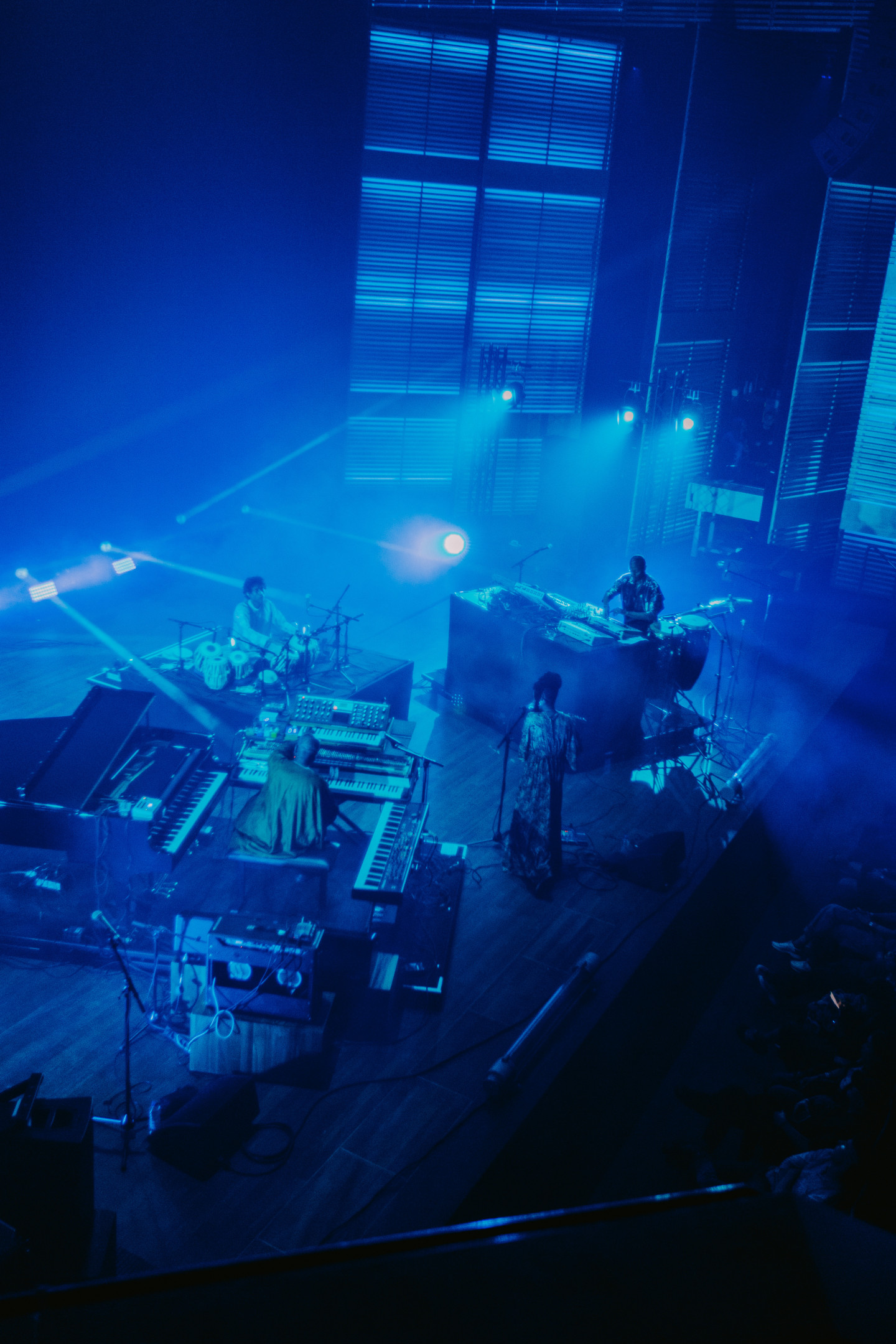 Wednesday 2 August - 21:49
As if releasing an excellent debut record wasn't enough
Interstellar Funk just took his mind-blowing music to another level with a live rendition of 'Into The Echo'. Dekmantel Festival 2023, we have lift off.
Wednesday 2 August - 21:04
Transporting us to her own universe,
Mathilde Nobel is the first artist to grace this year's festival stage. With a sound that's serene but never quite soothing, we can't wait to hear much more from this rising star.
Wednesday 2 August - 19:10
Our home ground at the Amsterdamse Bos is quickly getting in shape...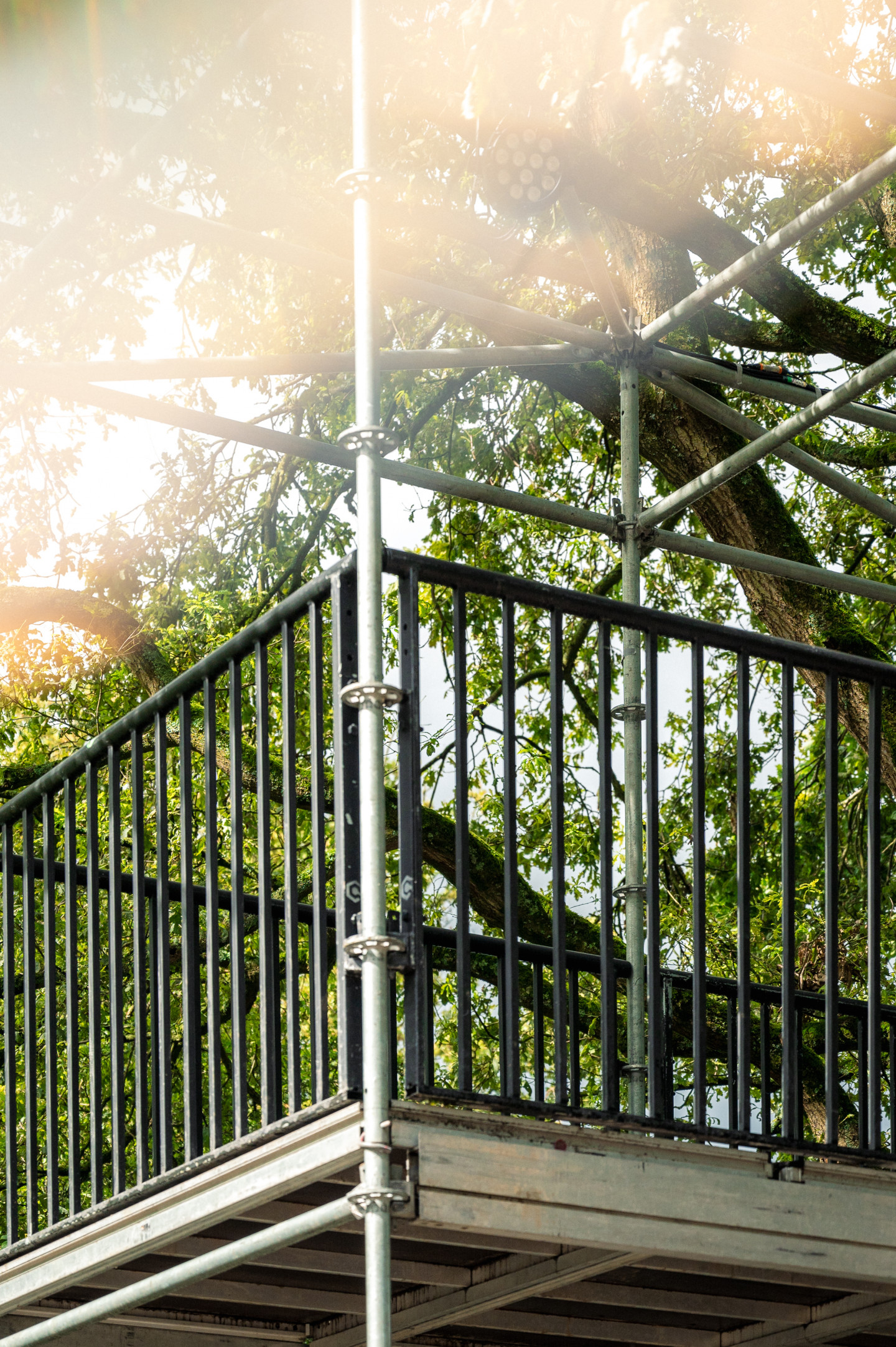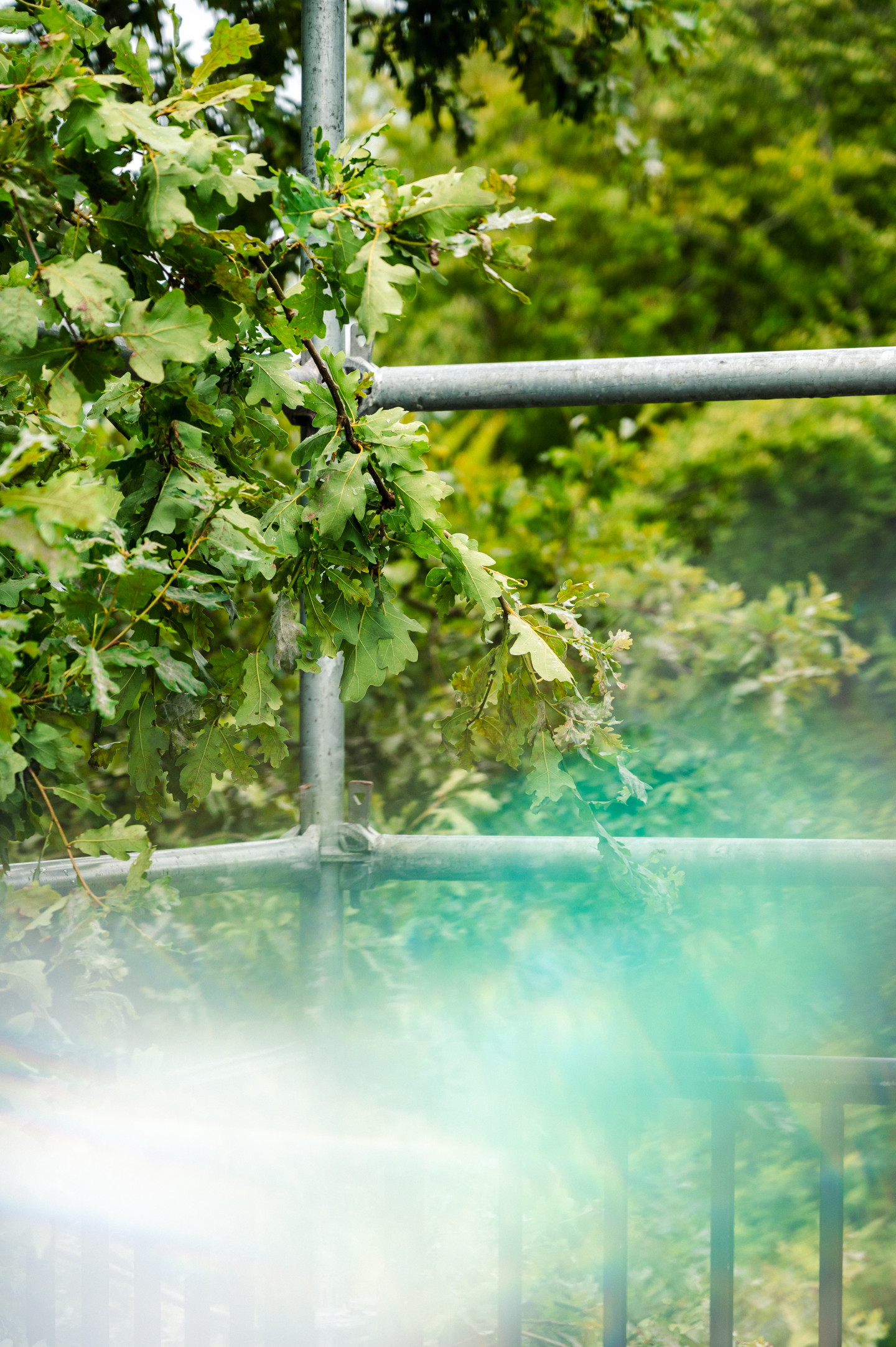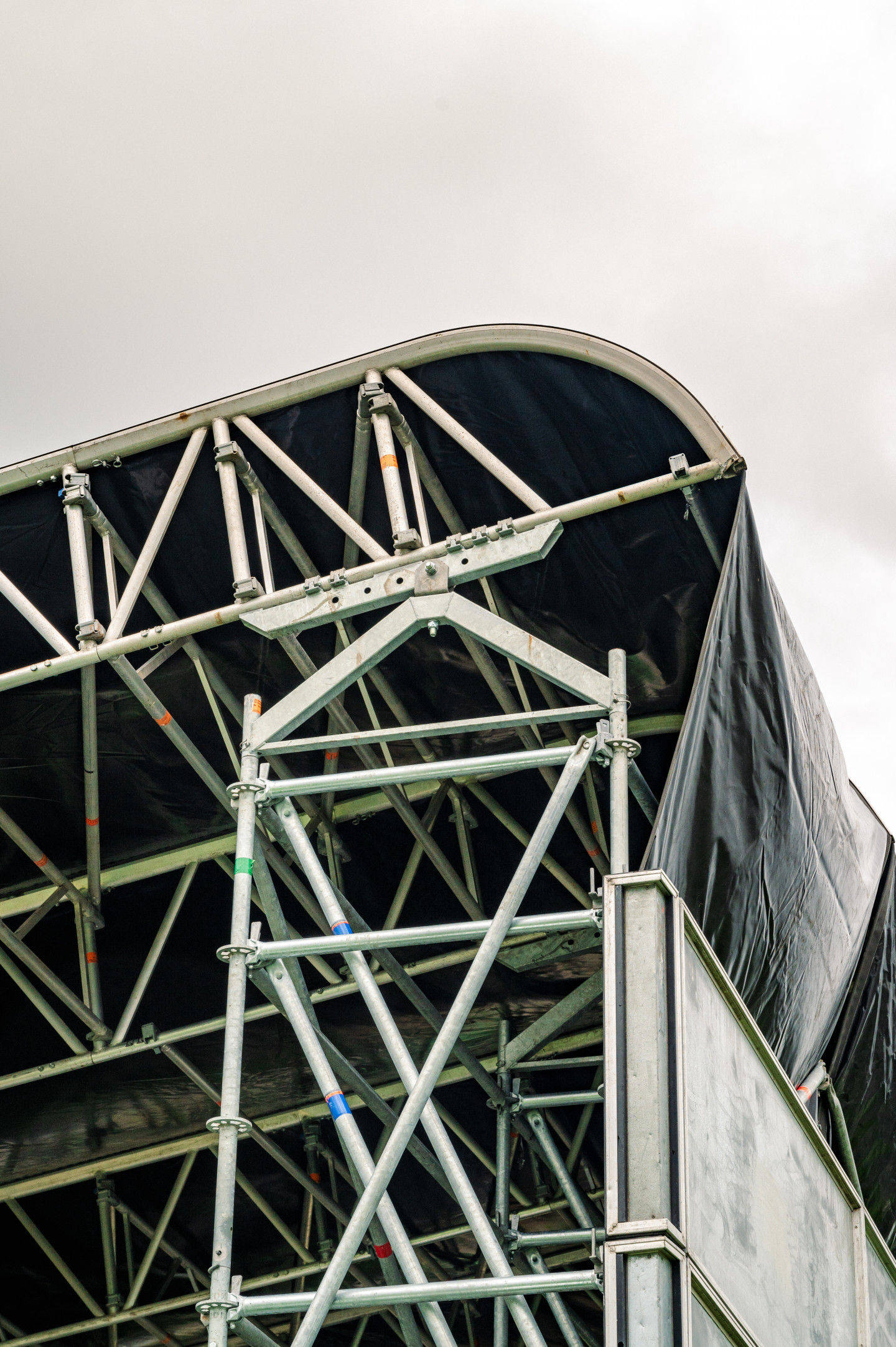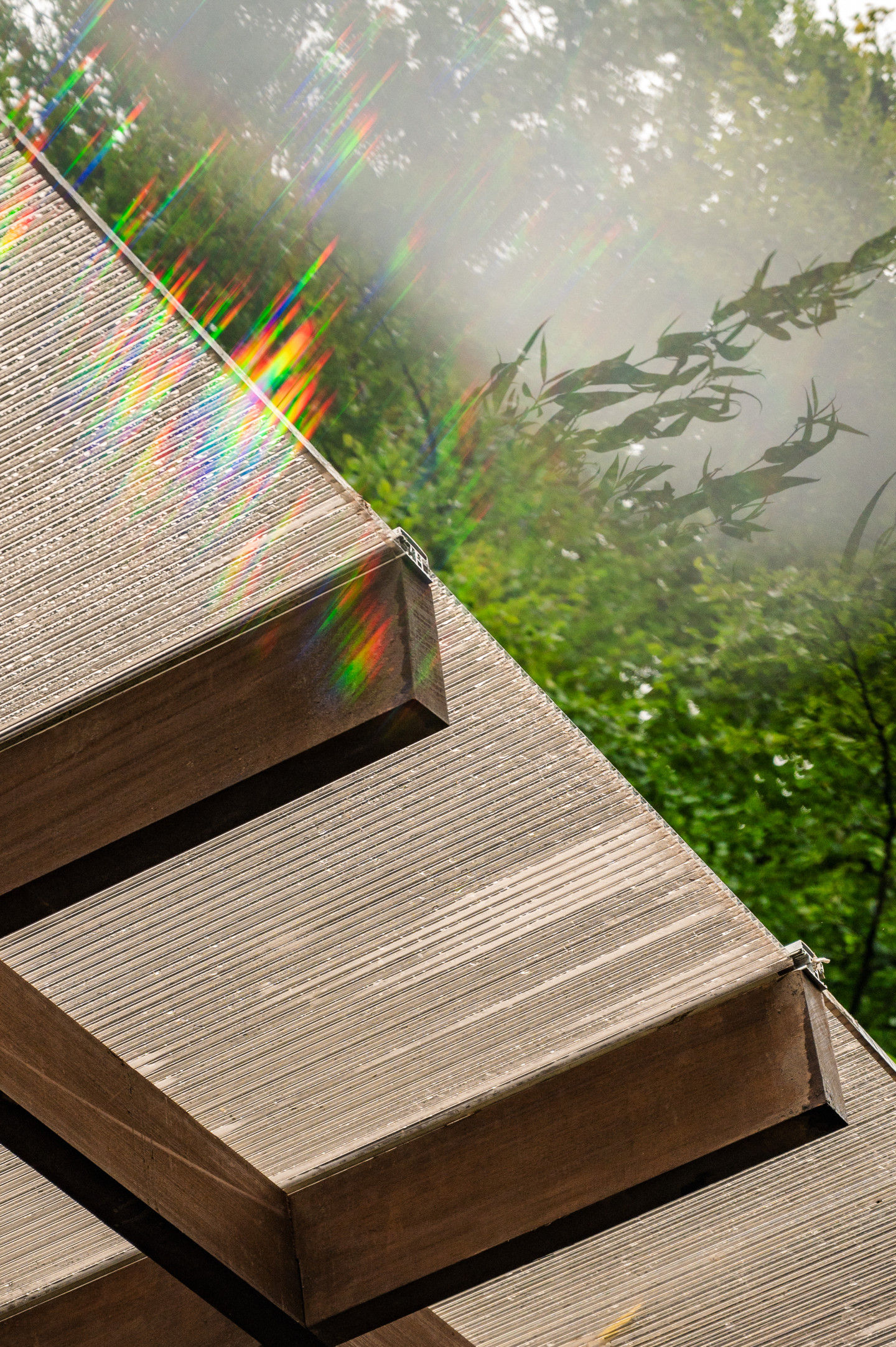 Wednesday 2 August - 17:30
Our favourite time – and announcement – of the year is here:
Dekmantel Festival 2023 starts today! Our first festival day 'Aan 't IJ' brings three concerts to Muziekgebouw Aan 't IJ this evening, inviting to the stage Mathilde Nobel, Interstellar Funk and Jeff Mills with Jean-Phi Dary and Prahbu Edouard. See you soon!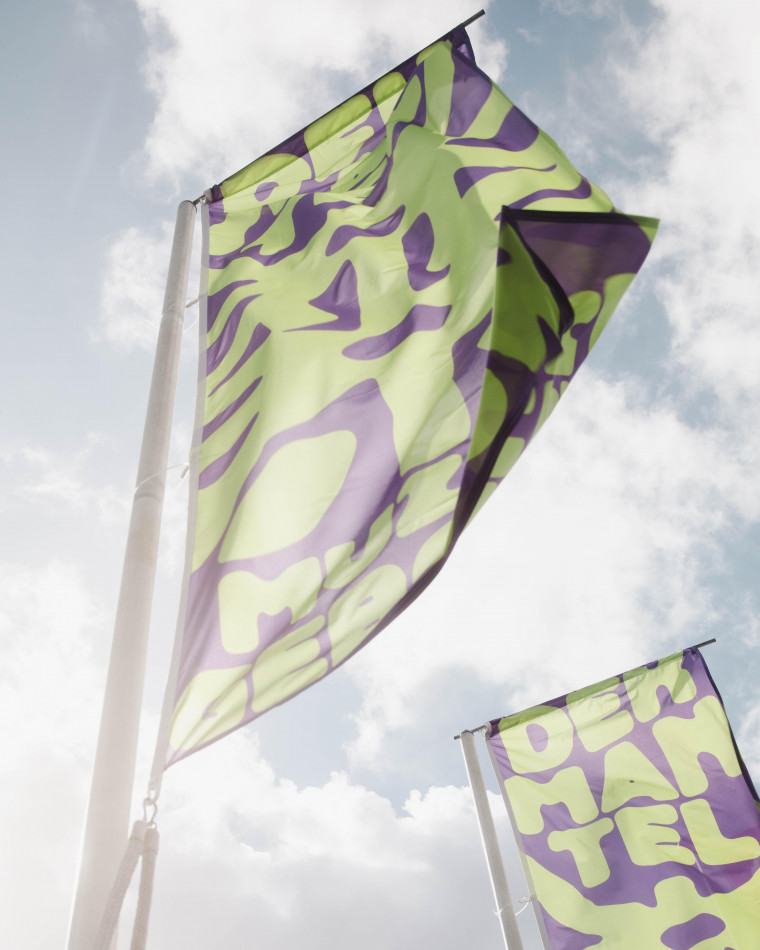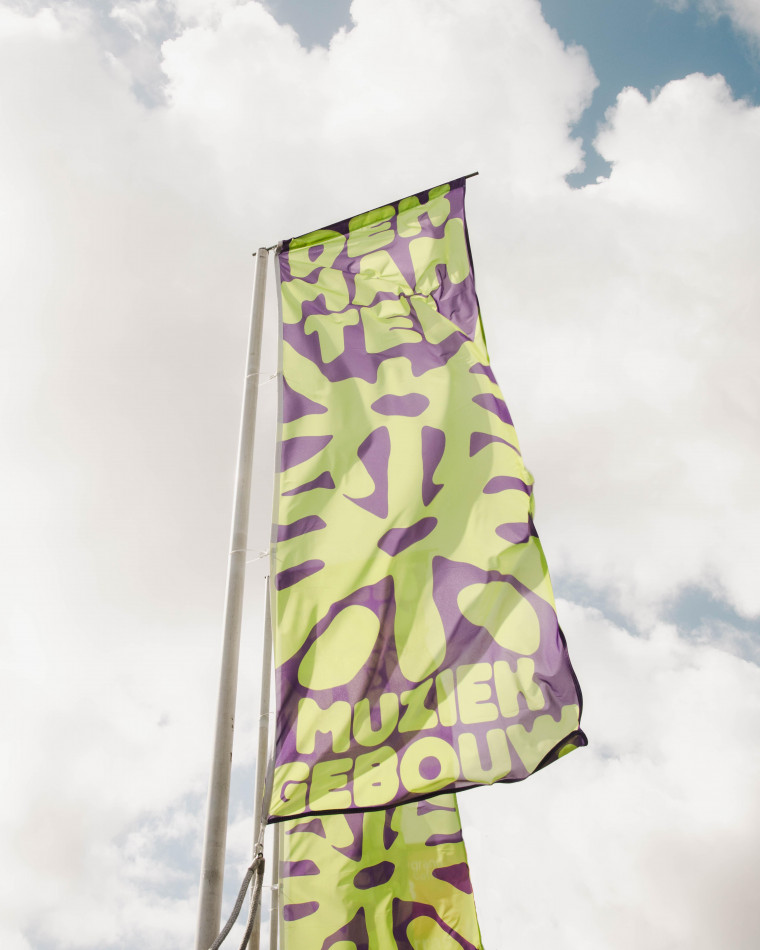 Wednesday 2 August - 17:26
Dekmantel returns!
And what an impeccable edition it's already shaping up to be. This year has expanded horizons, opening up new partnerships and possibilities, all the while keeping plugged into that unrelenting devotion to pioneering electronica and club-orientated sounds that pulsates at the heart of the festival.
Today, the performances take place entirely in the cavernous concert hall of the Muziekgebouw. First up, Mathilde Nobel is not to be missed. The Björk-inspired songstress deconstructs pop, tangling together raw, emotion-fraught lyrics with gossamer, ear-worm melodies. Performing live, enter into the pensive and powerful world of Interstellar Funk. The frontrunner of the Dutch electronic music scene will be showcasing his synth prowess, intertwining hypnotic samples and machinic industrial. For an impeccable first day finale, living techno legend Jeff Mills will take to the stage with bandmates Prabhu Edouard and Jean-Phi Dary.